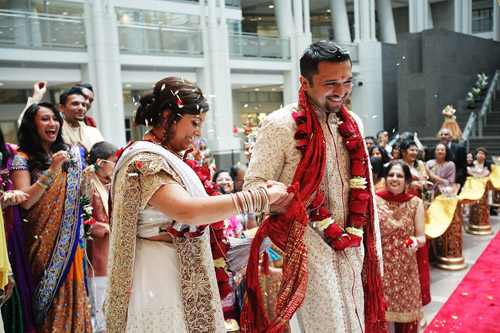 The Couple: Rachel and Bhavik
The Wedding: 6.25.11 – Ronald Reagan Building, Washington, D.C.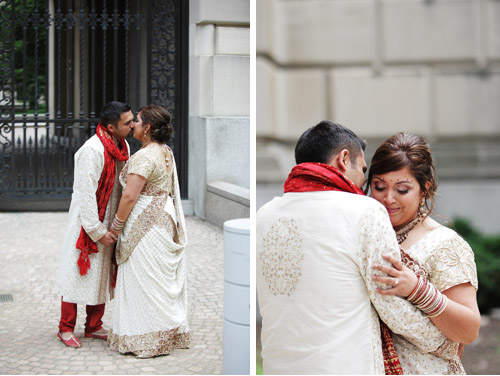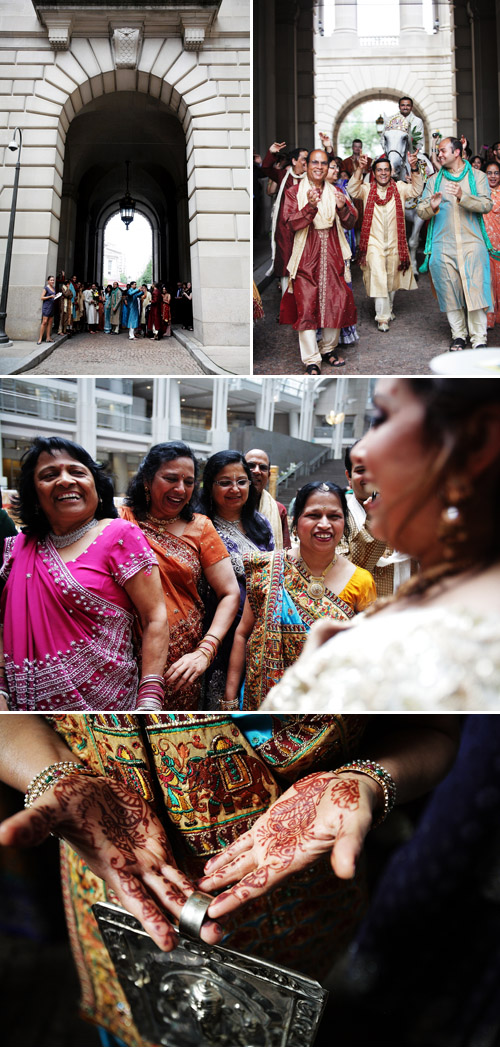 What adjectives best describe your wedding? Quintessential DC, elegance with a multicultural twist.
What inspired your personal wedding style, and how did you incorporate your style and personalities into your big day? I wanted our day to be romantic, elegant and fun. Since my husband is Hindu, we did a traditional Hindu and Christian ceremony so that both sides of our family and culture were represented. We decided that our reception would be the part of our wedding that truly represented our personal style.
We both love D.C. so we wanted a space that would truly capture the feel of our city. The Ronald Reagan Building fit that to a tee. Since it was going to be such a long day we wanted to keep our guests moving around so they didnt get bored. We also wanted to incorporate the outdoors and have indoor/outdoor spaces. The Pavilion Room was the perfect spot for our reception because it had balconies overlooking the city and a huge glass ceiling that allowed us to see the stars at night. In order to incorporate the romance we had large orchid arrangements with hanging candles floating down, and also had shorter arrangements with LOTS of candles. We had originally wanted cherry blossoms, so Da Vinci Florist made the orchid arrangements mimic cherry blossoms, since they were just out of season for our wedding. Our cakes pattern mimicked the lace on my dress. To incorporate a little fun we had the bridesmaids in short ball-gown style dresses and a photo and video booth.
Because we were doing two ceremonies I decided I wanted my personal style to be very traditional for both weddings. For the Hindu ceremony I wore a traditional sari with lots of gold jewelry. To incorporate my personal style and personality I made sure the sari and jewelry had a big bling factor to them because I love all things sparkly! For the Christian ceremony I wanted a traditional yet romantic look so I chose a cathedral veil for the actual ceremony and removed it for the reception. I incorporated a lot of sparkle again with my jewelry. My grandmother had passed away recently so I chose her favorite flowers for my bouquet: peonies and garden roses. I also had my bouquet wrapped with left over material from my dress.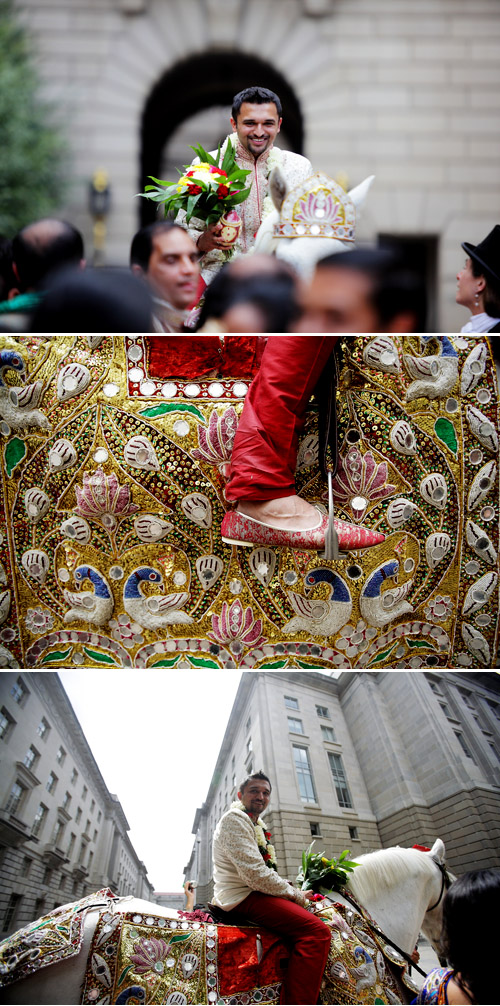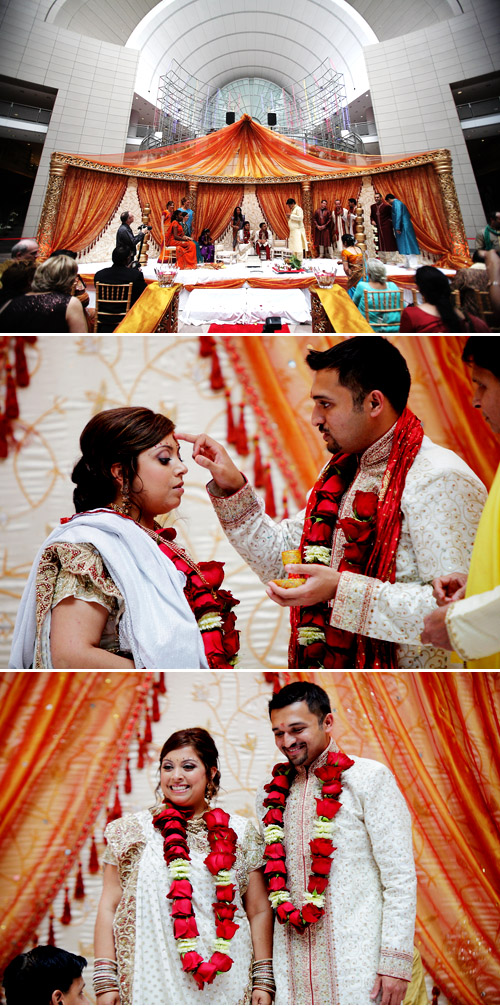 Looking back, what are the moments, decisions or memories that you love the most about your wedding? Being surrounded by all of our loved ones and friends was the most amazing part of our wedding! Seeing everyone together, in one place, to celebrate your love–it was one of those moments when you realize how lucky you are to have such amazing people in your life. It was truly powerful.
Also, walking down the aisle and meeting my fiances gaze was a really amazing moment. I had held it together all day, half way down the aisle we locked eyes and I started crying because I realized I was about to marry my best friend. When I got to the stage he was teary too and we both whispered, "I love you." At the end of the ceremony my grandfather pronounced us husband and wife, and instead of saying you may now kiss the bride, he said, You may now kiss my granddaughter! It was really sweet.
At the Hindu ceremony their was a portion where everyone throws flowers at you for good luck. Well, our bridal party got a little over zealous and pretty much started a flower fight! It was hilarious and all of our guests enjoyed it a great deal.
And last, but not least, we are so happy we decided to do a photo and video booth. We have so many fun and goofy pictures of all of our friends and family. The video booth turned out hilarious and we also have a lot of really sweet messages from our loved ones. Priceless memories!
Wedding color palette: Champagne and Plum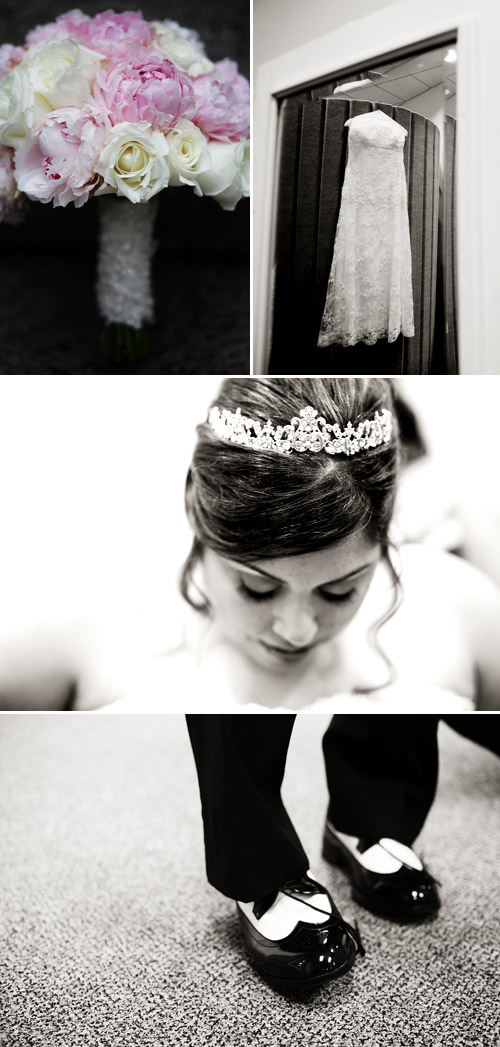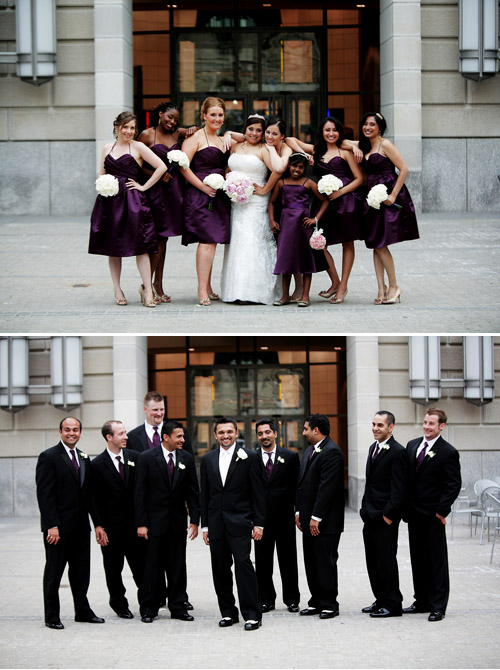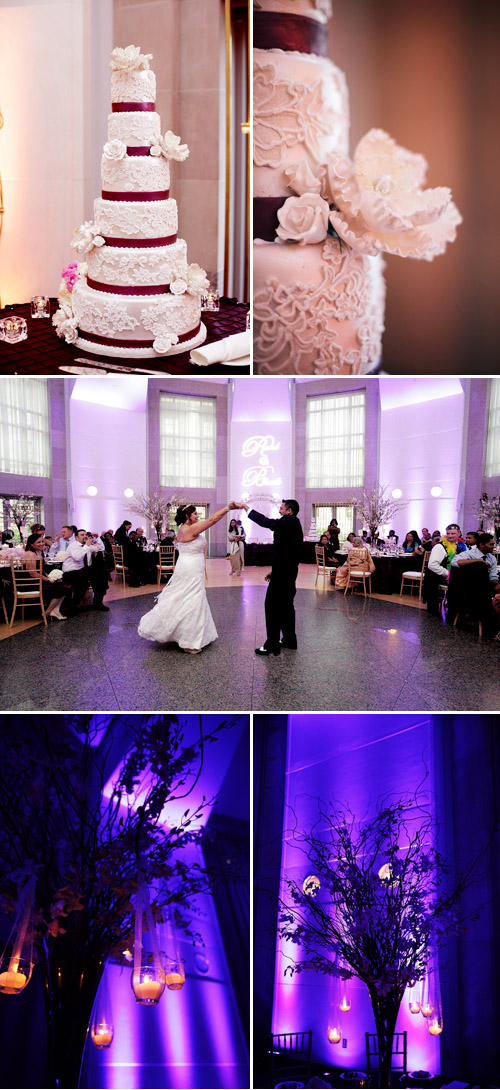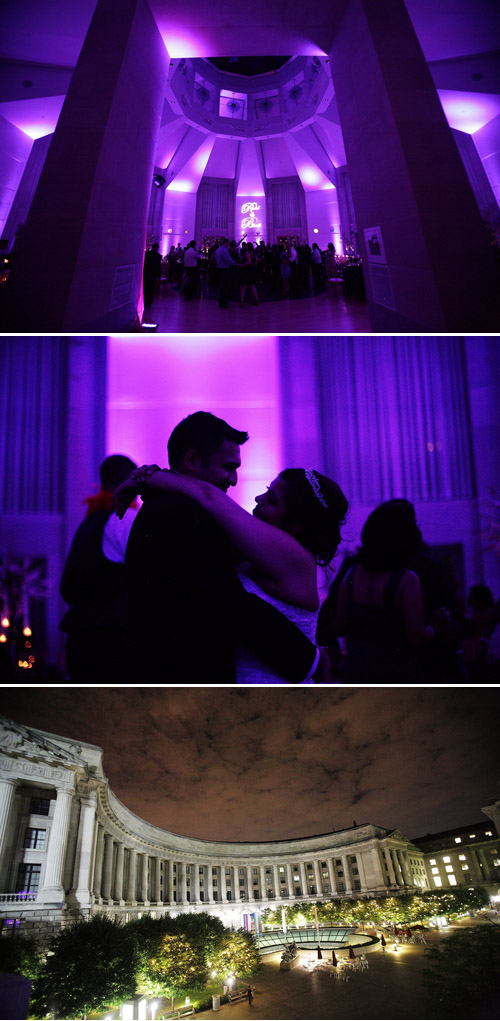 The Wedding Team:
Photographer: Jennifer Domenick – Love Life Images
Event Planner: Atrendy Wedding
Wedding Venue: Ronald Reagan Building
Videographer/Film Maker: Love Life Images
Officiant: Christian Ceremony: Brides Grandfather; Hindu Ceremony: Grooms Uncle
Invitation Designer: Cherish Paperie
Catering: Ronald Reagan Building
Florist: Da Vinci Florist
Cake: Fluffy Thoughts
Wedding dress: Pnina Tornai, Kleinfeld Bridal
Bridal accessories: Kleinfeld Bridal
Hair and make-up: Audrey Bethards
DJ: Anthony Simpson
Favors: Miniature Washington D.C. monuments from Georgetown Truffles Belgian Chocolates
Thank you so much, and congratulations Rachel and Bhavik!