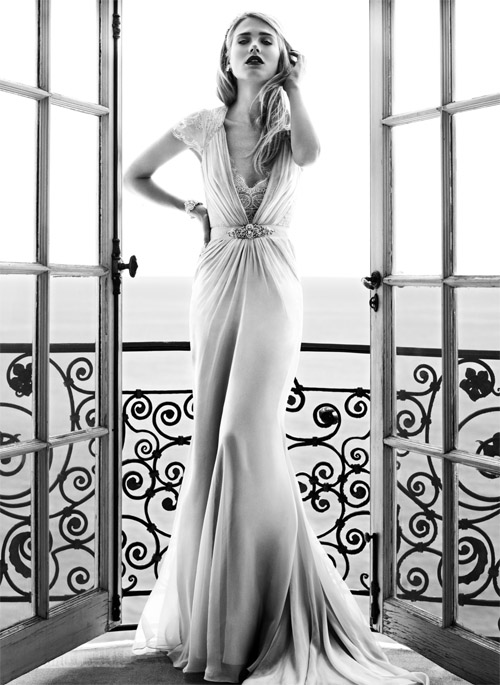 Good Monday morning everyone! I'm recovering today from a long weekend filled with wedding fashion shows here in New York City. My feet are sore, my voice is scratchy, and my mind is a bit of a blur of wedding everything, but honestly, could there be a better reason to feel worn-out?
To get this Bridal Market coverage started out right, I'm excited to kick things off with one of my very favorite wedding dress collections, Jenny Packham. Jenny's wedding dresses are always inspired by the glamour of vintage styles from the 20s, 30s and 40s, and this time she also drew creative inspiration from the lightness and ethereal beauty of nocturnal butterflies and their gauzy, intricate wings. White and opal colored beading and embellishments in addition to the more traditional rhinestone and crystals, give some of the gowns a soft, white-washed feel. I met and spoke with Ms. Packham herself in her stunning new Meatpacking District showroom, and it was an honor to have a chance to hear about her Spring Summer 2012 wedding dress collection. Take a look!





See more at JennyPackham.com!