The bridal hair and makeup looks from our new French Fashion Report are simply spectacular, so I asked Erin Skipley, makeup artist extraordinaire, to tell us all about her inspirations, techniques and favorite products used during the shoot.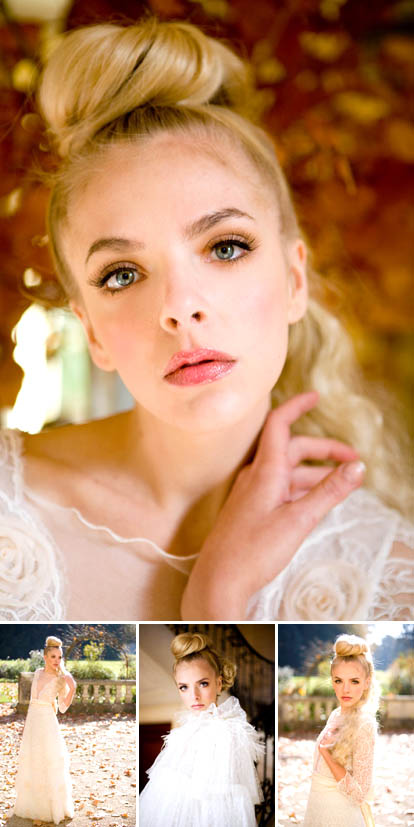 Soft and Pink
The inspiration for this look was fresh and youthful, like a young princess. On her eyes I used a taupe and soft bronze shadow, and MAC Fluidline for the eyeliner. Fluidline is great because it's waterproof when it sets, and it will last all day without migrating. To keep lots of light around her eyes and to get rid of discoloration I used Dior SkinFlash Radiance Booster Pen. For cheeks I used BECCA Beach Tint lip/cheek stain in watermelon, and a soft nude lip pencil and a coat of MAC Lipglass for her lips.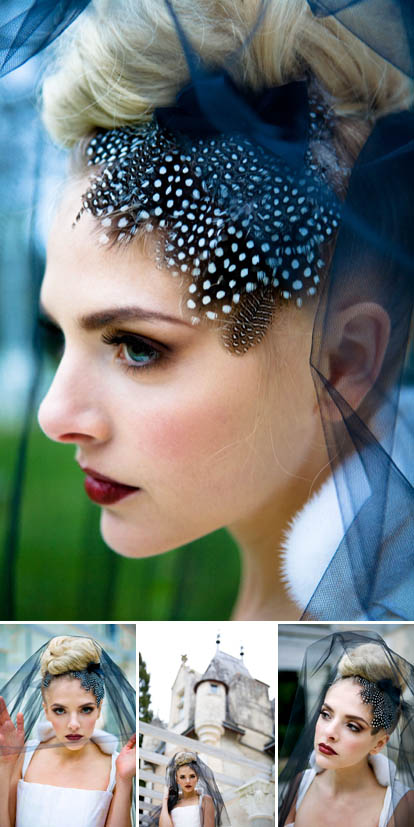 Classic Glamour
"The inspiration for this makeup and hair came from the classic fairytale glamour of Snow White. The Elizabeth dress was so stately and elegant that the hair and makeup needed to be strong. On her eyes is a Nars Duo Shadow in Subaraya, MAC Shadow in Carbon and a touch of matte cream color shadow as a highlight her brow bone. All of these are highly pigmented so you have to be careful. On her cheeks, I used Laura Mercier Face Tint in Apricot and on her lips I used MAC Lip Pencil in Mahogany with a Dior Addict Lipstick in Abyss Red."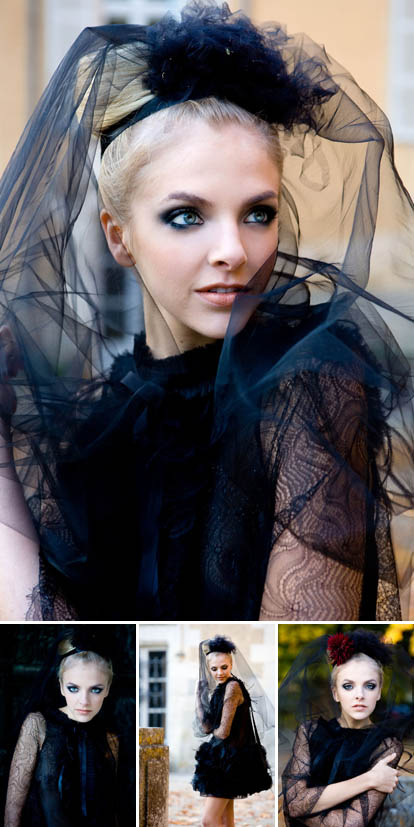 Smokey Black Bridal
"Our inspiration was gothic Lolita- soft and pretty, but dark and a-typical. Black bridal is so cool!! As dark as her eyes are they don't look severe. On Amanda's eyes, I used a MAC Eye Pencil in Smolder (best used as a base for smoky eyes, and in the water-line). I also used a highlight of turquoise shadow, a deep navy shadow over the bottom liner, and a matte cream shadow to soften, and as a highlight on her eyelids and brow bones. Brows were lightly filled in with a MAC Eye Brow Pencil in Fling. On her cheeks, I used a Laura Mercier Cheek Colour called Orange Blossom and a touch of MAC Bronzing Powder in Golden Bronze. On her lips was simply lip balm, and a light coat of LORAC Sheer Wash Lip Stain in Sheer Bronze.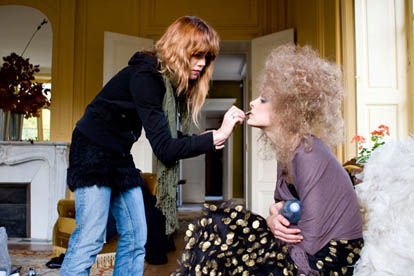 Thanks Erin! Amazing job! For more of Erin's work check out her website, and Junebug's Vintage Fashion for a Modern Bride and Girls' Night Out Fashion Reports.