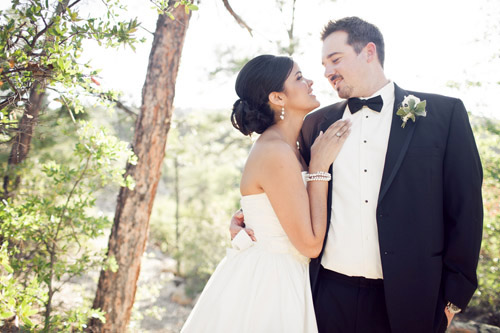 The Couple: Kristin and Jack
The Wedding: 10.9.10 – Hassayampa Golf Club, Prescott, AZ
What three adjectives that best describe your wedding? Classic, family-oriented, sentimental.
What inspired your personal wedding style, and how did you incorporate your style and personalities into your big day? While beautiful, shabby chic, pink garden weddings hold a very, very special place in my heart, I knew from the start that I really wanted to incorporate my husbands style into the wedding. I wanted him to feel like this was his wedding too. We both adore Michael Bublé and the mood that his songs evoke… vintage/Rat Pack era done in a new, modern way. With that as a base, I chose a darker color palette that had a fall feeling, but that was not expected: blackberry, copper and champagne.
Jack and I truly wanted our wedding to be an entire weekend-long event so that we would be able to spend as much time as possible with friends and family, so we decided on a destination wedding of sorts in Prescott, Arizona, a charming little western town in Northern Arizona. The weekend started off with an Early-Bird Welcome Event on Friday morning: an olive oil and balsamic vinegar tasting at Olive U Naturally, and lunch at our favorite diner. Friday night was the Rehearsal Dinner and the official Welcome Reception at the hotel lounge.
On Saturday, the ceremony was held on the golf club driving range overlooking the entire valley of Prescott just before sunset, with cream rose petals in the aisle, gold chiavari chairs, wedding bell ribbon wands and small baby's breath posies for the bridesmaids in their dark blackberry dresses. My dress was gorgeous and flowy with lots of fabric – perfect for twirling and dancing. When I walked into the dining room with the low lighting, candles, ivory centerpieces, and long rows of tables with blackberry table runners handmade by my mom, it was as if my imagination had literally jumped out of my head and into the room! It was everything I had dreamed of! All the guests were sipping champagne from vintage champagne coupes, the escort cards were in the shape of a champagne waterfall, the cocktail dinner music was similar to a Michael Bublé Pandora station, and the dinner was TO DIE FOR! Probably the best filet Ive ever eaten, cooked to perfection. Dancing was held outside under the stars in front of glowing fireplaces. We provided pashminas and flip flops that the ladies were going crazy over something that I had seen all over the place while planning, but such a brand-new, brilliant idea to everyone else. We danced the night away and I was even surprised with a serenade by my new husband.
On Sunday morning, our wonderful family friends from Prescott hosted a Jamaican-themed Farewell Brunch, and we jetted of to Jamaica for our honeymoon.
Our wedding was truly a group effort. My mom, bridesmaids and I did A LOT of DIY projects: we designed and letterpressed invitations, and made ribbon wands with wedding bells, programs with purple ribbon, Livestrong favors, purple and copper table runners made from Ikea curtains, and on and on. So much fun lets do it again!

Looking back, what are the moments, decisions or memories that you love the most about your wedding? There are too many wonderful moments to only choose one! From Jacks sister officiating and the beautiful handfasting ceremony to our sparkler reception entrance and the dance party that ensued, everything happened just as I imagined it would. One of my absolute favorite moments could actually have been considered a snafu, though! Prior to the big day, our DJ asked us if we wanted to have an open mic after my dad gave his speech at dinner. Without hesitating, I said yes. I thought maybe one or two people would like to get up and say something… never in my wildest dreams did I imagine that 10 people would stand up to tell us how much they loved us as individuals and as a couple! Surprisingly, the mic started off with my usually quiet aunt (who confessed that she had had a couple margaritas during the cocktail hour… love her) and then went though a whole gamut of relatives. Each speech was heartfelt and emotional. Im not sure there was a dry eye in the dining room, including myself and Jack. By the time everyone had their turn, it was already 9:00pm and the salad hadnt even been cleared yet! I gave our DJ the look, he very quickly wrapped up the speeches, and dinner was served. While our unexpected open mic night delayed the schedule a bit, it was so touching that our guests were able to publicly express their feelings for us. I will never forget the love and emotion that surrounded our wedding.

The Wedding Team:
Photographer: Marianne Wilson Photography
Day-of Coordination: KD Event Designs
Ceremony and Reception Venue: Hassayampa Golf Club
Officiant: Grooms sister
Invitation Designer: Invitations designed by the bride
Catering: Hassayampa Golf Club
Florist: Sutcliffe Florals
Cake: Hassayampa Golf Club and the Cheesecake Factory… we were going for flavor over design here!
Wedding dress: Mori Lee
Bridal accessories: Ann Taylor
Bridesmaids apparel and accessories: Davids Bridal, with vintage accessories sourced by the bride
Hair and Make-up: Makeup By Jen B.
DJ: DJM4
Transportation: Prescott Transit Authority
Rentals: Verde Valley Rentals
Favors: Livestrong bracelets and donation to the Livestrong Foundation in honor of our grandparents
Friday welcome event at Olive U Naturally
Thank you so much Kristin and Jack!
To find inspiration for your our personal wedding style, don't miss our wedding image gallery!
All images above by Marianne Wilson Photography