It's almost 2011, can you believe it? And what a past year it's been! To honor all that's happened in 2010, this week we'll be bringing you some of our most popular Real Weddings from throughout the year. We hope you enjoy them just as much the second time around (I know I do)! Then we'll see you back here on Monday, January 3rd when we'll be starting the new year off right with our all new Fashion Report featuring the Best Wedding Photos of 2010. Can't wait!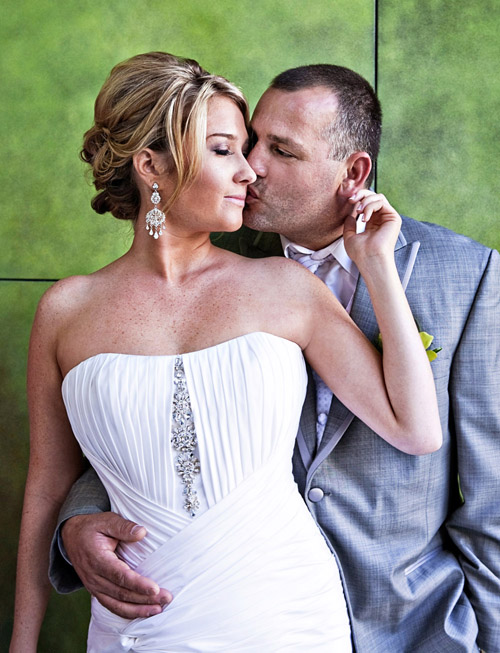 Today's Real Wedding is truly a feast for the eyes with its rich colors, stylish details and dramatic photographs by Joy Marie Photography, not to mention, the beautiful couple themselves. Kate and Gil, a vibrant couple with super fun personalities, were married last October in an outdoor ceremony at the Skirball Cultural Center, a contemporary art museum in Los Angeles. The bride, an interior designer, infused the entire event with striking jewel tones and stunning flower choices that truly made the evening pop.

The bridesmaids all wore eggplant-hued dresses byJim Hjelm and carried bouquets of green Cymbidium orchids and dark purple calla lilies. Kate herself wore a Simone Carvalli dress, and carried a traditional glass evil-eye for luck and protection. Her "something old" was a sentimental accessory, her grandmother's wedding band. Standing between two 12-foot Manzaneta trees, dripping with crystals, green orchids and draping moss, the couple recited their vows in a ceremony that incorporated both their Jewish and Catholic faiths, with passages that would truly speak to everyone in attendance. This wedding had no shortage of sentimental moments. When the father-of-the-bride first saw his little girl in all her wedding-day splendor, he burst into tears, and while reciting their vows, Gil let a single tear run down his cheek.

The couple and their guests moved inside for the reception where Kate was able to really play up her dream of combining bright, dramatic wedding colors with the sleek and contemporary feel of the museum and its gray stone architecture. Under pink and white lights, the couple had their first dance to Sade's By Your Side, which they chose for the truth in symbolism in the words – reminding each other that even at the lowest of lows, they would always stay together. Kate and Gil enjoyed their first dance as though no one else was even in the room, talking about how they excited they were for the rest of their lives!
Thank you so much for sharing your wedding with us Kate and Gil! Gorgeous! For more information about all the professionals who contributed to this wedding, be sure to visit our Real Weddings library.

Don't forget, for help planning your own Southern California or Seattle wedding, check out the trusted recommendations in our Plan Your Wedding hot list!