Today we're thrilled to bring you our second installment of expert wedding advice from celebrity wedding planner Mindy Weiss. Congratulations to Lara and Julie whose questions were chosen, and who'll receive a fun goody bag full of Mindy's products! And don't forget, for more super helpful wedding advice, check out Mindy's book, The Wedding Book- The Big Book For Your Big Day.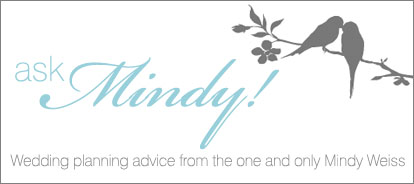 Hello again Junebug readers, I hope you're enjoying the summer weather and rejoicing in your wedding plans! This month I've chosen to answer two questions, one from Lara about having a cocktail reception, and one from Rose about helping her fiancé find some peace with the size of their wedding.
Q: What's the most appropriate way to word a cocktail and hors d'oeuvres reception? And is it appropriate to have a ceremony at 7 pm with this type of reception to follow? We're trying to save money by not having dinner. – Lara
A: It is absolutely appropriate to have a cocktail reception following your 7 p.m. ceremony. Heavy hors d'oeuvres and cocktails can go a long way and save you quite a bit of money for two reasons; you don't have to provide a full meal, and the reception wont last as long (2 to 3 hours is ideal). I love to see a mixture of tray passed hors d'oeuvres and food stations. Consider having a chef in white toque at each of your food stations to add some elegance to the presentation.
While cocktail receptions are great budget cutters they are also a wonderful option for couples who have a large guest list and not enough space at their venue to seat everyone, and for those who have eloped or gotten married earlier in an intimate ceremony and are now celebrating with a larger group of friends and family for their reception.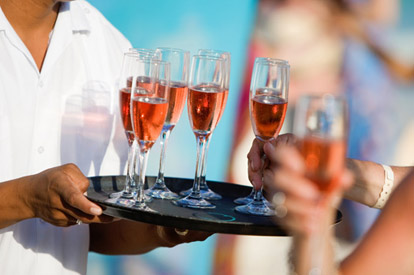 (Image by GH Kim Photography)
Q: I have been dreaming of my wedding day since I was eight years oldthe only big event that I ever wanted was my wedding dayMy fiancé is a very private person and is afraid that the wedding will become more about everyone else and not about us. How can I make him feel comfortable with the wedding, and assure him that it will be a day about the two of us? He has recently said he would go through with the whole big event for me, but I want to make him feel at ease with the entire event. What suggestions do you have for making the day feel personal and intimate? As well what can I do to make my fiancé not feel overwhelmed with this whole event? Help…………… Thank you! -Julie
A: Julie, this is a sweet question and one that many couples face to some degree. By acknowledging your different desires and looking for a solution youre starting your marriage off on the right track. Some fun ways to get your guy excited about the day and create enough space for you both to enjoy it are:
Before your wedding:
Have him identify just a couple of things that he might be looking forward to and give him those tasks first. Maybe he loves music, so ask him to create your play-list, or maybe he loves antique cars and he would enjoy finding the perfect one for your get-away. Be sure to acknowledge his special contributions to your day along the way and dont expect him to be on board for a lot of multi-tasking.
If your guy is somewhat shy, enlist his best man in helping him write his toasts (and give advice for his vows if hes writing his own) way ahead of time. Having these tasks finished early can alleviate a lot of anxiety. Another stress reducer is taking some dance lessons. Most people are a little hesitant about dancing in front of a crowd, and dance lessons can be a fun and romantic way to enjoy time together and build confidence.
On your wedding day:
Create an easy schedule with breaks between events and keep your photography shot list to a minimum. I suggest you take your photos beforehand so you have plenty of time to cover this important aspect of your day. Ask your photographers to set up a special first look, and a fun photo outing that includes plenty of time to accomplish everything. If you feel strongly about waiting to see one another until your ceremony, be sure you schedule no more than 40 minutes for the necessary family and bridal party photos afterwards.
Consider taking time alone together after your ceremony to connect and get something to eat and drink. Your guests can relax and mingle for up to an hour before you make your big entrance. Once you do, you may want to have a couples table where you can sit by yourselves during dinner and toasts. Forgo a receiving line and be sure to leave before youre both exhausted so you have plenty of time to enjoy your wedding night!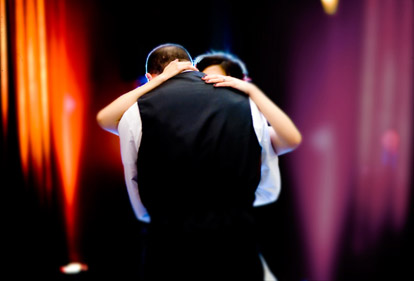 (Image by John and Joseph Photography)