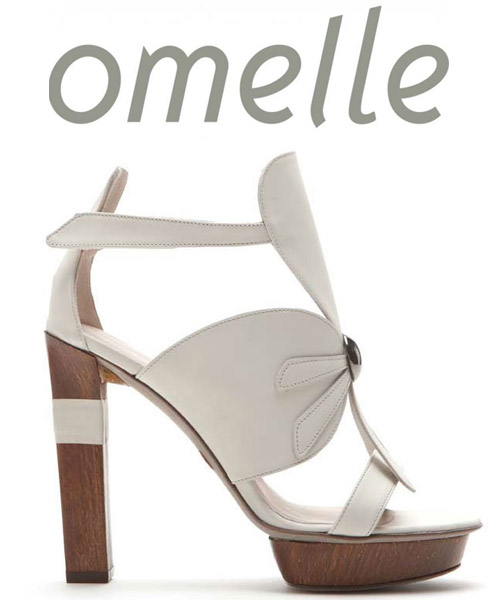 Happy Monday Junebug readers! Just as we promised you last week, today is a special giveaway day! In Thursday and Friday's Real Wedding blog posts, we introduced you to the amazingly stylish and beautiful bride Cherise, who also happens to be one of the designers behind Omelle shoes. Cherise and her design partner Nicole were two young, shoe-obsessed women who met at L.A.'s Fashion Institute of Design and Merchandising, and came together to create a luxury footwear company called Omelle. Mixing Cherise's sophisticated high-end tastes with Nicole's artistic roots, the duo have created a line of shoes with a distinctive and imaginative look that we are head-over-heels for (no pun intended). We love the combination of wood and leather, the unique sculptural heel shapes, and the flat-out sexiness of every pair! They are the perfect statement-making pieces for any outfit or event.
To enter to win a pair of Omelle shoes, take a look at www.Omelle.com and then leave a comment here letting us know which designs are your dream shoes, and just how you would wear them. We'll take entries all week long and choose a winner at random on Monday, May 31. That's not all though, thanks to Cherise's fabulous generosity, all Junebug readers also get to take 10% off any online purchases through June 24th. Just enter the code "JUNEBUGLOVE" at checkout.
Good luck everyone, and have fun! We can't wait to see which pairs you pick!