Spring weddings have been filling our inbox faster than the temperatures are warming up, and we can't help but feel inspired by all the pretty color palettes we're seeing! As the flowers begin to bloom through the melting snow, we see more and more beautiful weddings with punchy pinks, lush greenery, and dreamy pastels. These spring wedding color palettes will help you envision the day of your dreams in hues you truly love!
1. Coral, Aqua, and Navy – This punchy palette gives the old complementary colors orange and blue a fresh update by using a more pink-toned shade alongside a light, bright aqua and a crisp navy for contrast. This palette works especially well for preppy nautical weddings and rustic backyard soirees.

images by Taylor Lord Photography, Nordica Photography, Love Lit Wedding Photography, PRETTY DAYS, Emily Delamater Photography, Smallpigart, Chaffin Cade Photography
2. Lavender and Sage – If simple, subtle, and natural are your guide words for your wedding day, consider a lavender and sage color palette. From bouquets of eucalyptus leaves to bunches lavender petals for guests to throw as you make your way down the aisle, this palette is as easy to pull off as it is beautiful. For a modern take on the palette, add purple and green succulents to your centerpieces or give them out as favors!

images by Sunglow Photography, Ashleigh Hobson Photography, Hudson River Photographer, Michael Anthony Photography, Laura Sponaugle Photography, Sachin Khona Photographer
3. Pink, Coral, and Green – For a wedding that is quintessentially spring, a choose a palette of pink, coral, and green. This palette is effortless to pull off because you're able to use your favorite flowers as a focal point, whether they're peonies, dahlias, or garden roses. Fill small vases on your reception tables with single stems or create a ceremony arch out of wild leaves and pretty pink petals.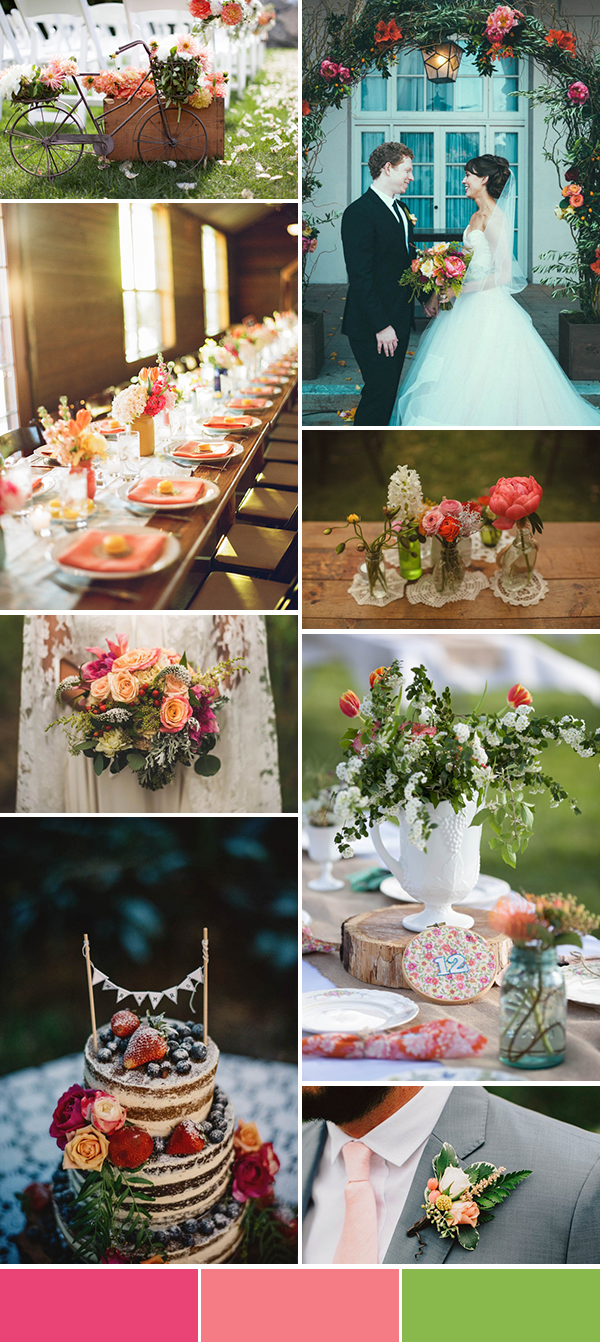 images by Whitney Lane Photography, Pony Lovin Wedding Photography, Tim Williams Photography, Jana Marie Photography, Lev Kuperman, Gabe McClintock, Roberto Panciatici, Taylor Lord Photography
4. Green, Ivory, and Navy – For a wedding look that is both classic and earthy, go with green and ivory accented by navy details. The natural arrangement of green and ivory appears pure and organic, while the navy adds a level of chic contrast. We love the idea of adding berries to your bouquet or cake for a pop of blue against the ivory and green!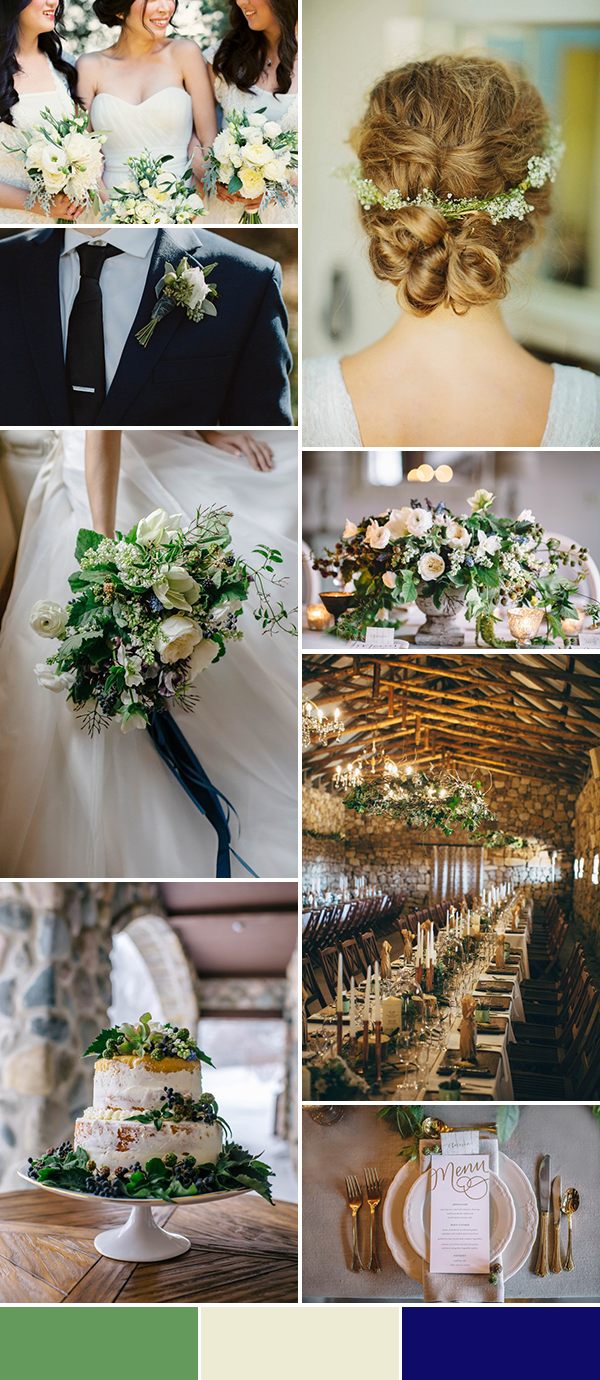 images by Erich McVey, Photo by Betsy, Amanda Dumouchelle Photography, Kikitography, With Love & Embers
5. Blue and Yellow – This color palette is incredibly versatile in that it can be used for any wedding style: nautical, bohemian, über-chic, or backyard fun. Yellow and blue make for a clean starting place to accessorize your wedding with elements that are reflective of your personalities. We love the idea of shaking up your fashion choices with a blue wedding gown or yellow bridesmaids dresses!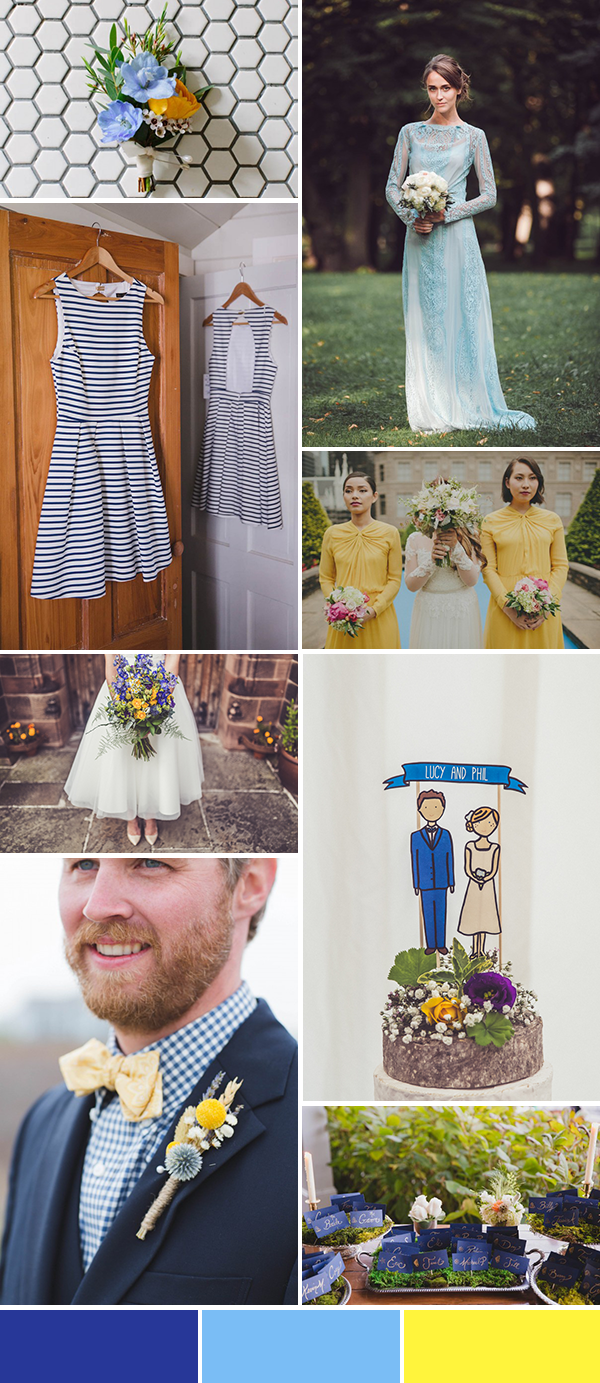 images by Celine Kim, KATYA KATYA, A Fist Full of Bolts, Claire Penn Photography, Gina Brocker Photography, Runaway Bride Nantucket
Love these spring color palettes? Be sure to check out our Image Gallery section for more color inspiration for your big day!