A Honeymoon on the Oregon Coast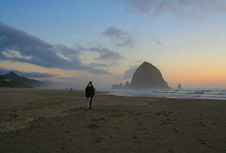 Cannon Beach, Oregon is one of life's pleasant surprises. If you go expecting to find rugged ocean beaches, emerald green rain forests, and cozy cabins along the bluff, you won't be disappointed. What will surprise you in this decidedly Cape Cod style resort town, are the gourmet restaurants, the ultra romantic hotels and inns, and the vibrant art and culinary scene that make Cannon Beach a Northwest treasure. This is the perfect place to spend your days hiking, biking, and surfing in the great outdoors, and your nights watching the sunset, dining on delicacies, and cuddling by the fire.

Here's what to do when you're in Cannon Beach...

Junebug Photographers are available for travel. For photography services in Whistler we recommend David Buzzard Photography.
Thinking of getting married in Whistler? Call Linda Marshall Of Whistler Wedding Planners at 604-932-4672 or visit www.WhistlerWeddingPlanners.com.