If there's one sense that can evoke memories within an instant, it's smell. The minute you catch a whiff of a certain fragrance, you're likely to be hit with a wave of nostalgia. That's why we love the idea of a wedding perfume chosen specifically for your big day. The minute you put it, you'll be transported back to the day when you were surrounded by your loved ones, committing yourself to your partner forever.
With countless perfume options out there, we know that selecting a special one for when you say "I do" can be difficult. That's why we're breaking down our favorite wedding perfumes by scent family and notes, so you can pick one that best suits your style.
Floral Wedding Perfumes
Whether you're having a garden wedding or a small backyard affair, floral perfumes are one of the most versatile options out there. From roses to jasmine to lavender, there's a wide variety to choose from. Not a big fan of an overpowering sweet scent? Opt for a floral perfume that's paired with musky scents such as tobacco or musk.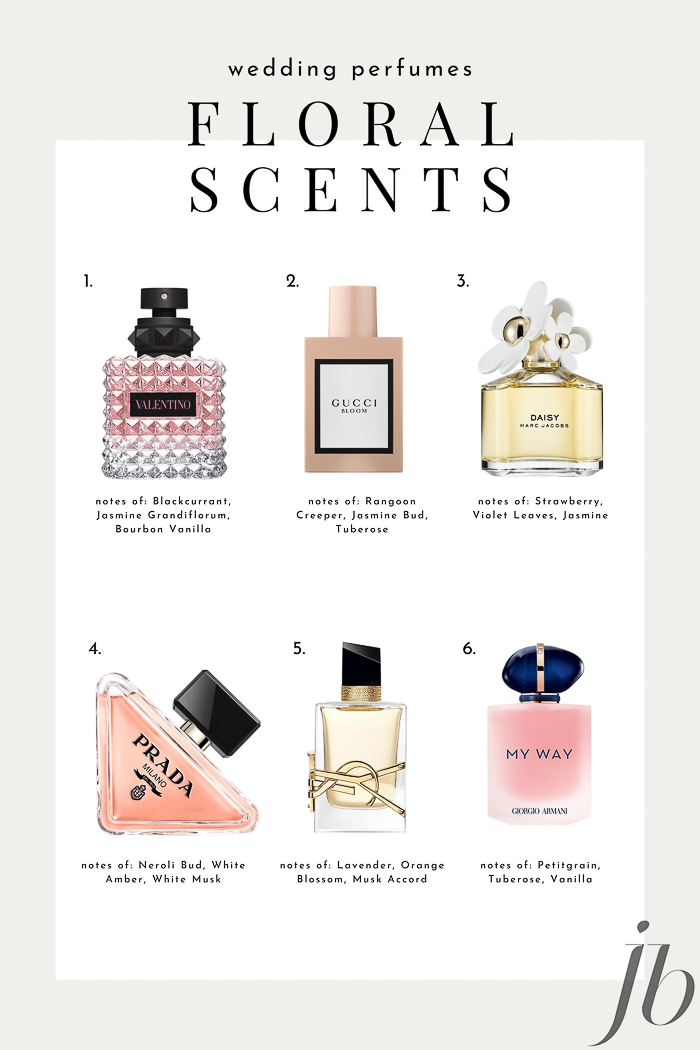 Fresh Wedding Perfumes
Tying the knot on the beach or the great outdoors? Think of something fresh, with notes of citrus, fruits, and light florals. One spritz of these and you will feel as if you've been transported to the coast of Italy on a warm summer's day.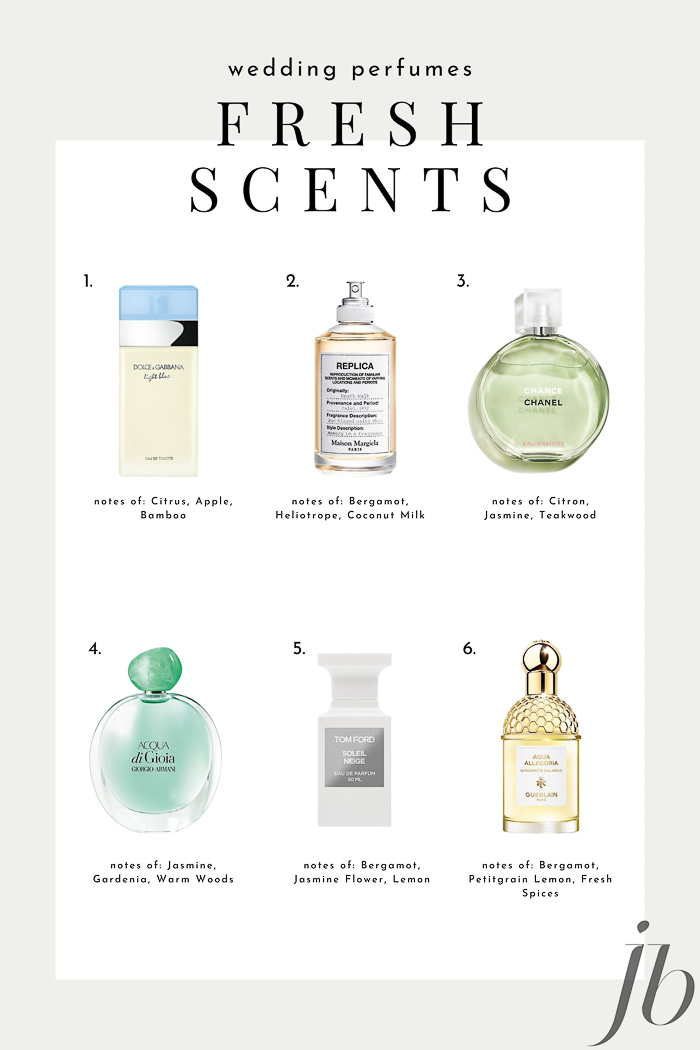 Woody + Earthy Wedding Perfume
We know that sweet scents aren't for everyone. And if your wedding is taking place in the forest or woods, you have the perfect excuse to wear one of these woody and Earthy perfumes. But hey, even if you aren't saying "I do" out with mother nature, these still make for a great, sexy smell.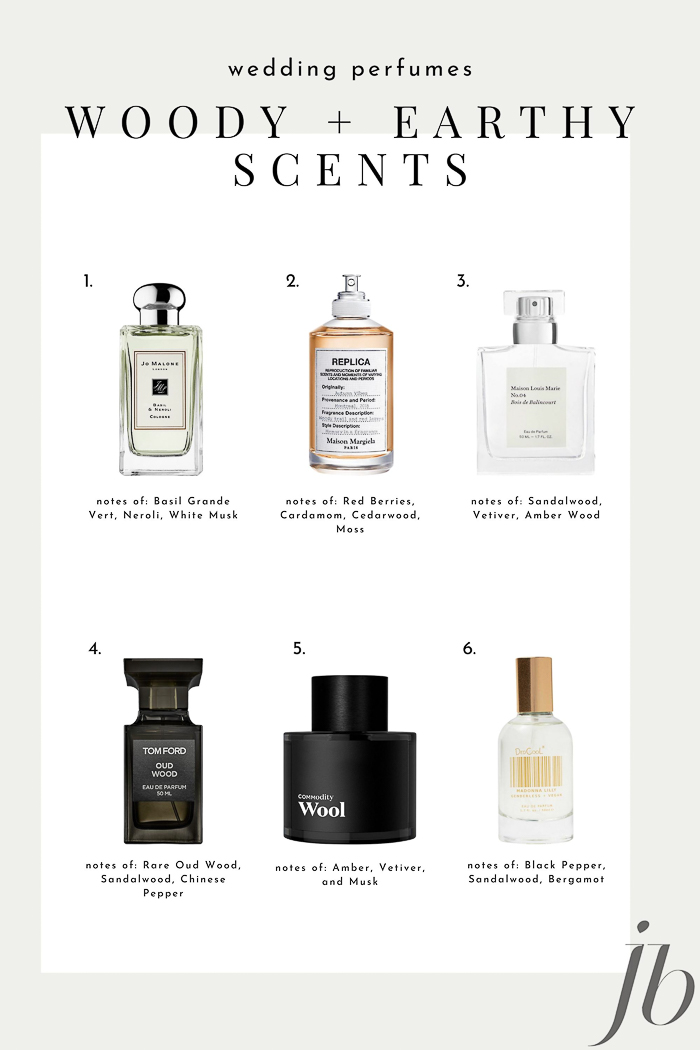 Warm + Spicy Wedding Perfumes
Warm and spicy scents with hints of coffee, tobacco, patchouli, and vanilla are perfect for anyone looking for a sweet yet musky perfume. Think modern wedding at your local art museum, a rooftop soiree downtown, or a cityscape elopement.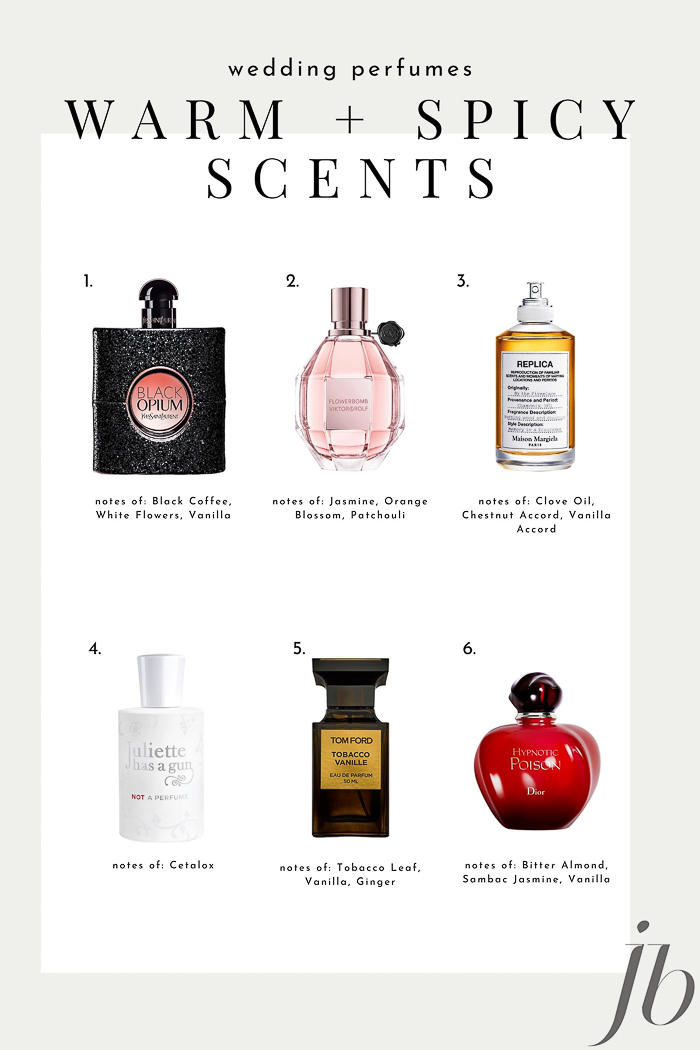 Now that you've picked your signature wedding perfume, it's time to start thinking about everything beauty. We're talking hair, skin, nails–everything. To keep you on track while you're wedding planning, check out our official wedding beauty timeline that will help you look and feel your best on your big day!