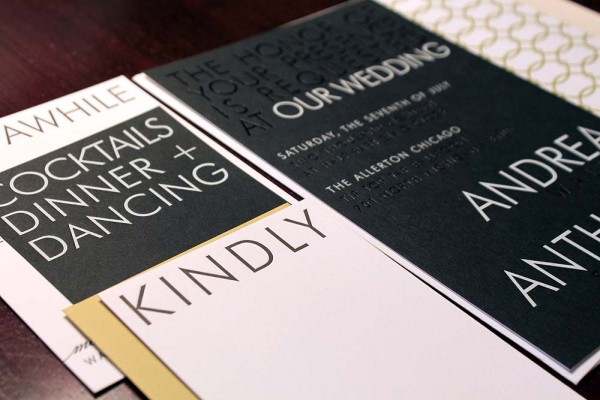 While it may seem like a small detail, wedding paper is the first impression your guests receive for your big day. From your Save the Dates to your official wedding invitations, the wedding paper gives your guests a glimpse into your carefully planned wedding style. We're so excited to have Heather Hildebrant of Seattle paperie
Chic Ink
share the most inspiring wedding paper trends for 2015. Take it away Heather!
1. Modern Type: Maybe the flourish and swash isn't for you and want something clean and modern for your paper goods. The modern look is perfect for the simple and elegant wedding. Getting married at a city chic loft? These invitations are perfect for you.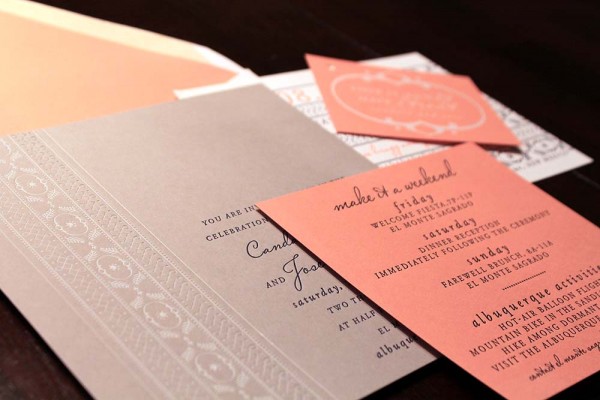 2. Pop of Color: Remember when invitations were printed on cream with black ink? Me either. It's so great to add personality to invitation ensembles and the latest trend is with a pop of color. Colored envelopes, colored insert cards, or even colored envelope liners. The great thing is that you can take advantage of the entire rainbow of color options for any style of wedding. Peach for a backyard affair, red for a formal reception, or blue for barefoot beach nuptials. Once your pop of color is chosen, don't forget about how to incorporate it into everything on the big day – custom napkins, drink stirrers, name cards; you name it.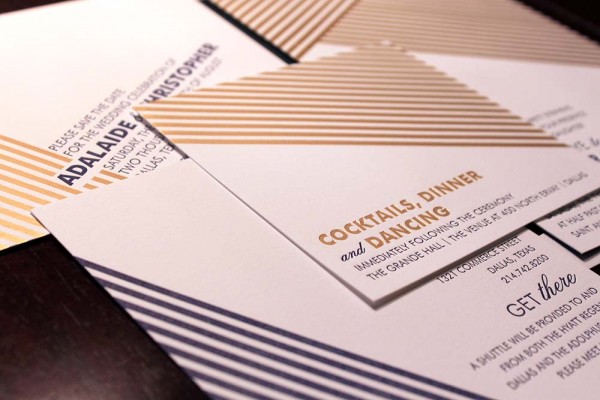 3. Stripes: Stripes are getting a face lift this year. We can all remember when chevron was the rage, but now there is a new way to keep your stripes on trend. Consider this unique take on stripes and keep the formal look with the gold foil stamping. With all the new options for foil printing, you can use this suite with any style of wedding that you are planning.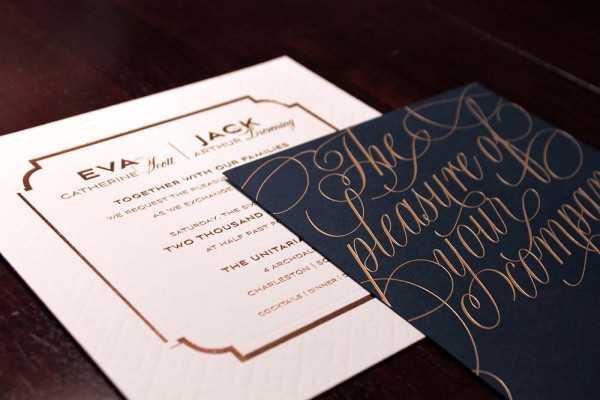 4. Foil Stamping: Foil is everywhere this year and I love it! It's such a beautiful touch and adds a sparkle to everything enclosed in your envelopes. Gold, silver, black, white, and even colors like red, purple, and blue – your foil options are almost endless. I love the foil look for the luxe wedding at the 5 star hotel or country club. You can even continue the trend on your reception items like menus, name cards, or signs.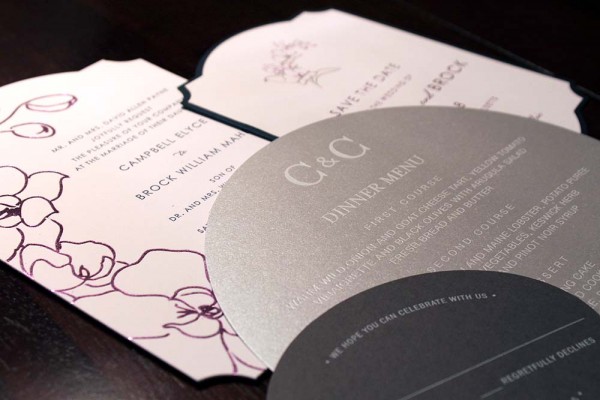 5. Shapes: A request that I've been seeing more and more – shapes. Why stick with the standard 5×7 rectangle when you can send out something with personality? With the great tools available, we can now cut many different shapes for you to send out. Invitations, reply cards, and anything for your special day like menus and coasters. This fun trend is perfect for the offbeat and fun wedding.
Thanks again to Heather of Chic Ink for these inspiring wedding paper trends! For more wedding paper ideas, check out our pretty paper inspiration boards.