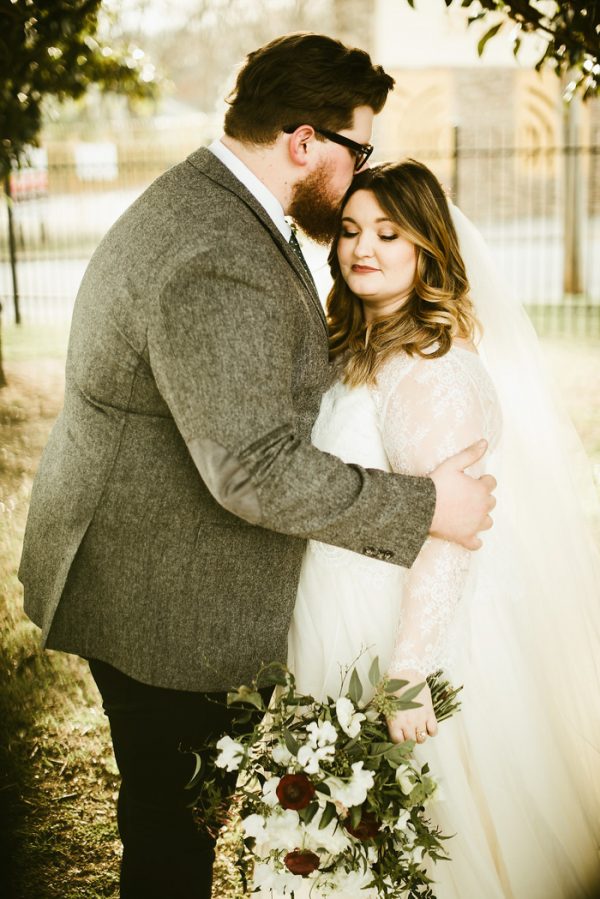 We can't deny that the Pinterest-worthy floral designs by Rosemary & Finch in this Atlanta wedding made our hearts do a happy dance! From the classic burgundy and white bouquets to the fabulous floral hoop installations above the ceremony altar and sweetheart table, these are some of the most elegant and visually captivating florals we've seen! The addition of a hand-made penny sign with the words "Worth Far More," which Clark made for Samantha while they were dating, was the the perfect finishing touch in the hoop installation. Those details, combined with elegant table designs, scrumptious desserts, and romantic couple portraits captured by Kayla Johnson Photo, made this wedding one that we won't soon forget. Taylor Dawn Design did a masterful job helping this couple create a truly magical and lovely day!
The Couple:
Samantha and Clark
The Wedding:
Grace Midtown Church, Atlanta, Georgia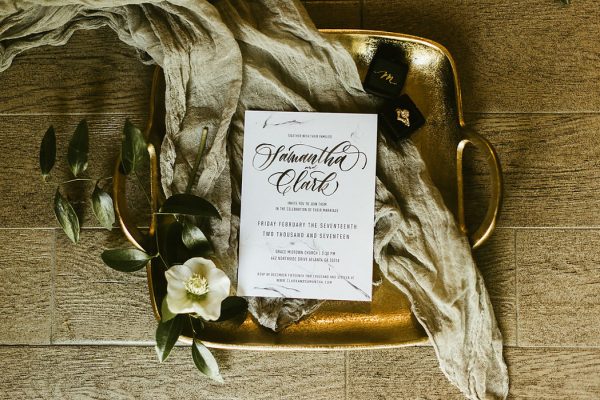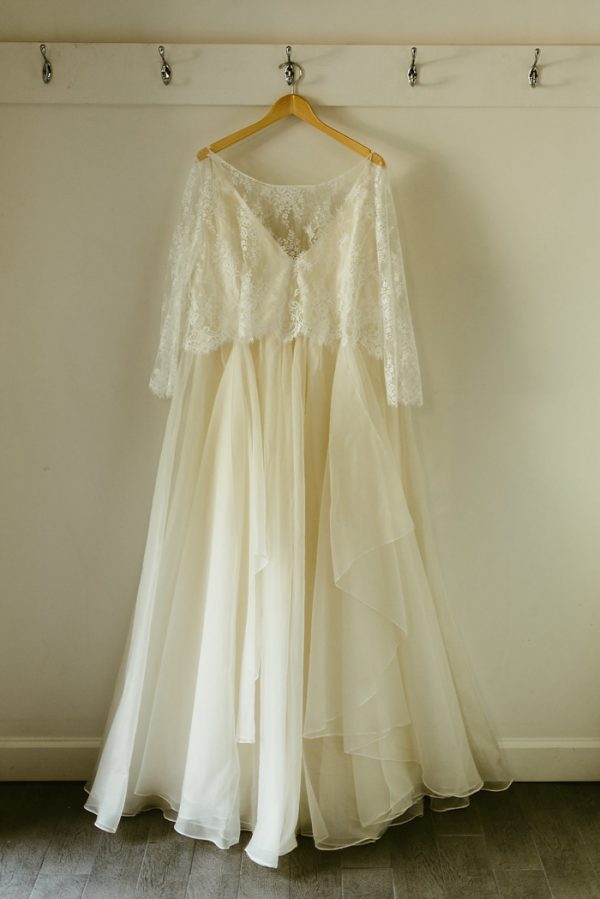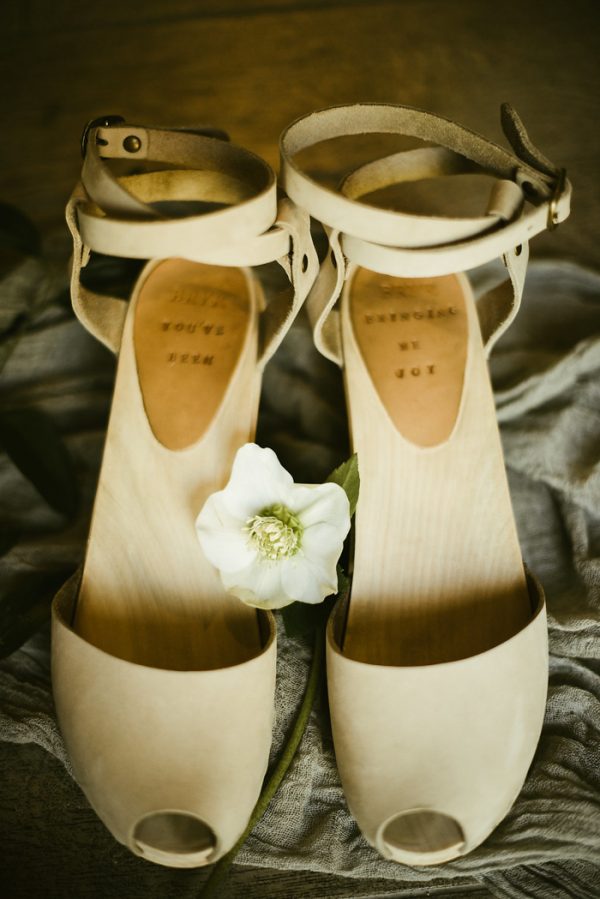 I love, love, love lace and really wanted to incorporate it in any way. I always wanted a super simple dress that made me feel beautiful – not cute and timeless, and not trendy. So I went for a more simple dress with a textured skirt and a gorgeous long sleeve lace jacket with an open back. I kept saying every 20 minutes how beautiful I felt. If you know me, that is 100% not like me! I wore my mother's veil, which matched so perfectly, and a simple gold floral hair piece that tied the whole thing together. I really wanted the gorgeous flowing long hair look, so I somehow pulled that off with clip in Revlon extensions for $20 (true story!).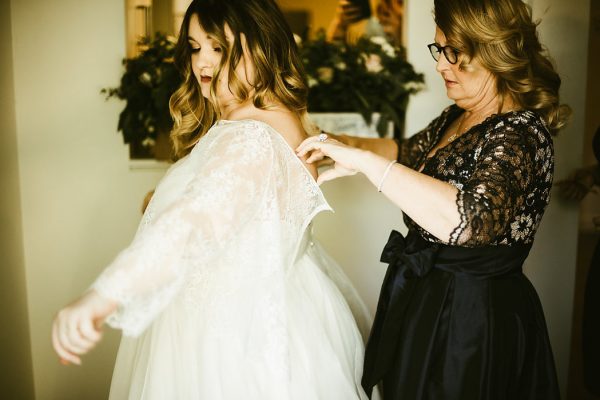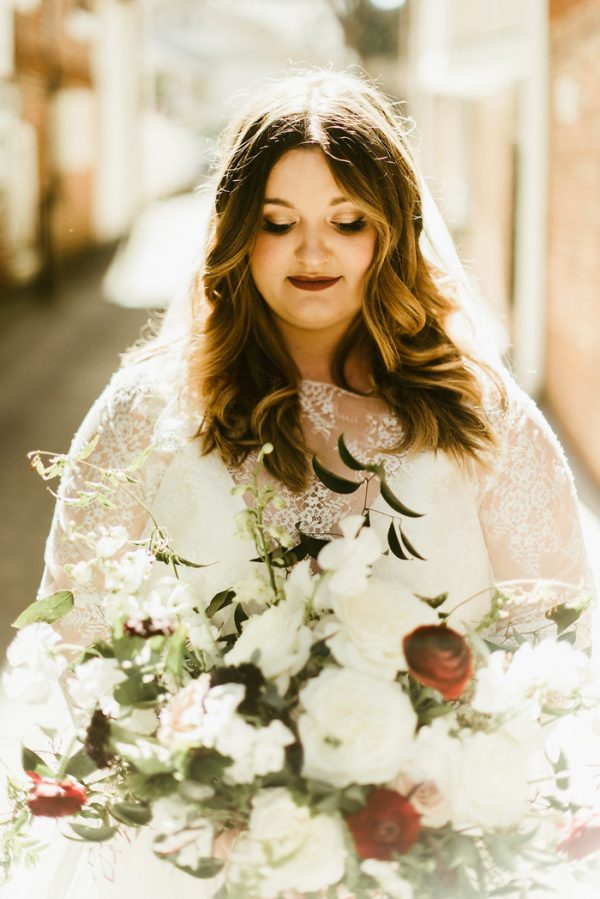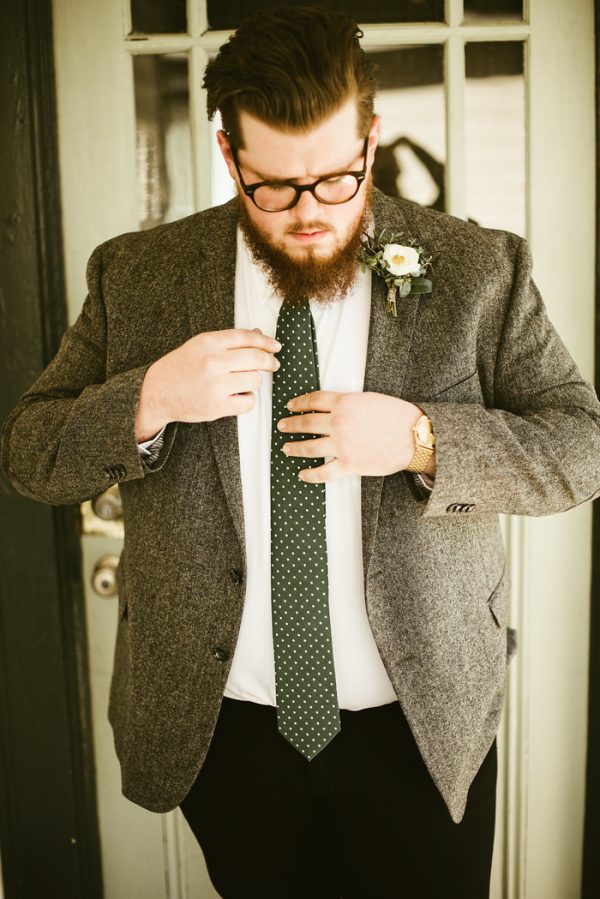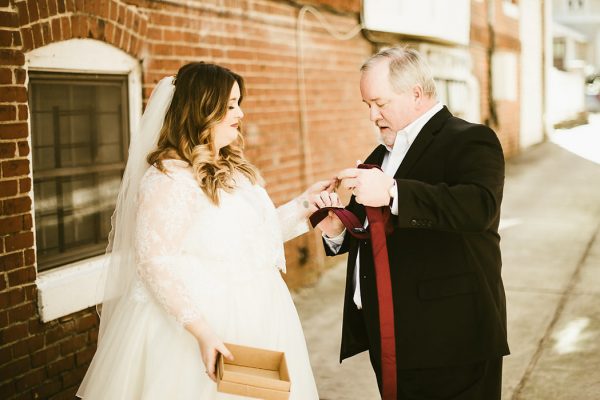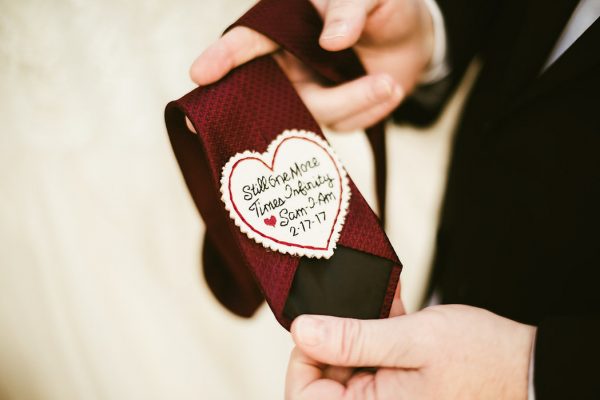 Clark had a big role in choosing our wedding vibe! There is one half of me that is all about gold, glitter, and white, but we wanted it to feel like us. Clark suggested my maids wear mismatched black lace. as opposed to the shimmery gold that I suggested. So I started to think about a darker, more moody pallet, and it evolved from there! We went with dark greens, black, marble, and little bits of gold, and it all came together beautifully. I wouldn't have had it any other way!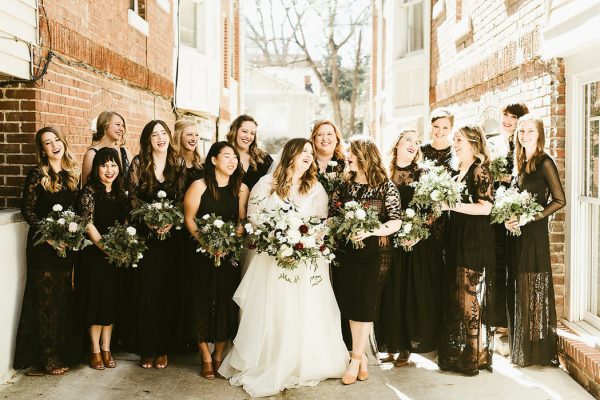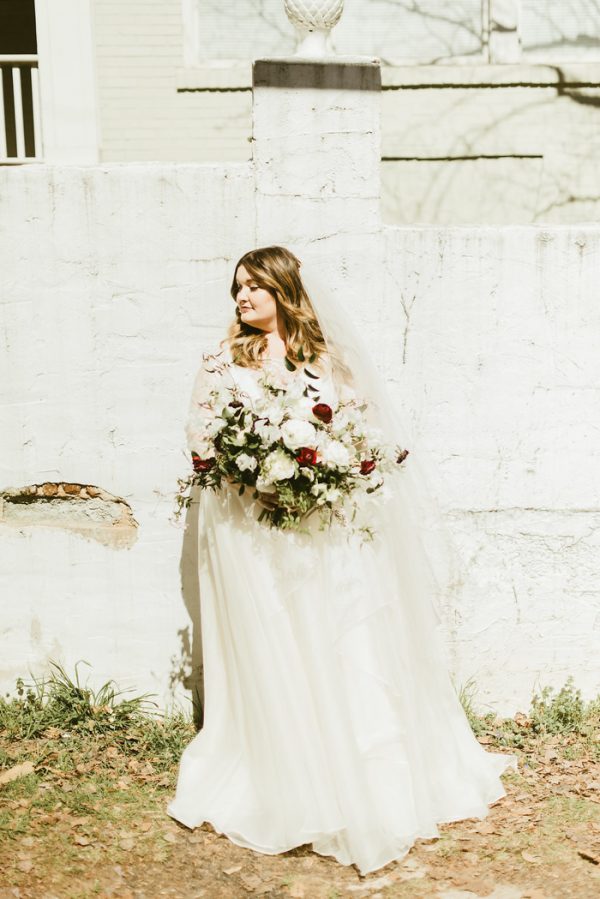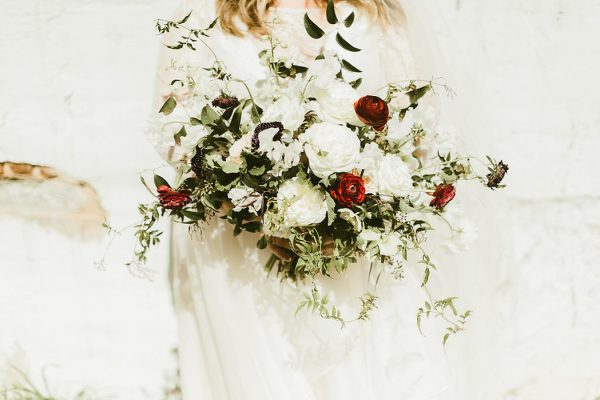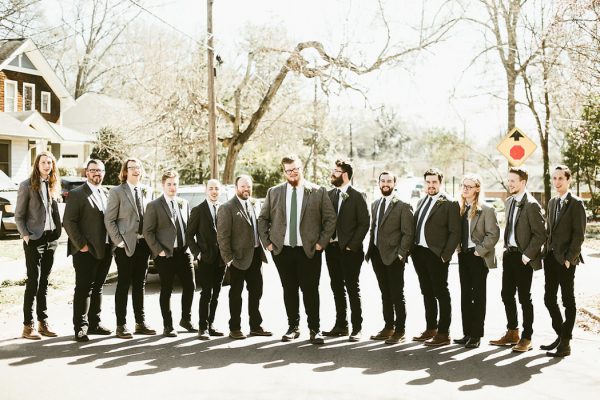 We got married at Grace Midtown Church, which is where we met and spent the majority of the beginning of our relationship. My family has been a part of Grace for years. My cousin was a part of the blueprints of this specific building, and it was a super special place to us. We also loved the look of the brick and iron with big windows and a lot of light!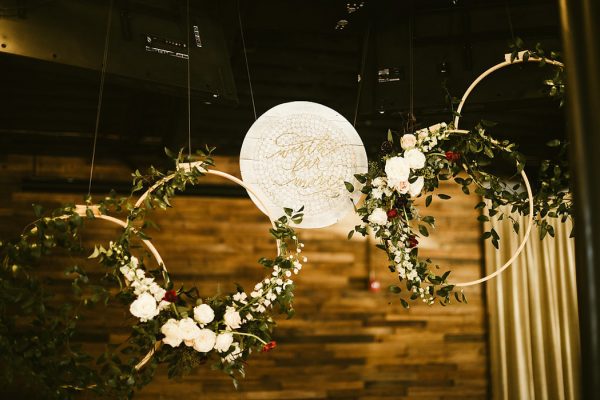 Our ceremony installation was built around an amazing wooden piece that Clark made me when we were dating. It's a wooden circle with pennies fastened to it and white washed. Over the pennies, in calligraphy from a good friend, it says "worth far more." Pennies have always been a symbol of worth to me so when Clark suggested that piece be a focal point of our ceremony, I was so on board!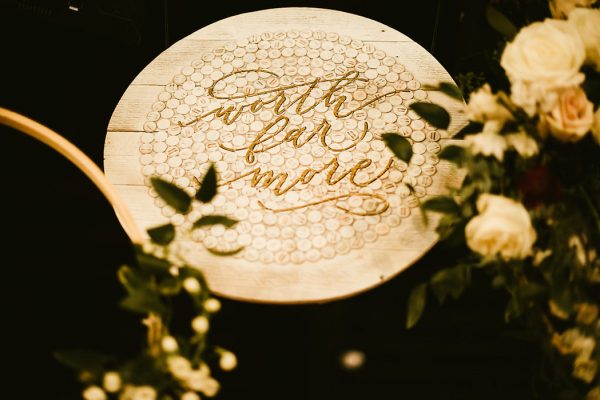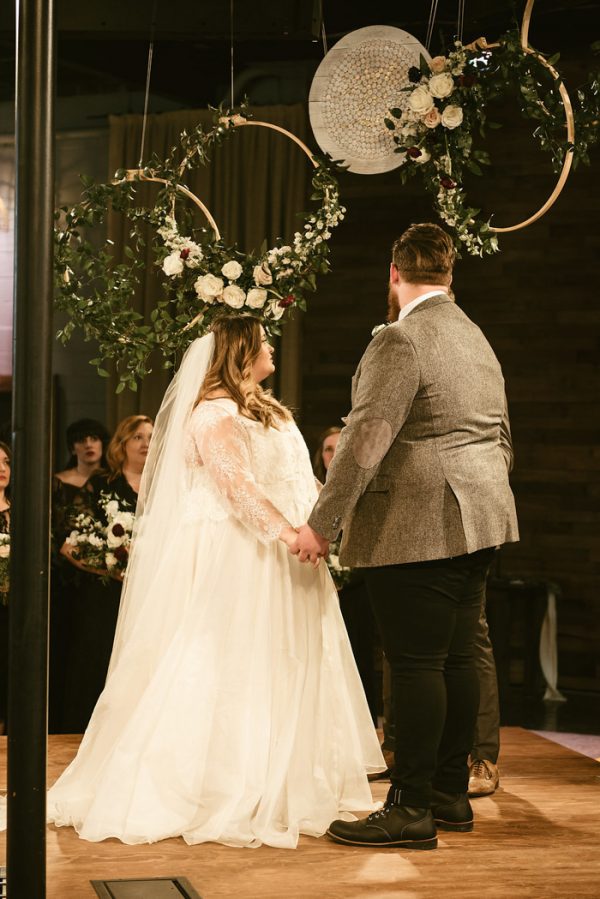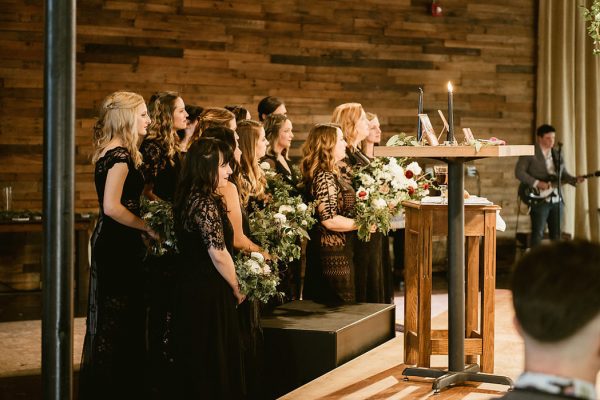 We really cared about the words in the vows, having our friends and family pray over us, having Clark's father (who is a pastor) do communion, and sharing our own letters to each other in addition to traditional vows. We repeated traditional vows to one another because they are such powerful promises to each other, and where our words would fall short to create something so powerful, we wrote and read letters to one another. It was perfect.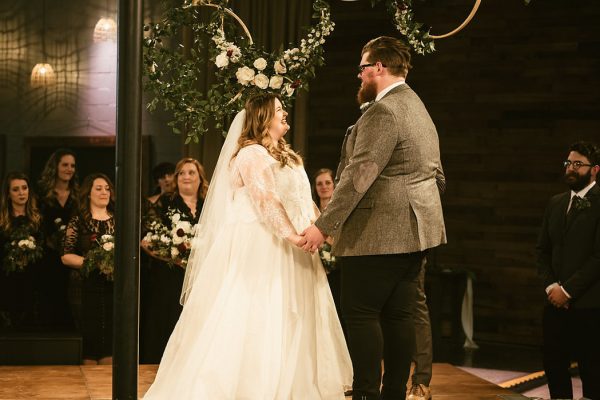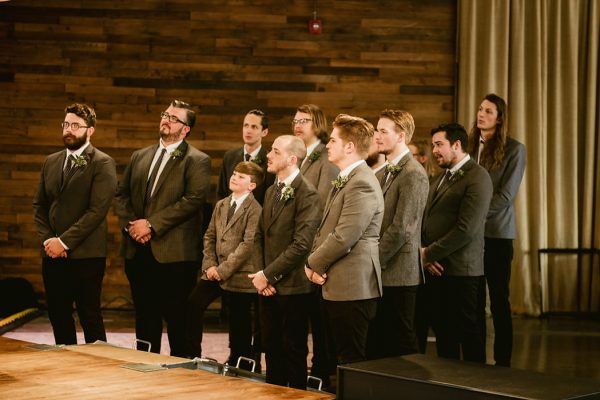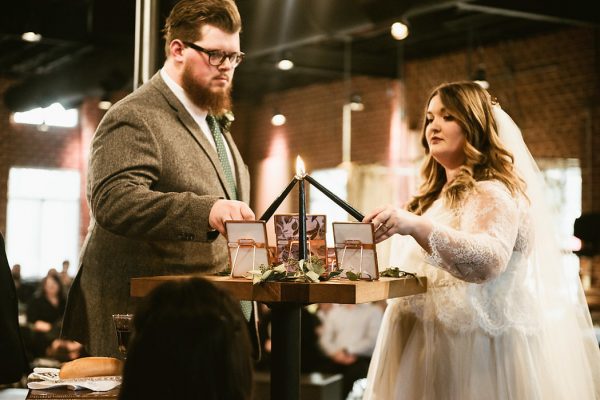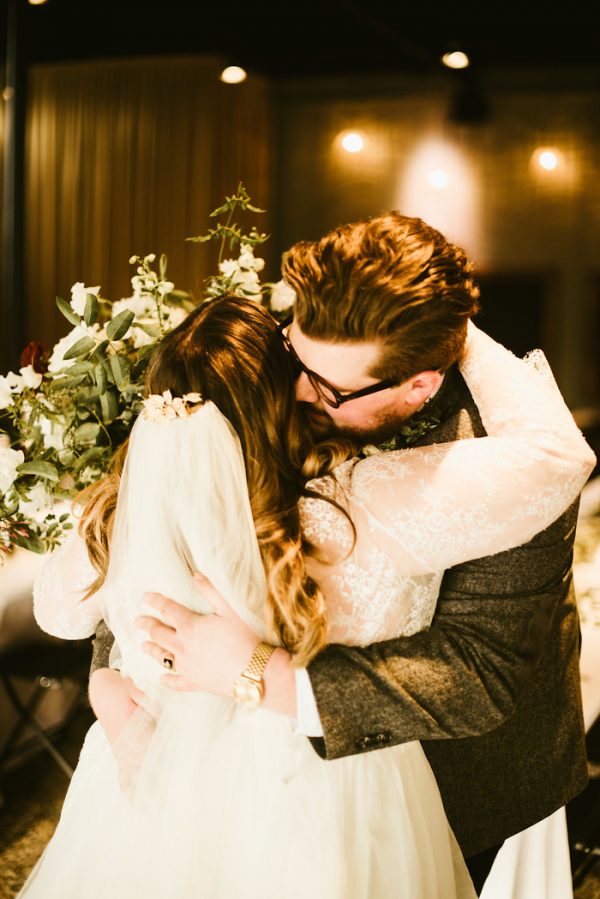 Kayla. Is. A. Dream. She was so encouraging and uplifting! If she was stressed, I had no clue. She was the perfect person to, more or less, have up in your face all day! She would react so positively to a shot and it would make me feel awesome about myself and her confidence and engagement in the whole thing!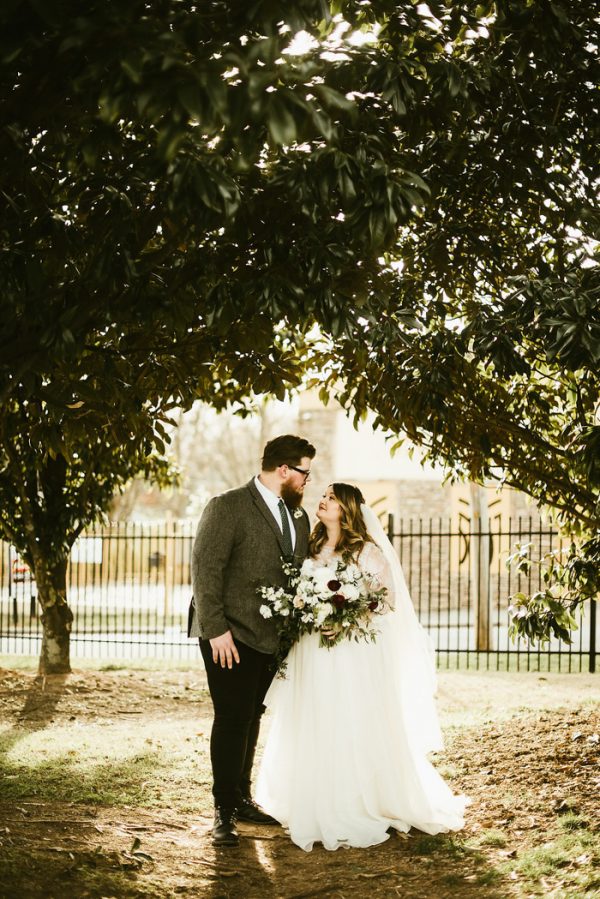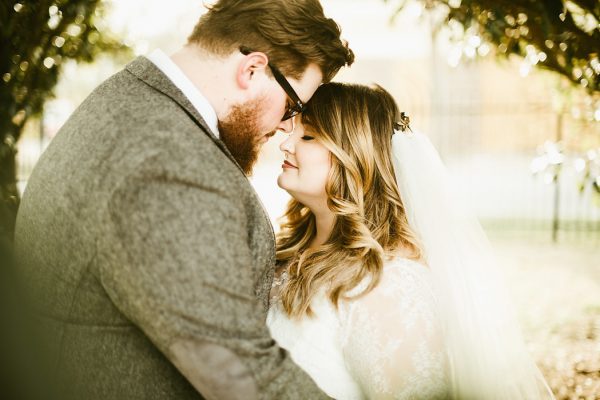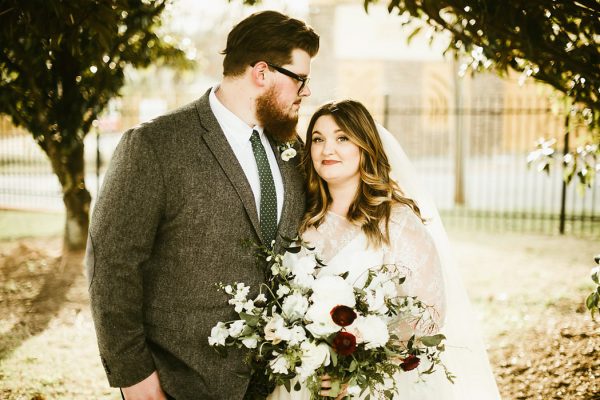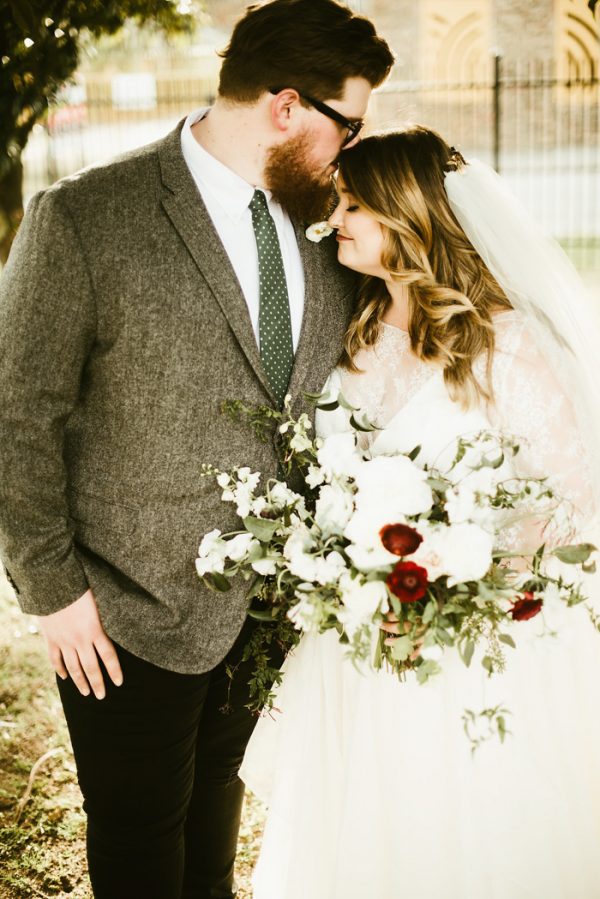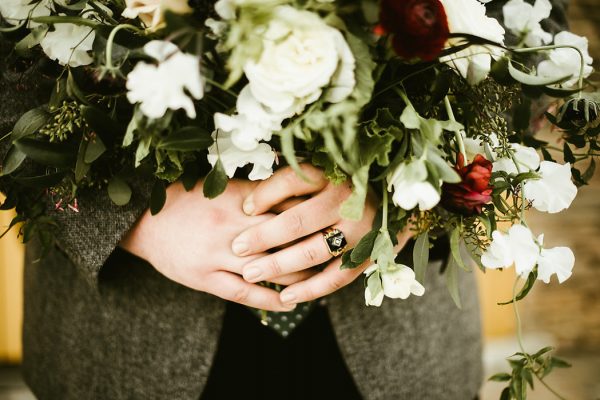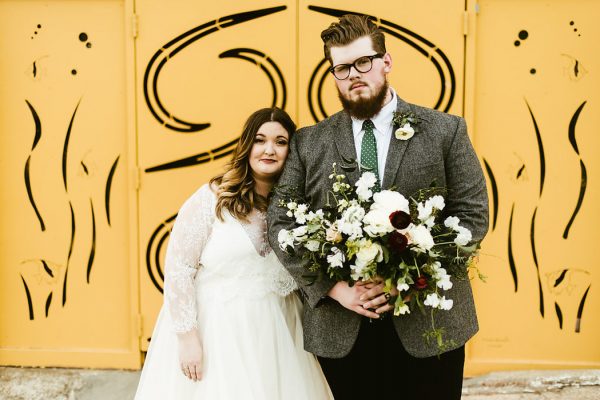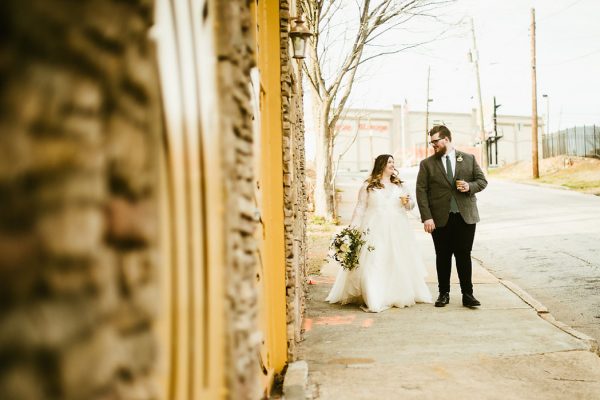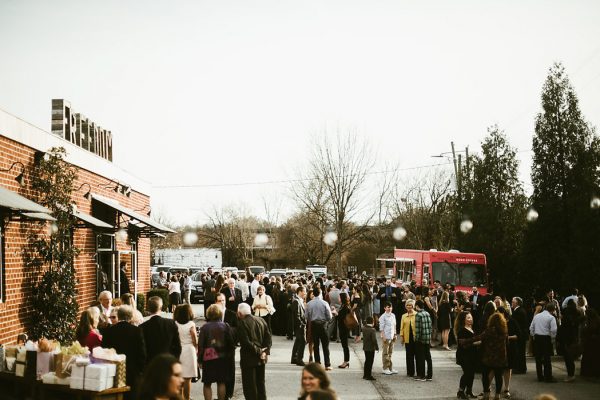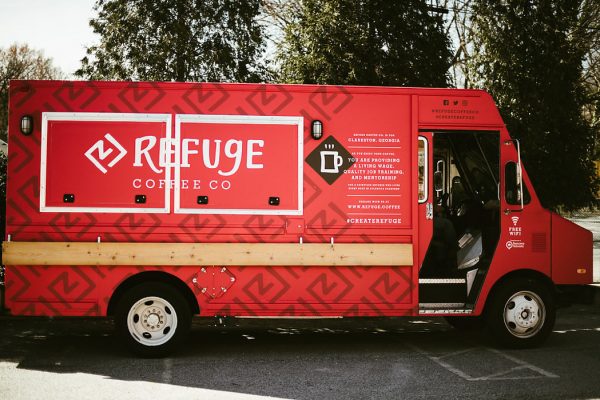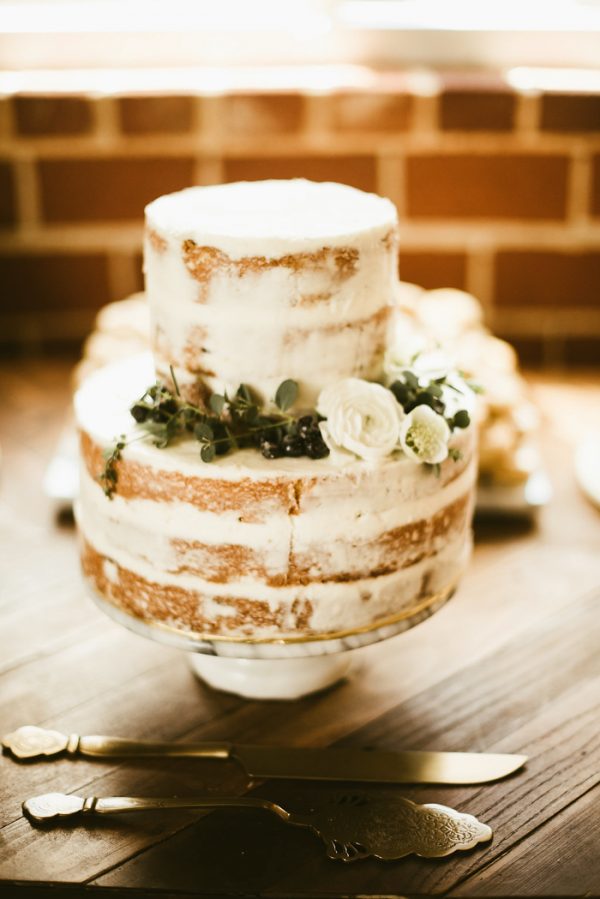 We did breakfast for dinner and it was a hit! We served chicken and waffles, mini cheddar bay biscuits, sausage gravy, cheese grits, banana espresso bread, roasted potatoes, and much more. It was amazing! We had a small 2-tier cake that we cut, as well, but our dessert was mini doughnuts from Revolution Doughnuts and they were also a-ma-zing!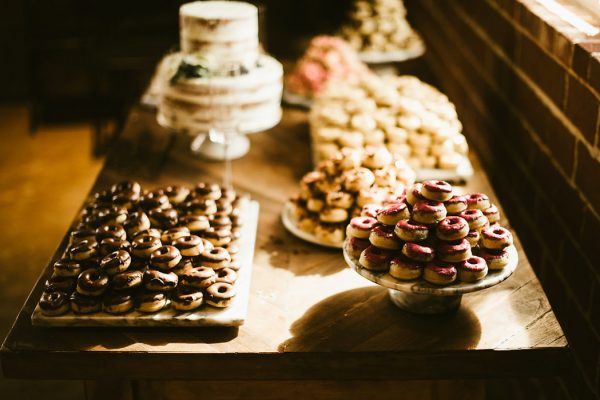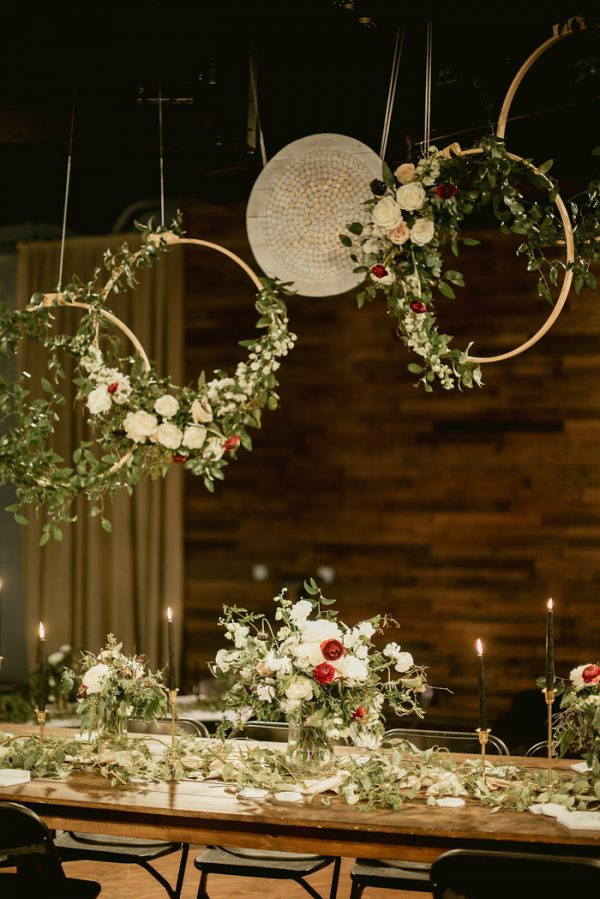 Our reception tables had little marble hexagon tiles that I cut off of sheets of backsplash (ha!) and my amazing coordinator/planner wrote names on larger ones for the head table placement!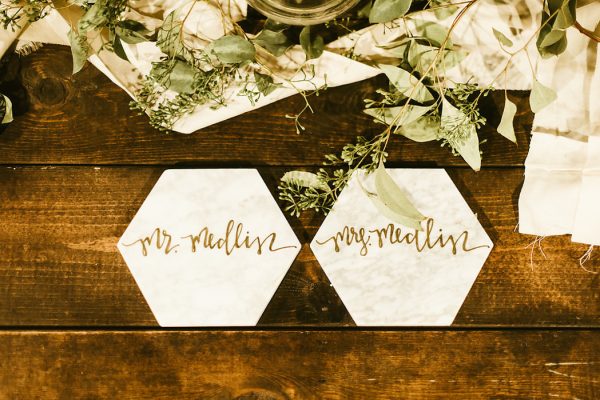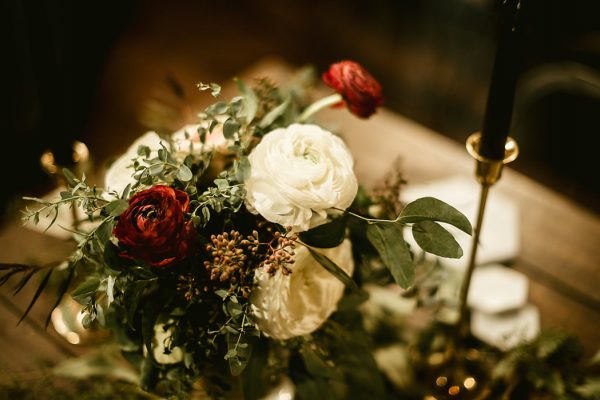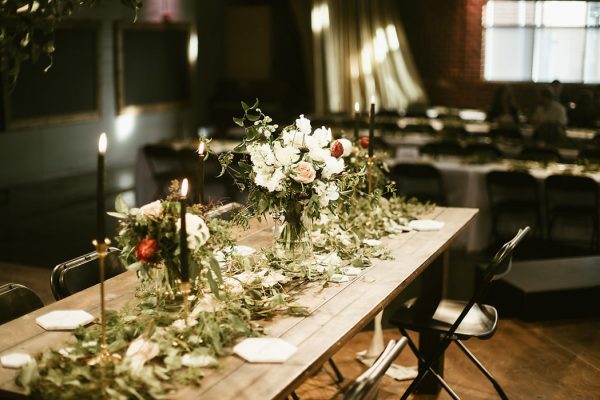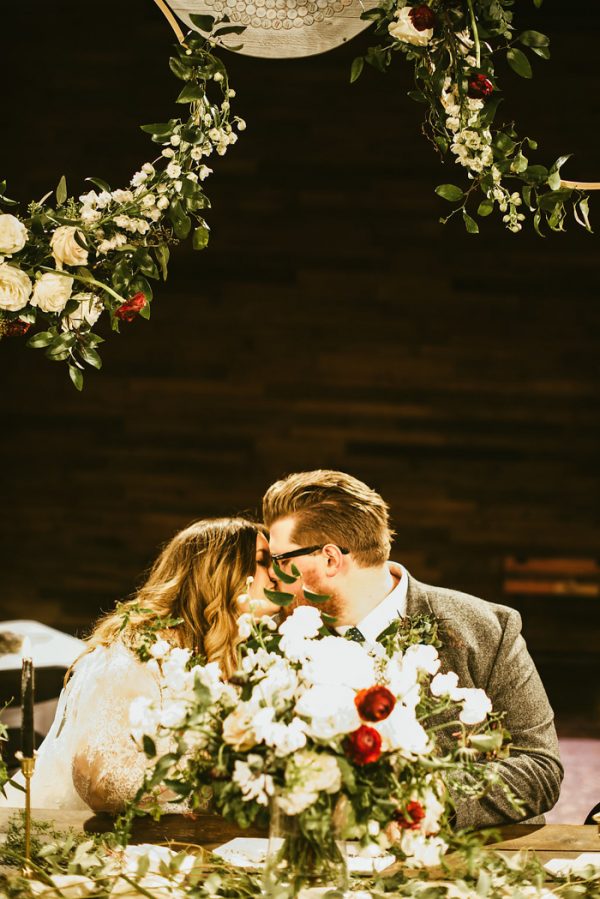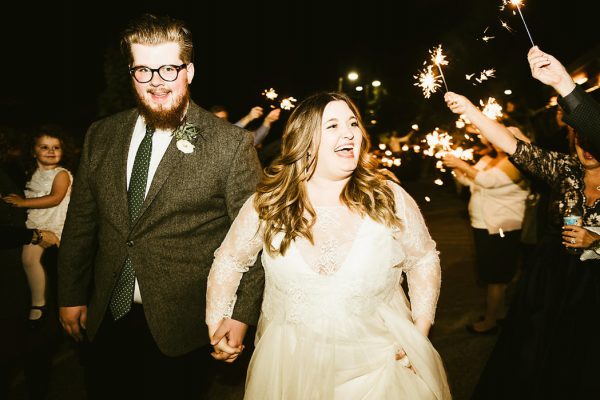 Congratulations to Samantha and Clark, and a special thanks to Taylor Dawn Design for sharing this gorgeous wedding with Junebug! If impressive floral design is your thing, you've got to see this botanical Melbourne wedding at Glasshaus Inside, which was set in a florist shop!