If you love the sweetness of the South, you'll adore Heather and John Savannah, Georgia wedding! Planned by Alysse Sweeney with Morgan Gallo Events and photographed by Harwell Photography, there are endless pretty details and romantic moments to love!
The Goals: Our main priority in planning our wedding was staying true to ourselves and celebrating our relationship. We have such an amazing support system of family and friends that all traveled to Savannah for our wedding. We wanted everyone to have a fantastic time together and fall in love with the city just like we already had.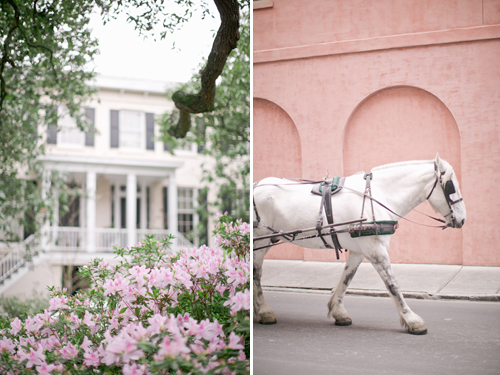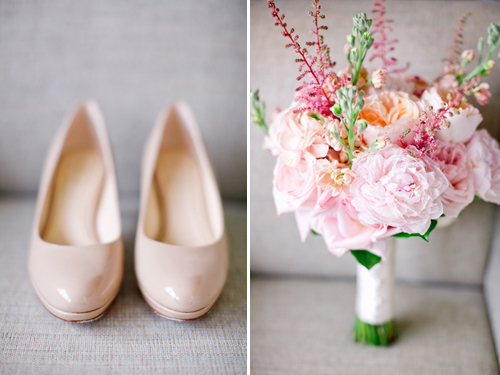 The Design: The inspiration for our wedding was the city of Savannah itself. The southern charm, the history, the architecture.
We held a grooms dinner (at Elizabeth on 27th) and welcome reception (at 10 Downing) on successive evenings before the wedding at distinctive locations in the downtown historic district, giving our guests a feel for the city and its culture. The ceremony was held the next day across the river, with the skyline of Savannah as a gorgeous background.
The Look: I wanted to have a very simple classic design for my wedding dress. The lace and scalloped detail at the neckline were my favorite parts of the dress. My accessories were all family jewelry lent to me by my mother and my mother in law. All of my accessories were worn by past brides on both sides of our families, some dating back to the early 1900s. John wore a grey Hugo Boss suit, which I loved. The Best Man, Groomsmen, and Fathers of the Bride and Groom were also in grey, with royal blue ties and monogrammed white poplin shirts from Charles Tyrwhitt. The girls wore J Crew bridesmaid dresses.
The Moments: The entire day was so fantastic so it's hard for me to choose my favorite part. It may have been when John and I rode the water ferry over to River Street for pictures. It was the part of the day when we were able to spend time as just the two of us, and take a moment to celebrate! Lining up for the ceremony with my father, and the anticipation to see our family and friends was exhilarating. The joy and relief walking back with my husband was such an amazing feeling.
The FIREWORKS – we were concerned about rain the entire day so when we were able to see the fireworks show held over the river just after dark, it was such a blast! Our biggest wedding success was planning the event to celebrate the joining of our two families. We had people traveling in from all over the country and even Hong Kong! We succeeded in sharing our love for each other in a city that means so much to us.
The Pros: Learn about all of the professionals and products involved in this beautiful southern wedding by visiting Heather and John's page in our Real Wedding Library!