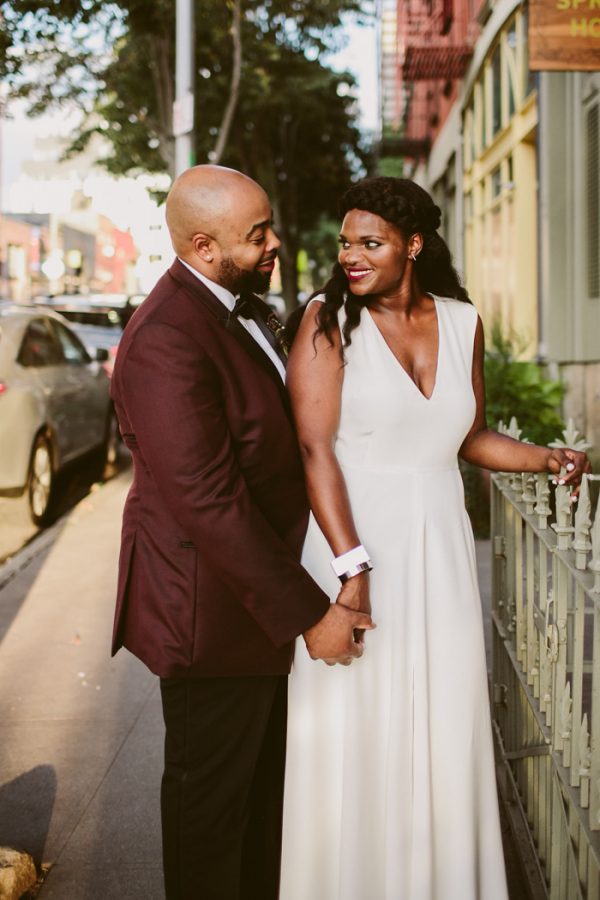 Cassandra and Warren's Williamsburg wedding combines classic NYC sophistication with a hint of hip Brooklyn vibes! This couple's intimate wedding at Aurora featured a super cool marsala color palette, gorgeous florals by Bloom Bar, and unique guest activities like a DIY loose leaf tea bar and an interactive drawing booth. Cassandra works for Kate Spade New York, so her minimalist Houghton bridal gown was punctuated with fun Kate Spade New York details like a leather jacket, a parrot charm, and playful jewelry! Kelly Giarrocco Photography captured every detail of Cassandra and Warren's day beautifully, including their seriously fabulous reception tablescapes.
The Couple:
Cassandra and Warren
The Wedding:
Aurora, Brooklyn, New York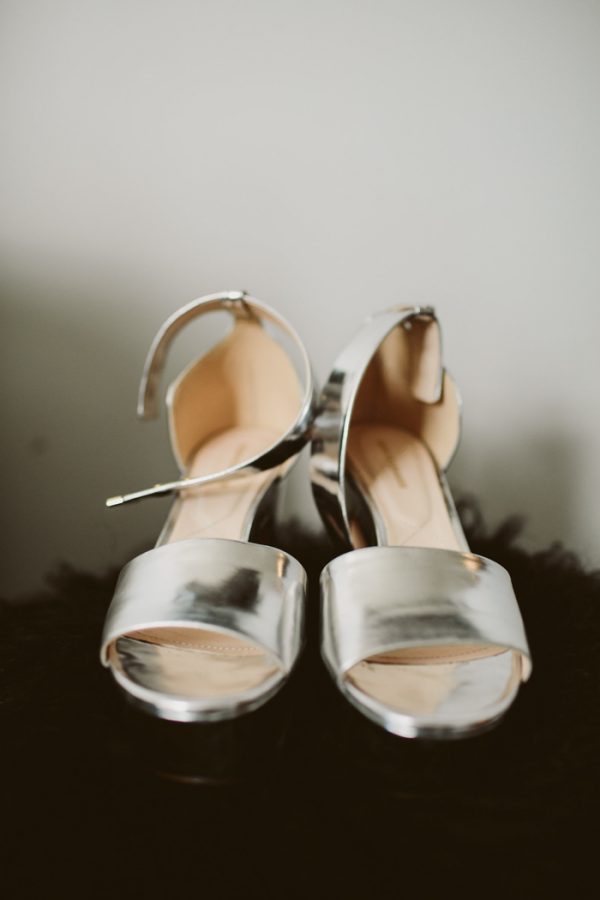 It was incredibly important for our wedding to feel like us! We wanted it to be intimate, cozy and romantic and we wanted our guests to feel the love in the details! It was also important for us to partner with small business owners, showcasing their artistry and business acumen.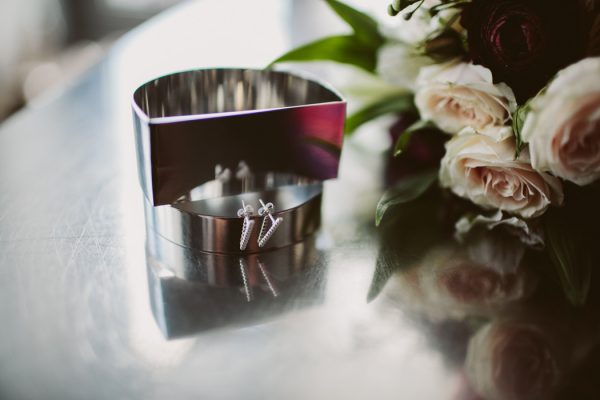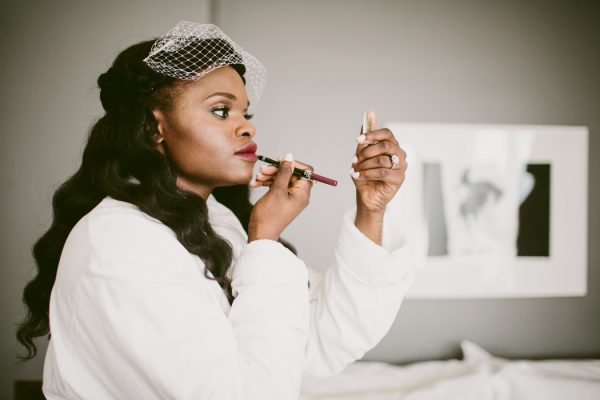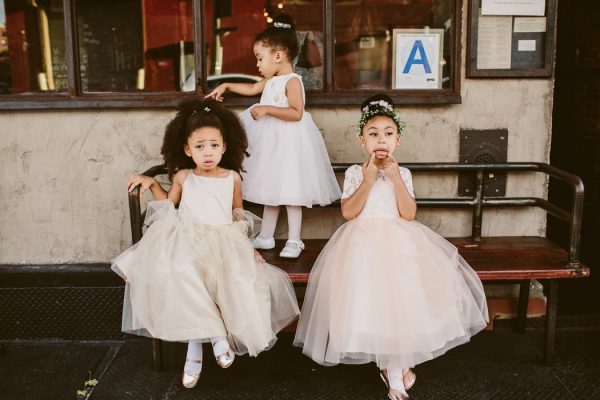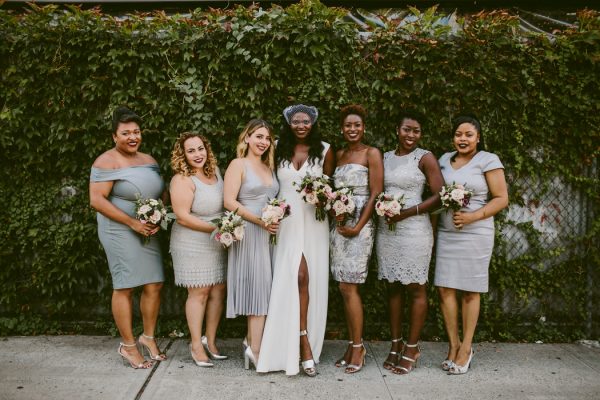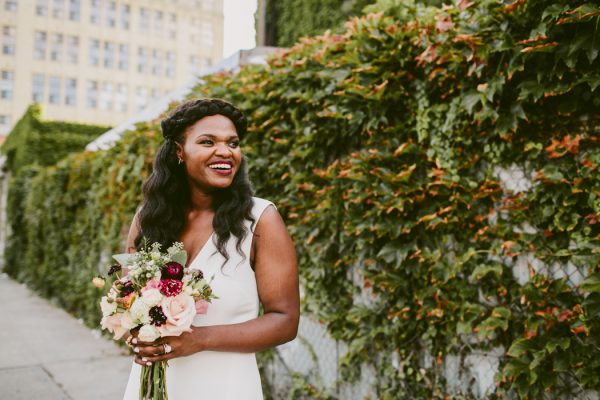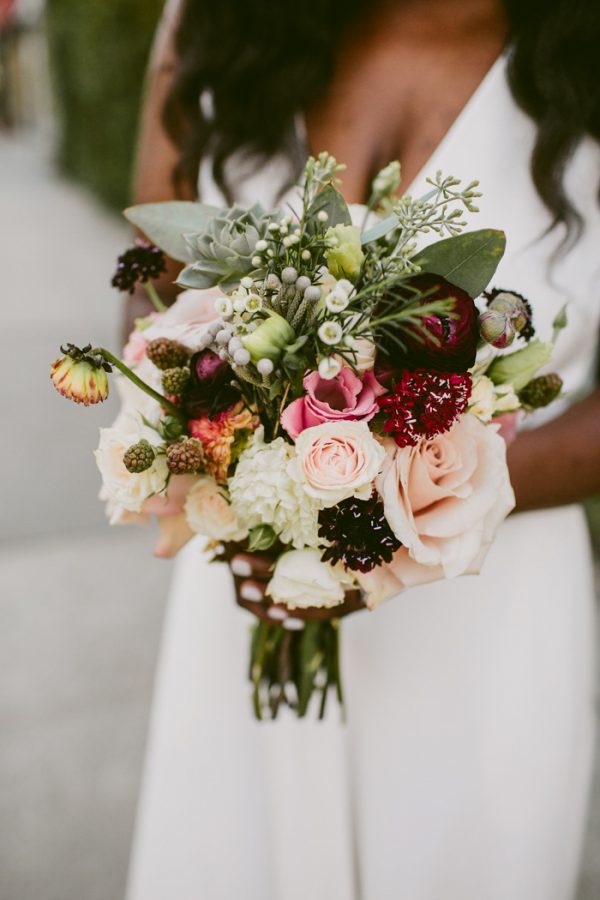 We knew we wanted an intimate restaurant that was equal parts romantic, rustic and cool. Aurora was all of this wrapped up in a perfect package! The outdoor garden with soft hallo lighting, exposed brick, shelved wine, and hanging copper pots equated to a uniquely warm and sensational vibe. Needless to say the food was amazing and the staff was hospitable and professional! It's an added bonus that we can visit it anytime we want to relive one of the most memorable days of our lives!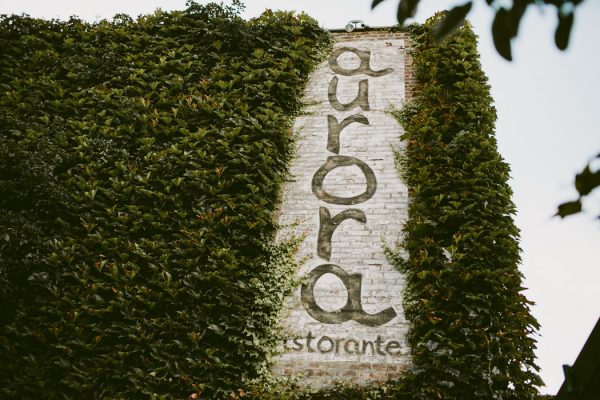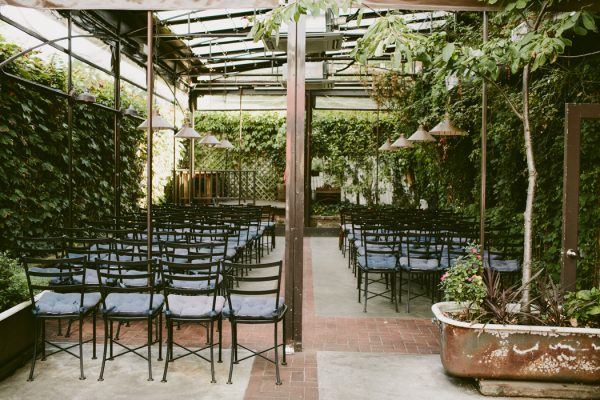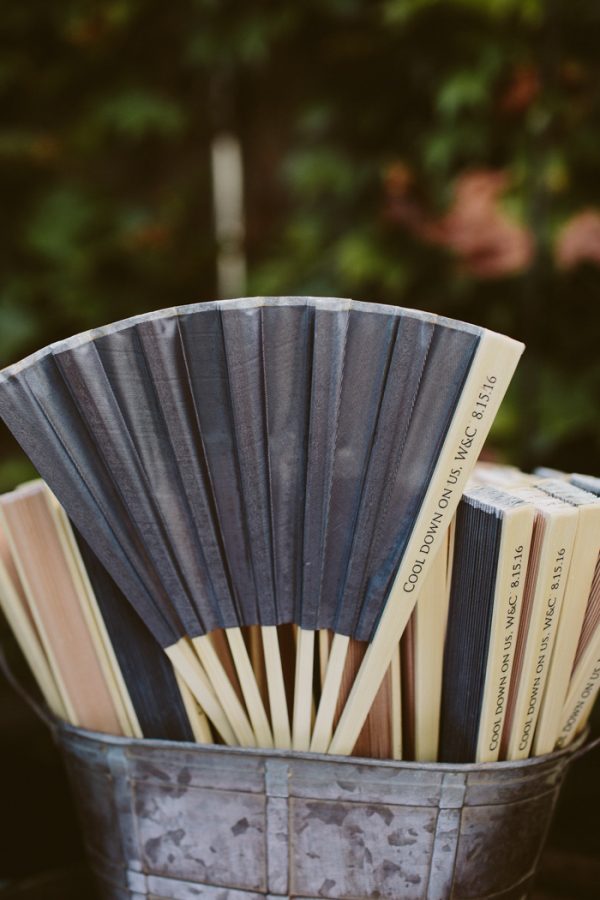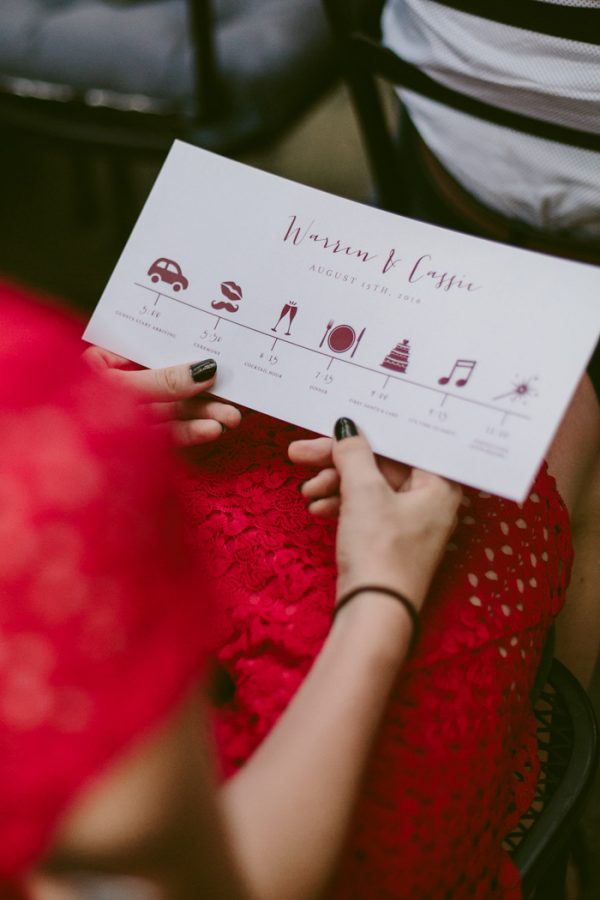 There were so many moments, it's a day I want to relive over and over again! If I had to choose, one of the most memorable aspects was seeing Warren for the first time as I walked down the aisle. Nothing can compare to having all of your loved ones in one place, their eyes filled with joy and tears, with a 2 piece string band playing "I Can't Help Falling In Love" as you gaze upon your future. I could literally feel the love and was overwhelmed with gratitude.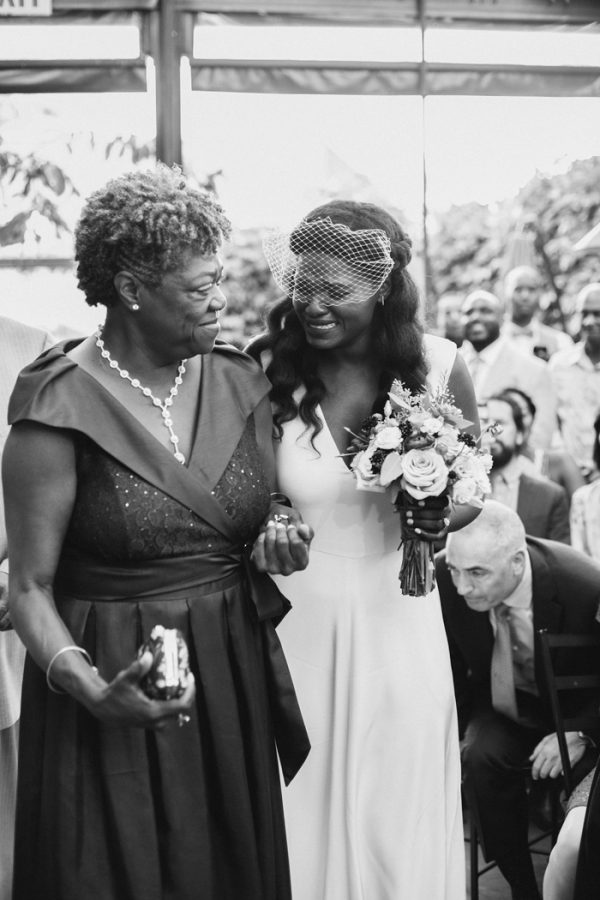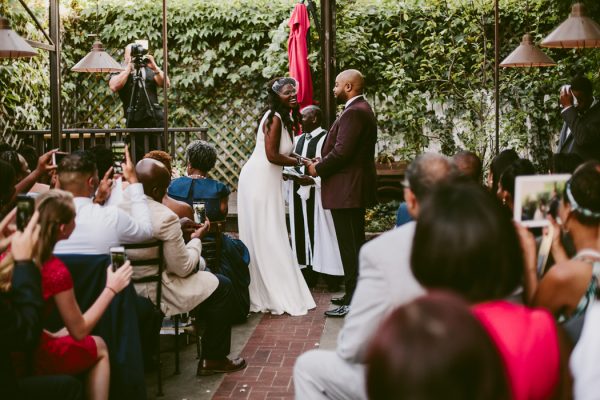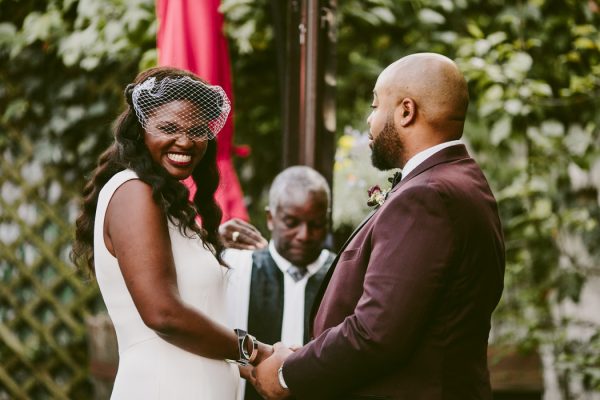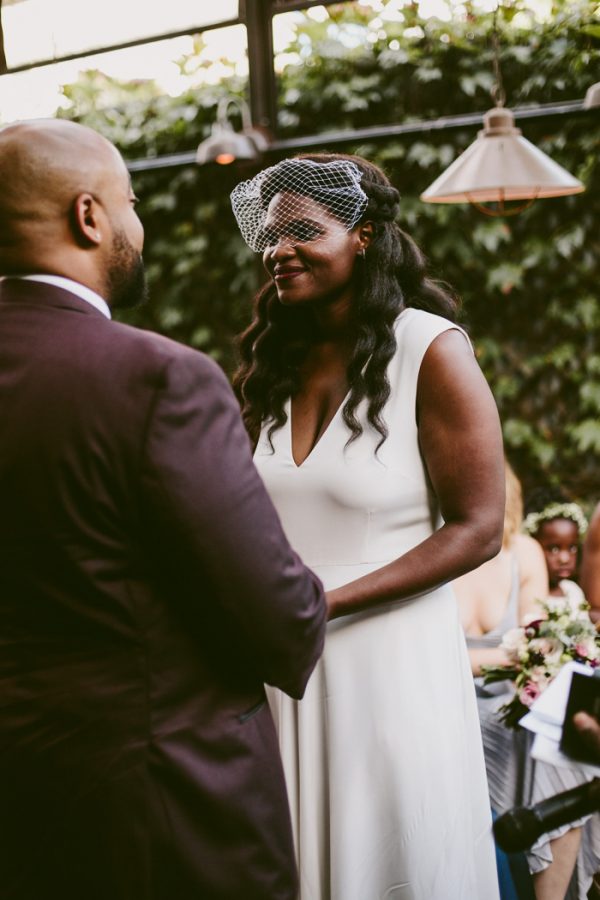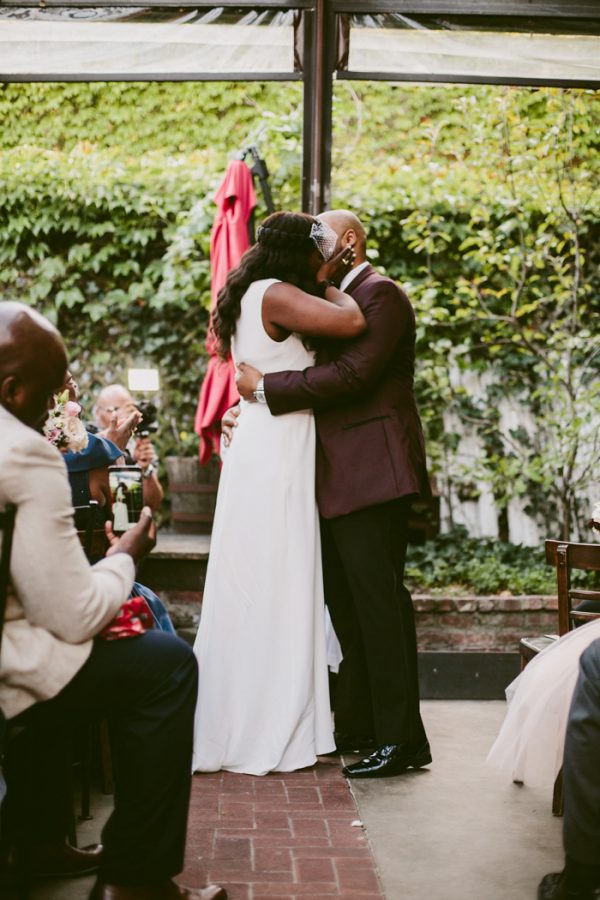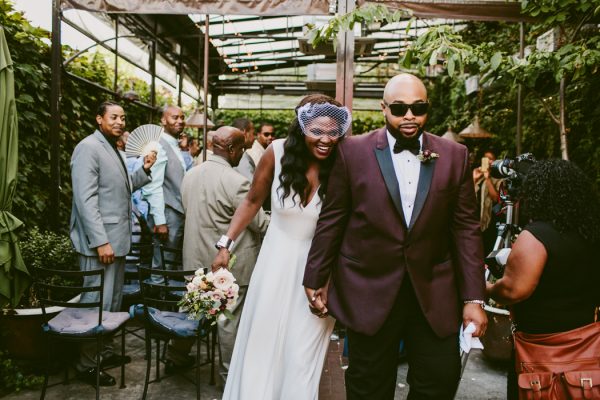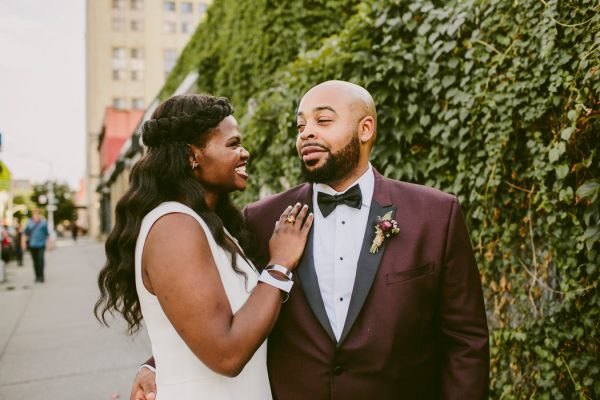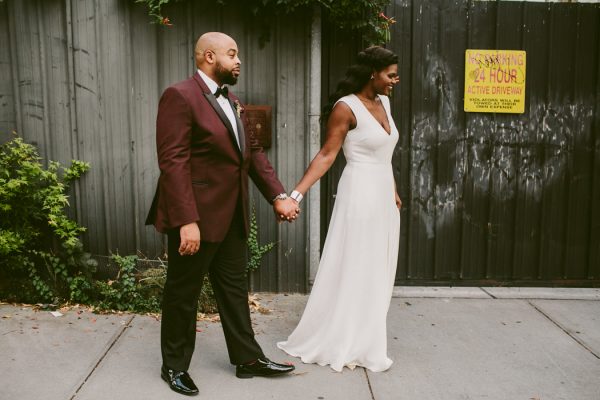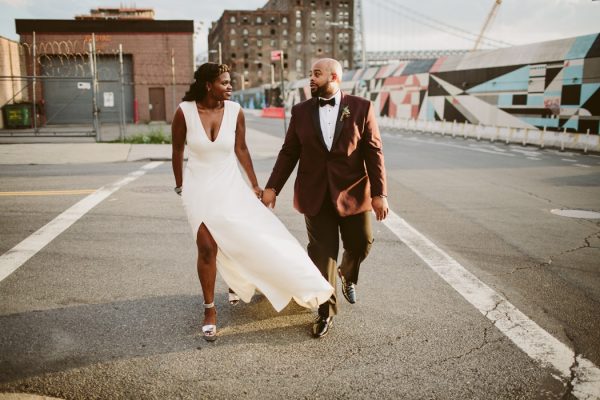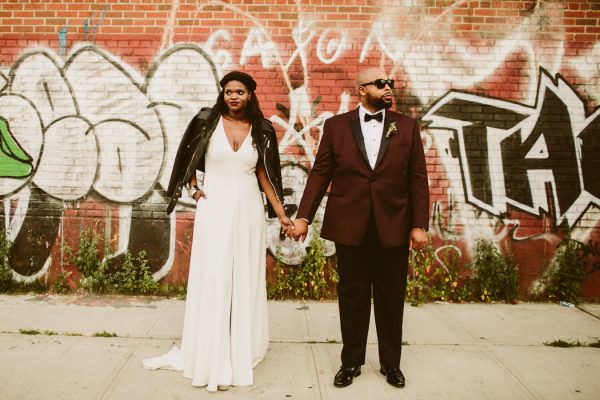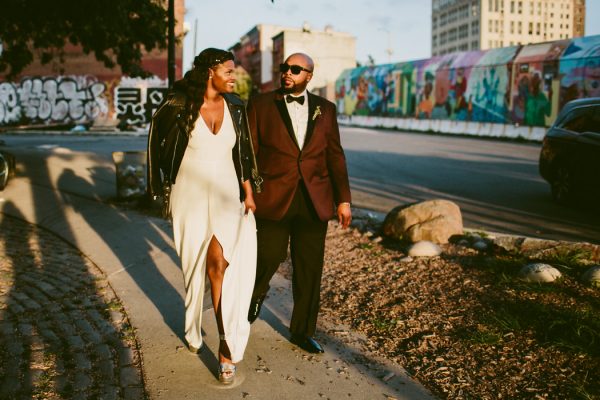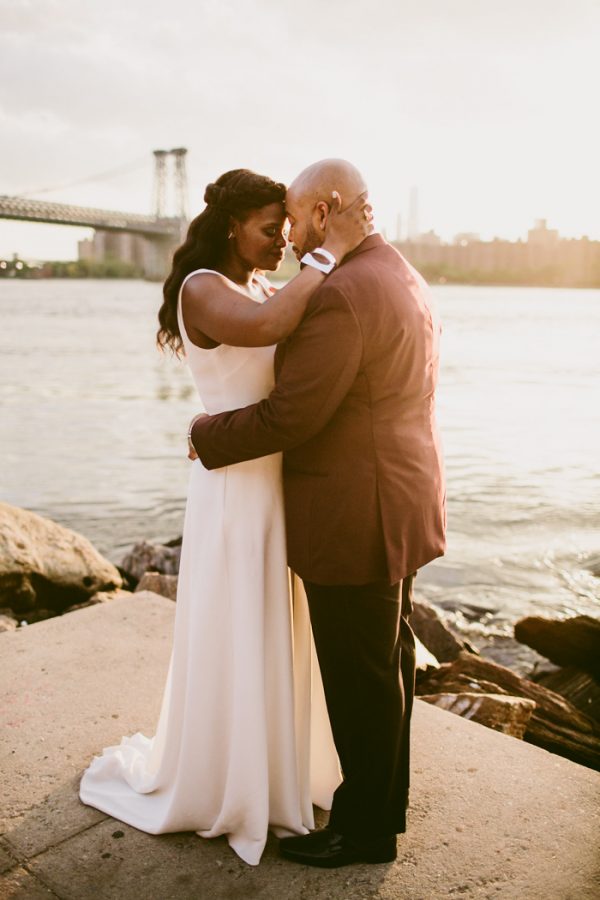 I truly believe that the wedding planning process is a part of the overall memory of your wedding so I made a promise to myself to keep my stress low and creativity high. I wanted to enjoy the journey. Here are my pieces of advice for wedding planning and the actual wedding day:
1. Pin down your wedding venue first – it will set the tone and make other decor decisions much easier, since every idea won't fit with every venue.
2. Trust your instincts and don't overthink your decor and vendor decisions. Pinterest is amazing since it allows you to clearly see themes in what you're attracted to. Once a theme is evident, for ex. a semi-naked wedding cake, just roll with it and find a vendor that can deliver your vision.
3. Let things fall into your lap and seek ways to simplify the process. Take your co-worker up on their offer to make your veil (check), take Ubers to your venue instead of fussing with a limo (check, check), find your makeup and hair artists using an app (check, check, check).
4. Enlist a day-of-point person – I loved planning my wedding and knew that I wanted to fully enjoy the day so a week prior to my wedding, I passed off the reigns to a day of coordinator that I fully trusted (and had a background in wedding planning – lucky me)!
5. Lastly, this piece of advice was given to me by one of my best friends. Make a promise to yourself to let go any of the little details that won't go the way you planned. The day goes by way too quickly and every moment is precious!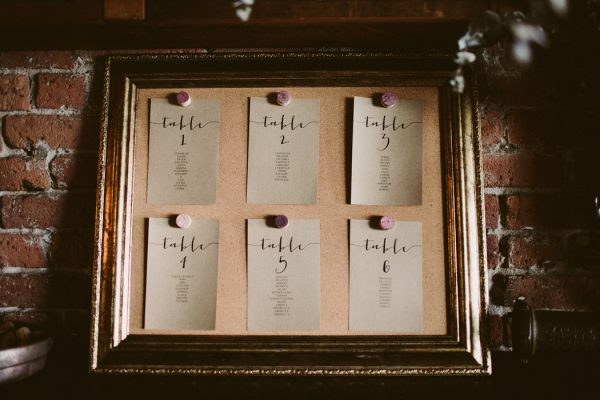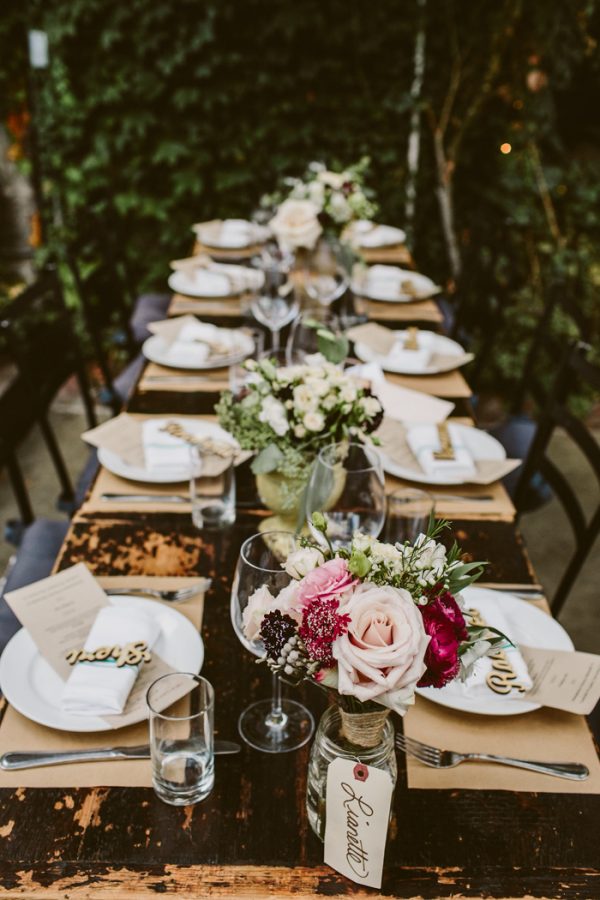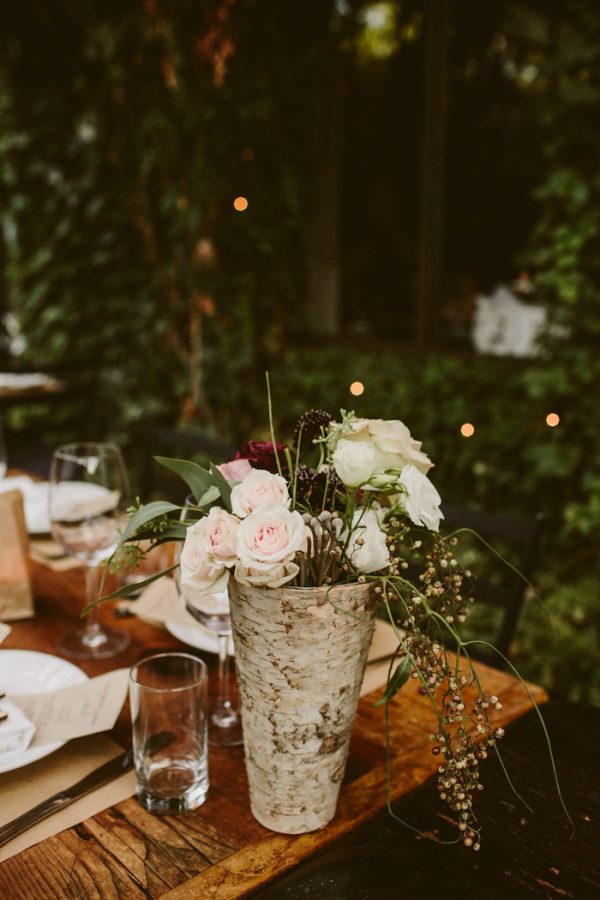 For us, choosing a beautiful restaurant in which many accommodations were built in, meant we could focus our resources on personal touches. Our guests are a part of our love story. They've contributed to who we are as individuals, and as a couple. Our surprises were our way of saying thank you for being apart of our tribe.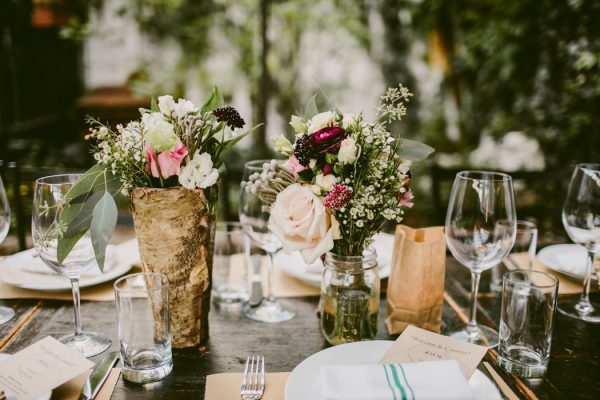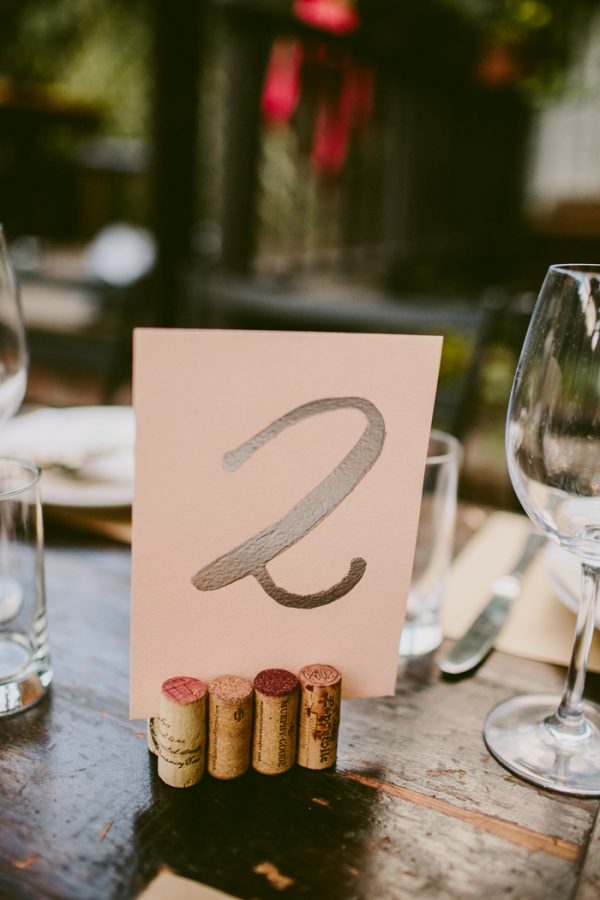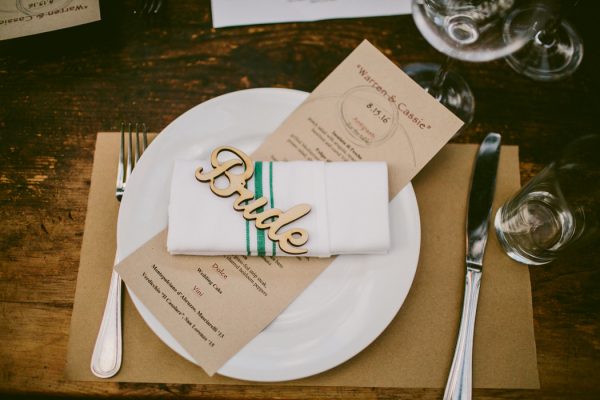 It was important for us to give our guests wedding favors that they could use and felt personal to them (and us)! So we gave each guest a wooden laser cut "name card" as apart of their table setting and they were a huge hit! We also had a DIY "tea bar" where guests could create their own mini tea kit to-go. Our favorite loose leaf teas captured our personalities – cool peppermint and sassy pumpkin spice, can you guess who's who?! :)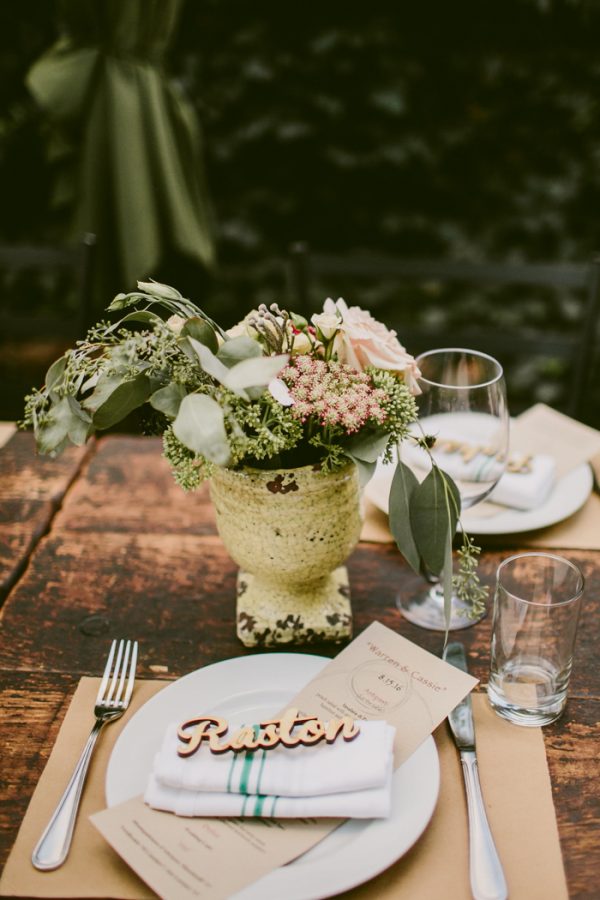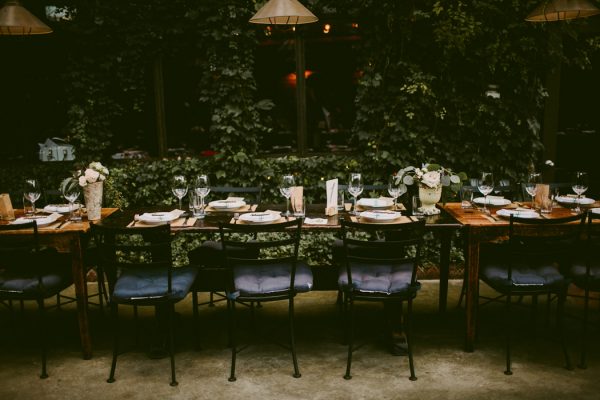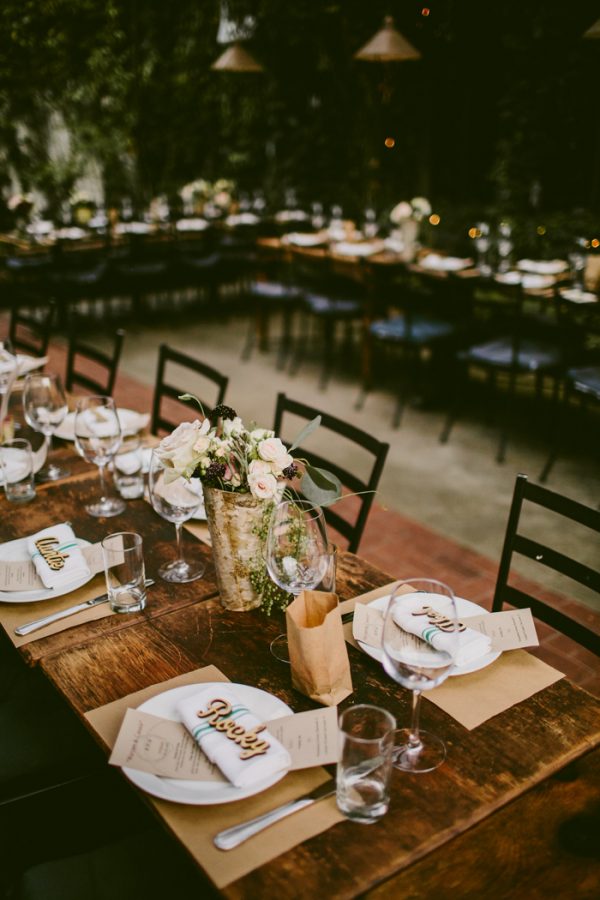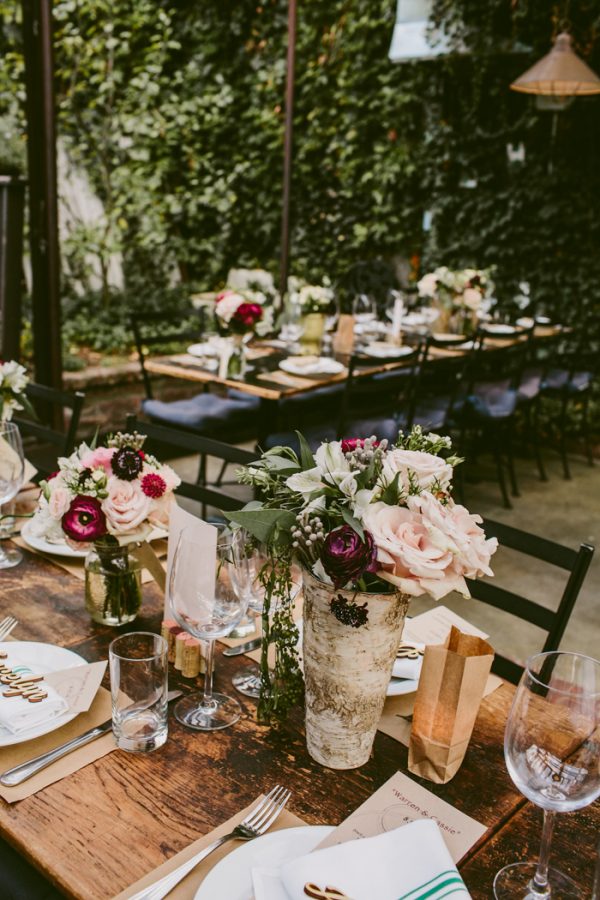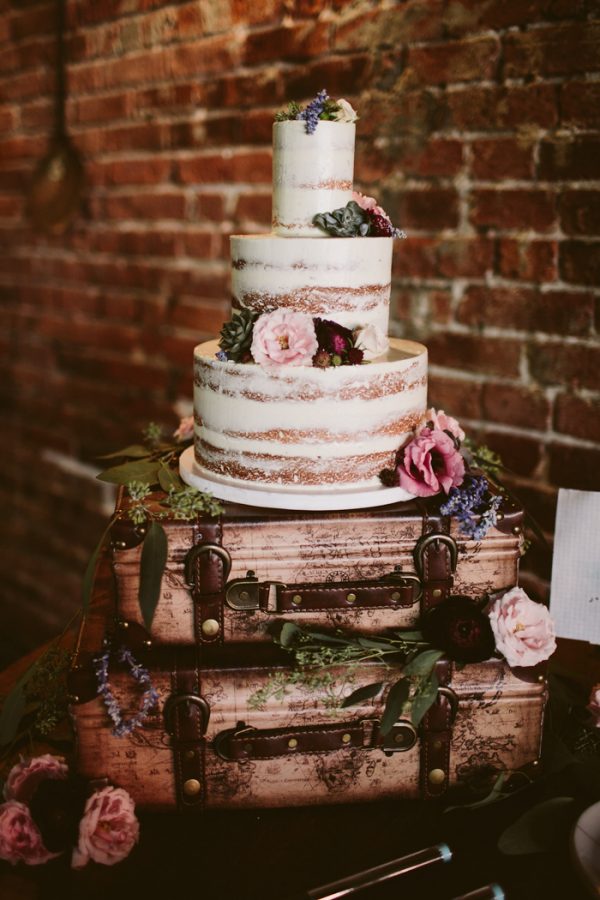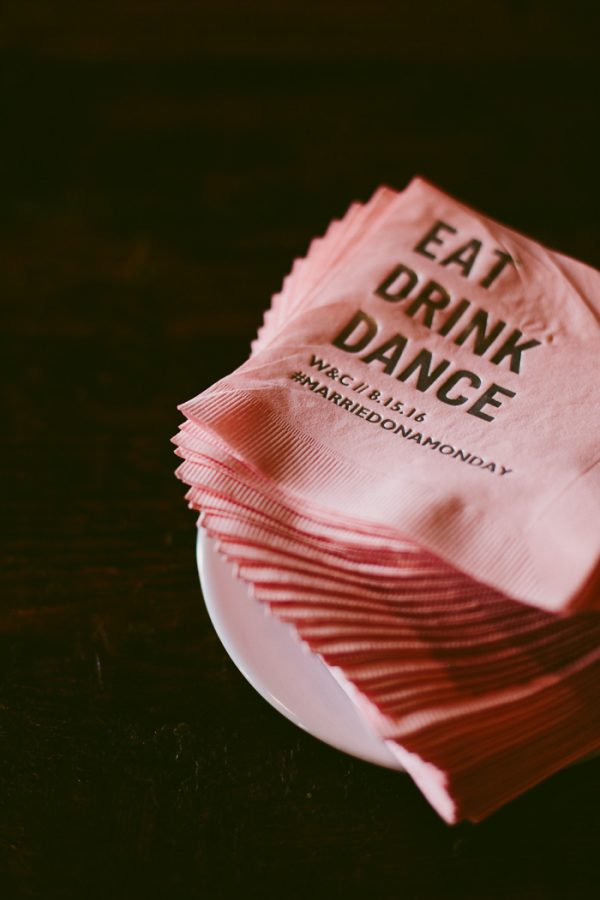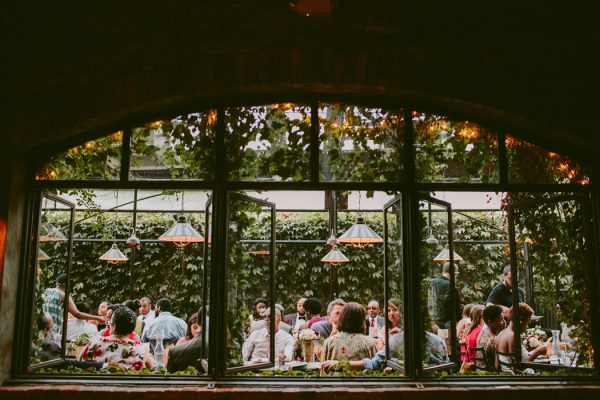 I was also simply delighted by the talented small business owners that I had the pleasure of building relationships with, seeing their artistry come to life was pure magic in every sense of the word. From the speeches, to the dancing to the ice cream truck, Warren and I loved every moment of our wedding day!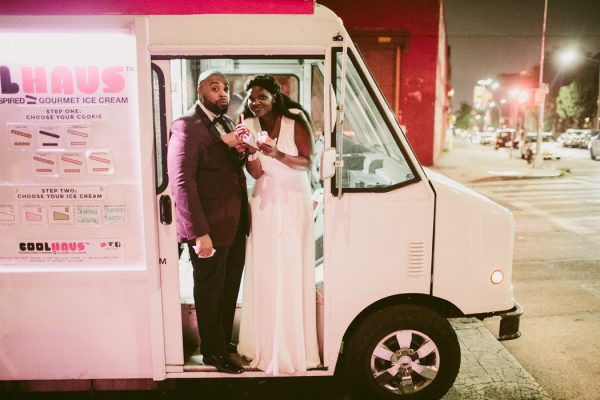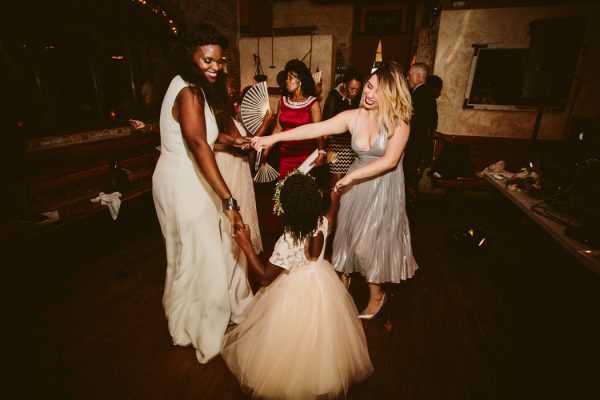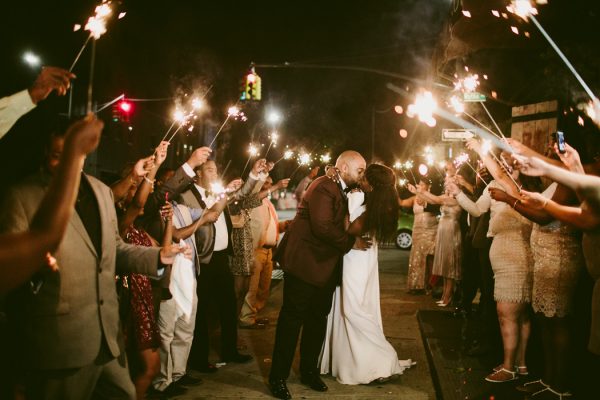 Congratulations to Cassandra and Warren, and a special thanks to Bloom Bar for sharing their wedding with us. Can't get enough of this Williamsburg wedding's sophisticated vibes? Then you've got to see this industrial NYC wedding at The Foundry that gets modern romance so right!