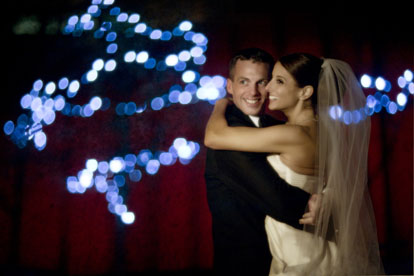 Todays Real Wedding is a sparkling white winter affair that was as classic, elegant and romantic as can be. Amy and Matt got married December 30th, 2007 in the Spanish Ballroom at the Downtown Seattle Fairmont Olympic Hotel, the same place where his grandparents had celebrated their marriage many years before. They wanted to continue the tradition by returning to this timeless place with their friends, family and future generations to remember where it all began.


Capturing the emotion of the day and of their relationship was very important to Amy and Matt, so they spent the day together, head over heels in love and having fun all over Seattle, while being photographed by the stellar crew from J. Garner Photography. Looking back, they were delighted they planned their schedule that way. Jim Garner and his team created such incredible wedding photos, I didn't even know where to begin making these layouts! Pure romance! (Check out the 3rd photo in the layout below, which won Photo of the Year at the Wedding and Portrait Photographers International convention)


The Spanish Ballroom was decorated with ivory flower arrangements and glowing candelabras, Amy wore a Romona Keveza dress and her mother's vintage fur stole, Matt wore a custom designed tux from Sam's Tailor, and the bridesmaids wore full length Nicole Miller gowns. All of the guests were dressed to the nines in beautiful black-tie attire. Amy and Matt had planned the wedding together, working as a team on even the smallest details, and everything came together perfectly. Their black, ivory and gold wedding color palette was carried over throughout the ceremony and reception; the menus, place cards, cake and chocolate truffle wedding favors were all ivory and black with gold accents, and even the chandeliers in the ballroom cast a gorgeous golden glow over the celebration.




After the wedding, Amy and Matt flew off to Maui for their honeymoon. There, they continued their wedding excitement and romance with a lovely island photoshoot with their photographer, Jim Garner. What a treat to have such stunning images from their honeymoon!
In their ceremony programs they had written "Once in a while, right in the middle of an ordinary life, love gives us a fairy taleThank you for being a part of ours," which I think perfectly sums up this fairy tale wedding! Thanks so much for sharing your day with us Amy and Matt! For all the information about their talented wedding team as well as over 60 other wedding stories, please visit our Real Weddings section.