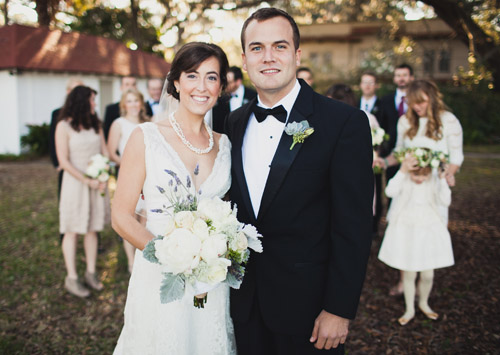 The Couple: Brittany and Josh
The Wedding: 12.18.11 – St. Augustine, Florida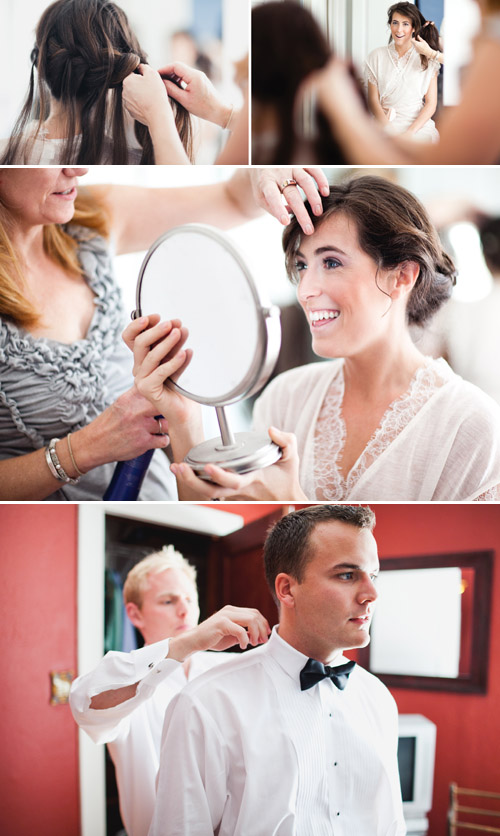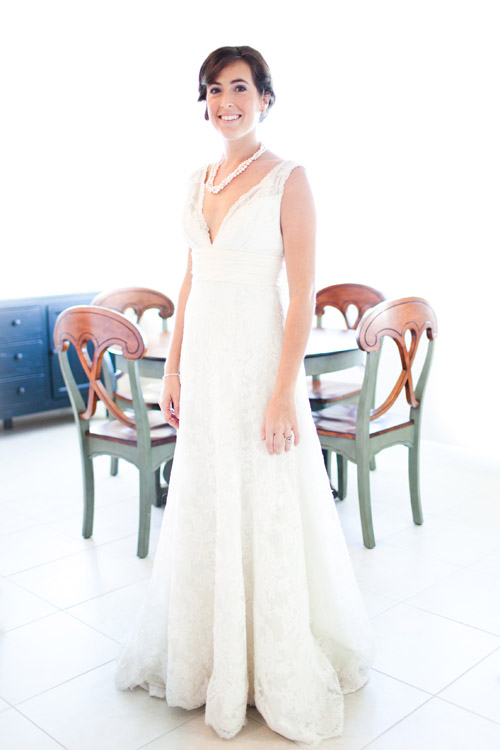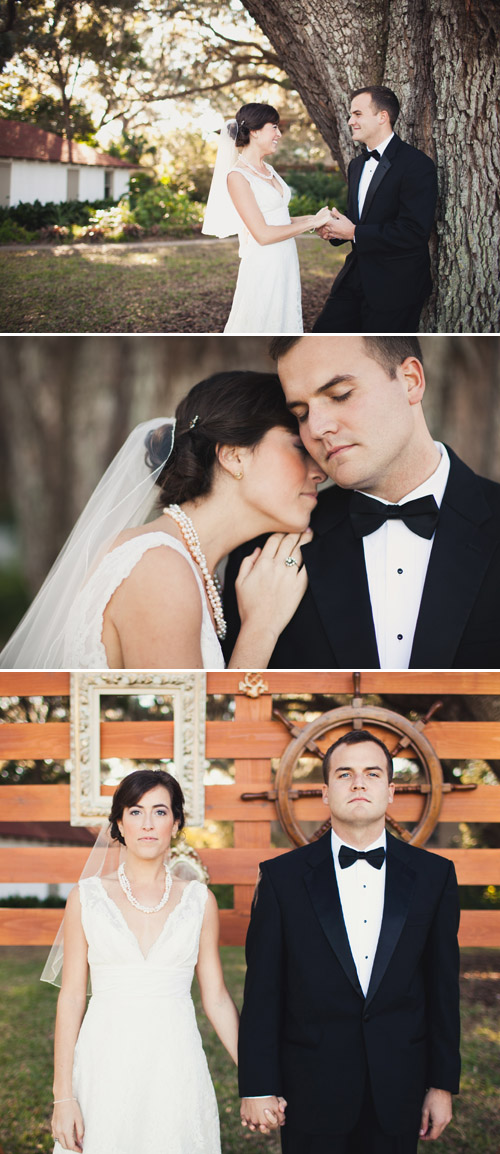 What three adjectives best describe your wedding? Southern, Romantic, Lovely
What inspired your personal wedding style, and how did you incorporate your style and personalities into your big day? We are both from the south and grew up on the water. We wanted a good home cooked meal so we had a low country bowl with cheese grits. We also had touches of nautical aspects like our sailors guest book, our oar chandelier, and the ships wheel. One of our favorite bands is the Avett Brothers so we wanted some blue grass as our live music. Our friends and family are so important to us so it was only natural that they all had a big part in our wedding. My grandmother, Mama Clara, made our favors…hot chocolate and she gave me her Fur to wear. We loved having our close friends from the conservatorie do our flowers..they were amazing. The romantic aspects of lace and pink against the rustic oak trees made it so magical.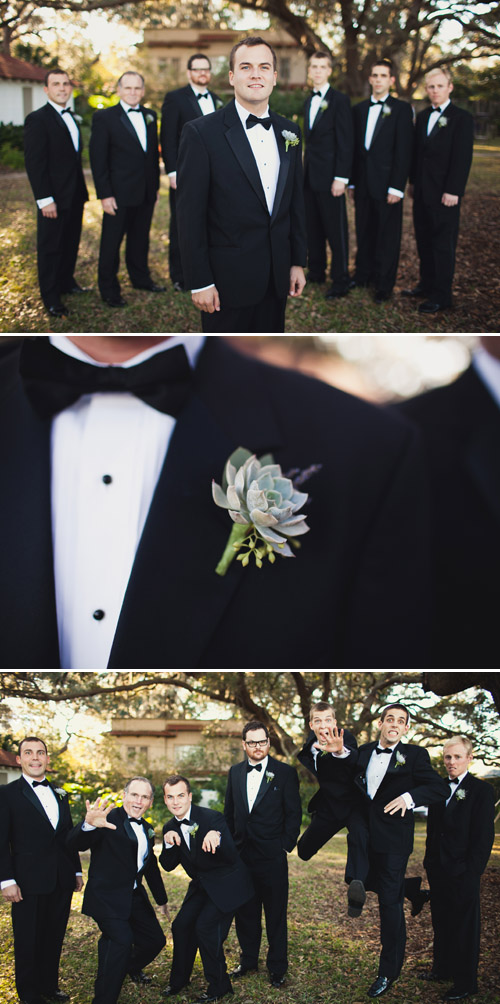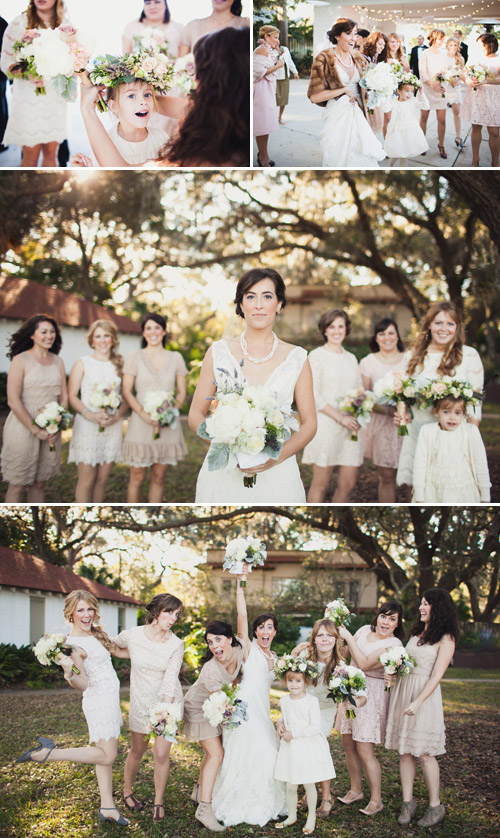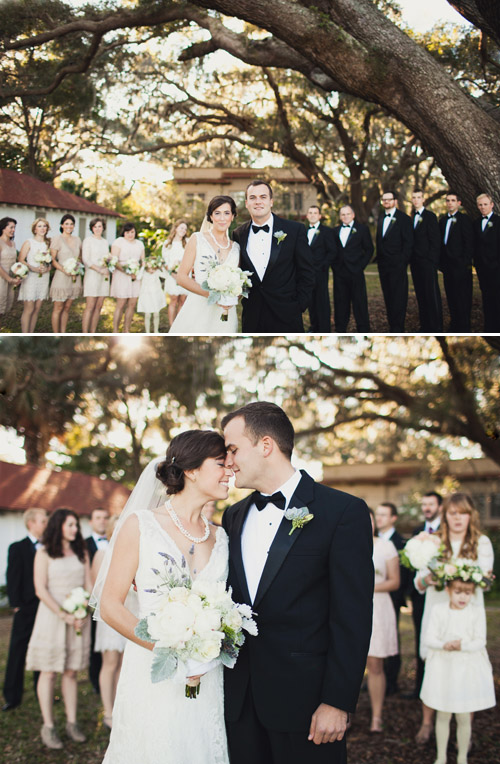 Looking back, what are the moments, decisions or memories that you love the most about your wedding? Our ceremony was incredibly meaningful. We had three of our beloved pastors perform the ceremony. Our flower girl is my niece Eva. Both Josh and I love her so much and wanted her to be fully a part of this great day. Also our photographer, Ben Sasso, put us all at ease and made the day so enjoyable…and his photos were amazing. Dancing under the lit car port was so much fun as we had multiple generations out there breaking it down!
Wedding color palette? Light pink, cream, robin egg blue, antique gold, and hints of plum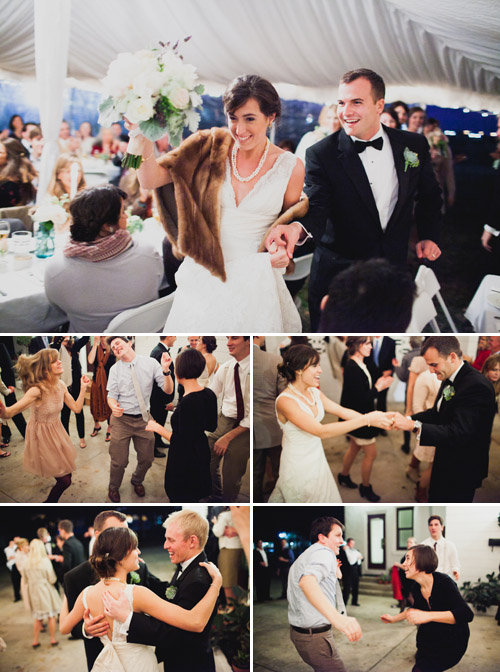 The Wedding Team:
Photographer: Ben Sasso
Ceremony Venue: Florida School for the Deaf and Blind Chapel
Reception Venue: Florida School for the Deaf and Blind (Presidents house)
Officiant: Pastor Richard Parker
Invitation Designer: Luke and Danielle Brodersen
Catering: Missy and Tim Atteberry
Florist: The Conservatorie
Cake: Nancy Cubbage
Wedding dress: Vocelles Bridal Shop
Bridal Accessories: jewelry design by Loretta Davis of D'Amore Creations
Groom and groomsmen apparel and accessories: JoS. A. Bank
Hair and make-up: Hair: Jayne Moon
Live music: Friends
Favors: hot chocolate made by Mama Clara
Thank you so very much Brittany and Josh!
To find more ideas for your own personal wedding style, don't miss our wedding photo inspiration gallery!