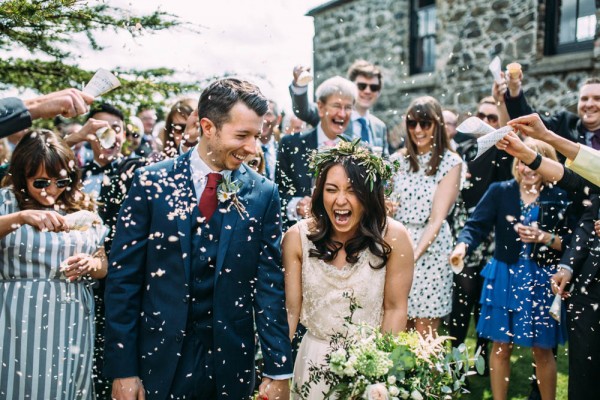 Wild, ivory and green plants, wooden tables, and traditional Irish kilts all came together to create Jonny and Michelle's fairy tale wedding. With a simple color palette, the couple allowed the natural surroundings to speak for themselves. We love how the day at Limepark in Armoy, Ireland was surrounded by natural light, which created an effortless glow around the couple as they tied the knot. Chris Copeland Photography perfectly captured the happiness of the whole day!
The Couple:
Jonny and Michelle
The Wedding:
Limepark, Armoy, Ireland
The Inspiration:
We wanted a wedding look that was honest and simple, that was a true reflection of us as individuals and as a couple. When we started to plan the wedding, we both knew that we wanted a unique venue for the ceremony and reception. I loved the idea of having a barn wedding, and we fell in love with Limepark, a Georgian farm in Armoy. It had these beautiful cottages on site which meant we could bring our dog, Charlie, and comfortably accommodate the bridal party to stay the night before and the night of the wedding so the celebrations could go on all weekend.
We set ourselves a really tight budget and we wanted to do as many things ourselves as we could. I styled the wedding myself, and made the wedding cake and macarons for the reception. I chose a 'modern rustic' theme for the wedding as I knew that it would suit the venue in a way that complemented the existing style of Limepark while still being unique and a little bit different from the vintage look. As the wedding was going to be in May, I also wanted springtime and nature to feature quite heavily in the styling. We chose colours that were fairly muted, taking our cue from nature, using mainly greens, whites and pale pinks, to let the natural palette, materials and venue details shine.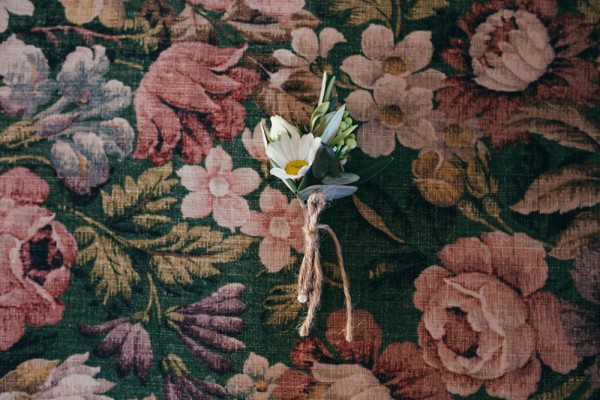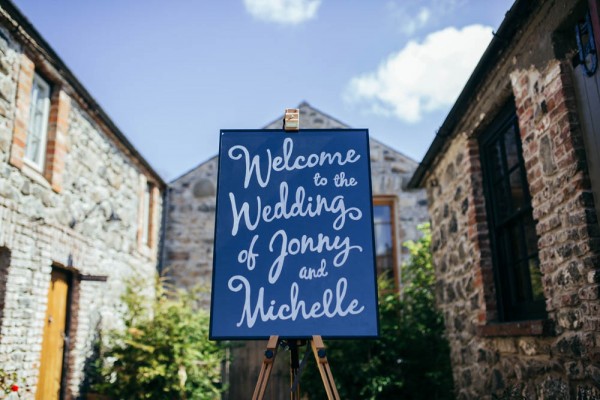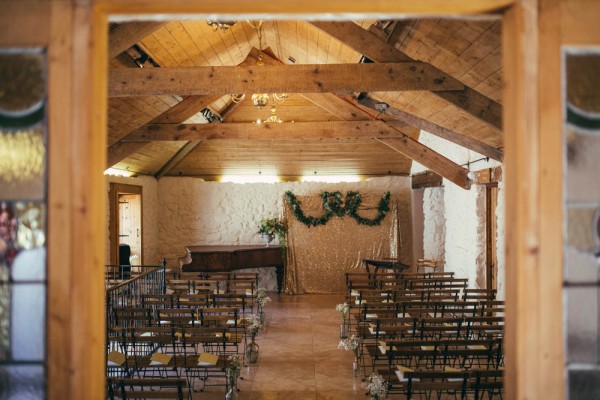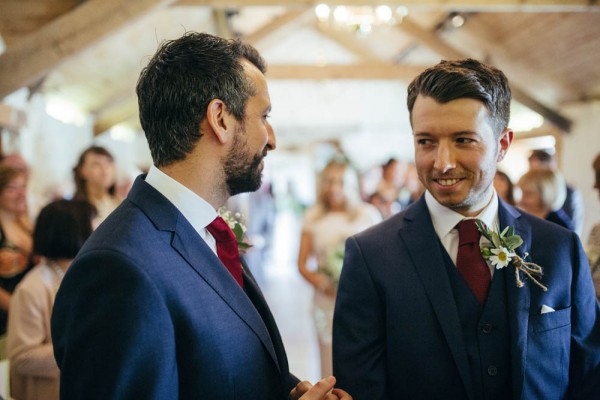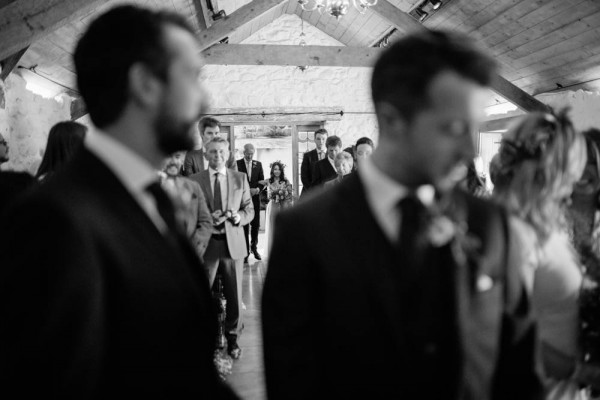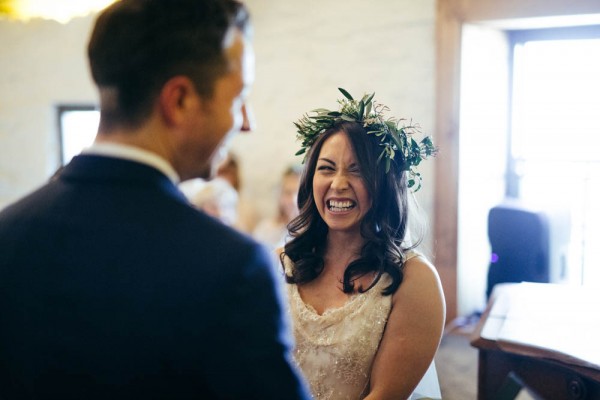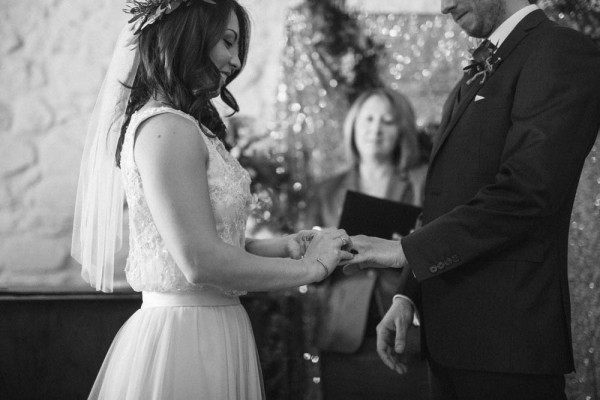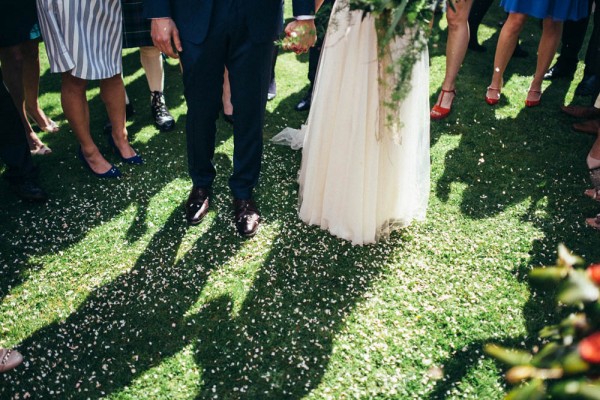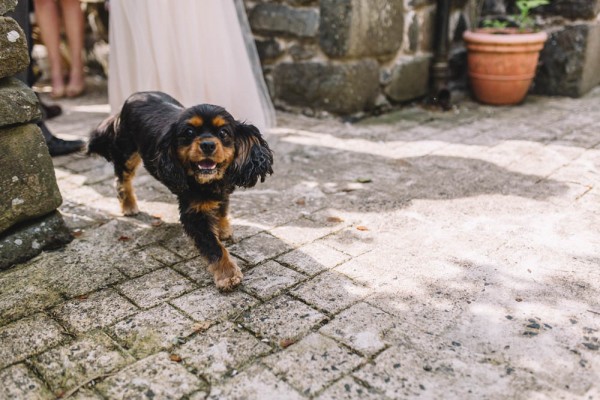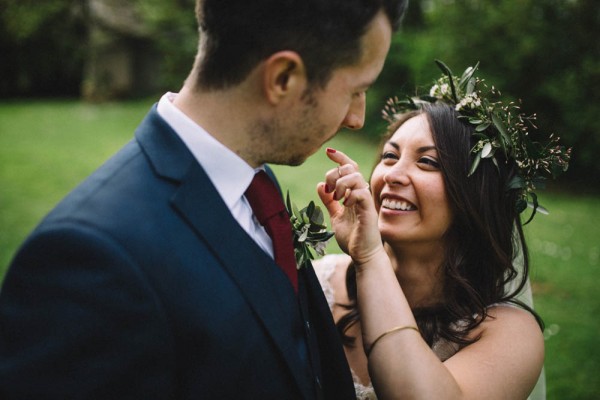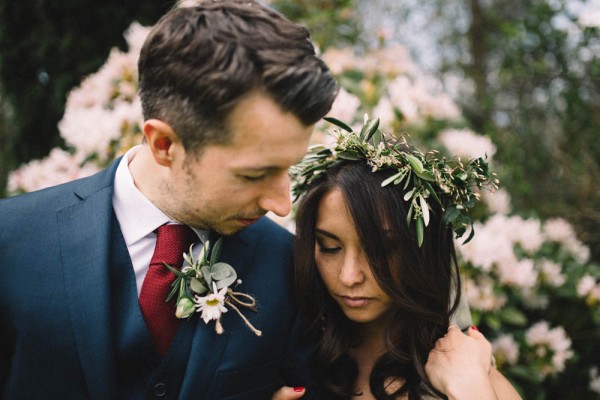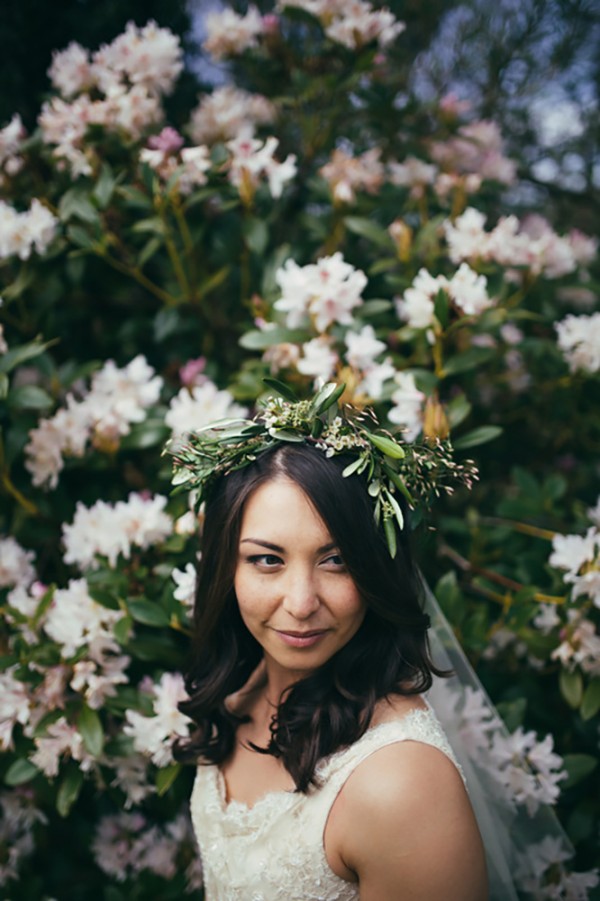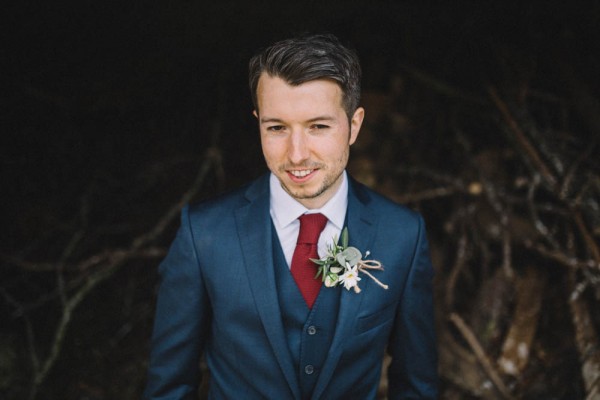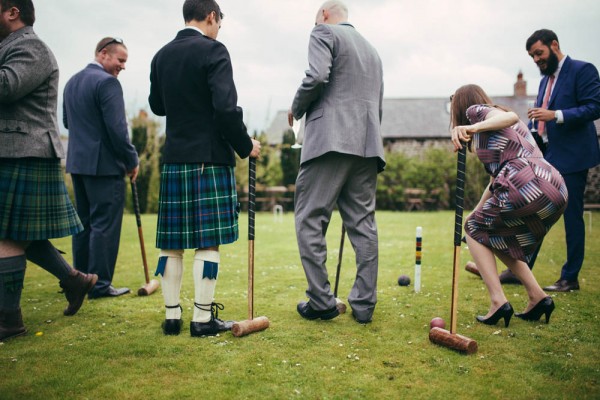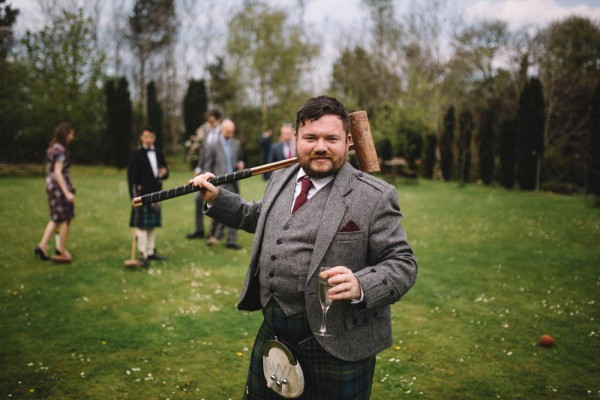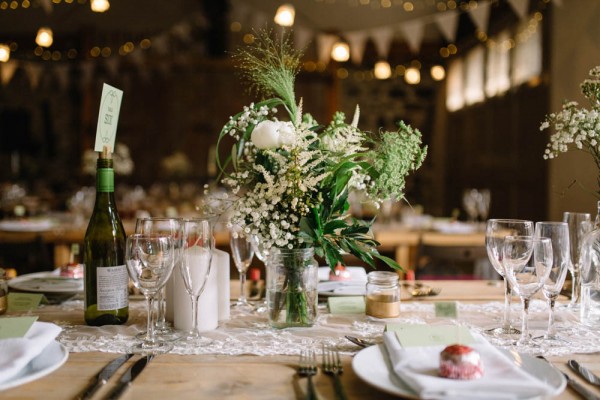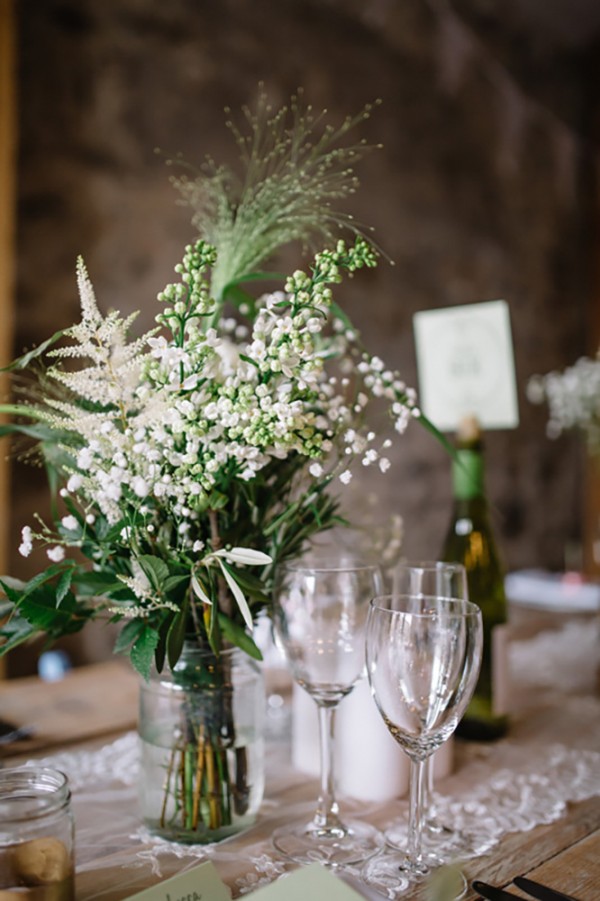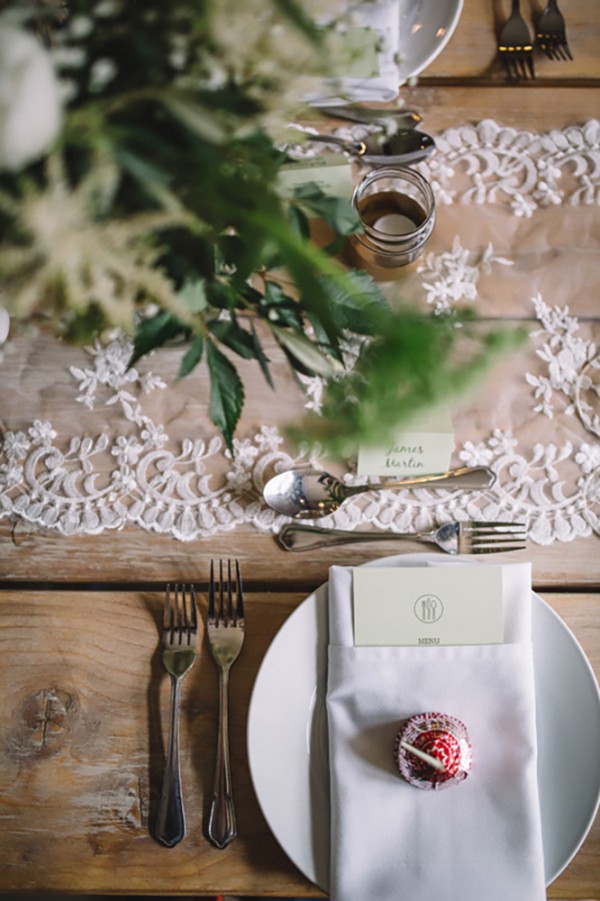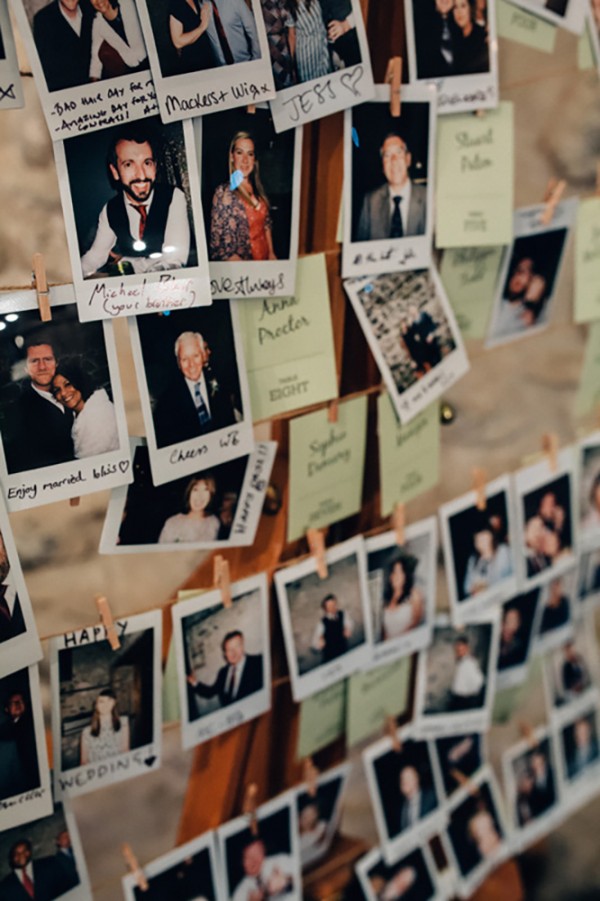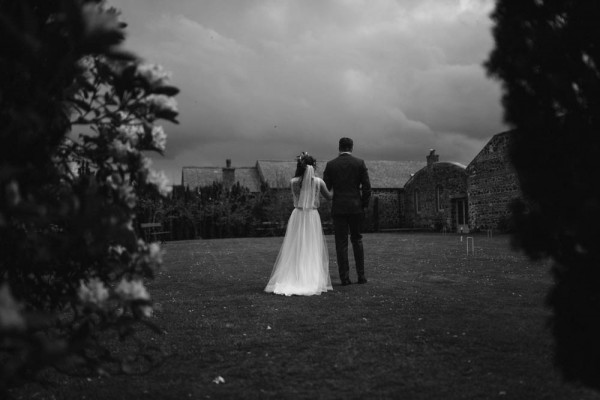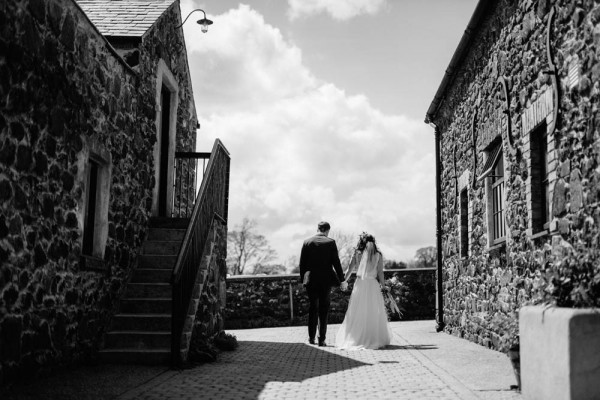 The Moments:
I loved the whole day, but I loved the ceremony part of the day in particular. We chose non-traditional songs that really captured how we wanted to feel in the moment. I walked up the aisle to 'All Tomorrow's Parties' by the Velvet Underground, and for the walk down the aisle after the ceremony, Jonny chose 'One Way Glass' by Manfred Mann Chapter 3. We'd been together for nearly 10 years, so we picked readings that reflected our relationship and how we both felt about marriage. My particular favourite was our friend's reading of a Bob Marley quotation: 'He's not perfect. You aren't either…', because it's so honest and wise about loving each other's imperfections. It rained constantly in the run up to the wedding, but on the day the sun shone all morning, we couldn't believe how it all worked out, it was just perfect.
The Couple Recommends:
I have to say that it was a pleasure and a privilege to work with Chris Copeland, our photographer, and I would have no hesitation recommending him. The photography was a really important aspect of the wedding for us, especially because we didn't have the budget for a videographer – the day goes by in such a blur, it's so lovely to be able to look back on beautiful images. Wedding photography can be expensive, but when we came across Chris' portfolio, we knew he would be worth every penny. We had a really fun engagement shoot in Tollymore forest with our dog, which was a great way to get to know Chris and practice being in from of the camera. We wanted our wedding photos to be really natural and not posed, and Chris' style was perfect for us – other than supplying him a photography checklist, we needed no other instructions and the photos came out better than we could have imagined. He has such a talent for disappearing into the background and capturing those little moments when you think no one is watching. His photos have such energy and he captured the spirit of the day perfectly.
The Wedding Team:
Photography – Chris Copeland Photography
Venue – Limepark
Floral Design – The Flower Room
Catering – The Fatted Calf
Officiant – Janet McCaughey
Makeup Artist – Jennifer Ireland
Hair Styling – Lynette Murray
Wedding Dress – Kathryn Morrison
Bridal Accessories – Another Feather
Bridesmaids' Apparel – Coast
Groomsmen's Apparel – Hire Class
Rings – Gardiner Brothers, Addy's Vintage
Rentals – Magpie Linens
Favors – Tunnocks Tea Cakes
A huge thank you to Chris Copeland Photography for sharing Jonny and Michelle's natural Irish wedding with us! Love this whimsical feel? Head over to this natural bohemian wedding at Lantana Resort & Marina!