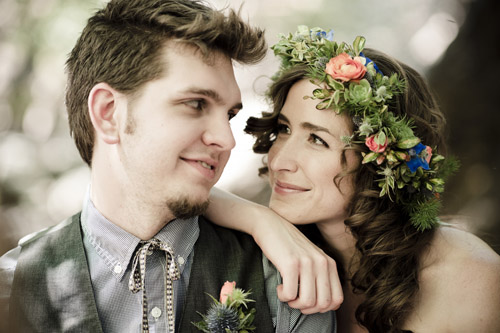 The Couple: Katie and Paul
The Wedding: 6.21.11 – Calliote Canyon, Ojai, CA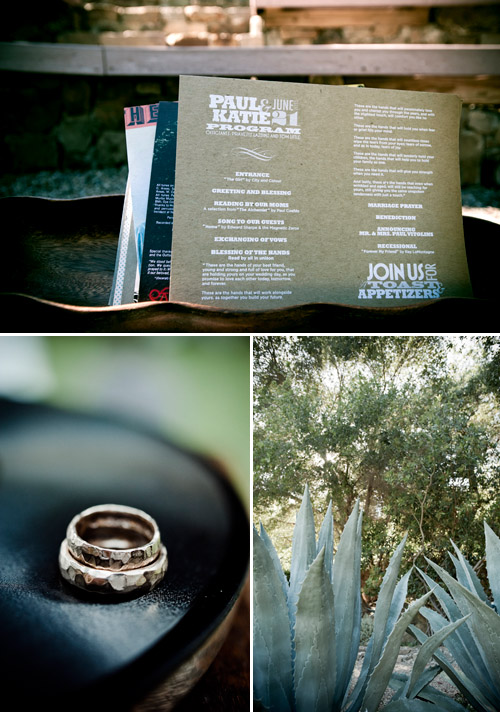 What three adjectives best describe your wedding? Relaxed, Intimate, DIY
What inspired your personal wedding style, and how did you incorporate your style and personalities into your big day? Music had to be an integral component of the celebration – that much we knew for sure. Paul and I met at Berklee College of Music and both of us have found careers in the music industry in one capacity or another.
I spent a lot of time building the ultimate ceremony and dance playlists on Spotify (I work there) and melting 75 vinyl record bowls for table markers and wedding favors. We rallied our friends to bring their instruments to play during the wedding. The vinyl sleeves were used as invitation liners and the vinyl covers we had screen printed with our program. During the ceremony, Paul and I performed our own rendition of Edward Sharpe & The Magnetic Zero's "Home".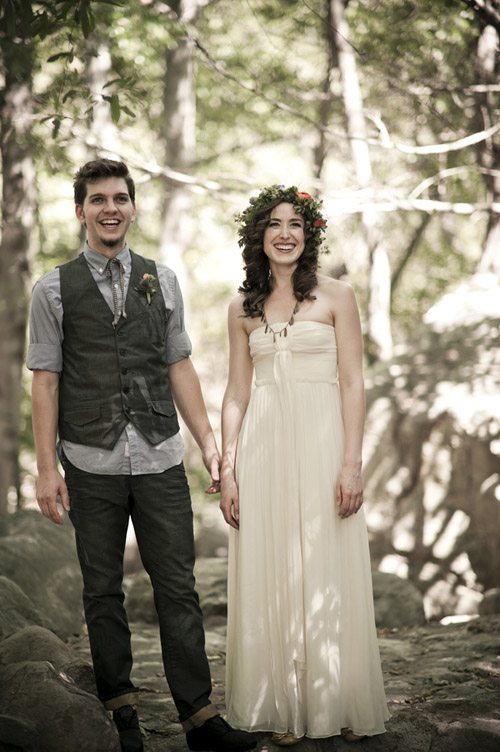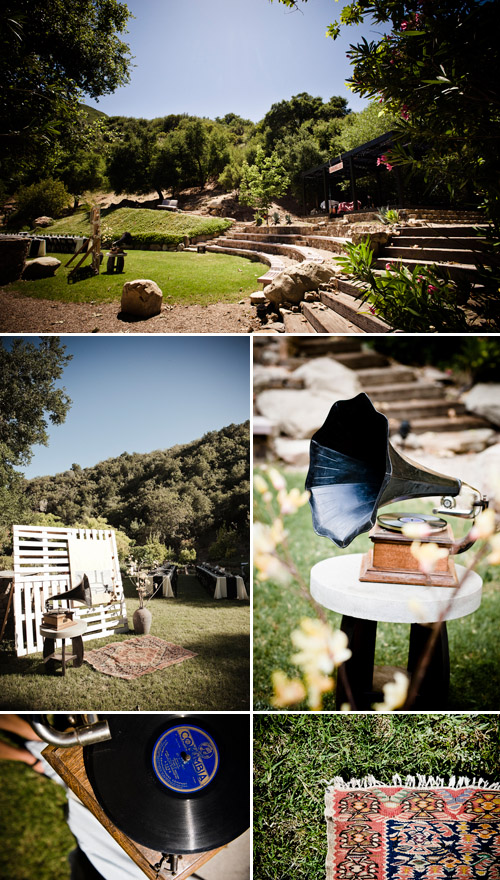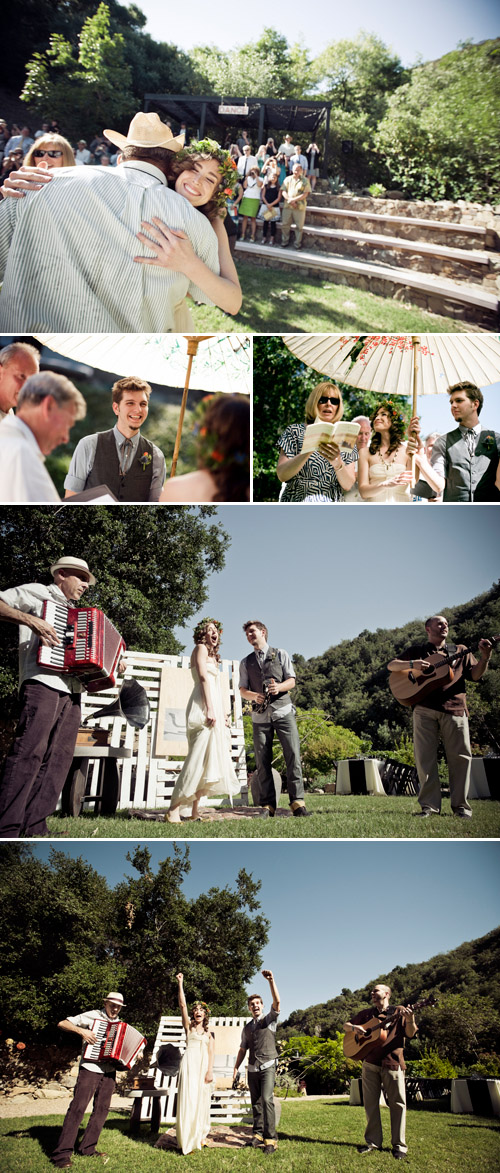 Looking back, what are the moments, decisions or memories that you love the most about your wedding? Everyone's eagerness to help make our day a special occasion truly touched our hearts.
As it is for many people, the wedding was a total coming together of family and friends. Paul's brother Erik's girlfriend Midori made the invitations and save the dates and designed the programs. My sister cut and surged 75 napkins. I melted all of the record bowls for favors and decorations (yarn signs and yarn balls) were done with the help of friends. String lights were flown-in from Christmas trees around the country. Paul and I hand-made our wedding rings with the help of a family friend and artist that does metal casting.
The Monday before the wedding all of our family and closest friends helped us bake 12 pies for dessert! The ovens started smoking really bad and we had stop all pie-making operations to cool, then clean the ovens before baking them. It was also 97+ degrees outside and we had to air out the house. It was an all-day operation and a definite labor of love.
On the wedding day, our friend Lauren gave us a morning yoga class to start the day off right. It was a group DIY effort, for sure.
Wedding color palette: Orange, blue, and yellow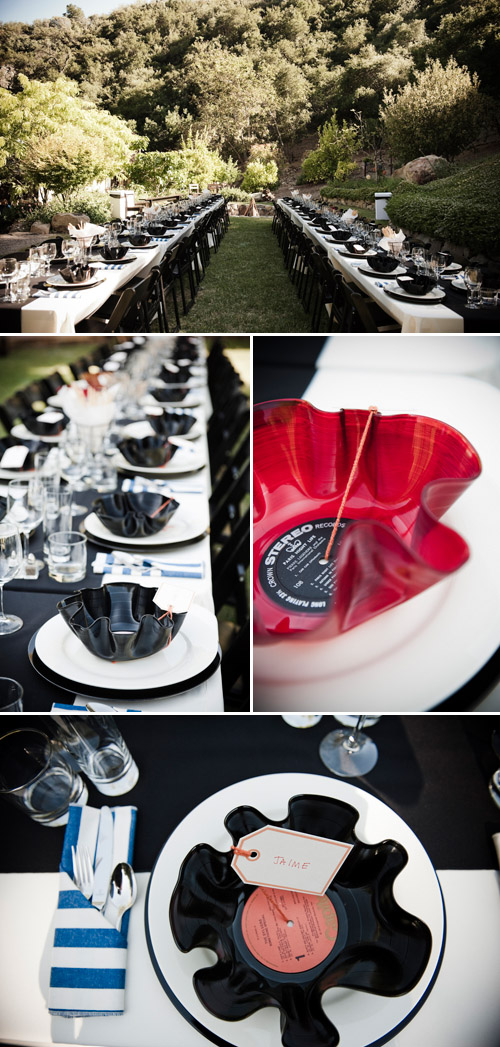 The Wedding Team:
Photographer: Dennis & Jamie Viera – Viera Photographics
Ceremony and Reception Venue: Calliote Canyon
Invitation Designer: Midori Sakano
Catering: Ellen Sherwood – La Piu Bella Tavola
Florist: Angela's Flowers
Wedding dress: J. Crew
Bridal Shoes: Guess
Hair and make-up: Kimberly – Busy Babes Beauty Salon
Rings: We made our own rings!
Thank you Katie and Paul! What an amazing day you created!
To find inspiration for your our personal wedding style, check out our wedding photo inspiration gallery!