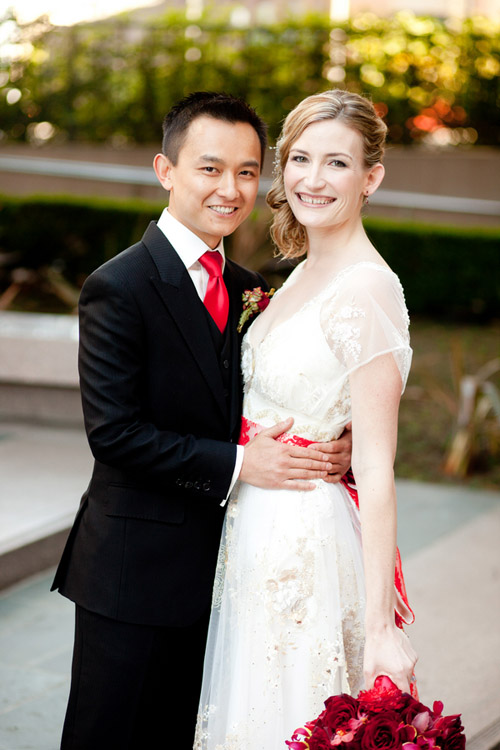 The couple: Erin and Jeff
The Wedding: 10.9.10 – Marvimon House, Los Angeles, CA
What three adjectives that best describe your wedding? Quirky, multi-cultural, intimate
What inspired your personal wedding style, and how did you incorporate your style and personalities into your big day? Were a very unconventional couple and wanted the venue and feel of the event to be anything but mainstream. Marvimon is a really unique and intimate venue that is stylish but understated, so we thought it would be perfect for us. Its artsy, urban-hip and slightly rustic feel was just perfect for the feel of the event and the colors we chose. Our florist did an amazing job creating some beautiful, colorful arrangements with an organic feel. Our DJ also did a great job setting the hip and loungy ambiance we were after.
I would also say two of our best decisions were to hire The Youngrens as our photographers and Amber Gustafson of Amber Events as our wedding planner. Amber really made our day worry-free, and we couldnt be happier with how The Youngrens captured everything so beautifully. Everyone else Amber recommended also did a fabulous job. We were really impressed with all of our vendors and would highly recommend them!

Looking back, what are the moments, decisions or memories that you love the most about your wedding? The ceremony was one of the most important elements for us and we spent quite a bit of time writing it together. We wanted the ceremony to be non-traditional and religion-free, which was a challenge because that meant we had no guidelines or set traditions to follow. We did want to incorporate elements from both cultures, and so we included a slightly modified tea ceremony and poems in Vietnamese and in English, and received a lot of help from friends and family with the translations. It turned out to be worth the work to have such a personalized ceremony and was much more meaningful to us and our families. Although we wrote the ceremony together, we wrote our own vows separately and kept them secret from each other until the wedding day. Hearing each others vows on the day was one of the most memorable and special moments!
Our save-the-date video started out as a fun small project, and turned into a massive undertaking as we came up with more and more ideas and became more excited about learning how to use our new camera. We had lots of laughs creating it but certainly never imagined it would attract global attention! The reaction from friends, family, and perfect strangers across multiple continents was touching, surprising and at times overwhelming! It ended up being a really fun part of the wedding to show the video again to our guests along with some clips from all the media coverage. One of the reasons we chose the Marvimon venue was because of its awesome big screen and HD projection system, as we knew we wanted to show a photo slide show during the wedding. It ended up being perfect to show the video! (Check out their save-the-date video below – originally posted on Junebug back in February)

In general, I have only one word to describe the day: magic. Weve spent ten years together, lived together for five, and were engaged for a whole four years due to our move to Australia. Some people would ask do you think anything will feel different? I was a little bit surprised to feel that it did; going through the process of planning a wedding and formalizing our commitment to each other was really special and I feel like my feelings for Jeff only deepened throughout the process. It was an amazing feeling to celebrate our love and time together surrounded by everyone we care about. It was also such a special day with family: walking down the aisle with my dad and the father-daughter dance were really emotional moments. We both felt so humbled and grateful for all the love we were shown by our family and friends. It was a simply magical day!
Wedding color palette: Reds and golds in honor of Jeffs Vietnamese and Chinese heritage, and fall colors of reds, oranges, golds and browns in honor of the season. I knew I wanted to get married in the autumn because thats the season that we fell in love!

The Wedding Team:
Photographer: The Youngrens
Event Planner: Amber Gustafson of Amber Events
Ceremony and Reception Venue: Marvimon
Officiant: friend of groom
Invitation Designer: Graphic design done by ourselves; watercolor artwork done by Louisa
Martin (the brides mother), paper products ordered from www.cardsandpockets.com
Catering: Thank Goodness It's Sofia Gourmet Catering
Florist: Peony & Plum Floral Design
Cake: A Sweet Design
Wedding dress: Madame Butterfly Sp 2010 collection by Claire Pettibone
Bridal accessories: Christian Louboutin, hair accessory from Design Visage
Bridesmaids apparel and accessories: dress by ABS from Neiman Marcus
Groom and groomsmen apparel and accessories: design and tailoring by Wilson Mui (the Best Man)
Hair and make-up: Design Visage
DJ: Dash Entertainment
Transportation: Tact Event Management
Dance instruction: Arthur Murray
Favors: Koufeta (A Greek tradition, sugar-coated almonds, made by mother of the bride)
Thank you so much Erin and Jeff!What a perfect wedding day!
To find inspiration for your our personal wedding style, don't miss our wedding image gallery!
All images above by The Youngrens