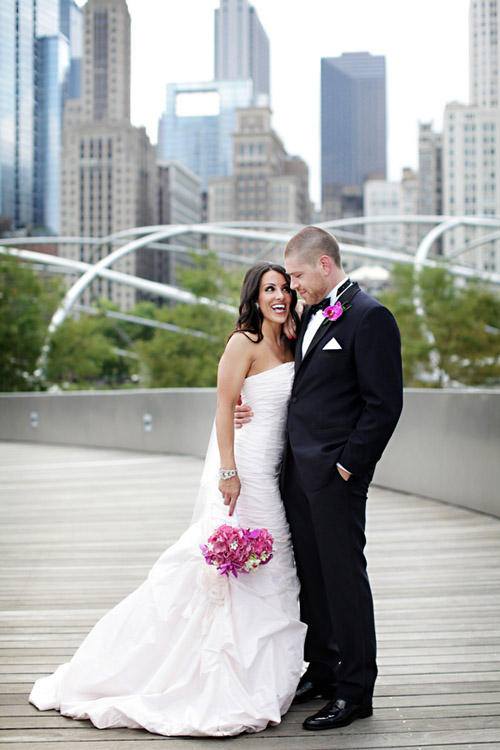 Today's modern, sleek and romantic Chicago Real Wedding of Lynne and Garrett is truly a treat! With a bright color palette of white, silver, navy and hot pink (the bride's favorite color) and crisp, dynamic photos from Chris+Lynn, it's like a delectable wedding confection!

The Goals: Lynne and Garrett wanted to have a fun, modern, lounge-like wedding with an intimate guest list of 65 of their closest friends and family. They chose to plan a destination wedding at The Wit Hotel in Chicago so their loved ones would experience true time off and be able to let down their hair. "Although it was difficult to keep the list so small, it allowed us to enjoy the day. Your wedding day goes by so quickly… some of my best memories are being part of the party after the lights went down instead of trying to get to every table to say hello. Our guests were away for the weekend and ready for a great time. Nobody had to get to work in the morning… what a great atmosphere!"

The Design: Lynne and Garrett were going for a romantic wedding with clean modern lines and a sexy, lounge vibe at the reception. Their wedding color palette focused on using white everywhere they could, with pink used in the bridesmaids' dresses, stationery and floral bouquets by Botanicals Chicago, silver used on the table tops, and navy in the groomsmen's suits. I love how the vibrant colors pop in the photographs!
For wedding favors they gave out a copy of A Lovely Love Story by Edward Monkton which is a short story close to their hearts, which they included in the readings during their ceremony. They also gave out bags of Garret Gourmet Popcorn, which is very Chicago, and of course, the name of the groom.
Their square wedding cake from Sweet Mandy B's was delicious – vanilla raspberry on the bottom layer and red velvet for the upper layers. For additional sweets they served fresh berries with mint and moon pies with shot glasses of cold milk.
The Look: Lynne's wedding dress by Ines Di Santo was a very light shade of pink, her shoes from YSL and Christian Louboutin, were just plaing fabulous, and she incorporated lots of fun British traditions in her look and day, to honor her family. "I had a daisy from my Mum's wedding gown and buttons from my great grandma's wedding gown sewn into my dress, I wore a sixpence in my shoe, and my Mum wore a hot pink wedding hat. My nephew also presented us with a horseshoe as we walked out of the church which is a British good luck tradition."
The bridesmaids wore hot pink Coren Moore dresses from Bella Bridesmaid with bracelets from Bebe, and the groom and groomsmen wore modern cut navy blue suits from Indochino with shoes by DSquared.

The Moments: There are so many moments that Lynne says she remembers and cherishes from her day – "Walking with both my parents down the aisle, seeing each other at the altar, saying our vows, my sister giving me a wink mid-ceremony, walking into the reception, all the toasts and dances, our late night wedding photo session, and the party! We never imagined what a fun party it would turn out to be! After such a beautiful day it was a lot of fun to see our guests let loose. We laughed so much that night." What fun!

The Pros: To learn about all the wedding professionals who contributed to this amazing wedding, be sure to visit our Real Wedding section.

Thank you so very much for sharing your wedding story with us Lynne and Garrett!
To plan your own Southern California or Seattle area wedding, check out our Plan Your Wedding Hotlists, and to find a dream wedding photographer for your wedding anywhere in the world, don't miss our World's Best Wedding Photographers Hotlist!