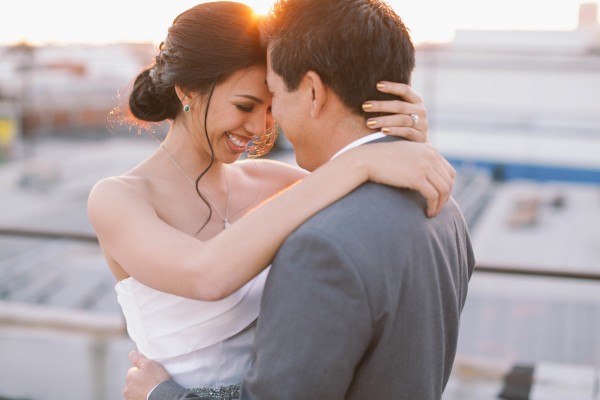 After a touching proposal centered around their favorite movie UP, Kristen and Phillip wanted to include some of the same details in their wedding at 440 Seaton in Los Angeles, California. The bright decor and correlation to the movie perfectly expressed the couple's personalities at their wedding. The incredibly talented Innovate Marketing Group perfectly designed the day to uniquely represent Kristen and Phillip. And, to top it all off, Brandon Kidd Photography expertly captured beautiful details at the wedding.
The Couple:
Kristen and Phillip
The Wedding:
440 Seaton, Los Angeles, California
The Inspiration:
Because our proposal was such a big hit with our family and friends, we wanted to incorporate it into our whimsical and quirky wedding style. We definitely let our own personality fly sky high in everything we did, from the detailed cranes hanging in the entrance, the cartoon-like paper flower bouquets, to the beautiful hand-crafted chalk aisle that served as the centerpiece of our ceremony. Our flower girl was dressed very colorfully as Kevin the bird and our ring bearer wore a Russell the Wilderness Explorer outfit, a nod to Phill's creative proposal. We also turned onto this artist, James Hance, who created a series of drawings combining the "UP" and Star Wars characters — perfect for us as it went with our proposal and Phill's love for Star Wars. Because Phill is Japanese, I wanted to bring out that traditional side of him by folding and displaying a thousand cranes.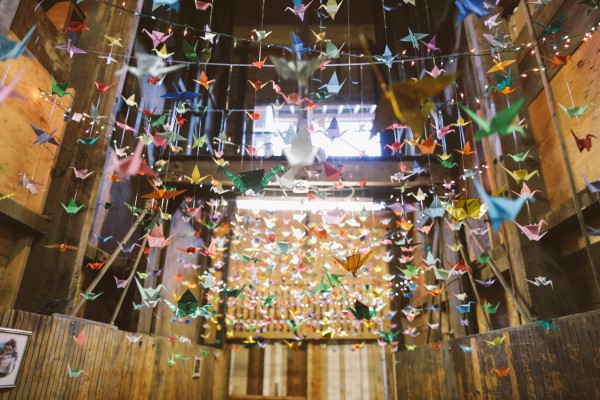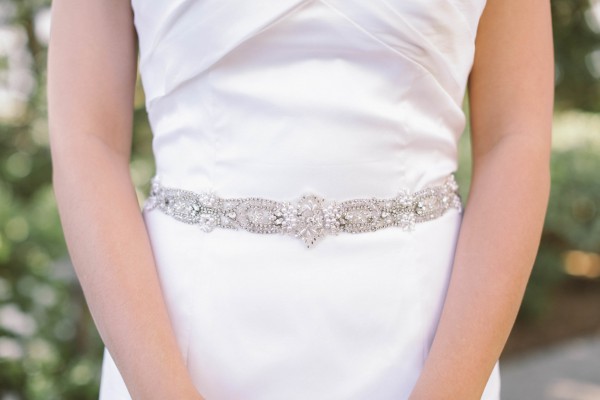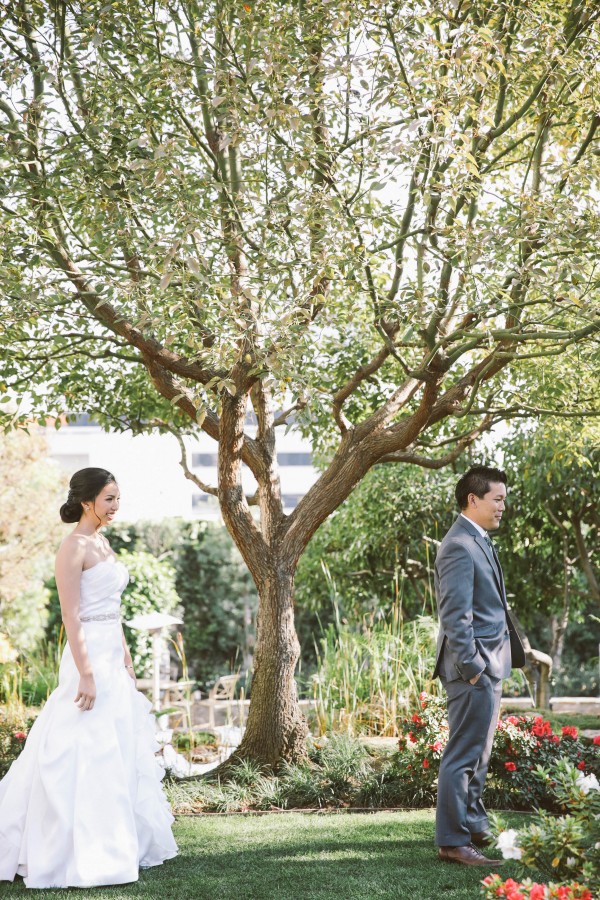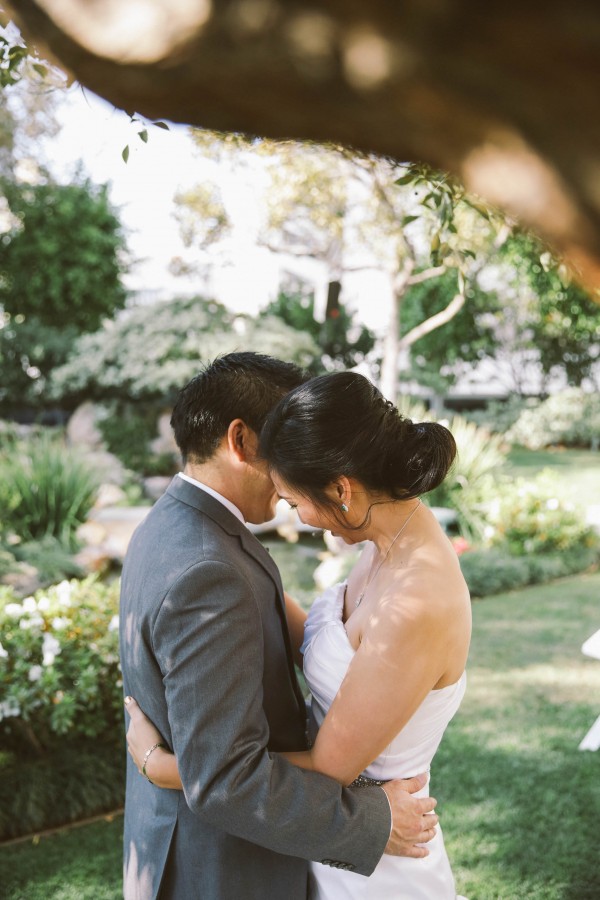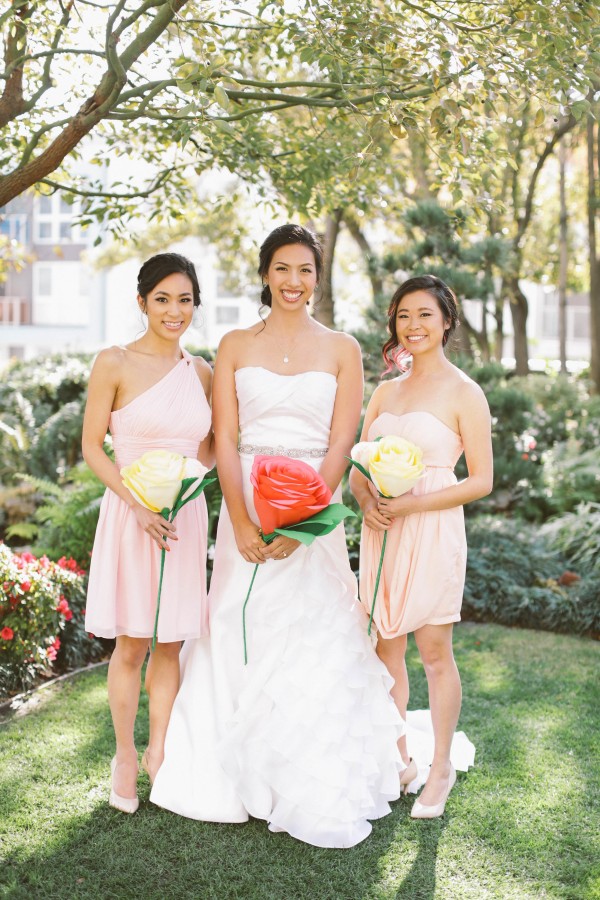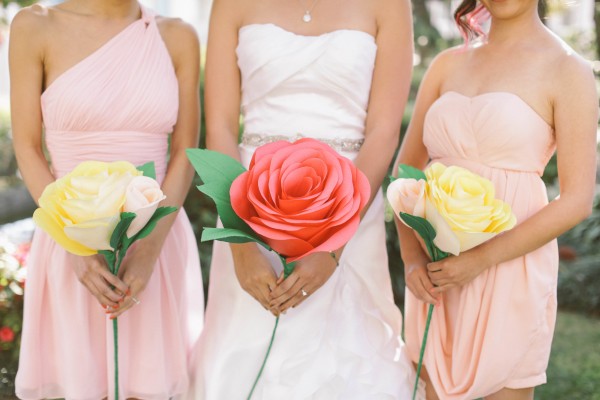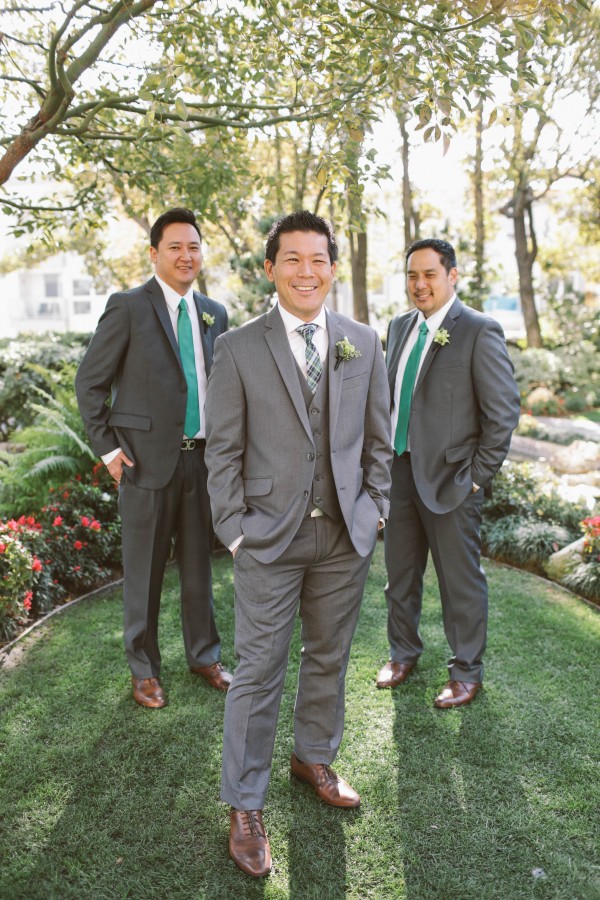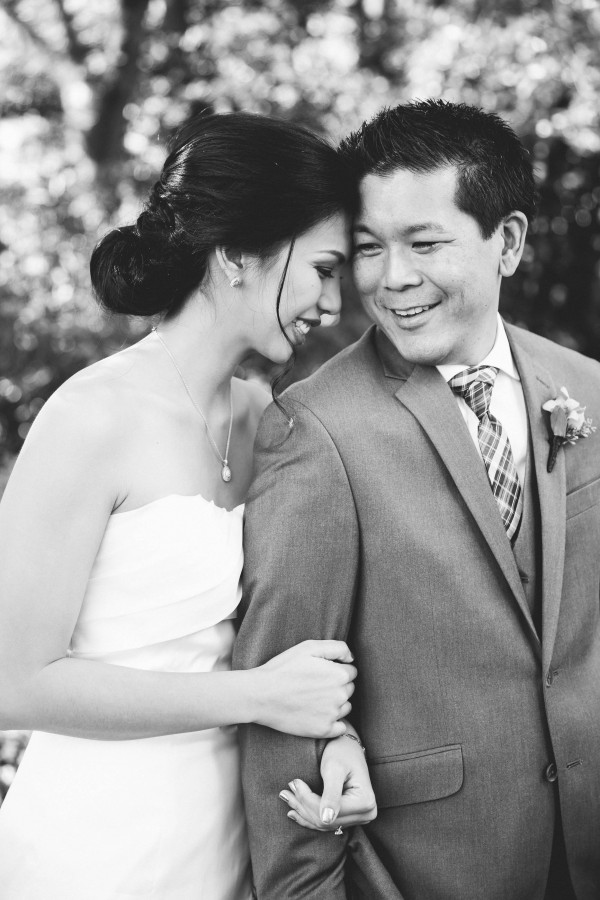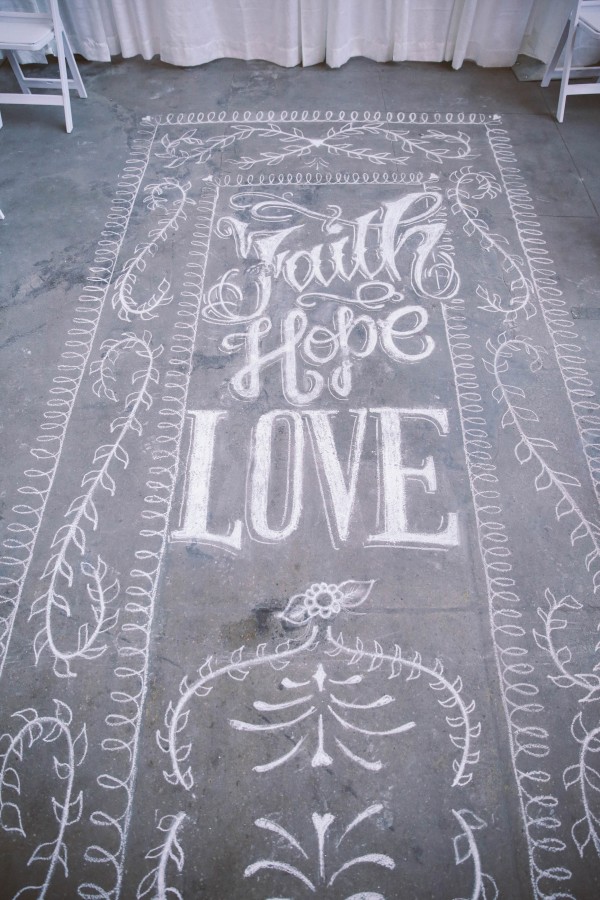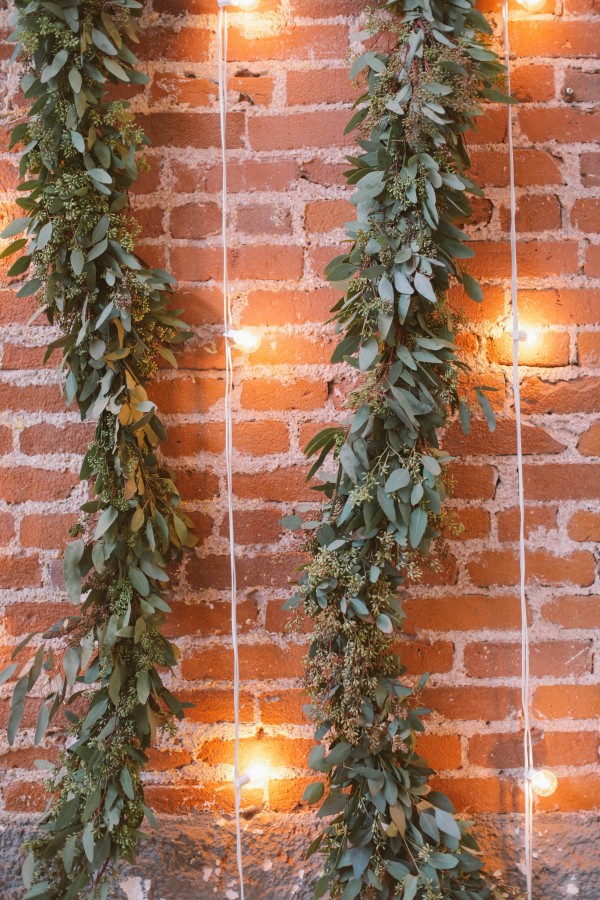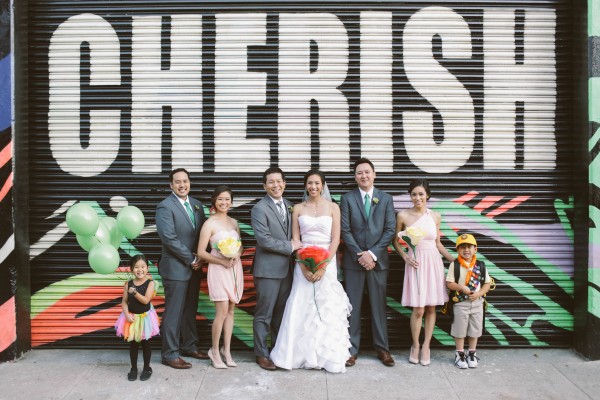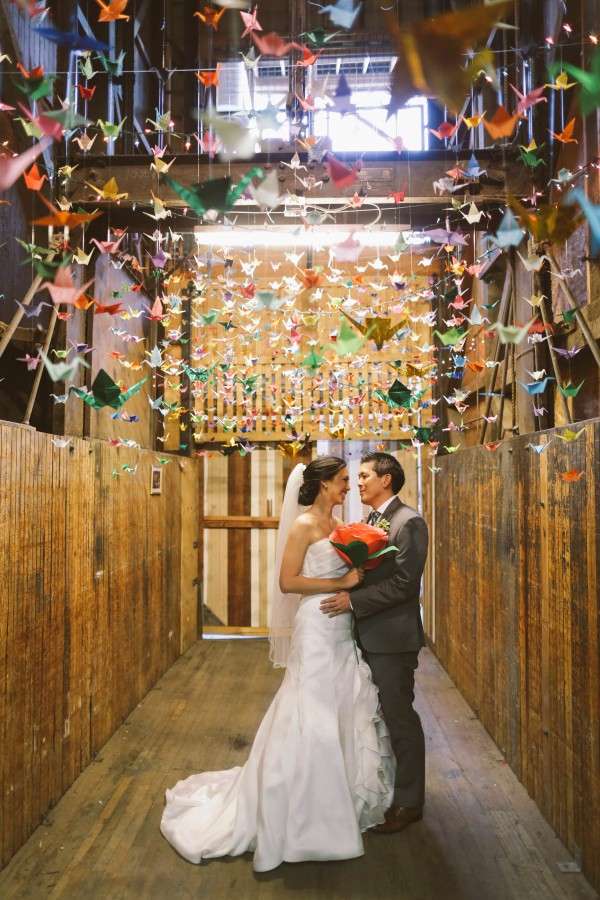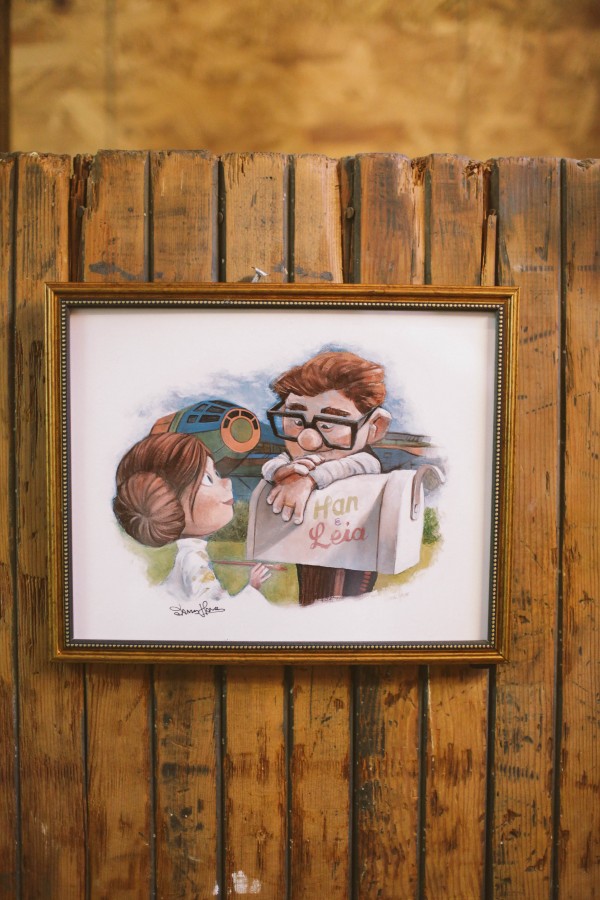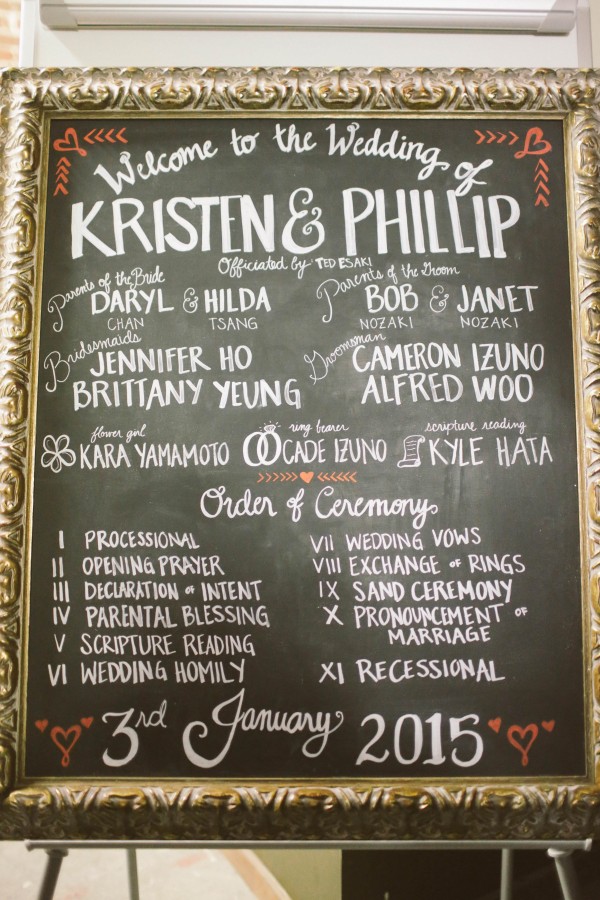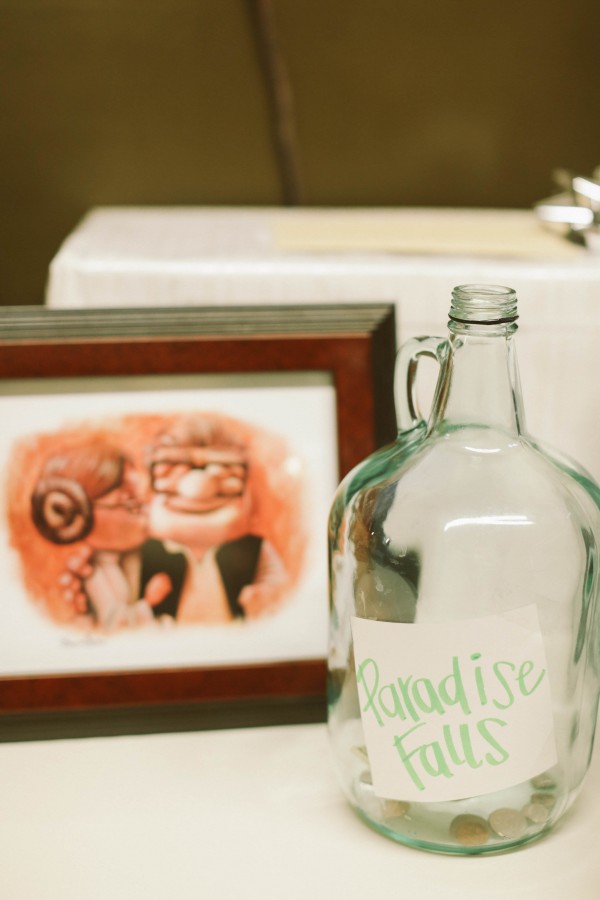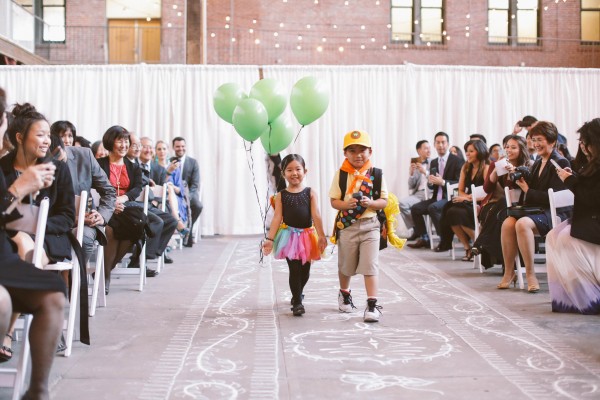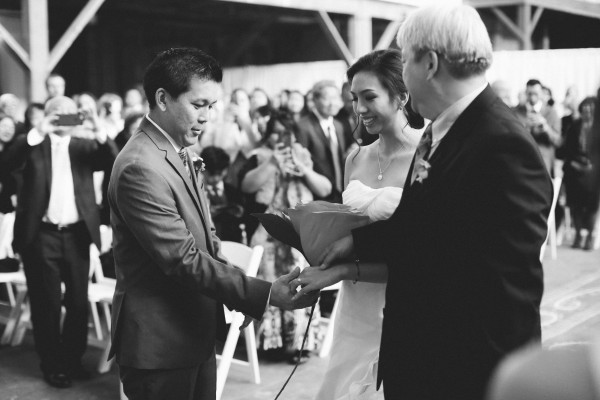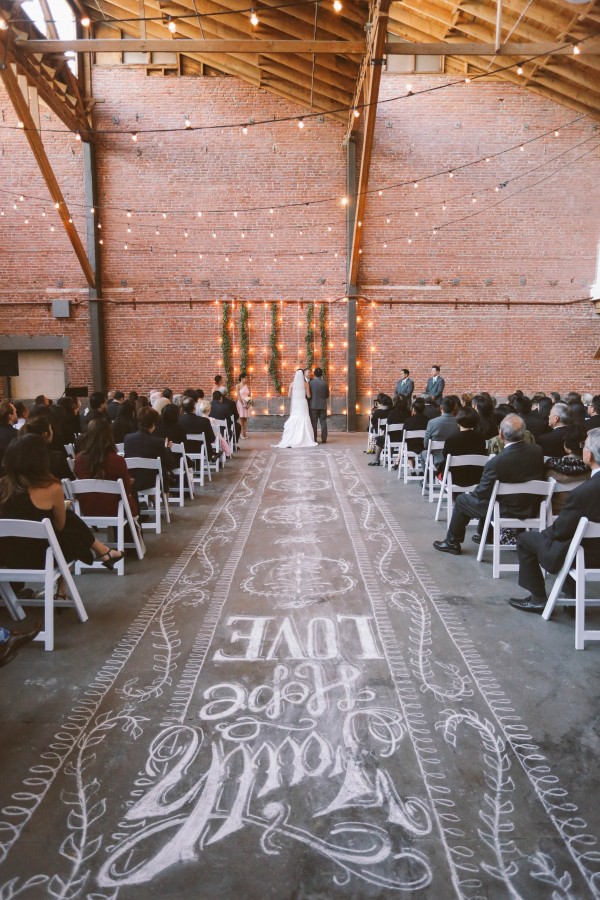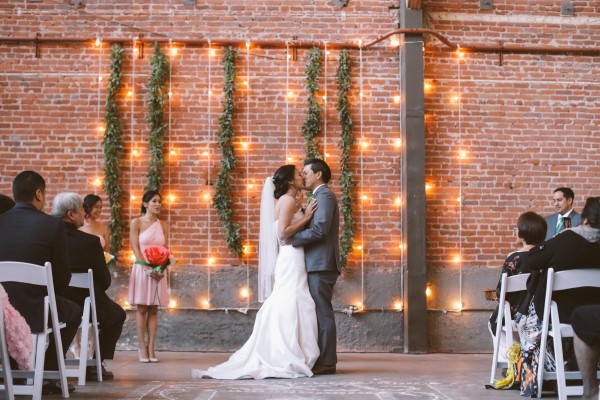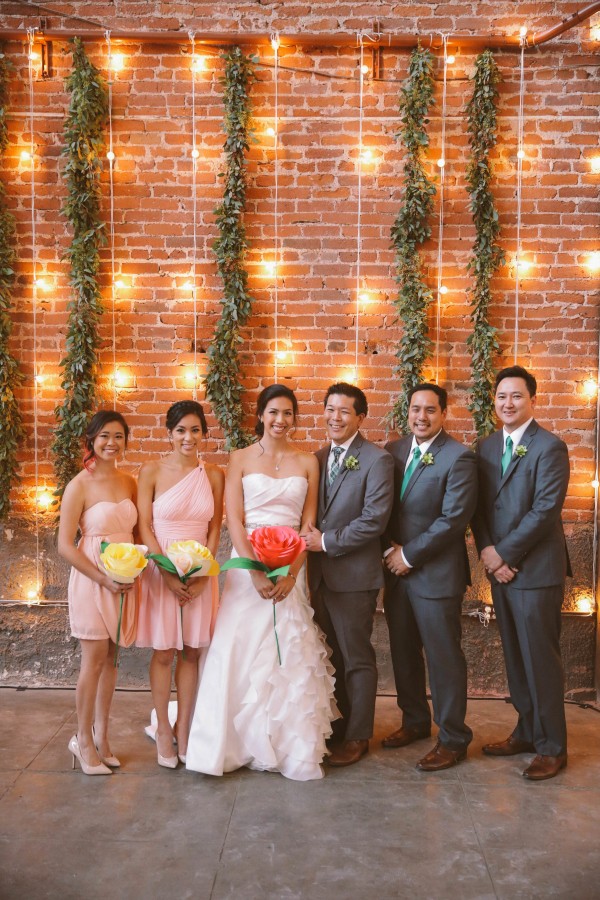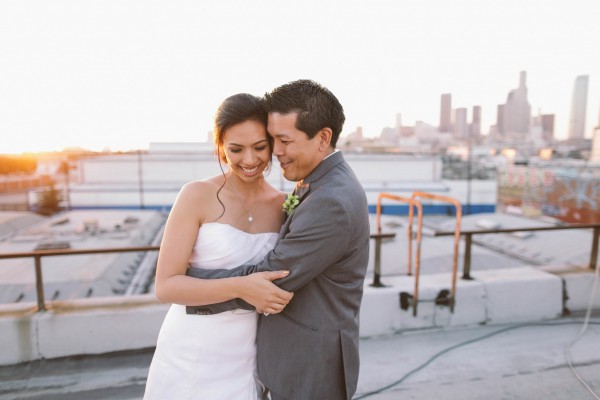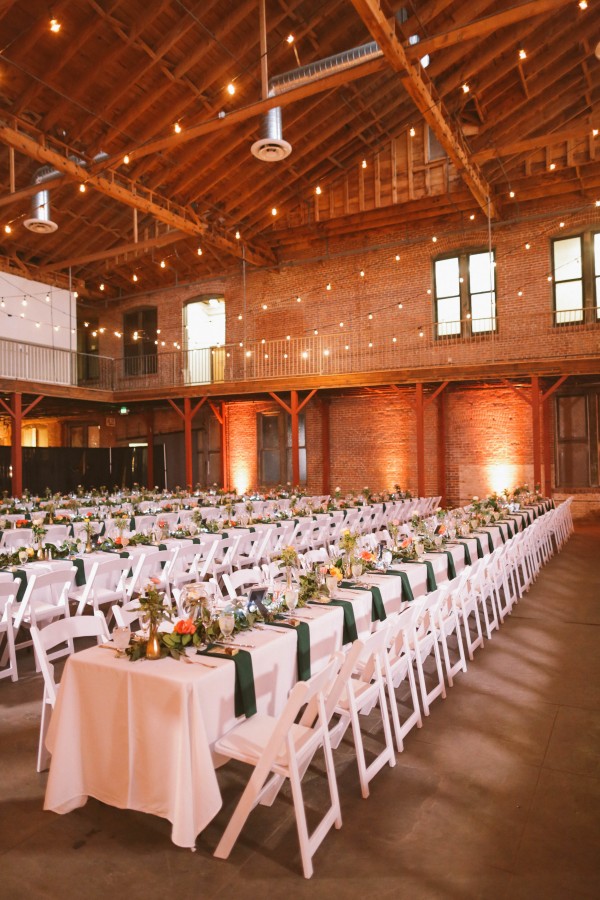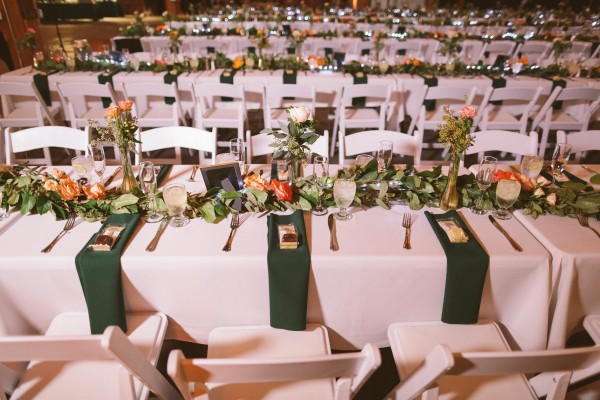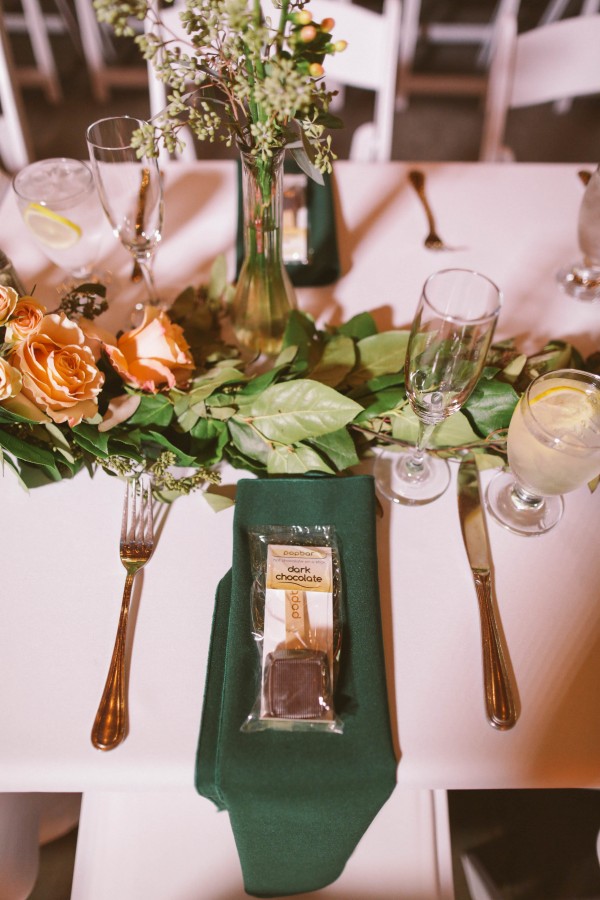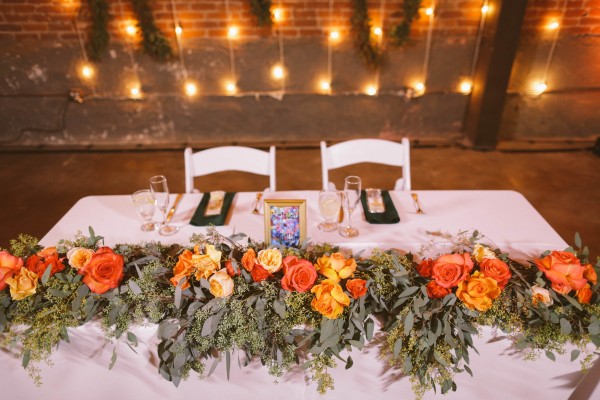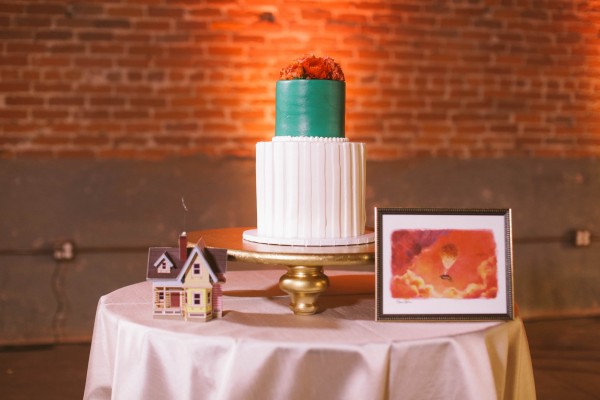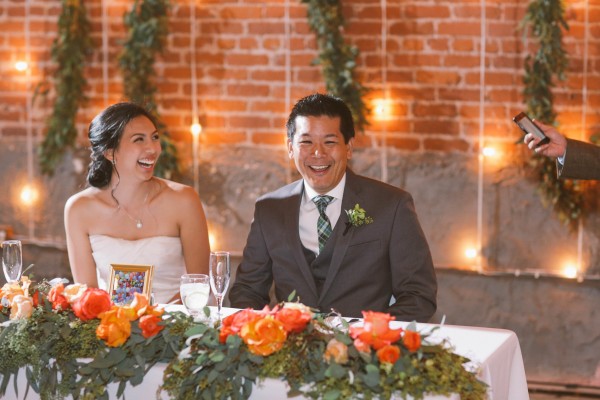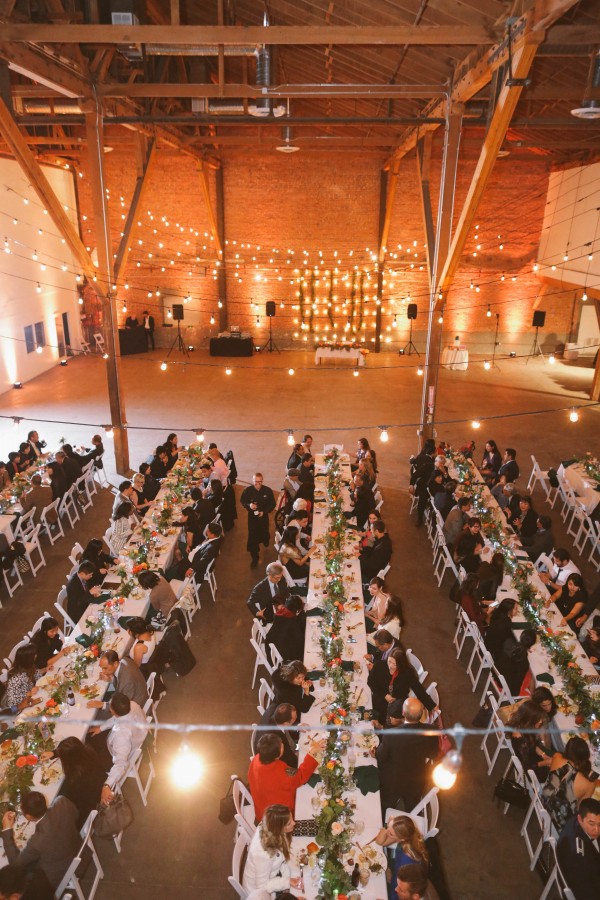 The Moments:
We enjoyed every single minute of our wedding, but the ceremony in particular provided a special moment that we will always treasure. Phill had his former senior pastor marry us, which confused many of our guests as we currently attend a different church with my family and are very much involved there. During the ceremony, the pastor revealed that even though he's watched Phill grow up for many years, he's known my mother even longer, almost 40 years! Ted Esaki, the officiant, married my mother's high school best friend, and he even surprised us with pictures of my mother (dressed like Princess Peach of Mario Kart) speaking at their wedding! We also loved watching our flower girl (dressed as Kevin the bird) and ring bearer (dressed as Russell the Wilderness Explorer) walk down the aisle. They melted everyone's hearts and really stole the show! Our flower girl is still talking about how it was the best day of her life!
The Couple Recommends:
Our event could not have happened without our wedding planner, Mary Yang of Innovate Marketing Group. She is so detail oriented and responsive. Mary also went above and beyond when coordinating with the venue, as 440 Seaton was relatively inexperienced with events (they're a newer venue) and threw a few curveballs at her, all of which she handled with more grace and professionalism than anyone else I've met. We were also blown away by the work of Kyle Shimazaki, the artist that created our one-of-a-kind chalk aisle. Phill gave him a snippet of my vision, but insisted that he bring in his own creative twist, and did he deliver! Jay's Catering did an incredible job with great customer service and wonderful culinary experience. Many of our guests raved about the food — especially the cookie and milk shots. Brandon and Kristin Kidd of Brandon Kidd Photography also worked a great amount of magic in their photography. They took advantage of the urban setting of our venue to bring out the quirky dynamic of our wedding. This dynamic duo really made us feel comfortable and they do amazing work together!
The Wedding Team:
Photography – Brandon Kidd Photography
Event Planning – Innovate Marketing Group
Venue – 440 Seaton
Floral Design – iXora Floral Studio
Catering – Jay's Catering, Waffles de Liege Truck
Cake – Jay's Catering
DJ – Colin Yamashita
Makeup Artist – Grace Lin
Hair Styling – Grace Lin
Wedding Dress – Junko Yoshioka
Groom's Apparel – Friar Tux
Groomsmen's Apparel – Friar Tux
Rentals – Jay's Catering, Superior Valet Services, Kyle Shimazaki (chalk aisle)
Favors – Popbar
A special thanks to Innovate Marketing Group for sharing Kristen and Phillip's Up inspired wedding at 440 Seaton! Want to see more colorful wedding inspiration? Check out this colorful and romantic wedding at Ancaster Mill!