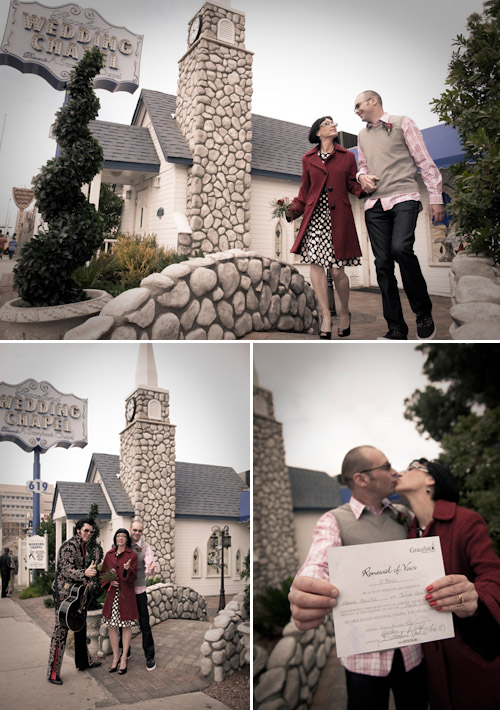 Hundreds of people get married every day in Las Vegas, and we were fortunate enough to meet one of these lucky couples along with their incredible photographers, Australia's Rocco Ancora and Vicki Bell, at a fabulous cocktail party (Thank you Jerry Ghionis!) just last night during the Vegas WPPI convention. Julie and Adam traveled all the way from Melbourne, Australia to renew their vows at the Graceland Wedding Chapel after ten years of wedded bliss. As Elvis performed the highly entertaining ceremony, he used the opportunity to insert some key Elvis catch-phrases into the couple's vows, quoting from his famous songs like "Love Me Tender", "Blue Suede Shoes" and "Jailhouse Rock". Congrats on ten years of wedded bliss Julie and Adam – and here's to many more!


(All images by Rocco Ancora and Vicki Bell)
If you are in the market for a wild and crazy wedding, Las Vegas is the place to find it. You can go the classic Las Vegas wedding route, by being married by Elvis like Julie and Adam did, or check out these other distinctly non-traditional wedding ceremony options we came across…
Give new meaning to the term "quickie wedding" by getting married at A Little White Chapel's Tunnel of Love with a drive-through wedding ceremony.
Have an event-to-remember with a medieval-themed wedding at the Excalibur Hotel (costumes included!).
Dream of getting married on a boat? Have your ceremony performed by the captain on-board the pirate ship at Treasure Island.
For something a little more wild, get married while riding the roller coaster on top of the Stratosphere Hotel high above the strip!
Your wedding can be held in a gondola at The Venetian, atop "the Eiffel Tower" at Paris Las Vegas, and if you stop in at the Viva Las Vegas Weding Chapel, you can get married by Austin Powers, The Godfather or even Merlin the Magician – your pick.
We've even heard rumors of nude ceremonies at some Vegas chapels!
There is a reason that Vegas is the wacky wedding capital of the world – three cheers for creativity!