It might still be a bit cold outside, but I promise, this bright and fun summer wedding in Atlanta should warm you right up! Genya and Pete were married in a colorful celebration that was 100% them; goofy, brilliantly designed and surrounded by love and family. Genya is a photographer herself at Vue Photography and entrusted the day to Paperlily Photography who perfectly captured all the genuine emotions and unexpected moments.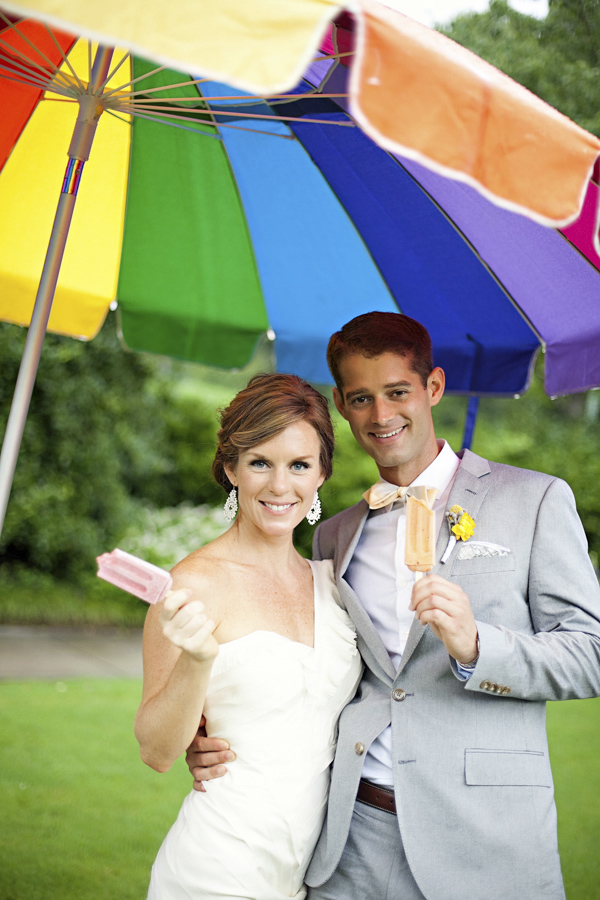 The Couple: Genya and Pete
The Wedding: 6.6.13 – Piedmont Park, Atlanta, GA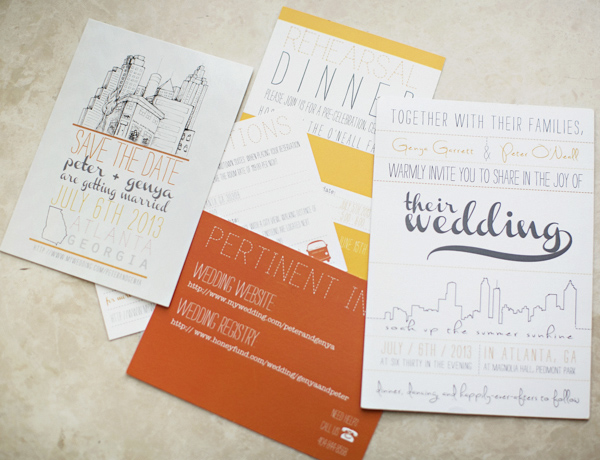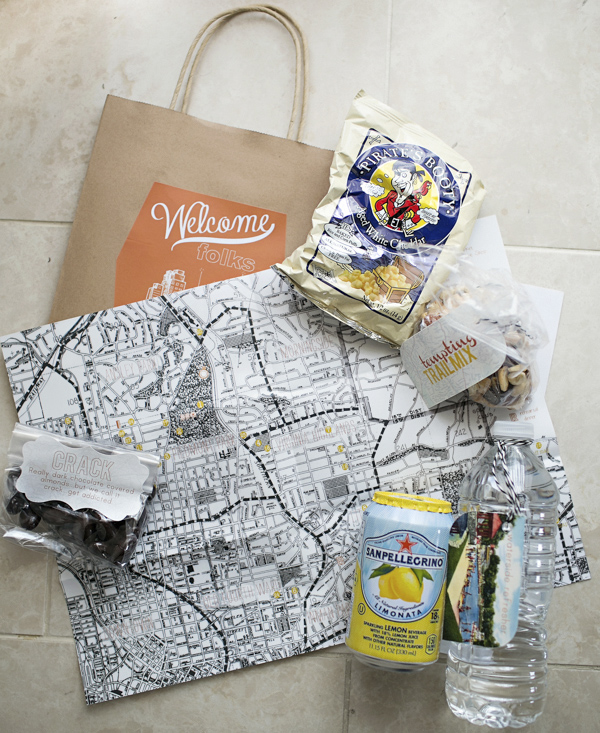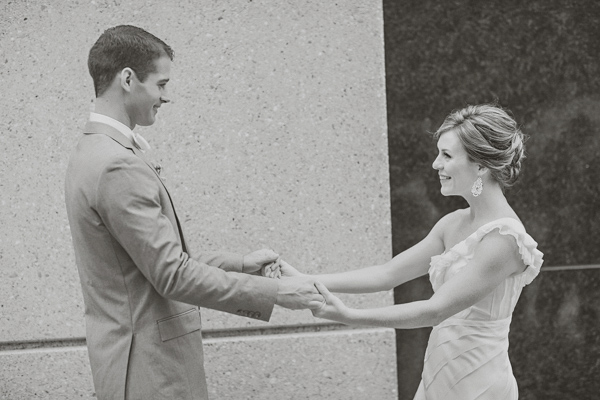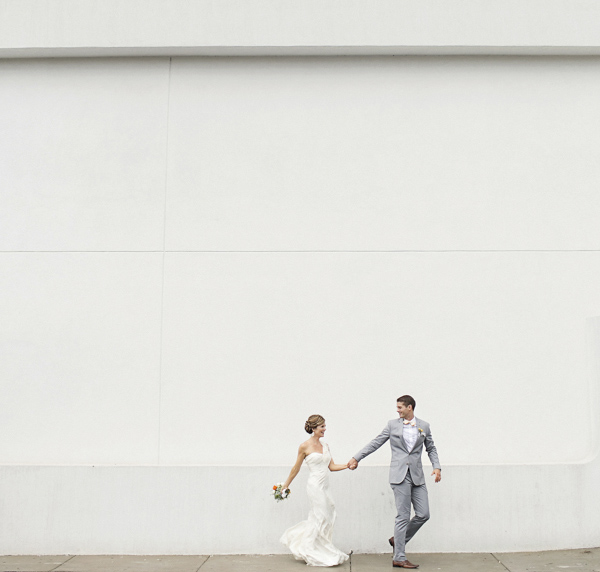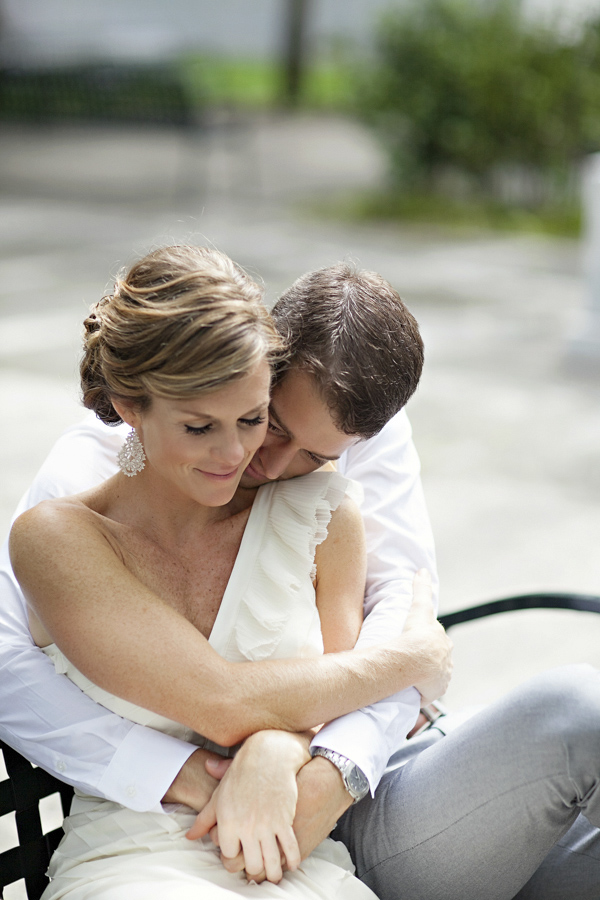 The Goals: WE wanted it to be FUN!!!!!!!!!!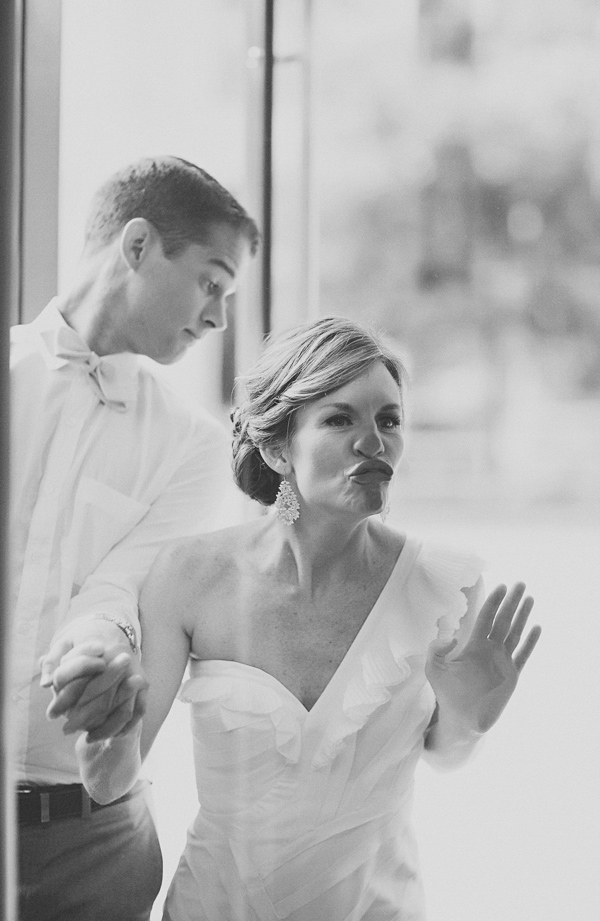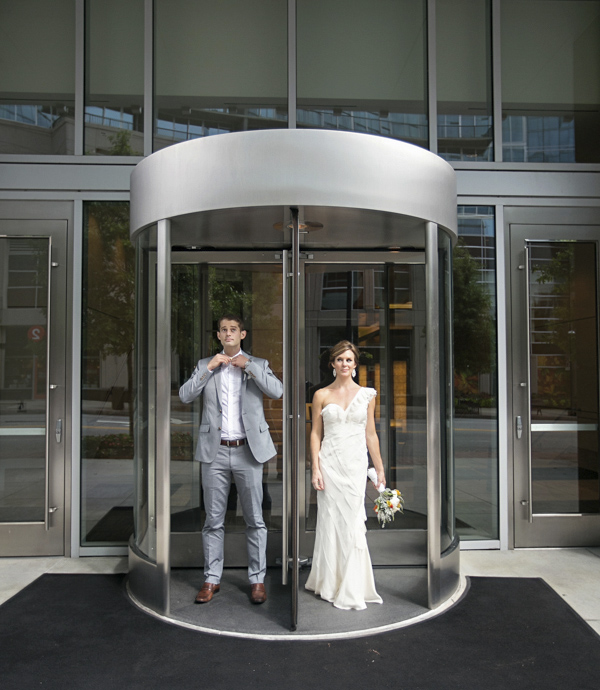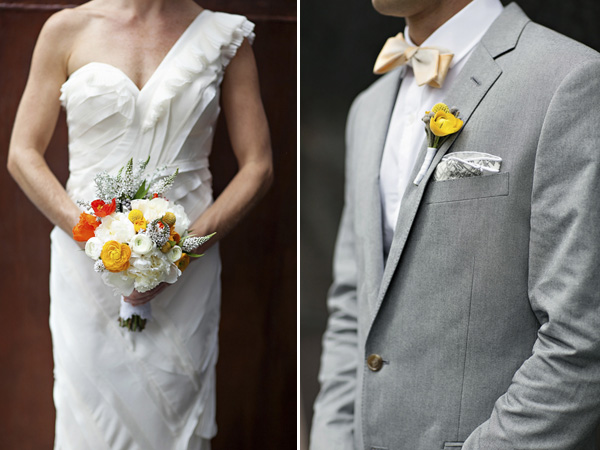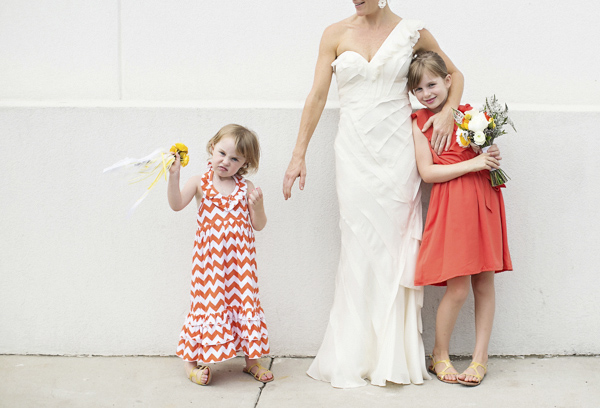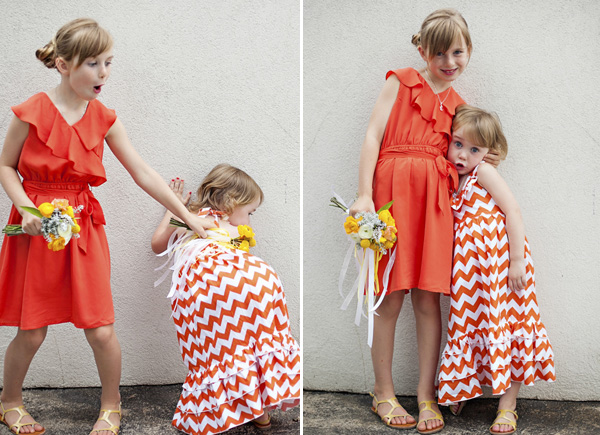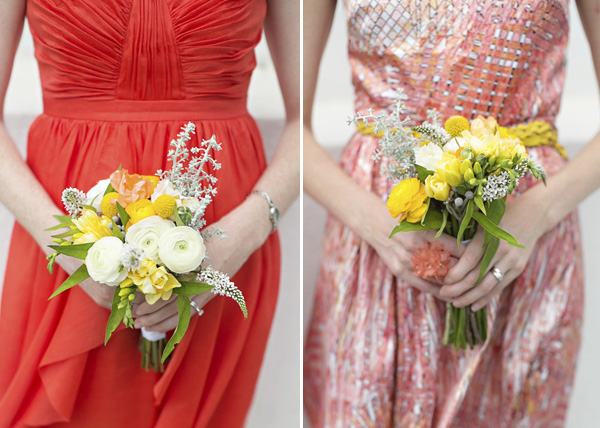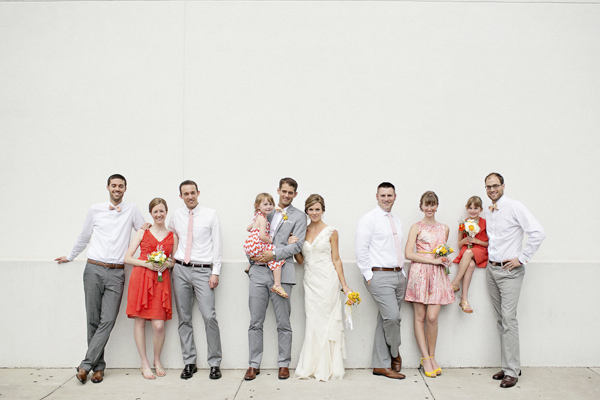 The Moments: Wow there are so many funny ones!
I have 2 little girls (Mia 8, and Harper 3) and both added humor to the event! The duo insisted on being bridesmaids and did an amazing job. The funniest part was that right before I walked down the aisle – we were lined up and Harper had just woken up from a snooze. In true 3 year old form – she needed some bribery. I offered her a fruit snack – and she strongly said "whole pack"! Well, I said OK, and she tossed her flower wand in a bush and took off carrying a whole bag of fruit snacks down the aisle. Mia then looked at me and said "I really want your bouquet." Well, I gave that to her. She took off down the aisle beaming and it made her day. So I was left with my 2 dads and an heirloom hankie from my mother-in-law. Arm and arm, hankie in hand, I headed towards the only accessory I wanted…Pete.
The expressions on the kids faces were hilarious during the ceremony and you can see it all in the images. 1. Harper ate all the fruit snacks, was very proud and showed it. 2. Then while were were crying during the vows Harper crept around to check on me, trying to console. 3. Finally when we kissed the kids roared with eews and laughter!
Our ceremony was outside and in true July form, we were dodging thunderstorms. We had a clearing on the radar and went for it. It was perfect and COOL outside which is totally abnormal for a steamy Atlanta summer. The second the ceremony was done Pete and I ran over to our "bench in the park". This bench was where we first said "I love you" and also the same spot where he had proposed. A month before the wedding we also buried a bottle of whisky, upside side down in the ground there for good luck on the wedding day. It was suppose to ward off the rain. (Technically it was a Kentucky tradition of burying bourbon and we kind of messed it up). Well- the very second Pete pulled the bottle out of the ground, the lightning cracked, thunder boomed, and the rain started! It was wild and perfect timing. We danced the rest of the night away, safely inside!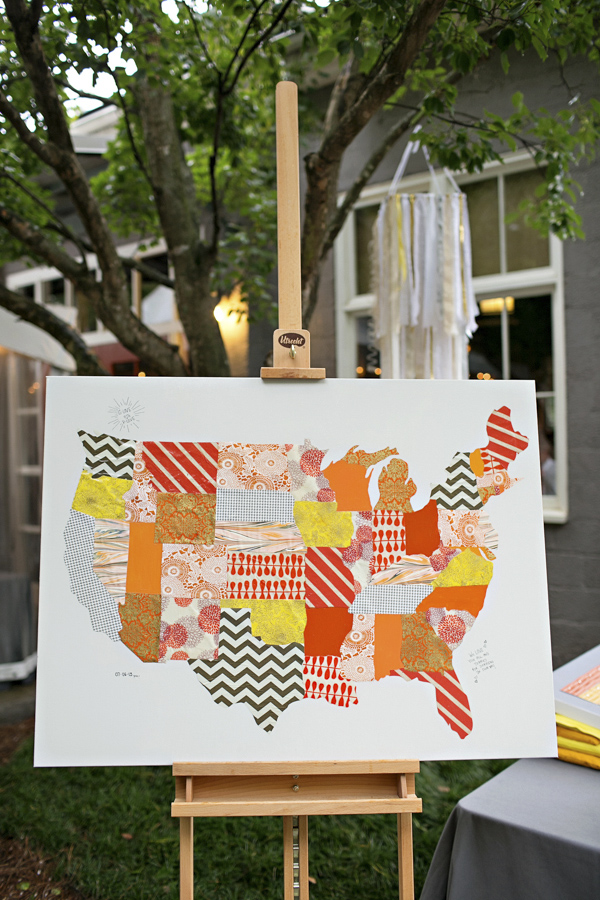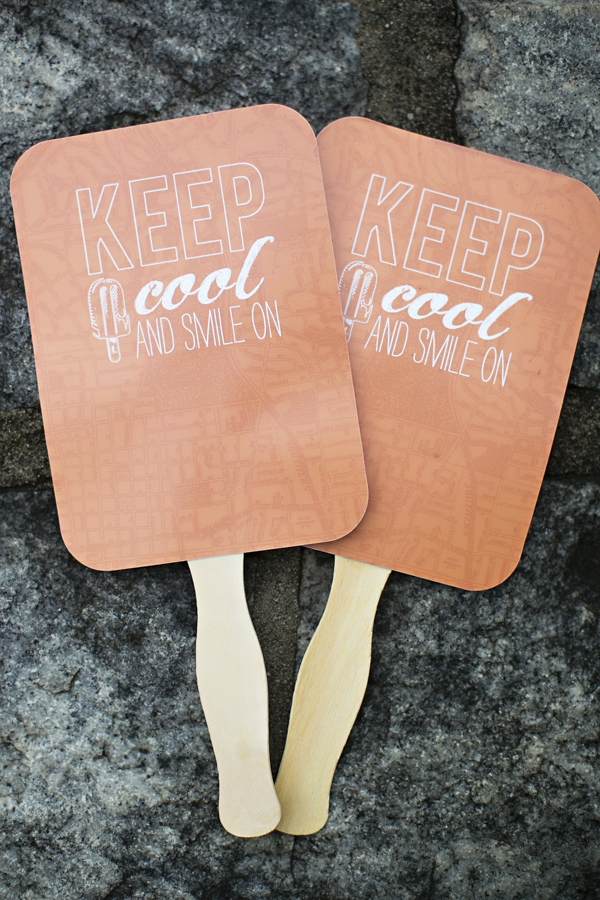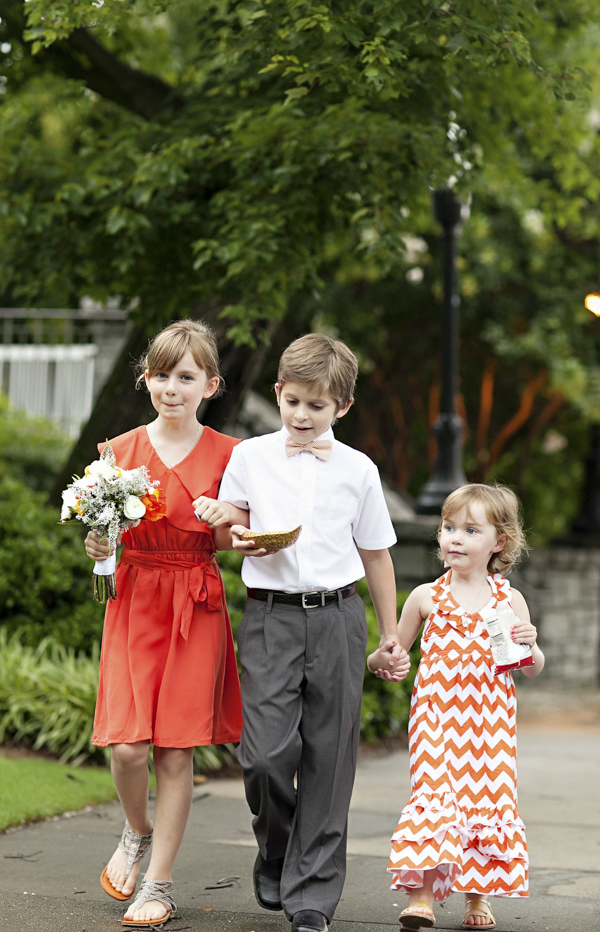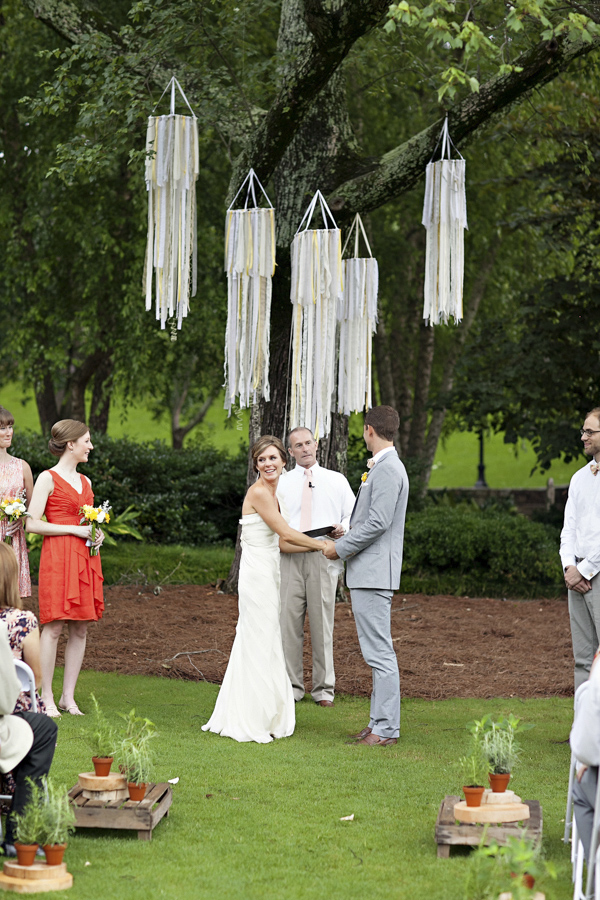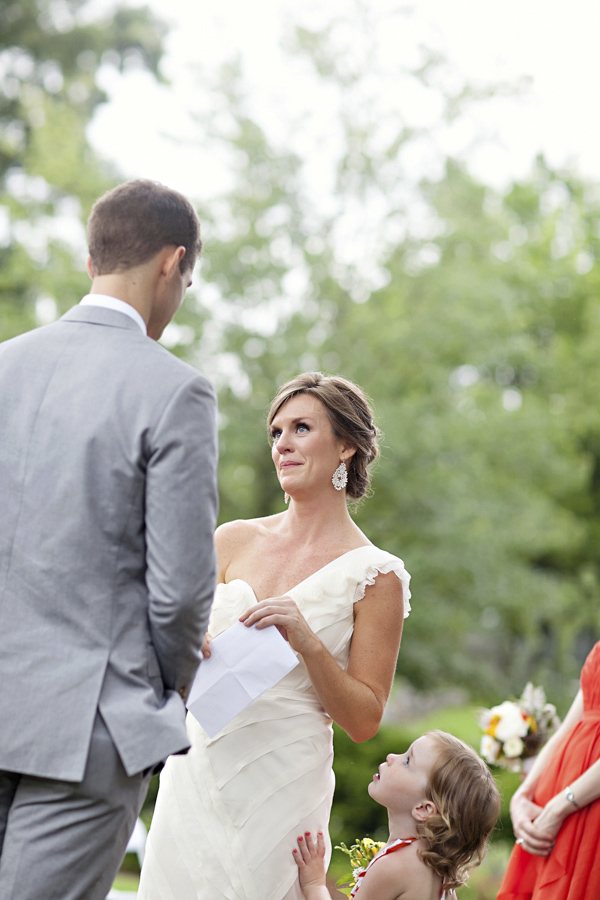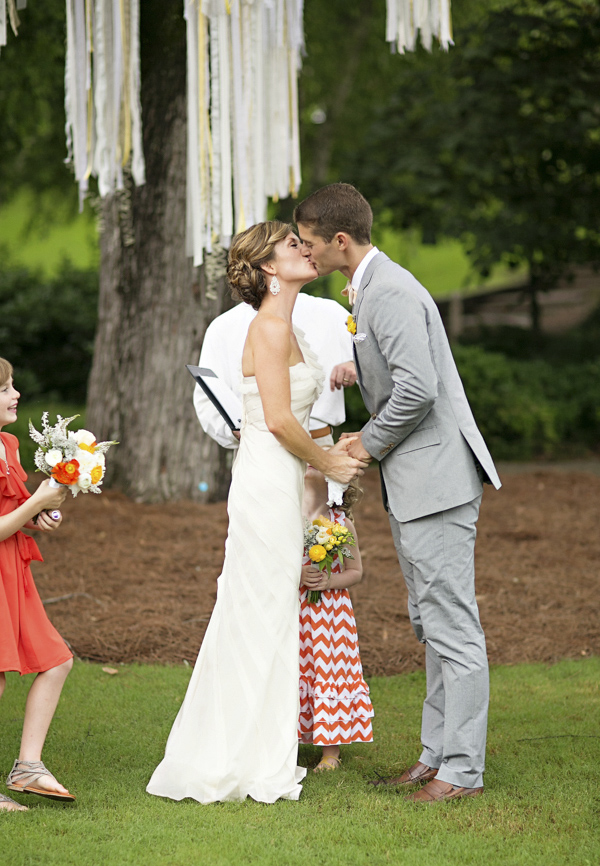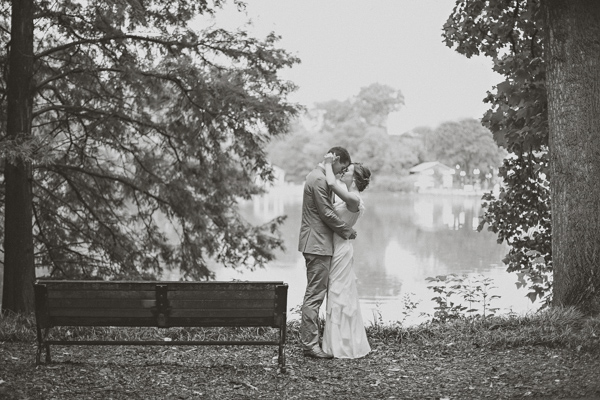 The Design: We really wanted our guest to feel "us" in the event. We tried to have tons of things that were special to us – like the venue was the park where we hang out, run, swim, play, had dates, said "I love you's". Then King of Pops who served popsicles during the ceremony seating is one of our favorite summertime desserts, we had maps of the city showing all of our favorite spots incorporated throughout, Pete's Uncle officiated the ceremony to keep it in the family. Sun in My Belly catered and it's one of our FAVORITE restaurants…we've walked there on my many nights to share a meal. We started the wedding weekend by running the Peachtree Road Race and invited guests to join in. We're marathoners and had our florist make a shoe chandelier out of our race shoes.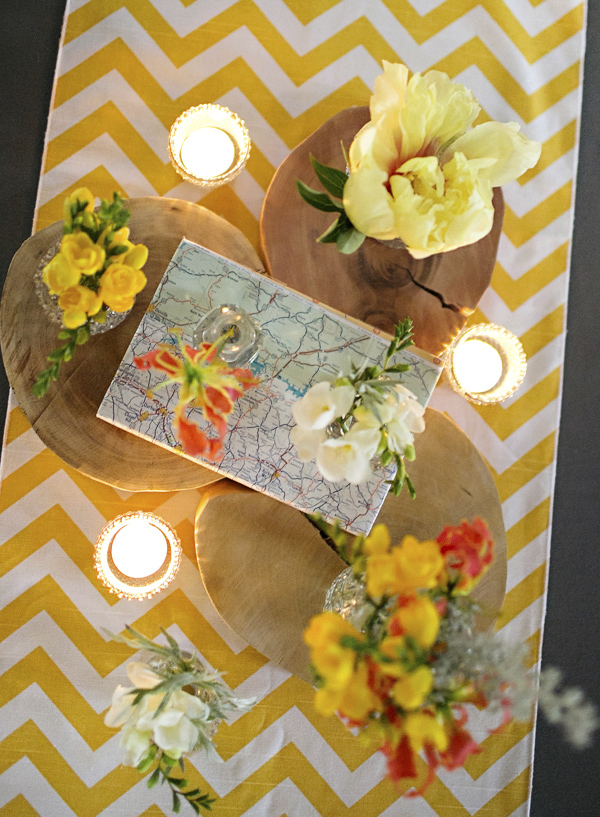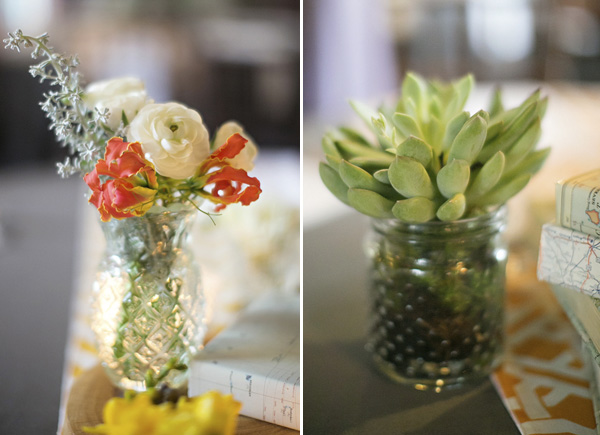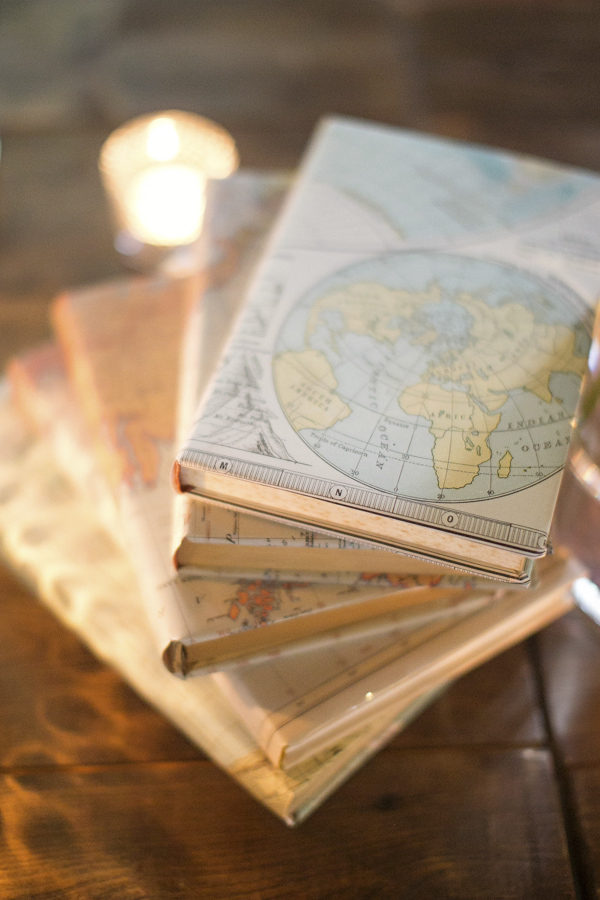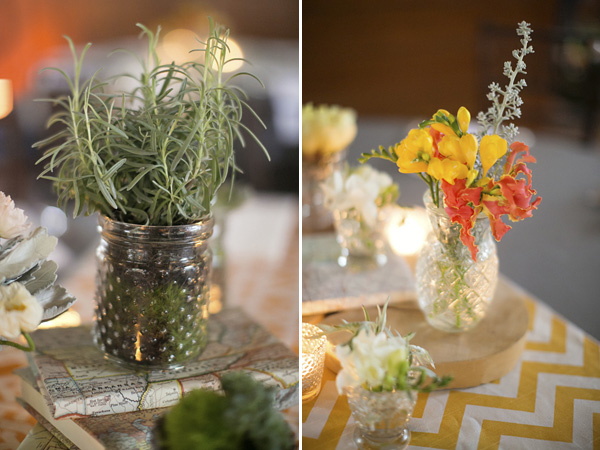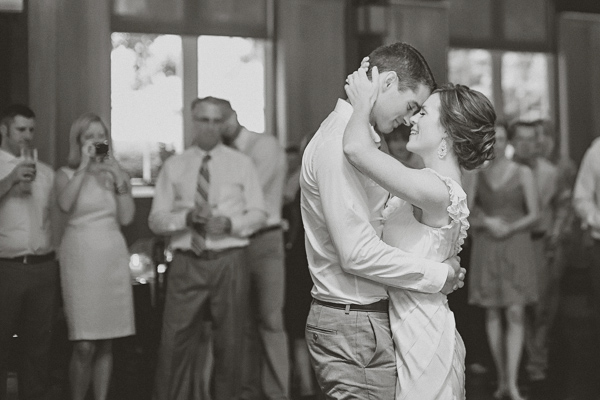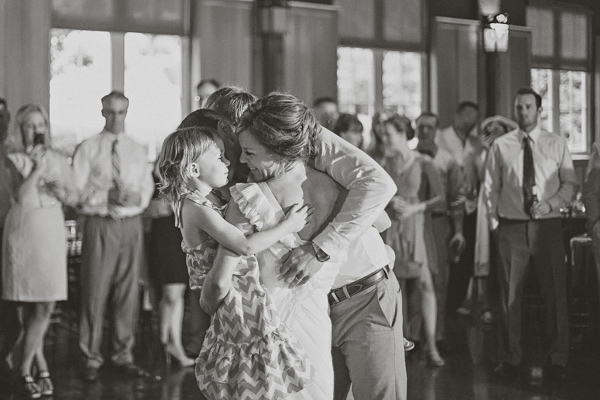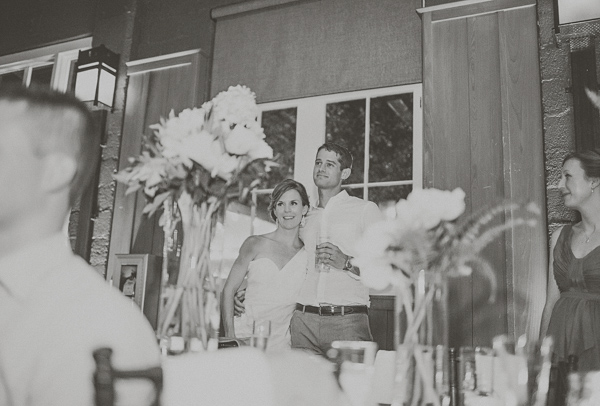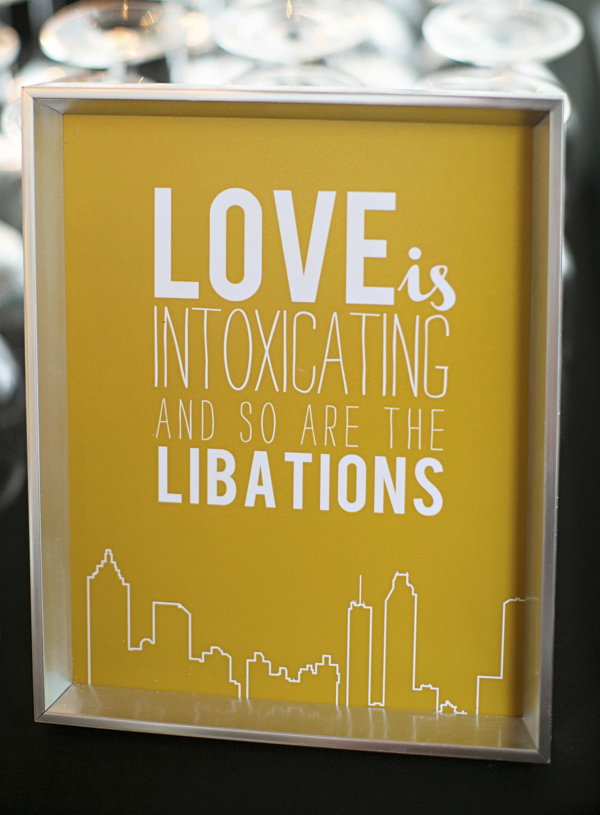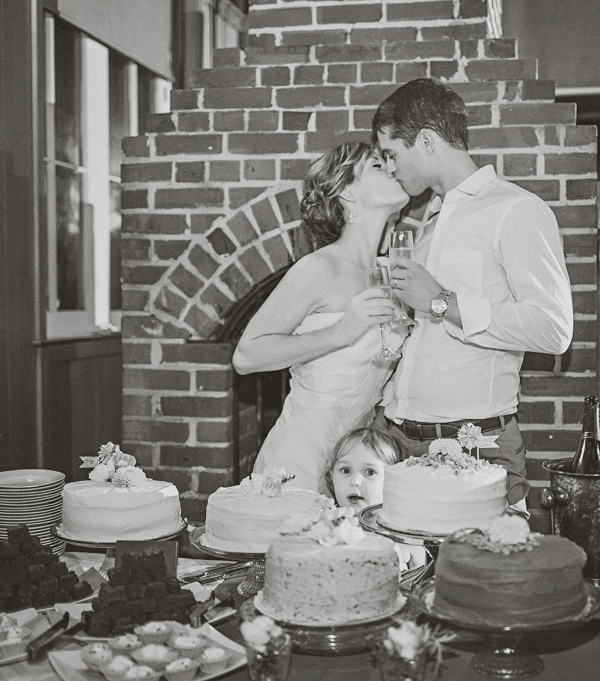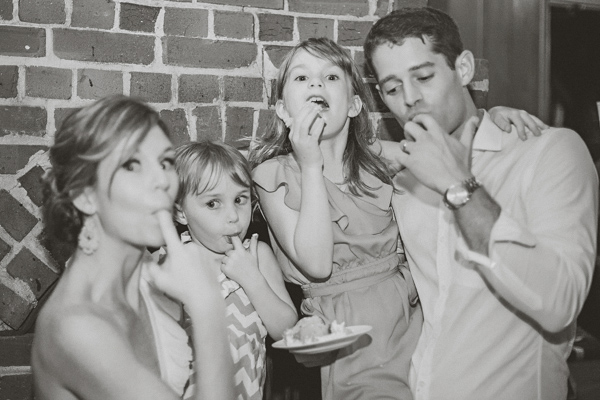 The Photographer: Since I'm a wedding photographer myself this was a tough one! I snagged Paperlily Photography because their work seemed genuine. I knew for a fact that they would capture our wedding as it unfolded – silliness and all for what it was. Energy and passion are two things that are must for a good photographer and Paperlily has it!
The Advice: Just have fun! Put your event in the hands of good professionals and go with it!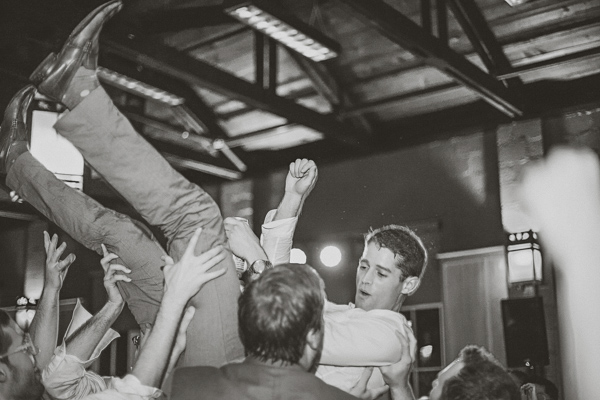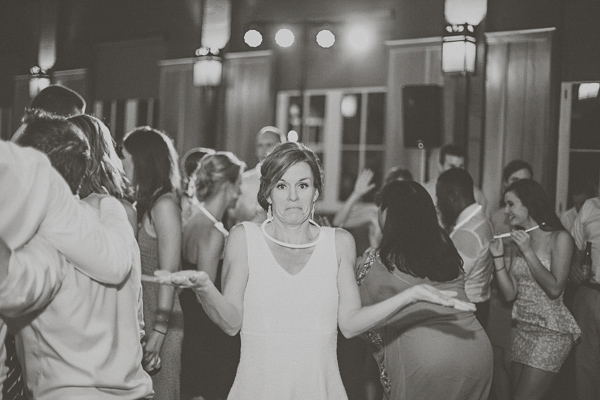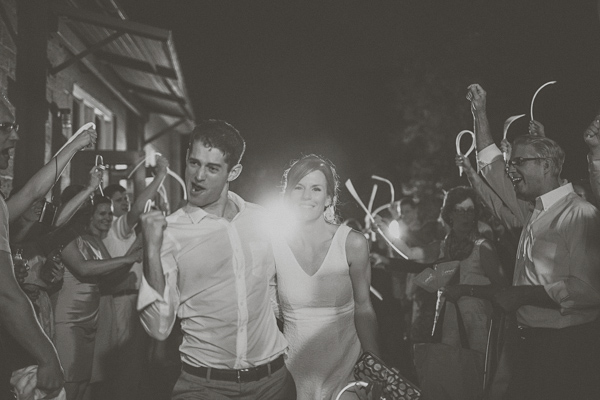 The Wedding Team:
Photographer: Paperlily Photography
Event Planner: Sashay Events
Ceremony & Reception Venue: Piedmont Park
Videographer/Film Maker: Anchor Heart Films
Officiant: Groom's Uncle
Invitation Designer: Bride
Giftbag + Goodies: Bride
Catering: Sun in My Belly
Florist: Adaptations
Cake: Didn't have a large one- but small desserts from Sun in My Belly and Piece of Cake
Wedding Dress: BHLDN
Bridal Accessories: BHLDN
Bridesmaids' Apparel & Accessories: Dresses from BHLDN, Etsy, and Modcloth
Groom's Apparel & Accessories: Suit – J.Crew, Custom Pocket Square (map of where we met ) – Sebastien Grey Clothiers, bowtie – XOELLE
Groomsmen's Apparel & Accessories: Bowties – Made by Gigi's Hands
Hair & Makeup: Claudia Mejerle
DJ: Amp'd Atlanta
Popsicles before Ceremony: King of Pops
Thanks Genya and Pete for sharing your wedding with us!