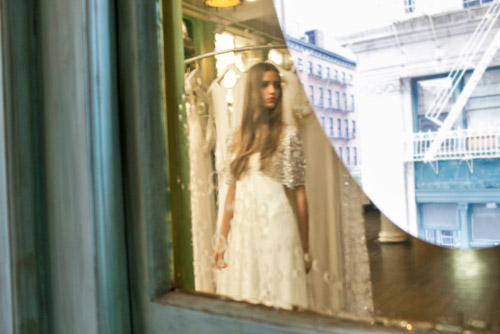 Last week we wrapped up our Bridal Market coverage with our fabulous behind the scenes Fashion Report, but we have one more shoot to share with you, and what a shoot it was! The beautiful Temperley London 2011 Bridal Collection…

After a long few days of running non-stop from fashion show to appointment to trade show booth, this was the last collection to see during our NYC trip and needless to say we were beat. We found the address in SOHO, walked up the stairs, opened the door, and entered the prettiest boutique known to man. I looked around, took a deep breath, and felt my love for fashion once again swelling in my chest. Temperley London's vintage-inspired dresses, totally unique accessories and delicate lace wraps plus the beauty of the store itself were like food for my soul. For a few heavenly minutes we had the whole store to ourselves and our photographers John and Joey from John and Joseph Photography went to town with an impromptu mini-editorial shoot. I adore the photos they captured and how they show off the way that Temperley's wedding dresses are like nothing else out there. I hope you enjoy the images as much as we enjoyed capturing them!




See more of Temperley London's incredible fashion and shop online at www.TemperleyLondon.com!