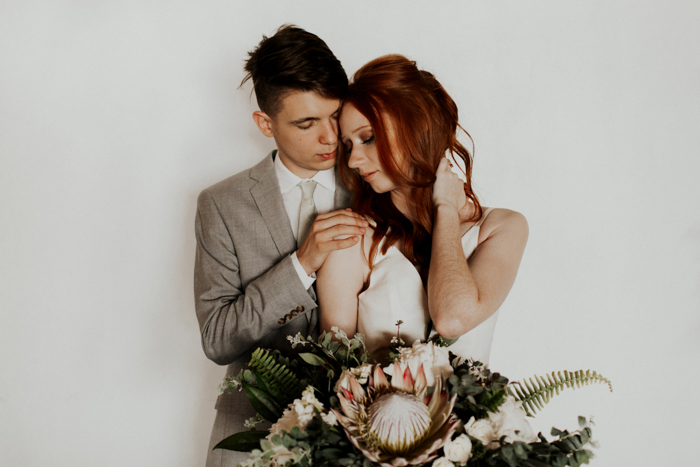 Simple styling and retro vibes were all Cori and Justin needed to pull off the DIY wedding of their dreams at Events on Main. This artistic bride kept the design simple with eucalyptus leaves, thrift store candlesticks and classic books, and antlers from her grandpa, but the result was stunning. The couple's retro vibe was carried through the entire day, from the muted color palette to the bride's simple Elizabeth Dye gown to the couple's coordinating, retro accessories created by Fossil and Hide. It was obvious from the first photo that Sarah Joy Photo and Kelly Breann Photo were the perfect choices to capture the creativity and nuance of this gorgeous Georgia wedding!
The Couple:
Cori and Justin
The Wedding:
Events on Main, Canton, Georgia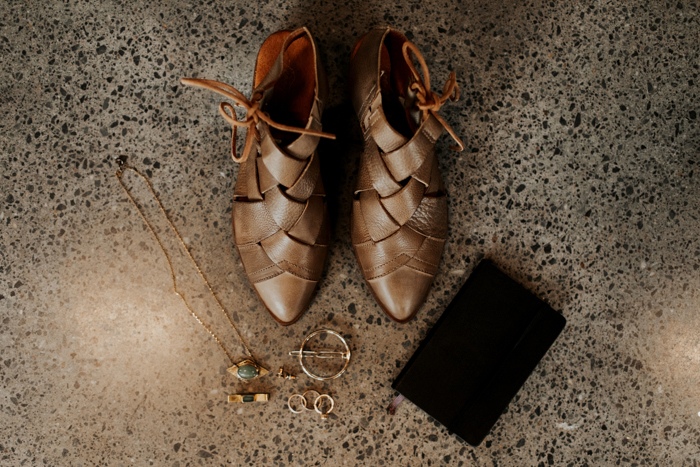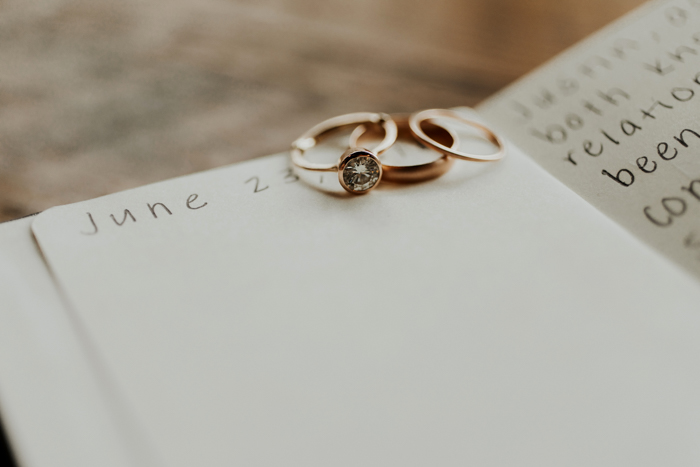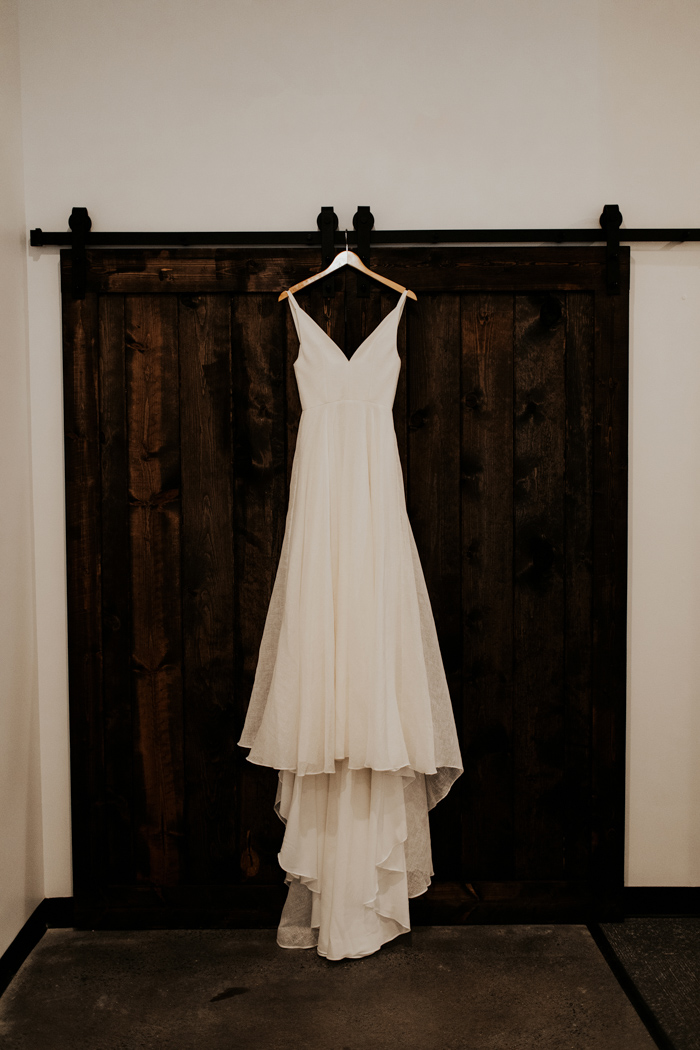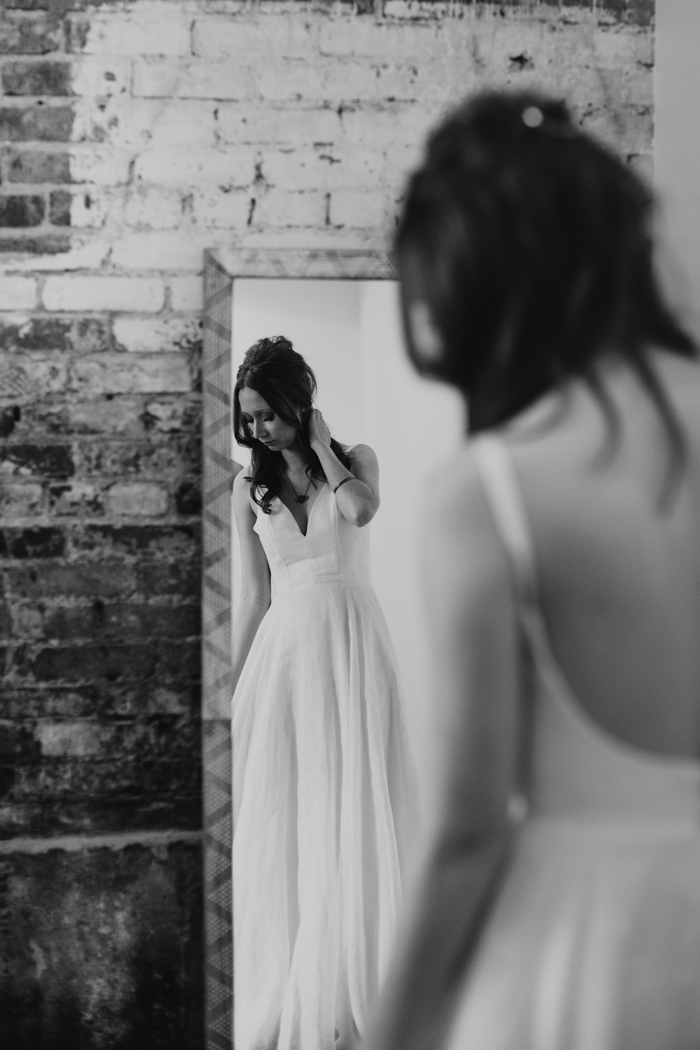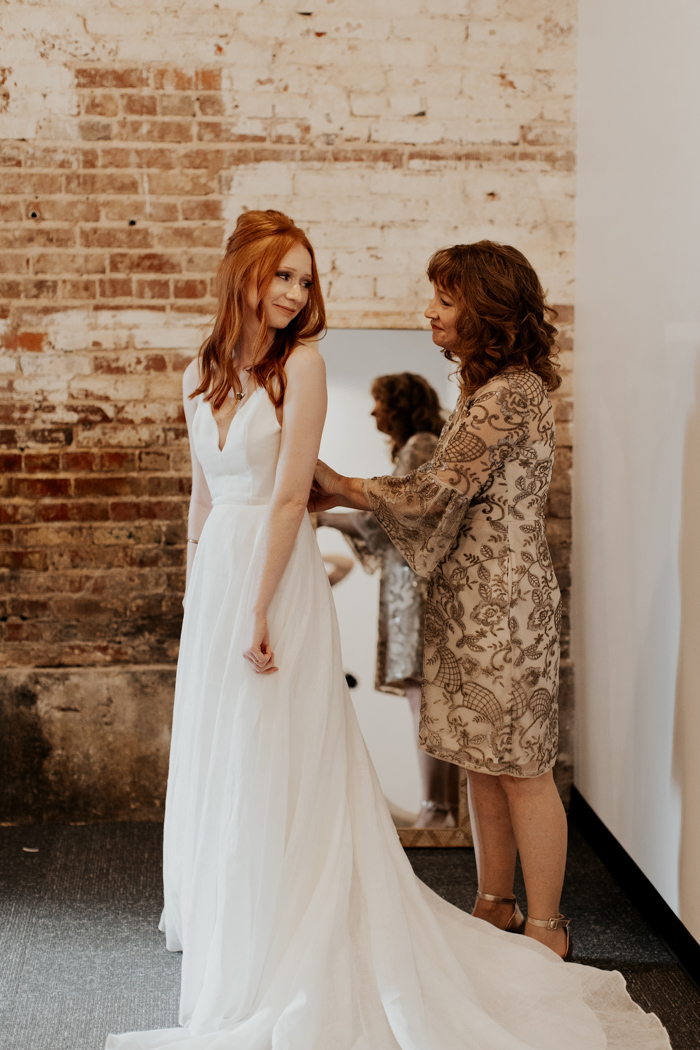 I'm really influenced by retro styling, as an artist, and as a person, and I love simplicity. My bridal look was very low-key. Justin and I wore a coordinating necklace/bar tie set from Fossil and Hide. I wanted to bring in the '70s sort of vibe, so I included some smaller hanging disco balls and did a macrame backdrop to stand in front of, with really simple accents throughout the rest of the venue.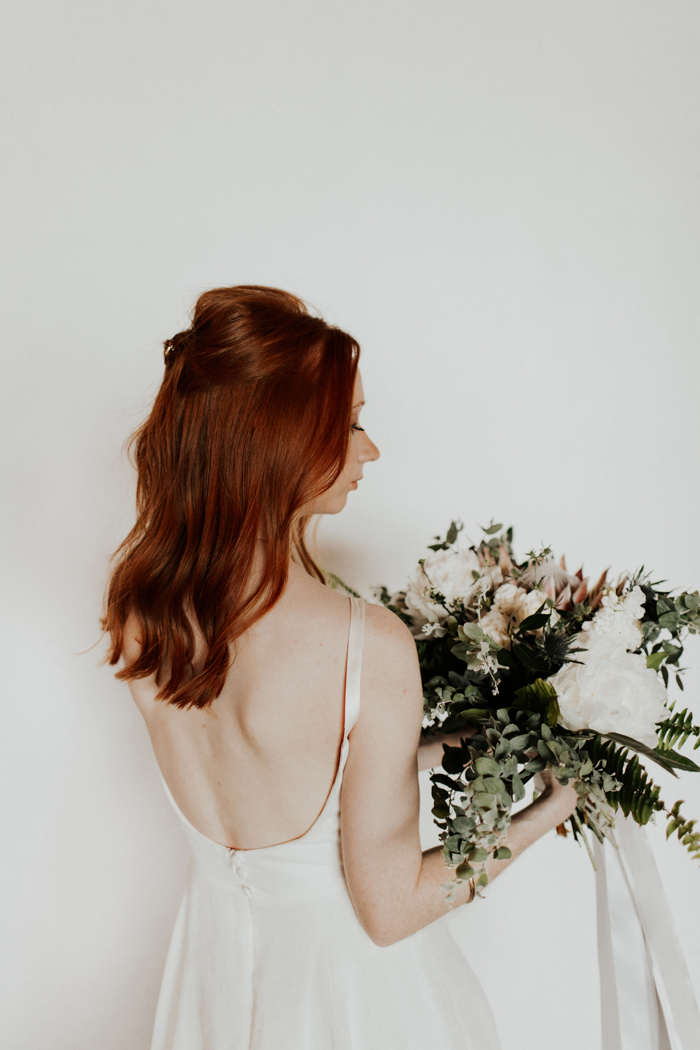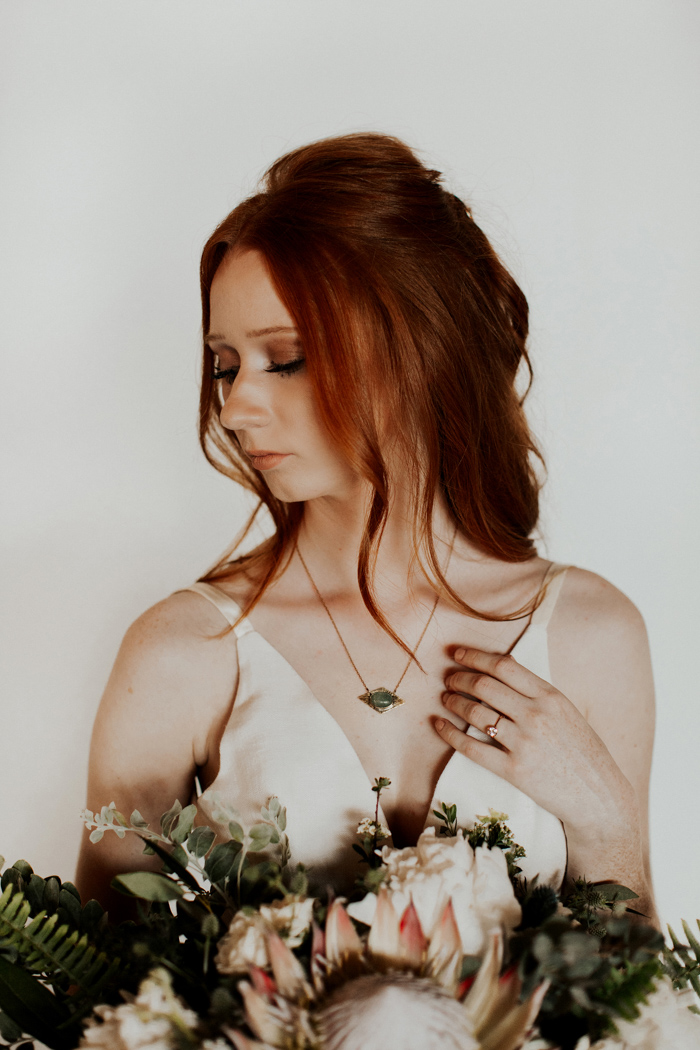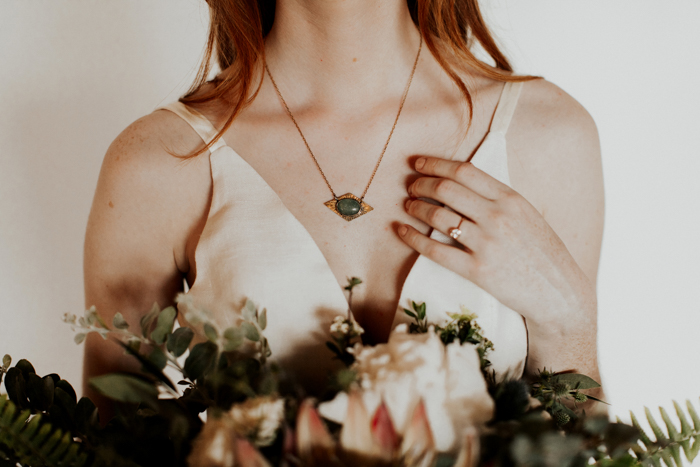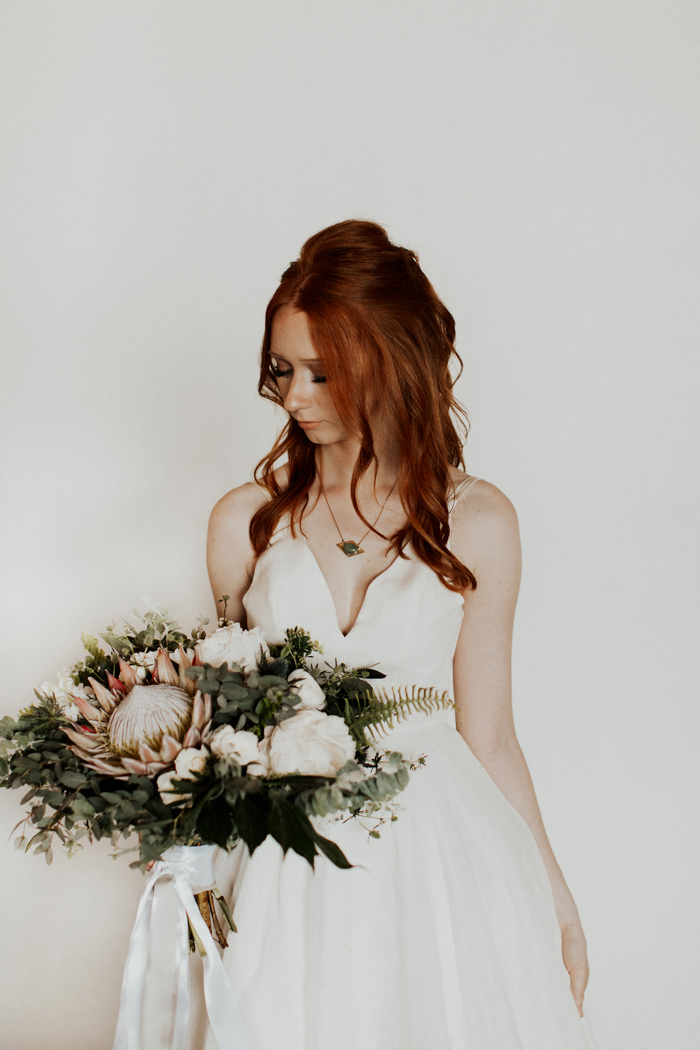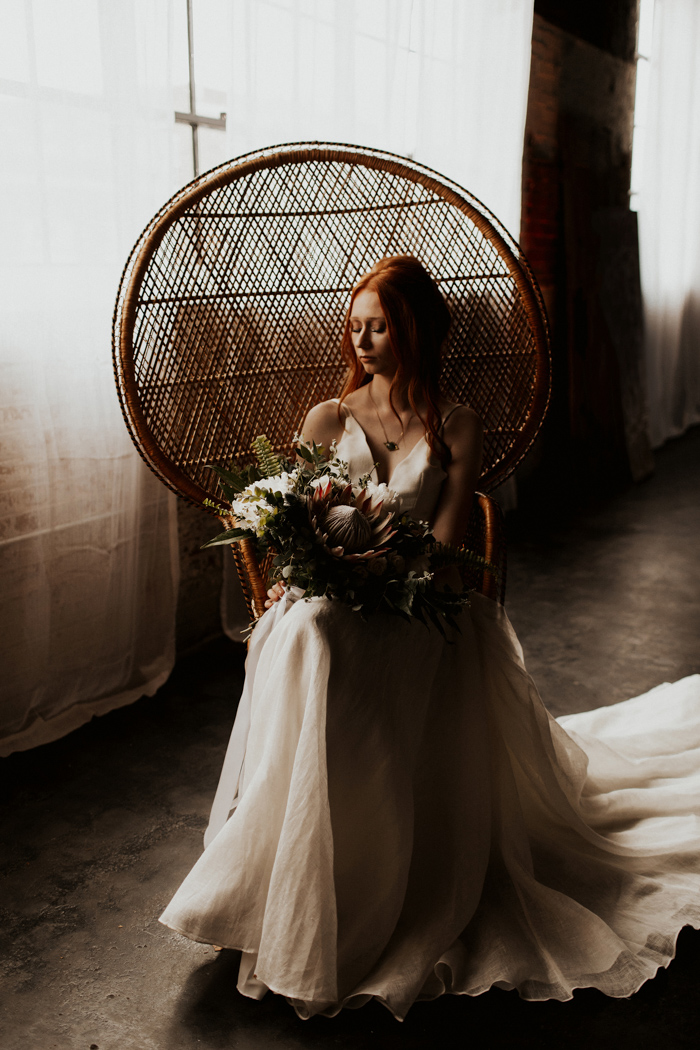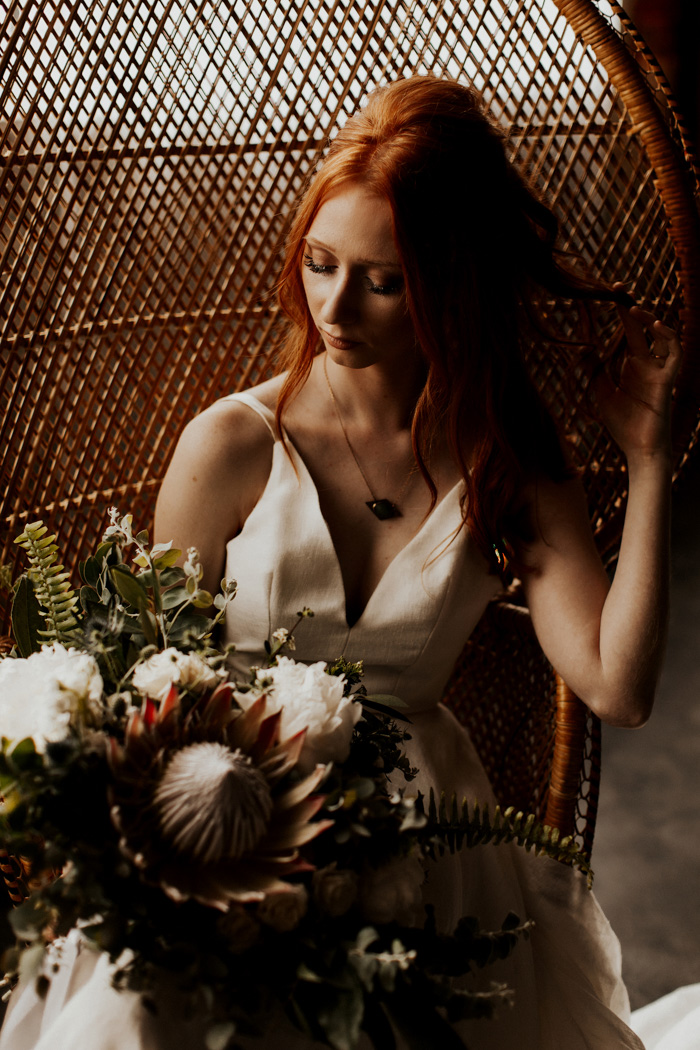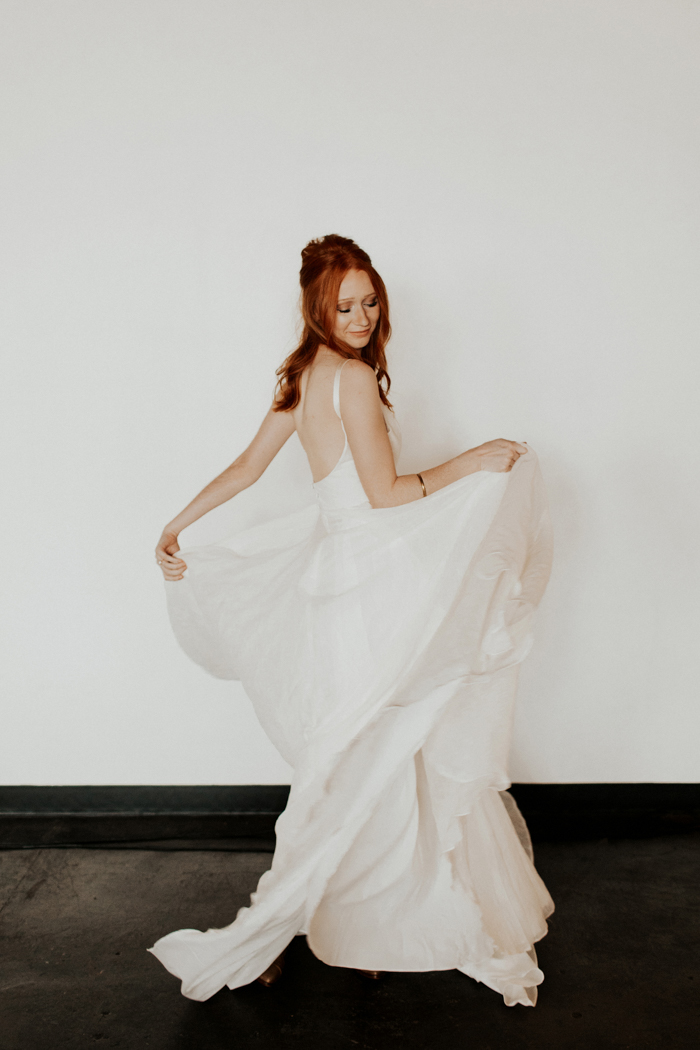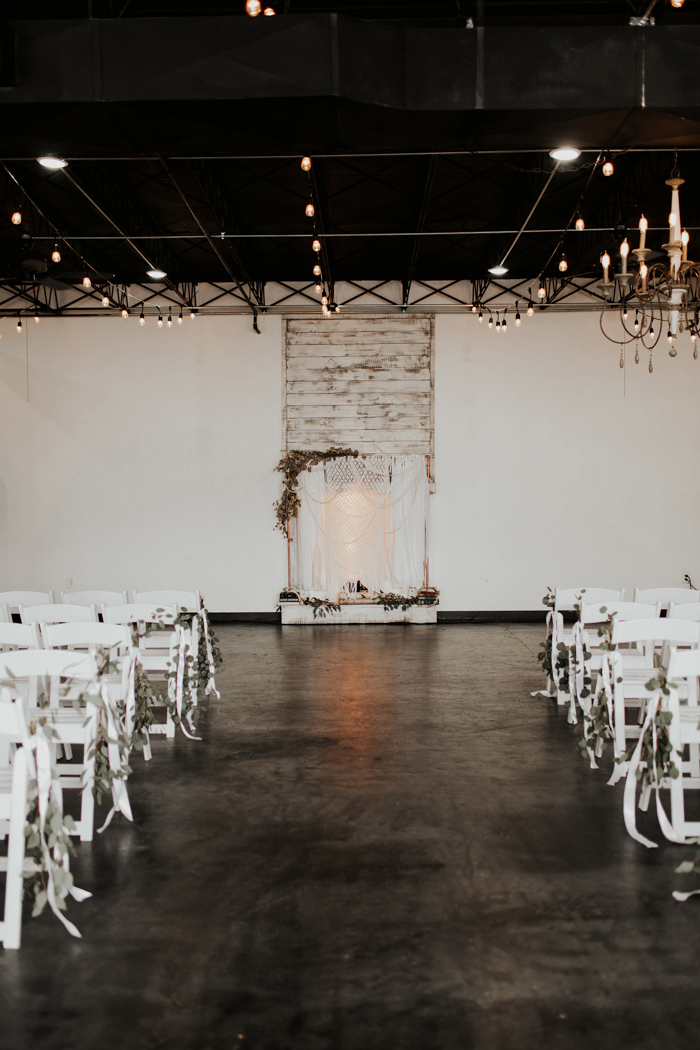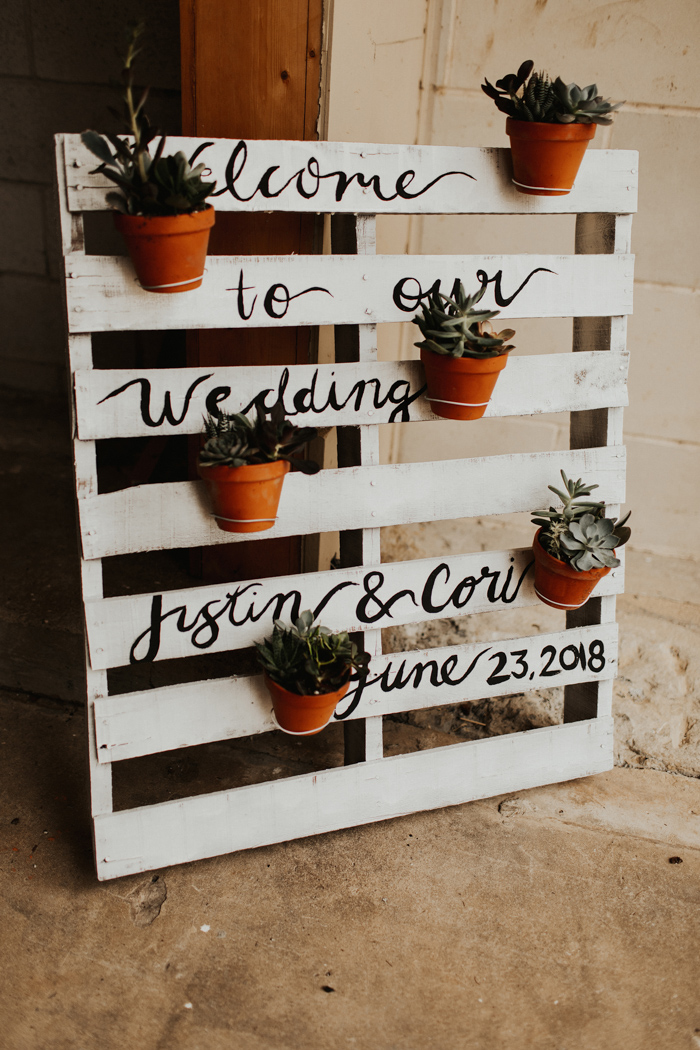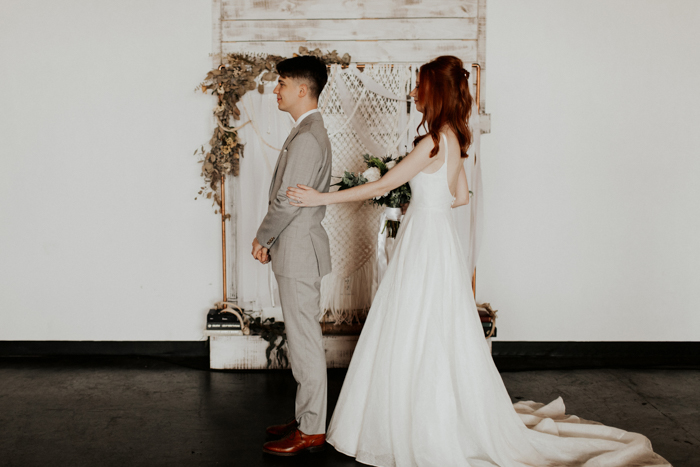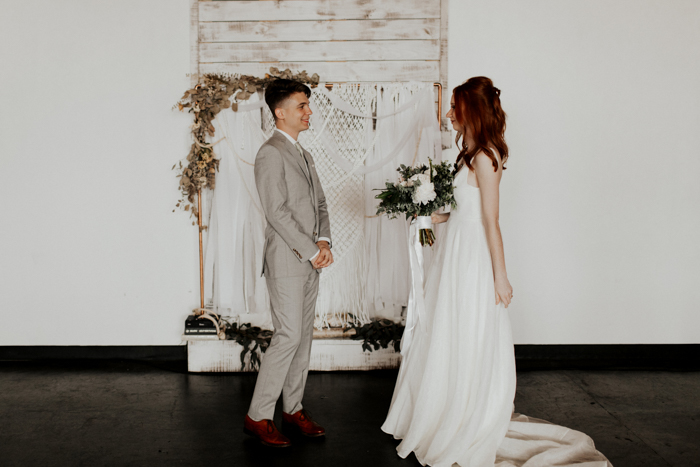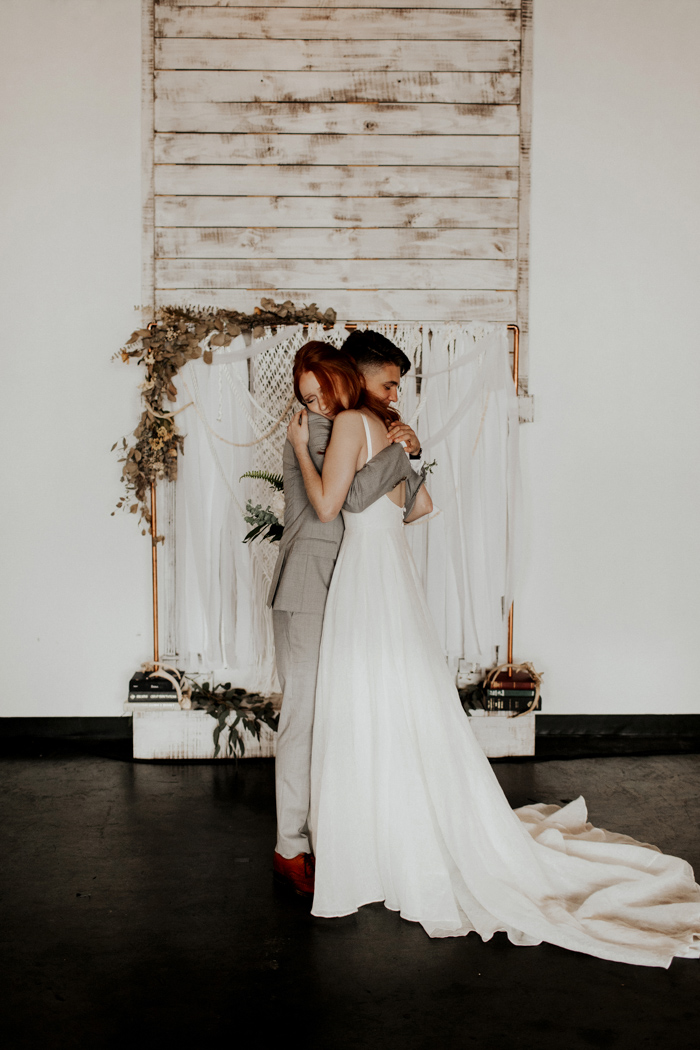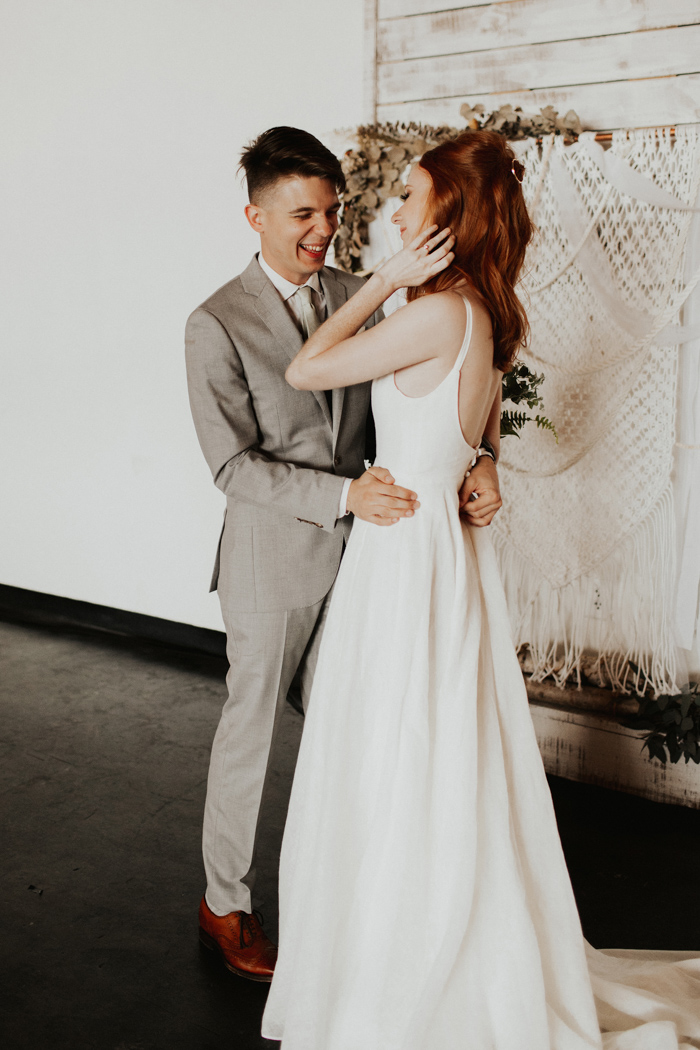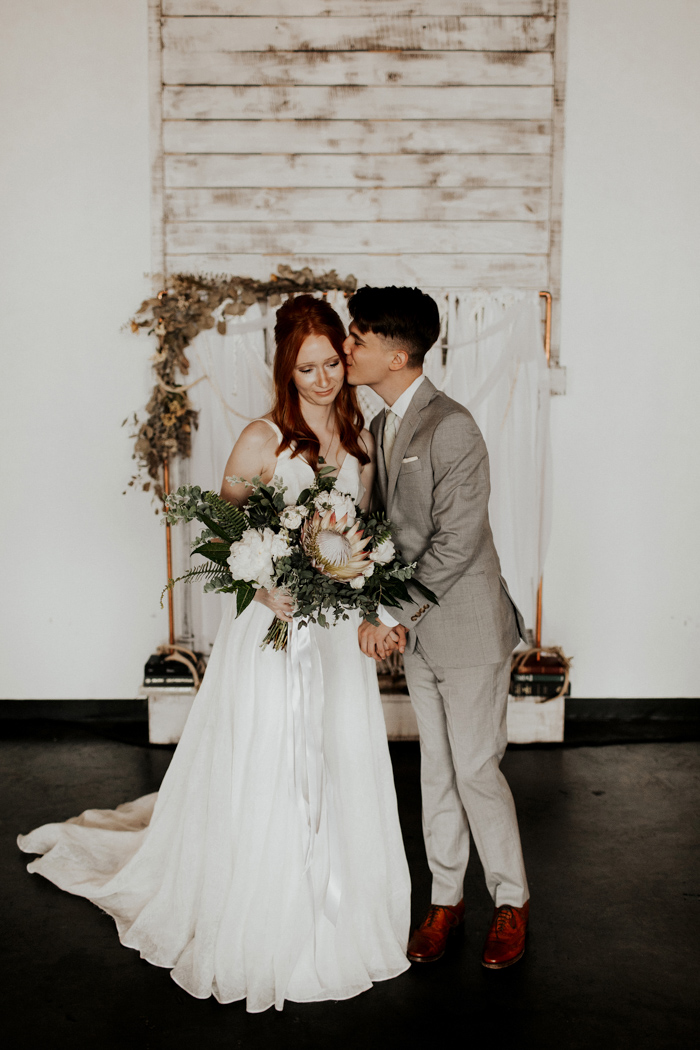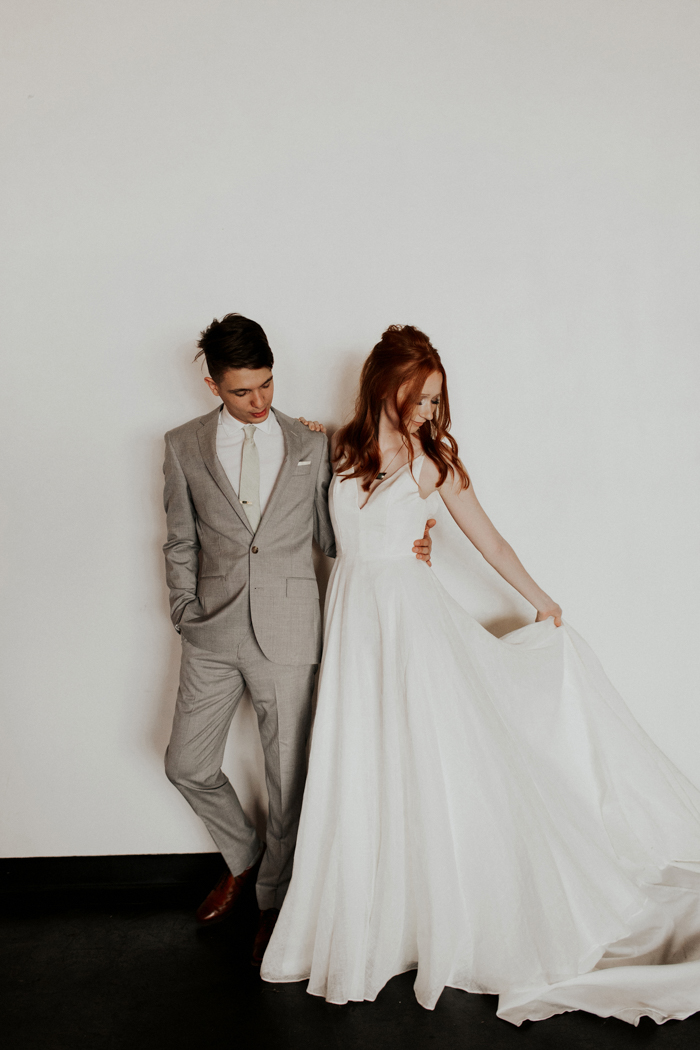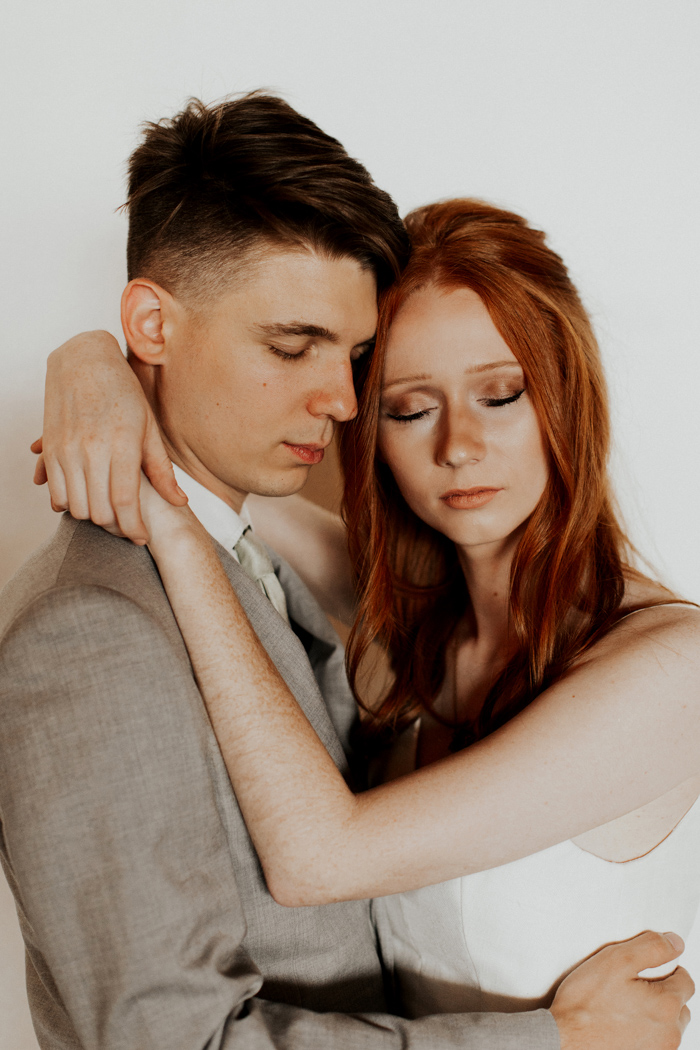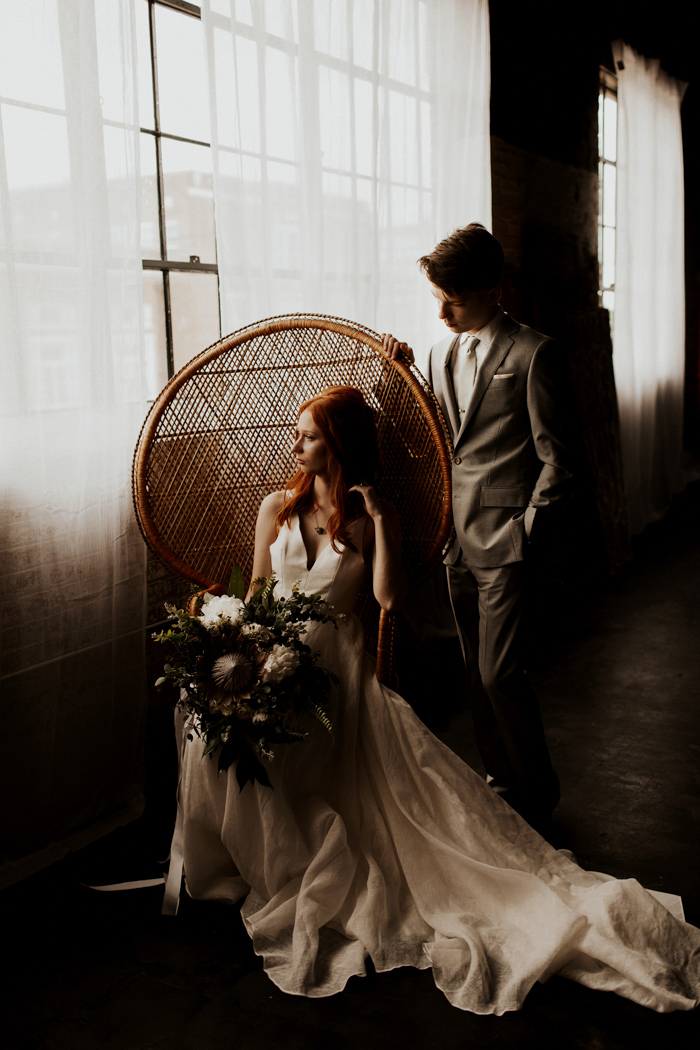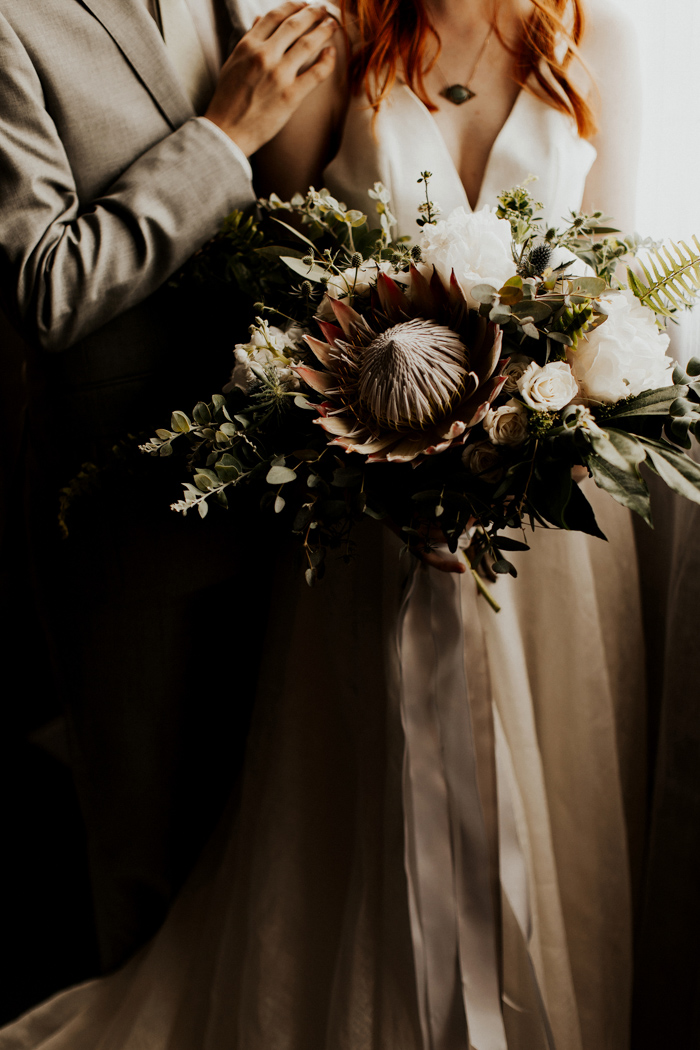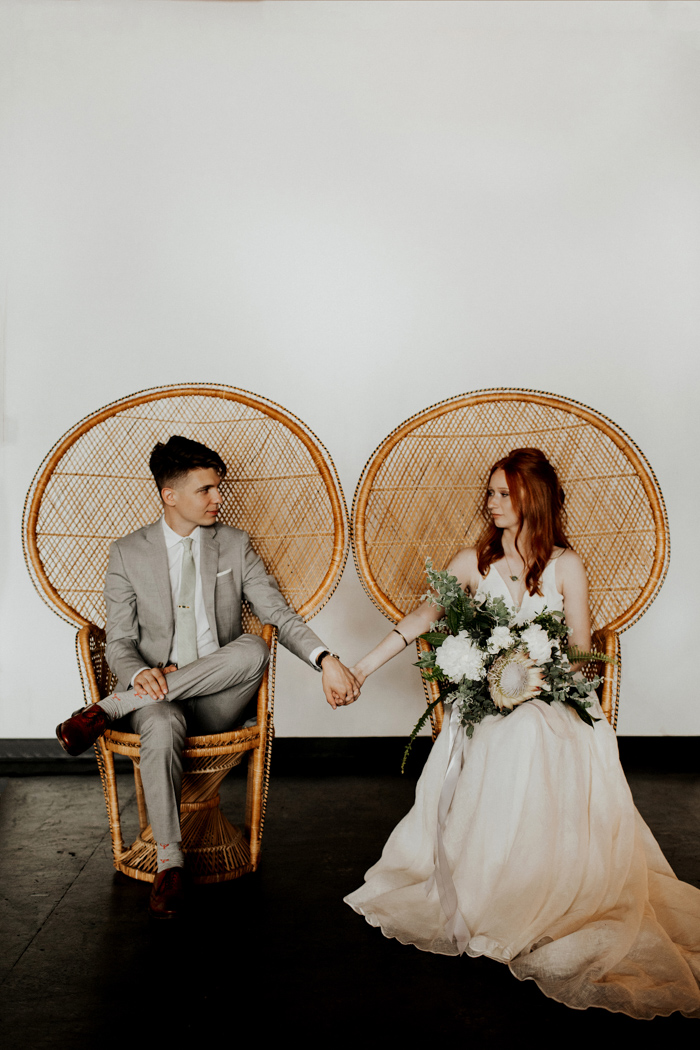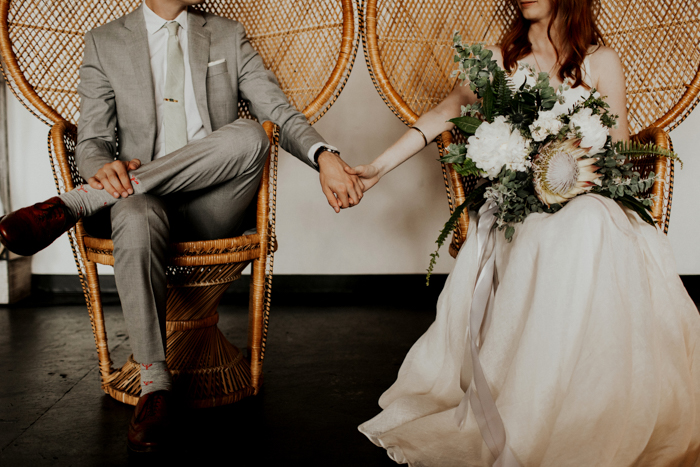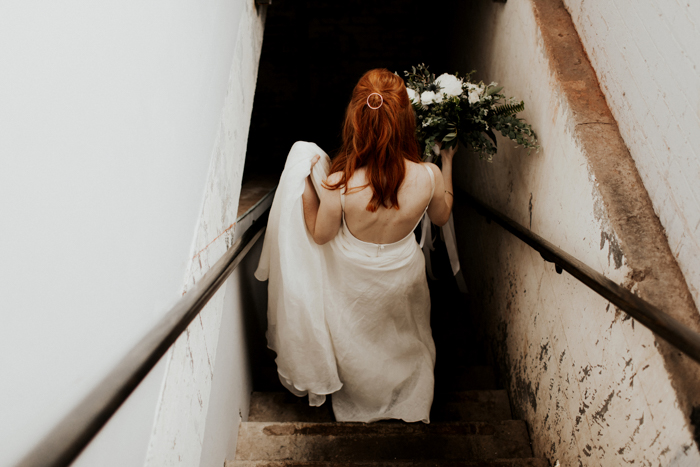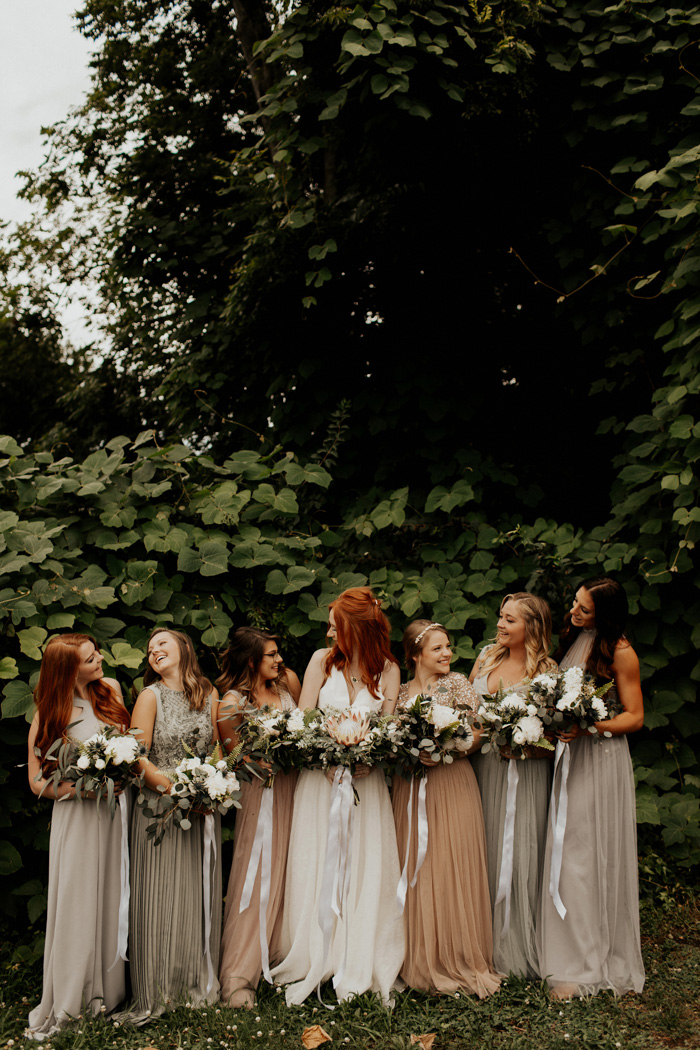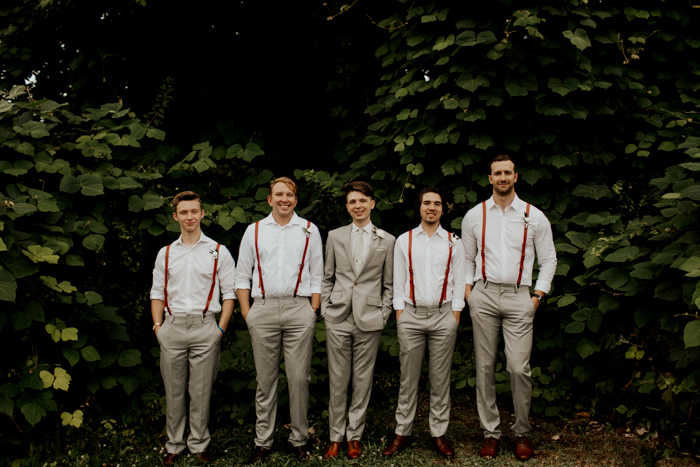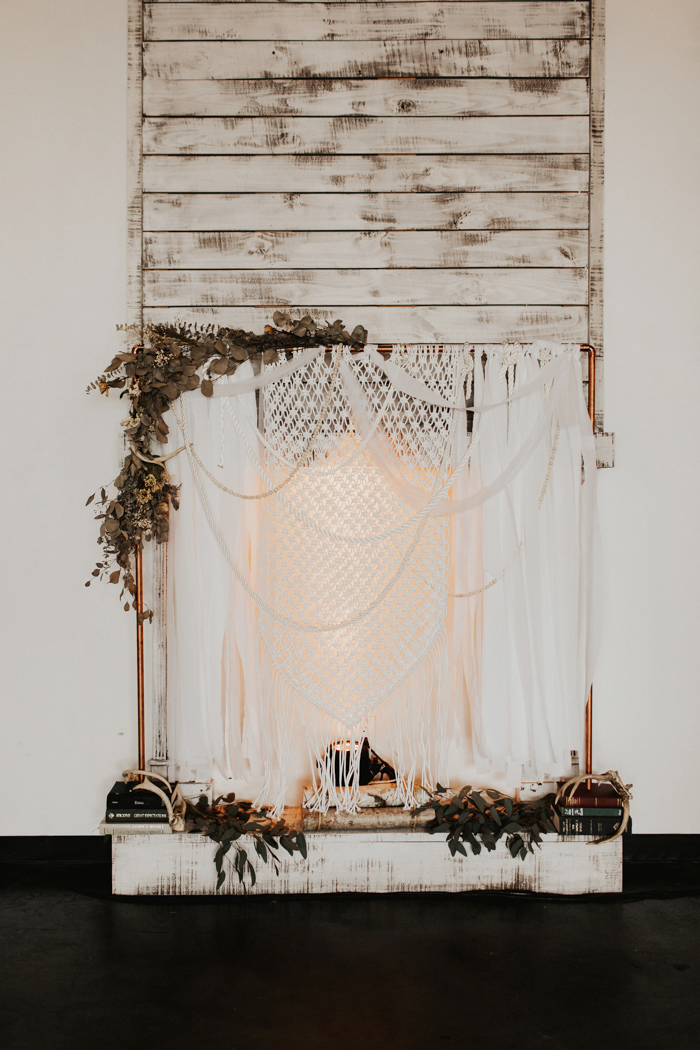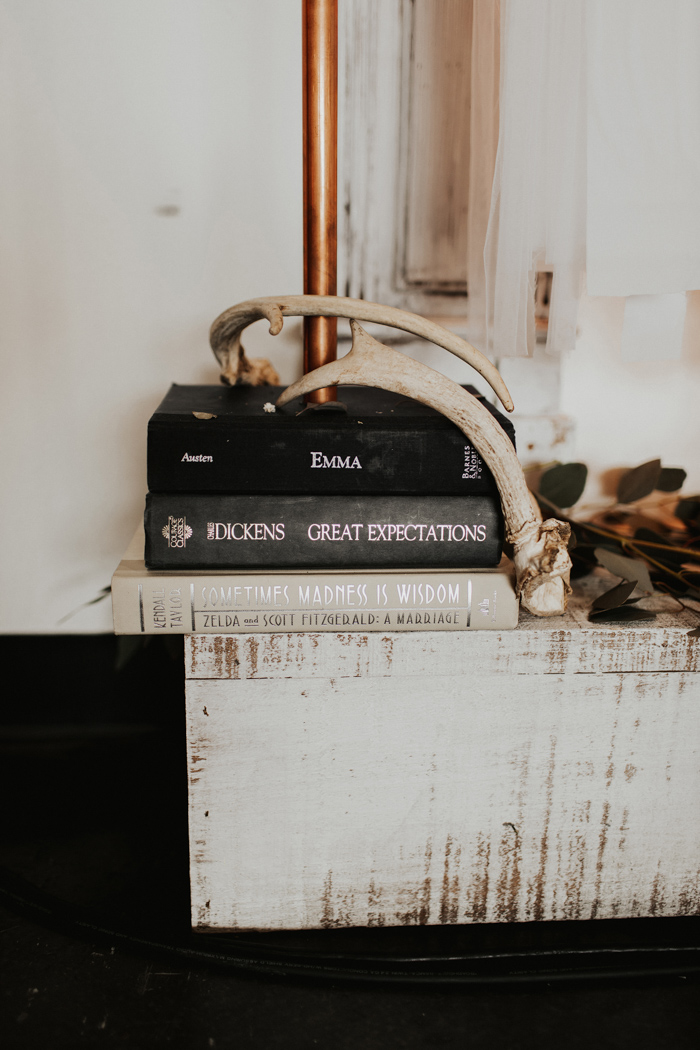 Justin and I wrote our own vows, that we read for the first time during the ceremony. It was really special being able to do this, and I got way more emotional than I saw coming. Also, right before I walked down the aisle, my dad gave me a handkerchief that belonged to my grandpa who passed away when I was younger. So that, plus getting married, had me crying like a baby all the way down the aisle.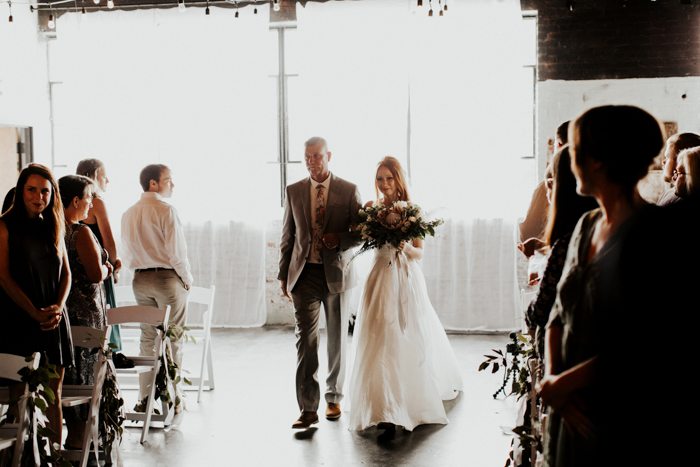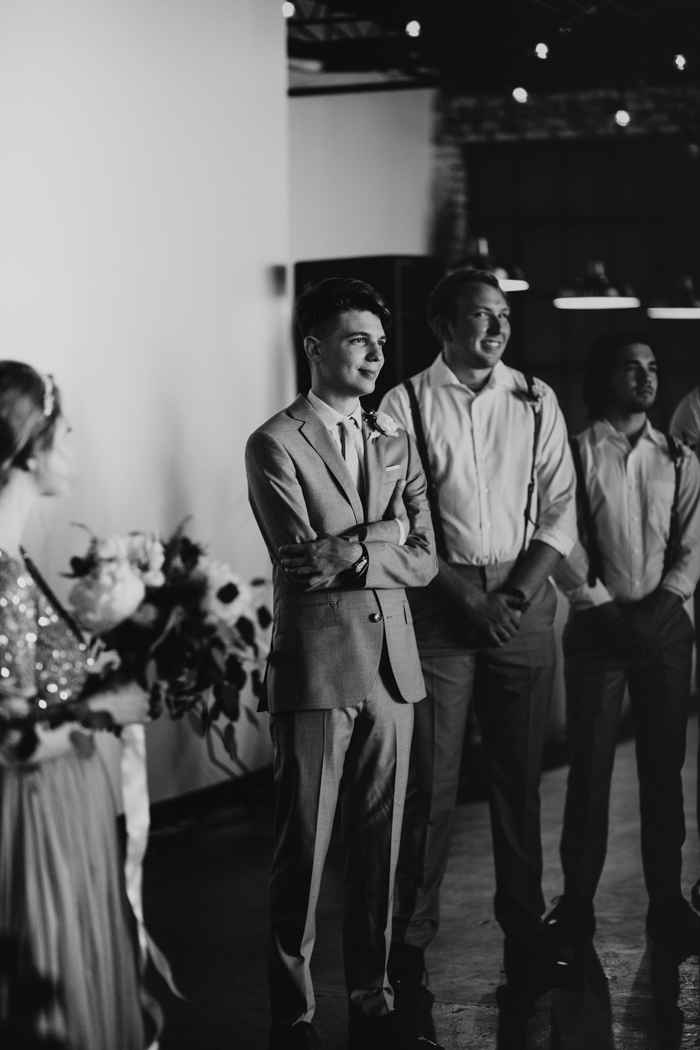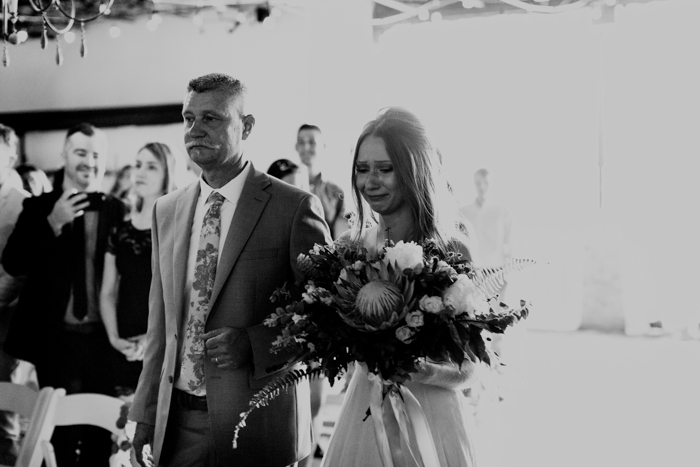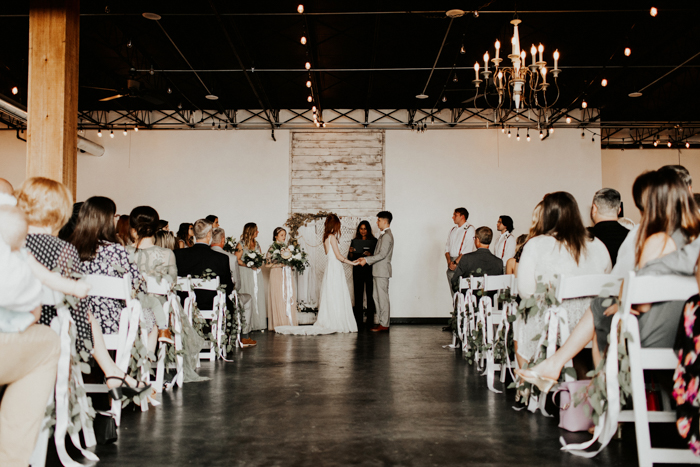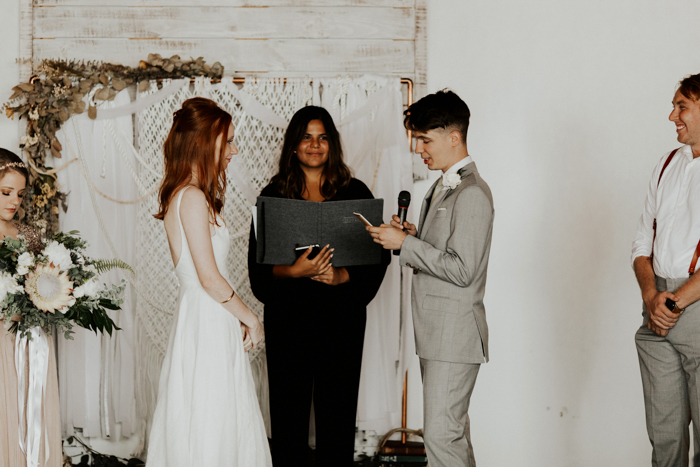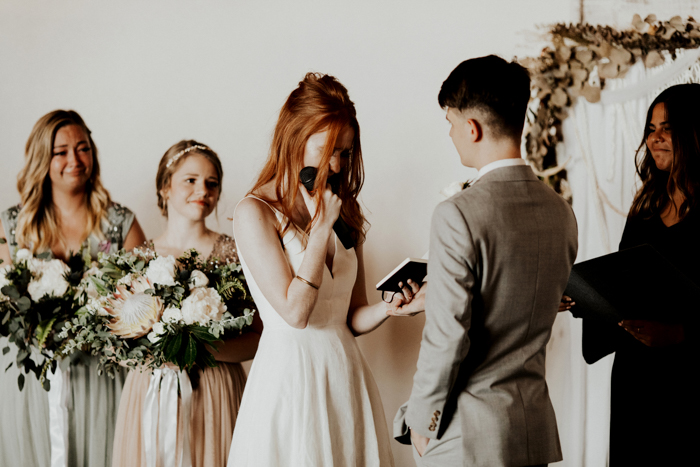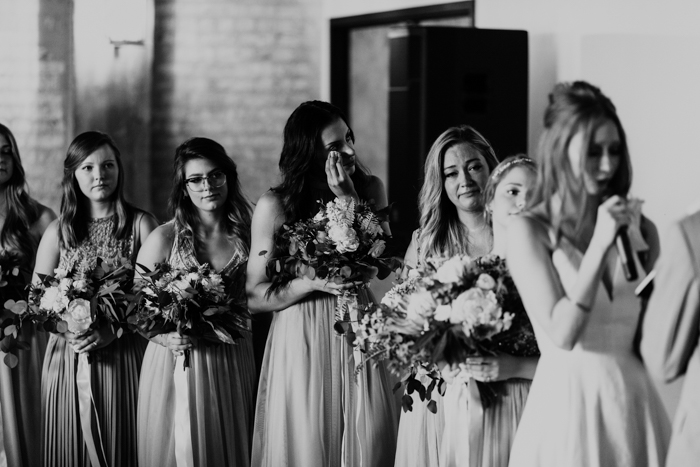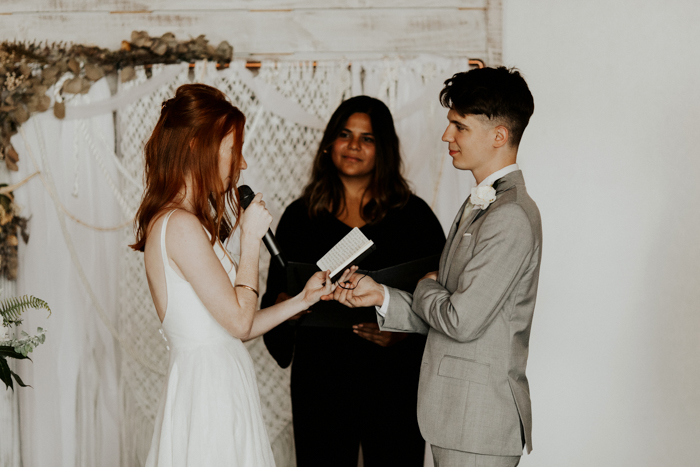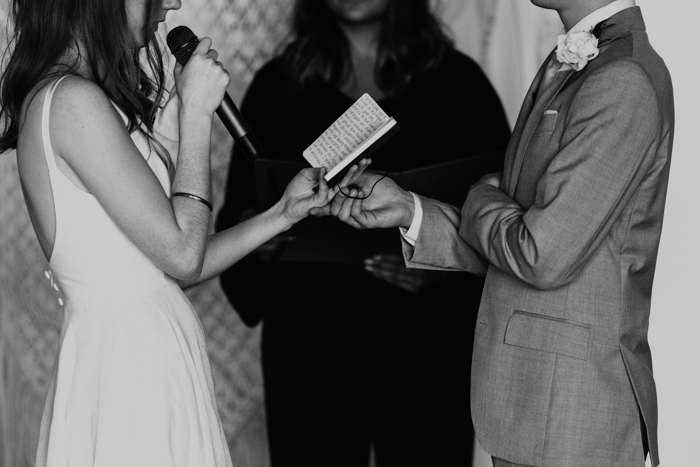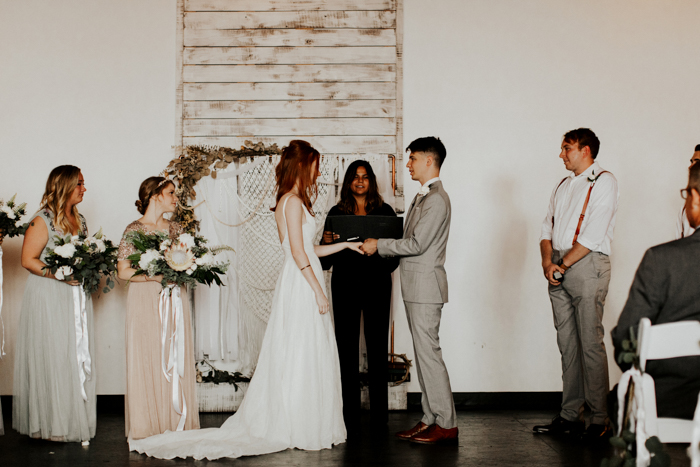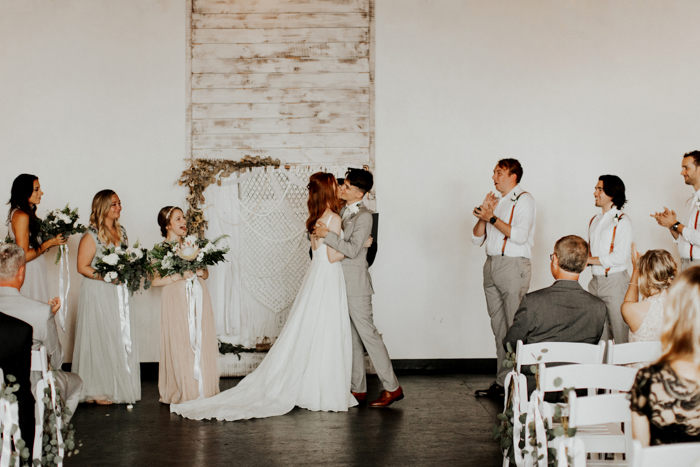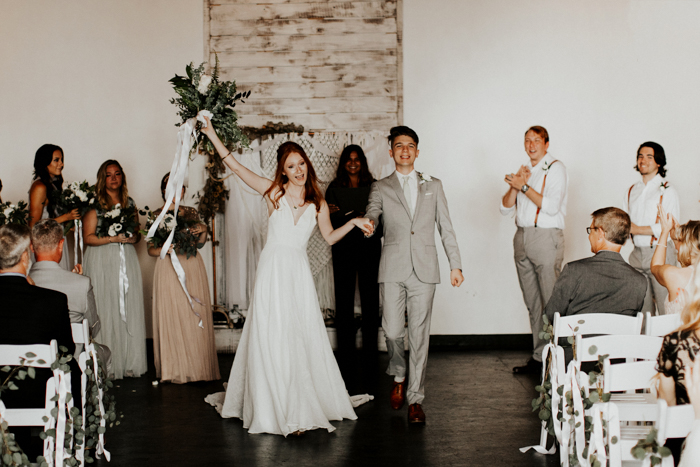 Our photographer, Sarah, is the bee's knees! My husband and I actually shot her wedding video when she got married, and we've been friends for a while. So, working with her was a breeze. She's also an incredible human being with a great work ethic and bomb style. It wasn't hard to know she was the one when looking for a photographer!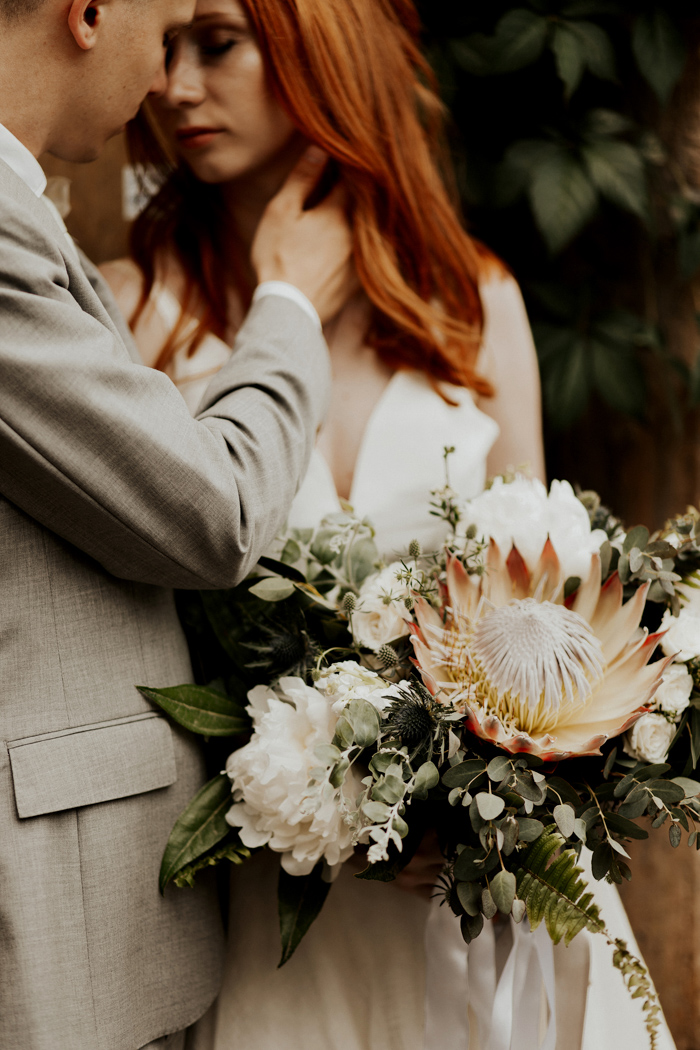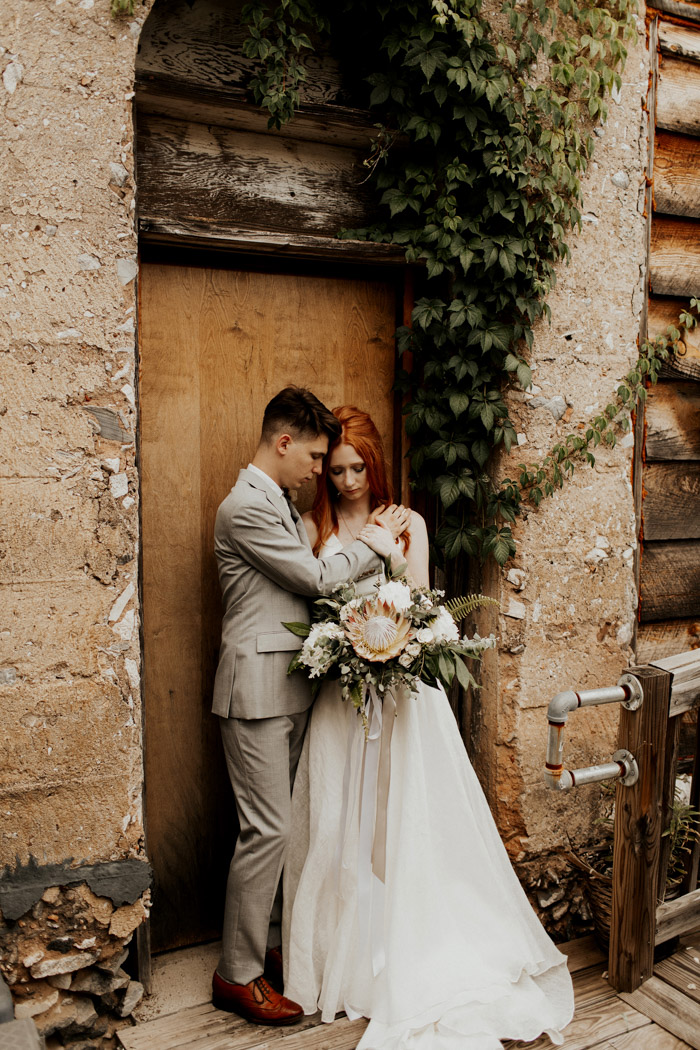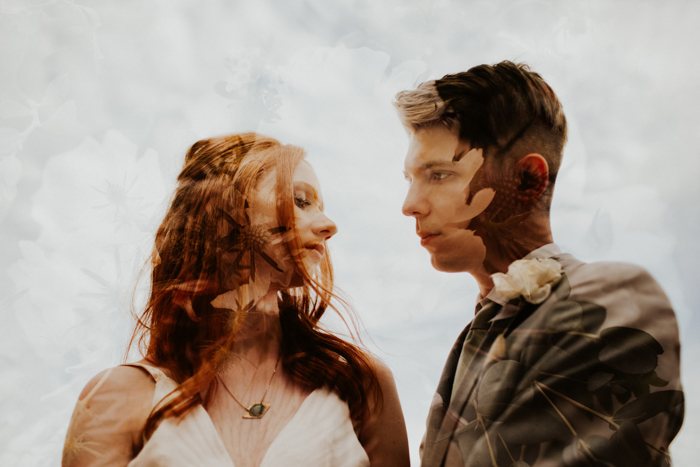 I'm just simple when it comes to decorating, and always have been. We used eucalyptus leaves and some white tapered candles with clear candlestick holders of varying styles and heights I picked up from thrift stores throughout the year. I made the macrame backdrop we stood in front of with some copper pipes from Home Depot and watched tutorials online on how to macrame. For the base, I drilled holes in some classic books I found thrifting. I also used antlers from my grandpa's time spent hunting and designed the cards and gift sign in Illustrator. It was a very low-key, DIY wedding but with a few fun touches.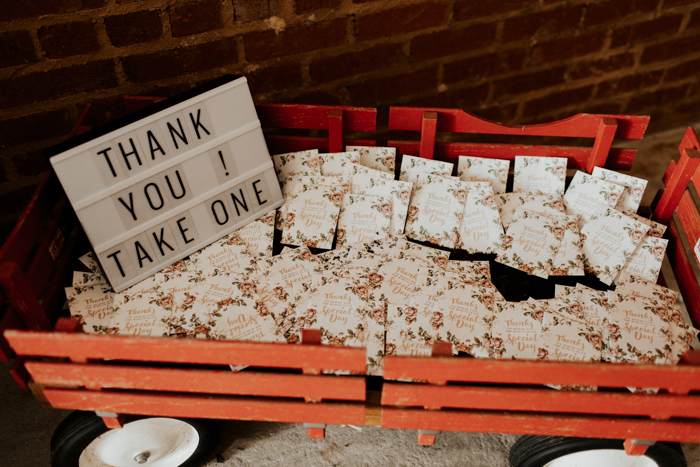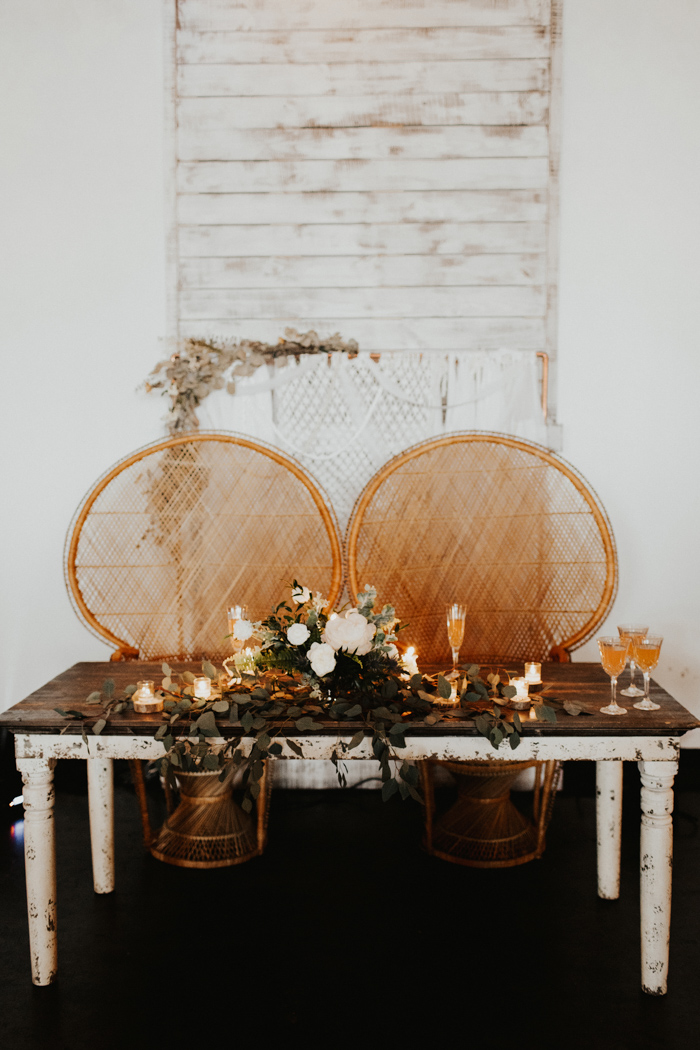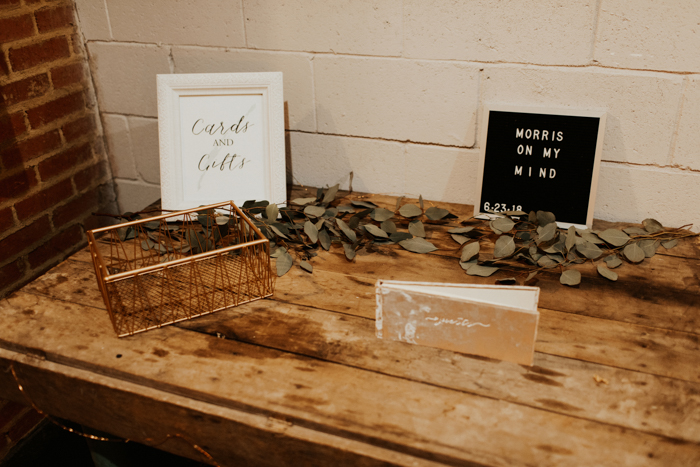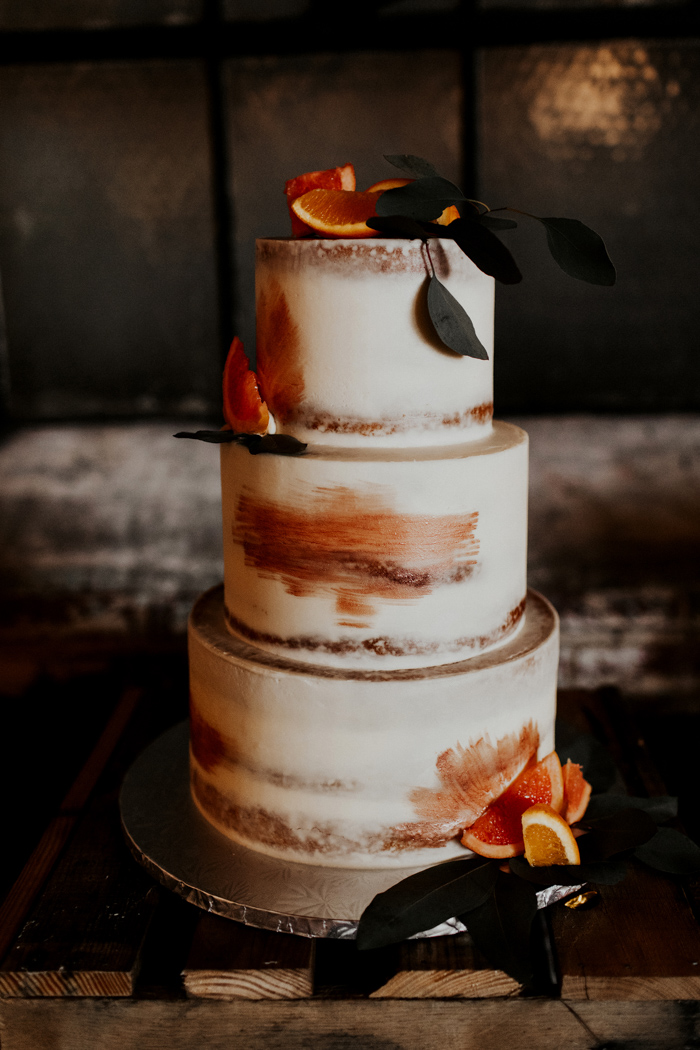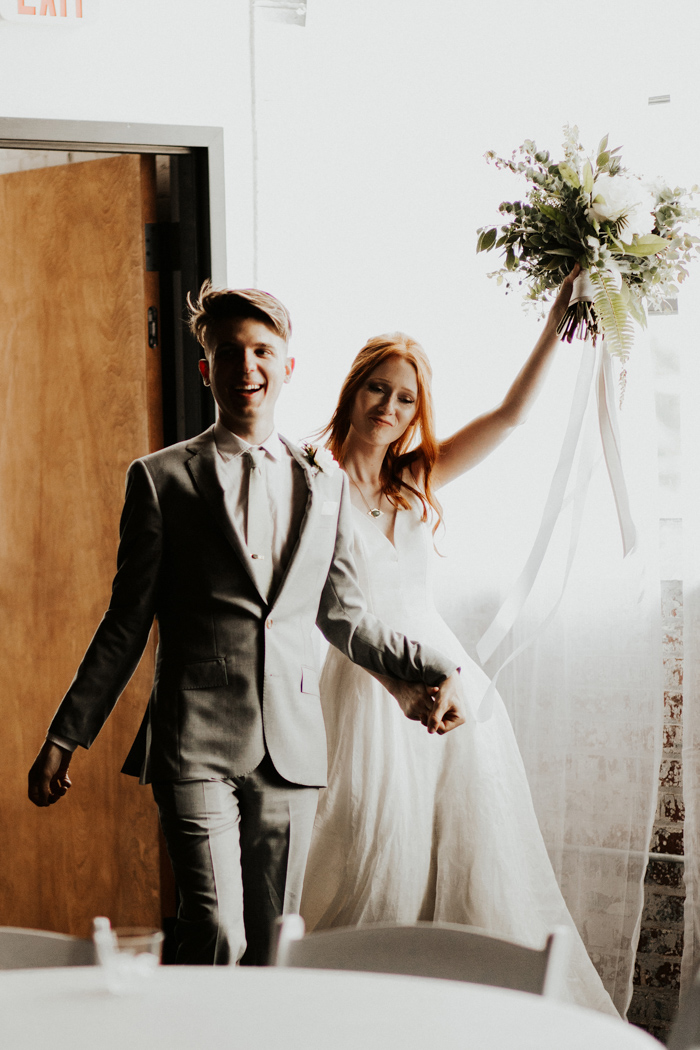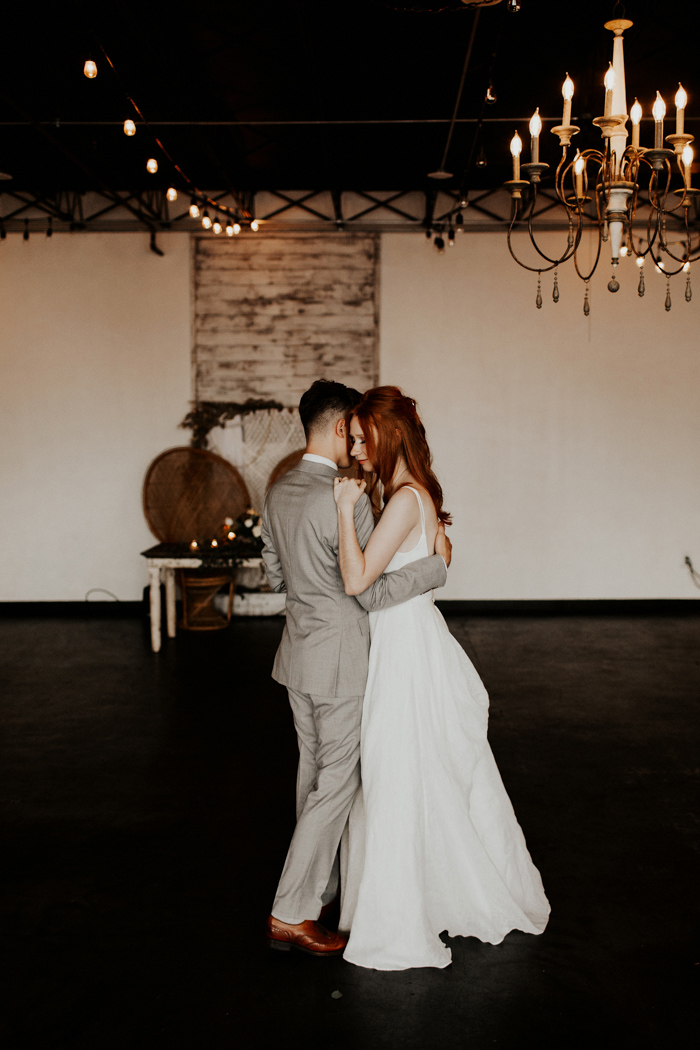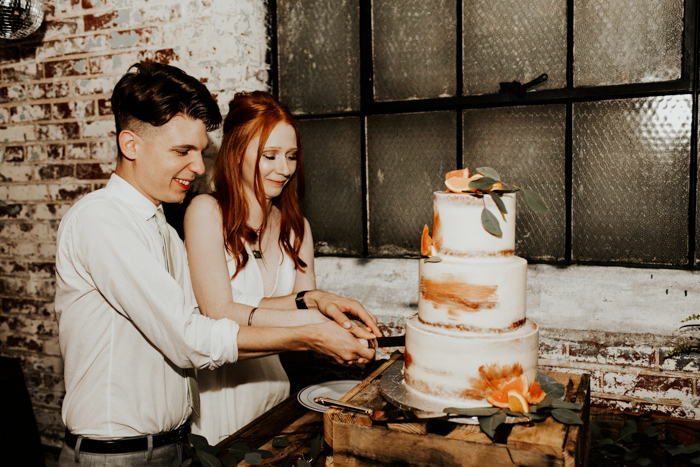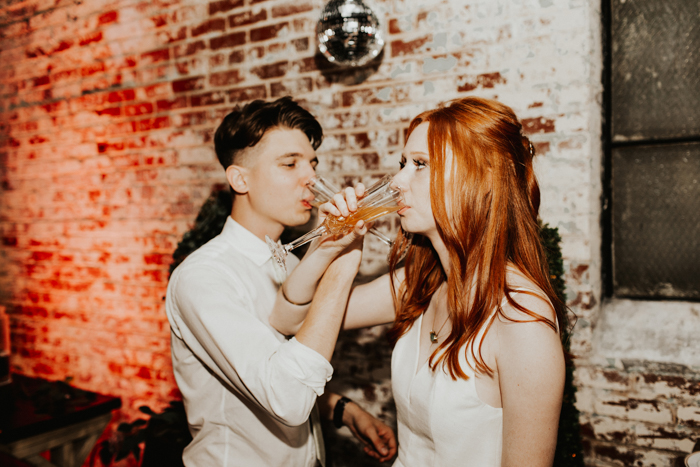 Justin's dad let us ride away in his 1964 Convertible Rambler. It was super special because we took that car on drives when we first started dating. Justin also booked us a couple of nights at the new Clermont Hotel in Atlanta, which was like something out of a dream for anyone who loves retro vibes. It felt like a Wes Anderson movie!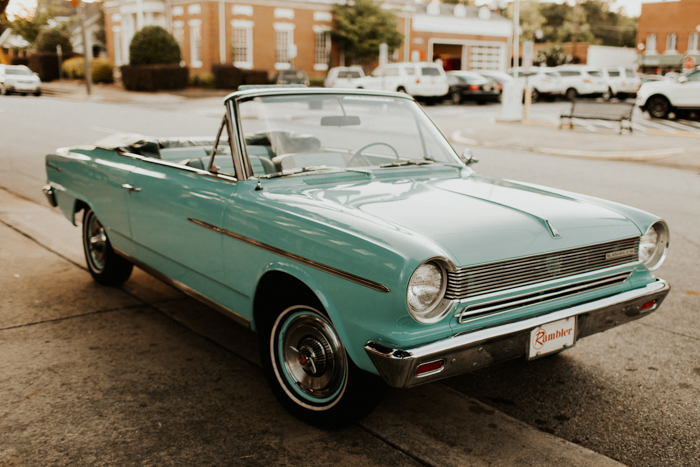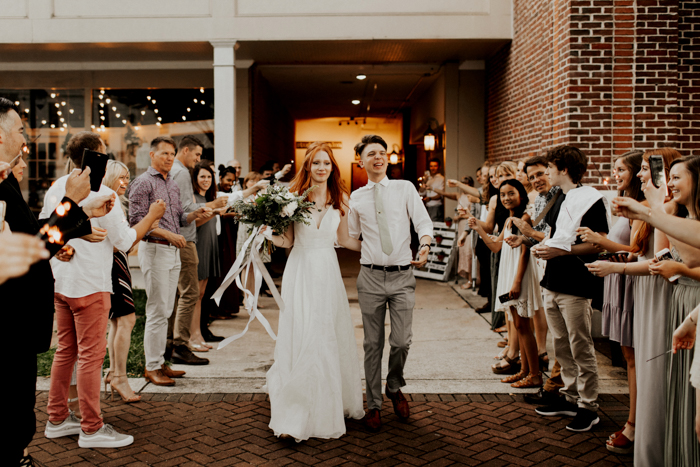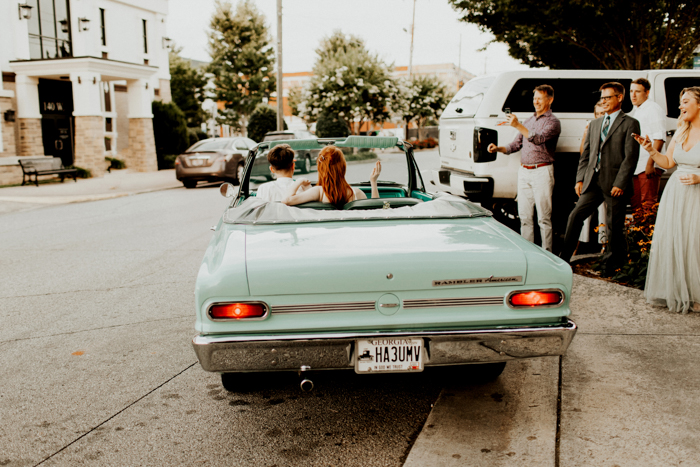 Congratulations to Cori and Justin, and a special thanks to Junebug member Sarah Joy Photo for sharing this lovely wedding at Events on Main! To see more from this talented photographer, check out this dreamy autumnal Georgia wedding at The Inn at Serenbe!