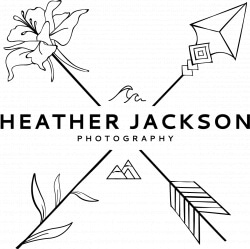 Best Wedding Photographers in Denver, Colorado
Heather Jackson Photography
About
MEMBER SINCE 2020
I love river surfing, time with my people, and new adventures.
I believe LOVE IS LOVE.
I want to create images that reflect your personailty, and are a work of art.
I grew up in Colorado camping often and playing in the dirt. Outside is my favorite side, although too many blankets and Netflix on a rainy day are a close contender. I love vegetables, Mexican food, and also Captain Crunch with berries. On any given day my Spotify is playing anything from Vance joy, to Cardi B, or The Offspring and Led Zeppelin. Being a traveling wedding photographer and road trips to spend my days river surfing in Colorado, Oregon, and Idaho keeps my calendar full. Travel and surfing is my joy outside of my career as someone who gets the privilege of photographing love and make a living at it. Waking up and going to bed next to Joshua is my own mushy love story but I'll spare you my long-winded love for that man. I like to think I've inherited my mom's no-bullshit leadership and relentless care-taking nature. My pop's restless adventure adrenaline-junky habits and endless need for nature and quiet is the other half of my brain. I'd love to see more of the world, as much of it as possible. I want to live a purposeful, kind-hearted life with my family and friends.
I started Heather Jackson Photography because I want to consistently give my clients an unforgettable experience, making them comfortable and happy, creating unique and personal photographs that they can see themselves and their love alive in. I want to roll with the punches with you, dance in the rain or embrace the windswept hair, and make real life look like the dream that it really is with you and your person. I've had different jobs but there is nothing I'd rather do than adventure wedding photography with the couples who are my people. The mountain loving, barefoot on a dirt road, deep kisses and long stares, and holding each other just cause it feels good kind-of people. The people who see the beauty of life is not in the perfecting of it, but in the happy and sad times alike, and that not much matters besides the people (and animals) that you love. Memories are some powerful SOB's, and they will make up the years you look back on when your face is wrinkled with lines of laughter and days spent exploring in the sunshine. My many years as a traveling wedding photographer in Colorado photographing the adventure outdoor industry has led me to have a different perspective on photographing weddings and couples. I love the storytelling images, and bit nontraditional portraits that are more art than look-at-me-and-smile. Movement, genuine emotion, a little bit of grit, and willingness to have fun is a recipe for us to make some magic.
If you think I'm your gal and want to create something authentic and beautiful together for your small wedding or destination elopement photography, shoot me a message and let's get to know each other. I am and always will be LGBTQ+ inclusive and enthusiastic! My clients are my family when we spend this intimate time together. Photographing you and your love is my privilege. I want you to trust me, open up to me, and be bursting at the seams excited about what we are creating together.
Why couples love Heather Jackson Photography
Request Information
Thank you for your submission. We will be in touch soon!
X

Email Sent.