Urban meets DIY vintage…this Chicago wedding at the Ravenswood Event Center captured the essence of Mabby and Sara's relationship perfectly! From the handmade decorations to the logo traced off a tattoo of Sara's that had originally been drawn by her brother, Matt; the couple's elegant yet edgy wedding was filled with personalized details that were captured beautifully by Katie Roberston and Eva Lempert.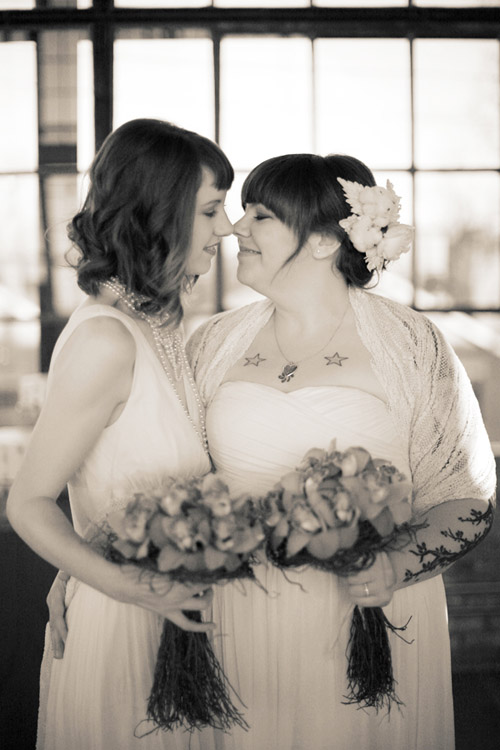 The Couple: Sara and Mabby
The Wedding: 1.8.11 – Ravenswood Event Center – Chicago, Illinois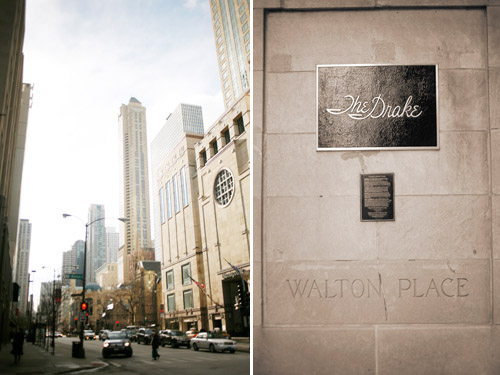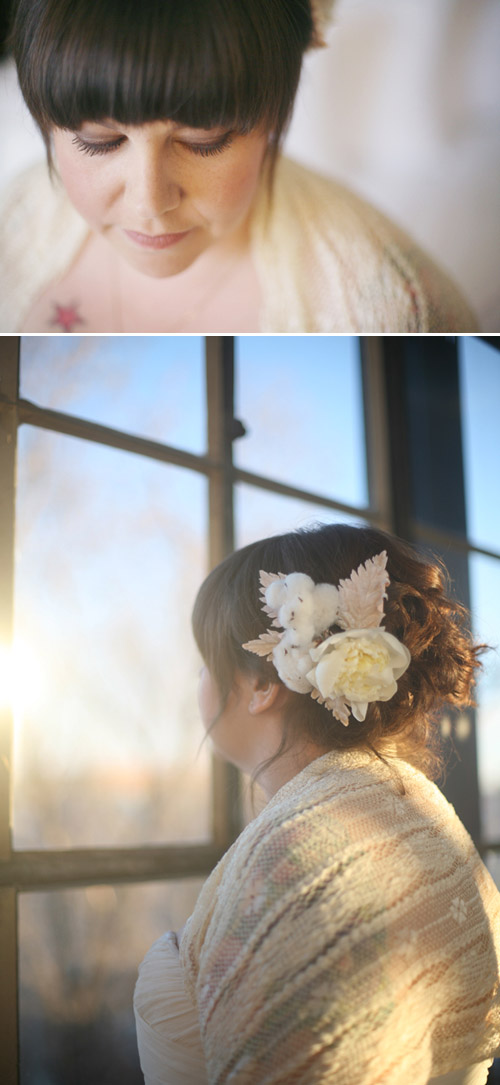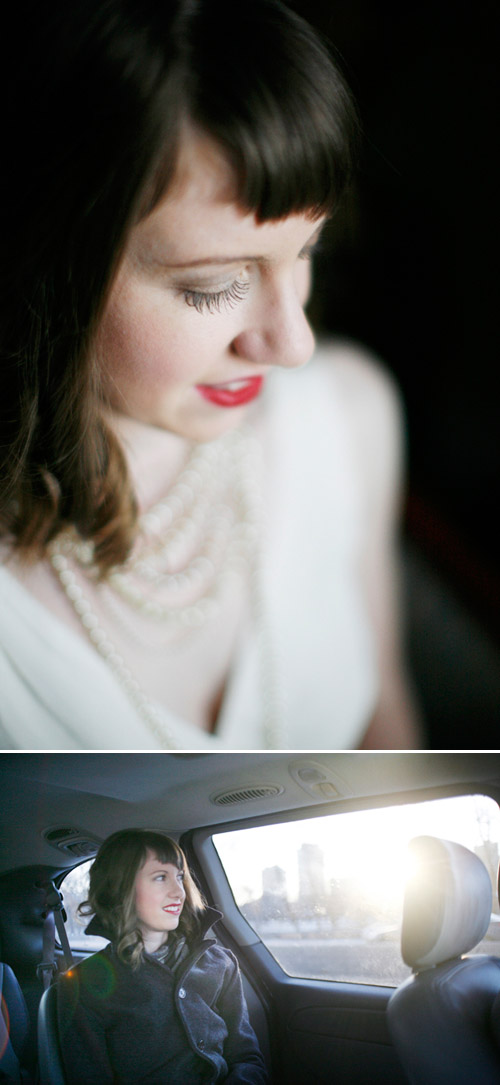 What three adjectives best describe your wedding day? Intimate, magical and chilly
Was there a decor theme that ran through your wedding? What was the inspiration for that particular idea and how did it reflect you as a couple? We liked the idea of doing vintage inspired decor with an urban edge. We both grew up in cities, but are very drawn to feminine details. We wanted a relaxed, classic vibe with a hint of funkiness and an urban aesthetic.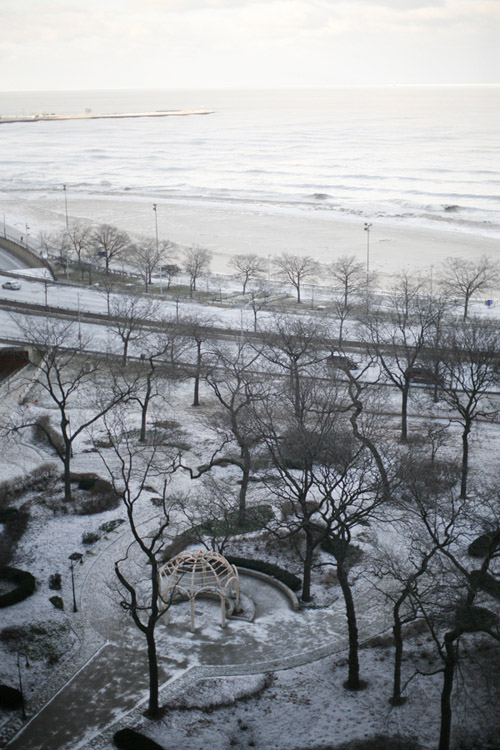 What were some of the different ways you used decor elements to create the beautiful, cohesive event you were envisioning? We loved the exposed brick, pipes and massive windows and high ceilings at the Ravenswood Event Center. We were thrilled to have snow covering the rooftops of the buildings outside, which echoed the cotton that we used throughout the wedding on the chuppah, men's boutineers, and in Sara's hair. We juxtaposed all of that white with some jewel tone florals and green brides bouquets. We did a lot of DIY decorations to create our vision, such as vintage tins and bottles filled with flowers and over sized clothespins holding vintage-themed table numbers lovingly made by Mabby's best friend. Rebecca and Christine, from our florist, Dilly Lily, did an incredible job bringing our vision to life. They completely understood our hopes to blend vintage with urban, classic with funky, while still keeping the entire event romantic and soft.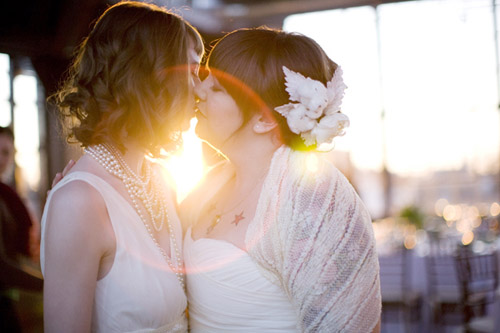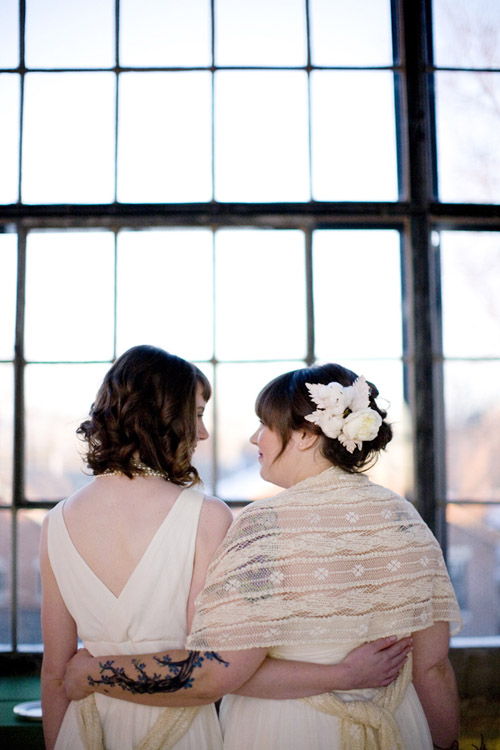 Where did you choose to hold your wedding, and how did the location influence your decor decisions? We cant say enough good things about the Ravenswood Event Center. We could literally go on and on. Andy, the owner, is an incredible gentleman with boundless patience. He also happens to be a miraculous chef. Katie and Eva, who have been to hundreds upon hundreds of weddings, have sworn to us that the food at ours was by far the BEST. We didnt want a plated dinner. Andy helped us create a lavish feast that contained three waves (basically three meals) that came out family style, one after the other. The dishes included an eggplant panko stack, steak with chimichuri and butternut squash ravioli. The staff helped us create not only the most incredible wedding, but also a truly festive, beautiful night. Our wedding wouldnt have been possible without them.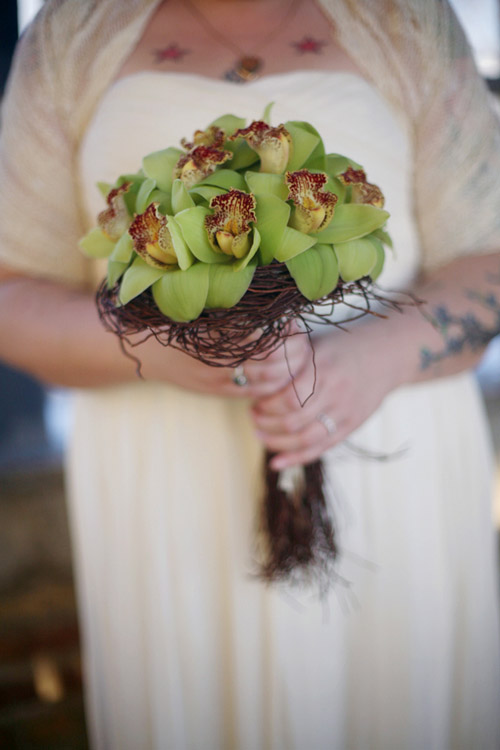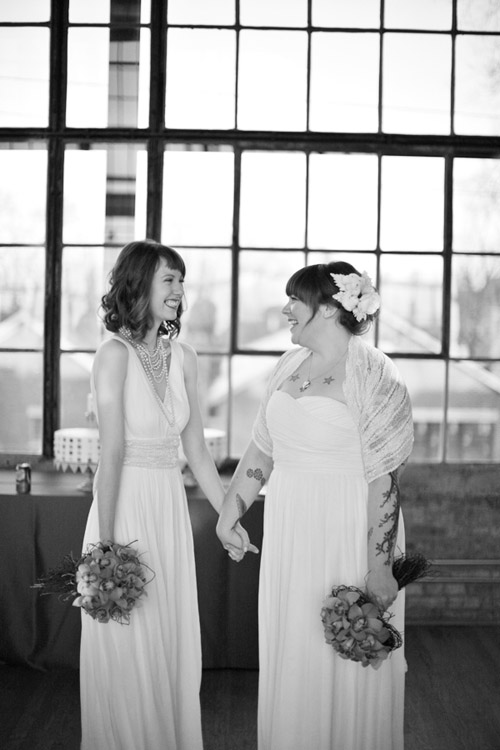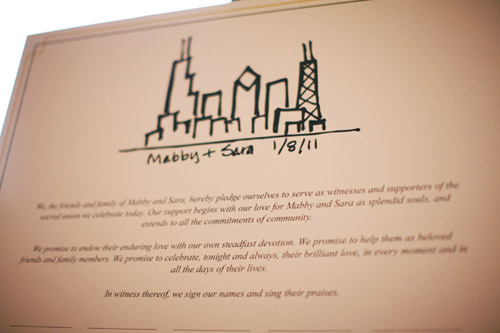 Looking back, do you have a favorite project or successful decor idea from your wedding? Tell us what you loved about it! To create a logo for our wedding, we traced a Chicago skyline tattoo off of Saras arm. We then scanned it and made stamps out of it to brand our wedding with the design. We used it on the notes for gift bags, the party favor candle lids, the menu headers, the homemade ketubah poster, and the "thank you" cards. It solidified that fact that our wedding was about family – our families joining and the new one we were creating beginning that day. Mabbys brother also spoke during the ceremony and was basically the evenings MC.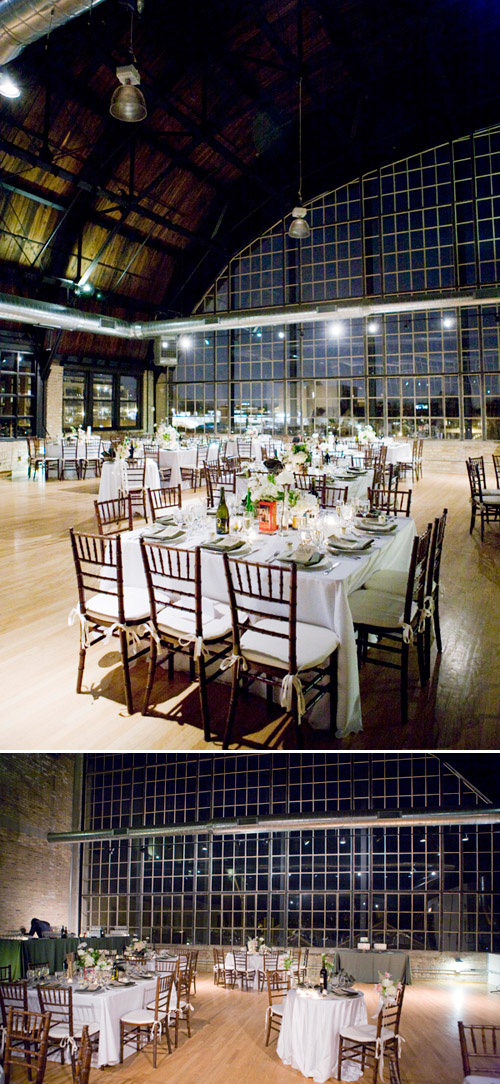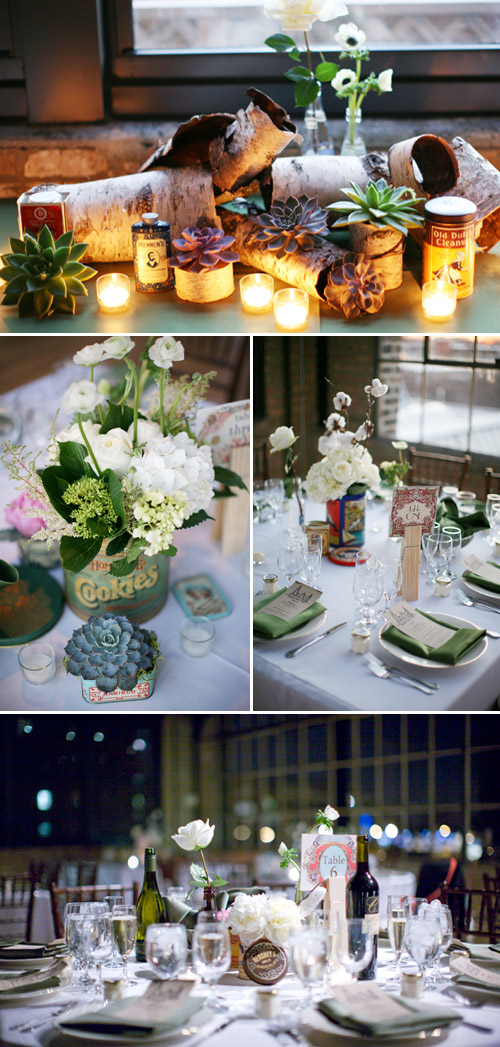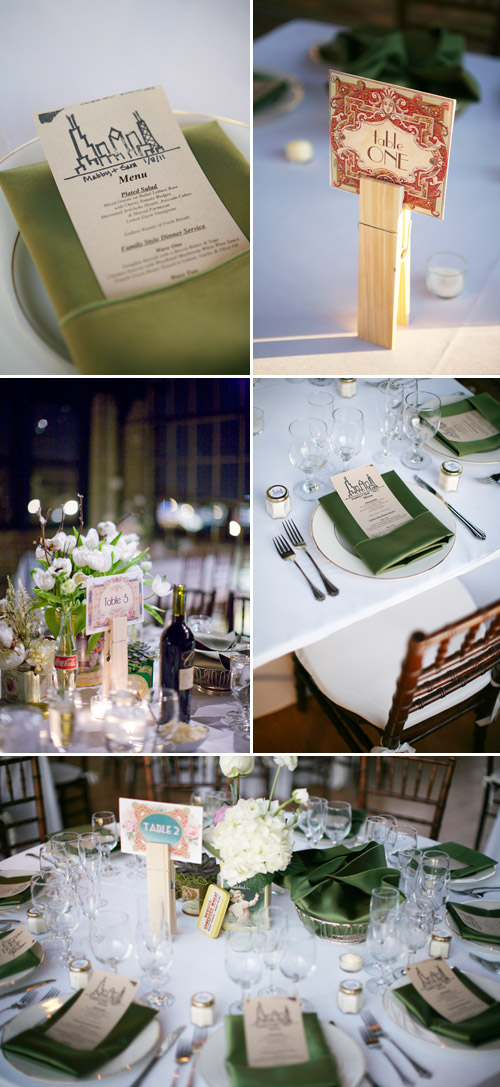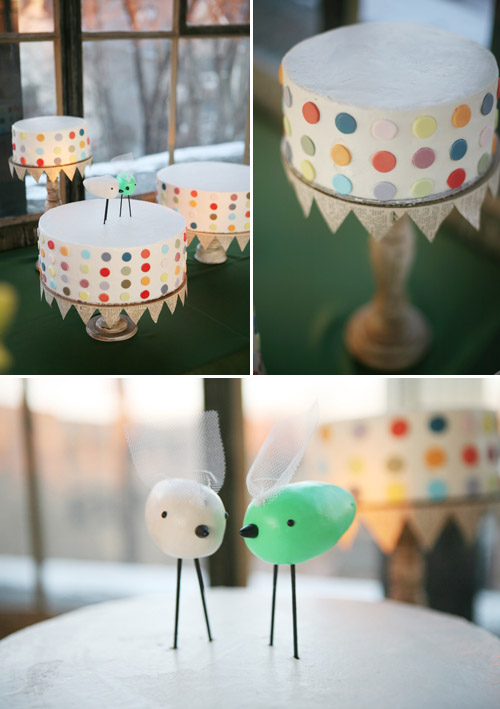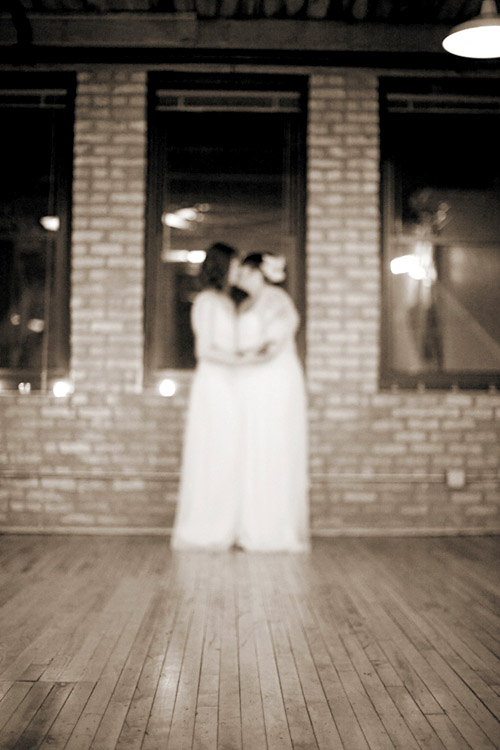 The Wedding Team:
Photographer: Katie Roberston and Eva Lempert
Ceremony/Reception Venue: Ravenswood Event Center
Officiant: David Gottlieb – Bride's uncle
Catering: Ravenswood Event Center
Florist: Dilly Lily
Wedding Dress: J.Crew gown with alterations by Lanya
Bridal Accessories: Shoes – Toms, Gloves – Clover
Hair and Make-up: Kristin Idzikowski
Favors: Boardwalk candles – Etsy.com
Rings: Tiffany & Co.
We have absolutely loved hearing about your urban wedding with a feminine twist! Best wishes, Sara and Mabby!
Enjoy more beautiful photography from wedding professionals and check out our Photobug blog!