What fun! This backyard barbecue wedding was submitted to us by the bride and groom and I can't get enough of all their creative details, fabulous photos and the family involvement that brought the day to life!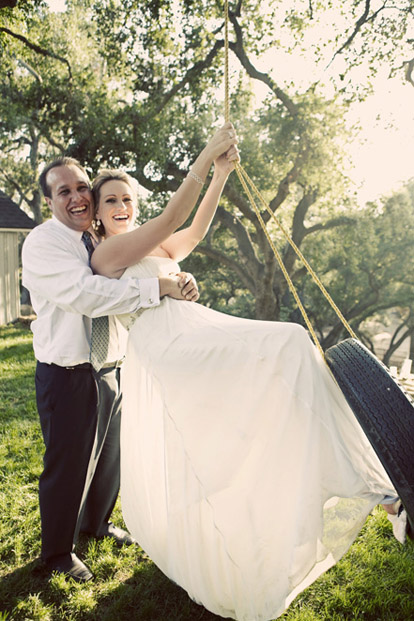 Rachael and David were married in May in a traditional Catholic ceremony at the beautiful, historic San Buena Ventura Mission in Ventura, CA, and Heather Jagger of Jagger Photography was there to capture every special moment.

After the ceremony the couple threw a super stylish backyard barbecue themed reception at Rachael's grandfather's ranch. The property had been in major disrepair, so during the year leading up to the wedding, Rachael's whole family pitched in to refurbish the house and grounds in time for the big celebration. Among many other things, they rebuilt the rock walls, hung a new tire swing, repainted the barn, built a corral, installed irrigation and planted 5000 square feet of grass. Wow! As Rachael called it, "big time family camaraderie"!

For the reception, Rachael worked with wedding coordinator Heather Ham and used her own skills as an interior designer to come up with loads of sweet details in a navy blue and emerald green color palette. She chose graphic patterns on the table runners and place cards, block monogram letters as centerpieces, white flowers from Floral Designs by Roni and gave brightly colored sandals, pashminas and candy away as favors. I love the mixture of all those modern prints!

Thank you so much for sharing your wedding with us Rachael and David! It was absolutely beautiful!
To see more from this wedding and many, many others, be sure to check out our Real Weddings library.