Monica and Bub worked with one of the top Seattle wedding planners, Junebug member Merry Beth Turpin, owner of Aisle of View, to create a romantic, stunning wedding day that would be an amazing experience for their guests. And what could be more romantic than an historic, fairy tale dome room; pink roses for miles; and gorgeous stationery designed by the bride herself? We're so excited to share Alante Photography's beautiful images of their day!
The Goals: The most important thing to us as a couple was to make our guests feel special by creating an intimate, warm setting. We wanted our wedding day to be welcoming and inclusive to our closest friends and family. It was important for us to focus on how our event would be viewed from the guest perspective, so we did our best to thoughtfully execute every detail. We hoped that from the invitations to the final send off, our guests enjoyed their experience and our wedding made a lasting impression.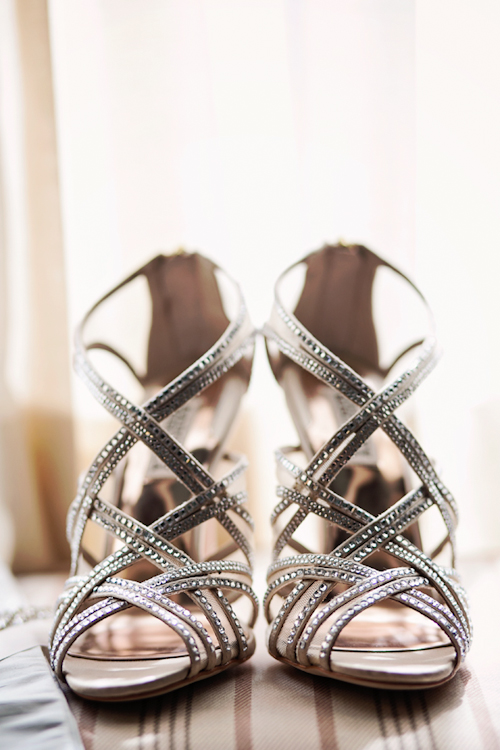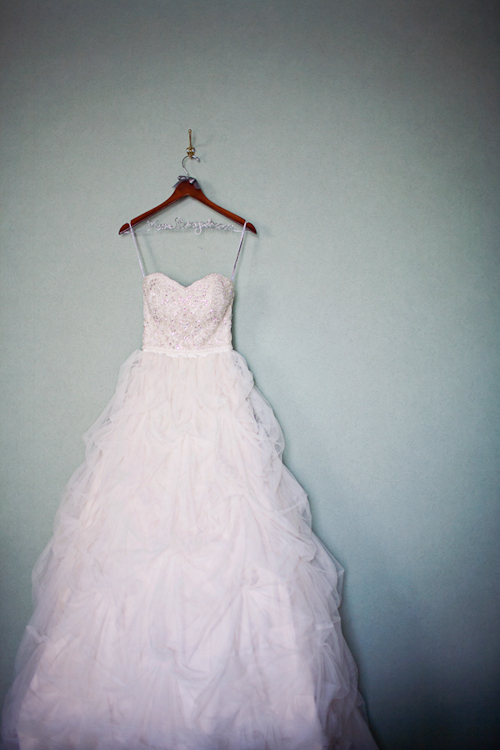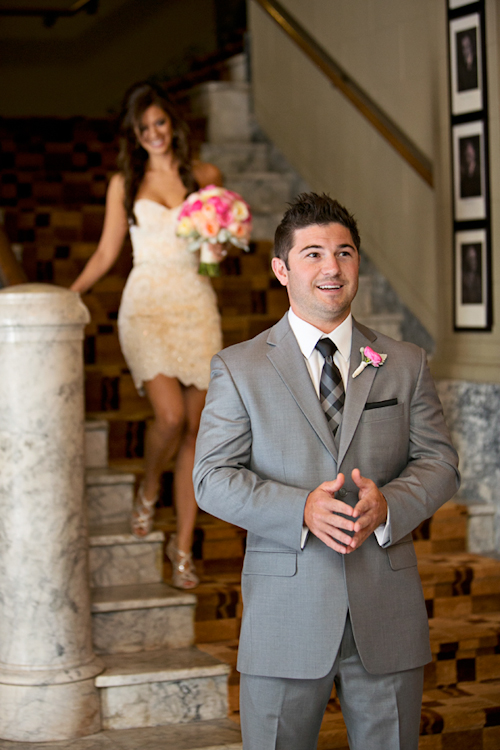 The Vision: We wanted our wedding ceremony to feel like a fairy tale, and ooze with romance. From the second we walked into The Arctic Club we knew this is where we wanted to have our wedding. It was timeless and elegant with a very old world feel. We chose a palette of cream, blush, peach, pink, gold and gray to accent color tones in the beautiful dome ceiling. Our goal for the flowers, lighting and fabric was to create a warm, elegant look that didnt overpowering the space.
As for the details, we wanted to bring in very personal touches. I custom designed our letterpress stationery, which was classic and timeless with a touch of glamour using silver foil. The process of designing and creating the printed materials for the wedding was very special for me because I was able to collaborate with my father-in-law. His company printed everything from the invitations to the stickers for the candy bags. As for the favors, we sent our guests home with fleur-de-lis stamped muslin bags filled with local coffee beans from Victrola Coffee. We wanted the favors to reflect my Louisiana roots and Bubs beautiful hometown city of Seattle.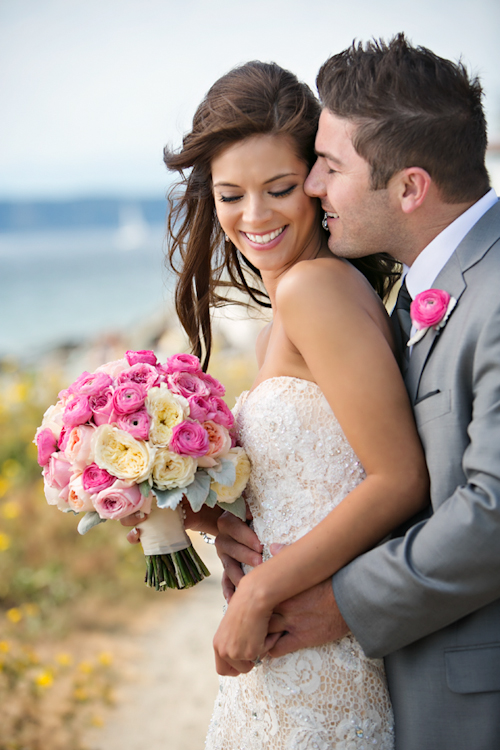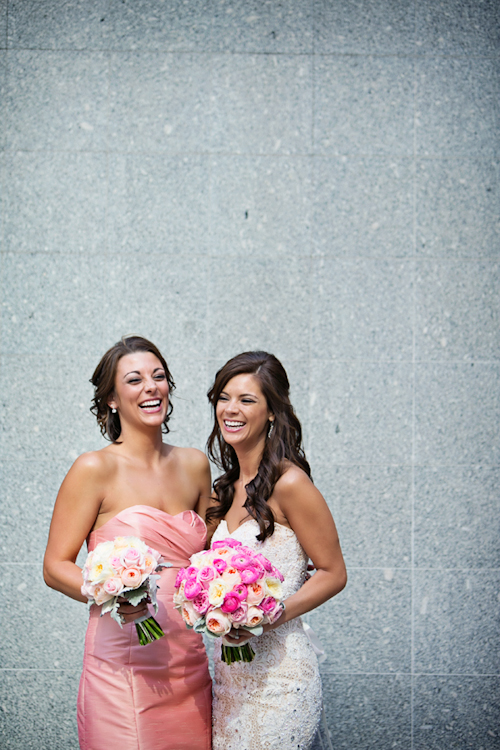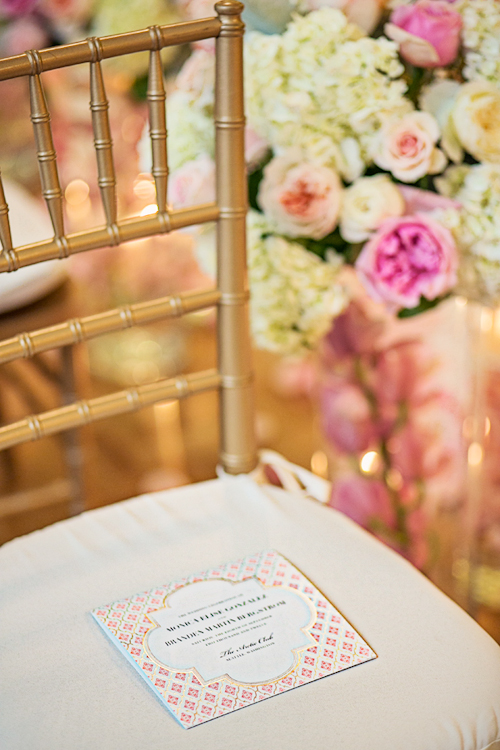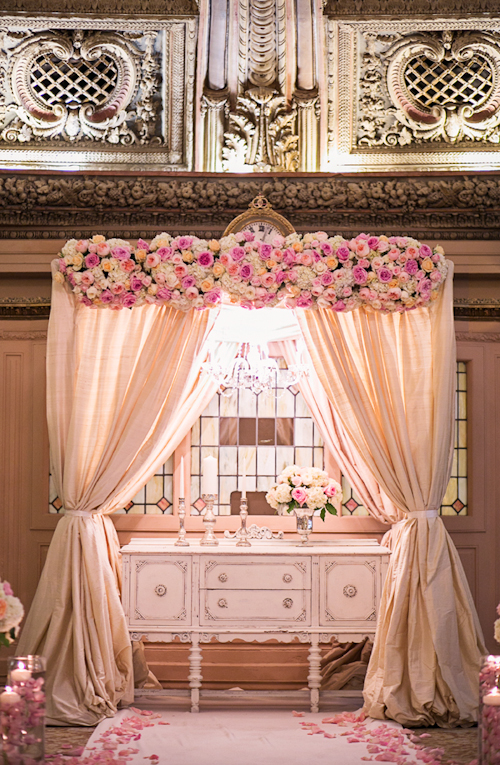 The Look: When I envisioned my wedding dress I wanted something timeless and elegant. After months of looking I fell in love with two Martina Liana gowns. Rather than deciding between the two, I went with a custom gown that combined the elements I loved from both dresses. The crystal encrusted bodice fit perfectly and the tulle skirt made me feel like I was floating on a cloud. I truly felt like a princess.
To keep my wedding dress a surprise for the ceremony, I wore a short cocktail dress while taking bridal party pictures earlier in the day. My Badgley Mischka heels added the perfect amount of sass to the cocktail dress, and I finished the look with jewelry by Haute Bride.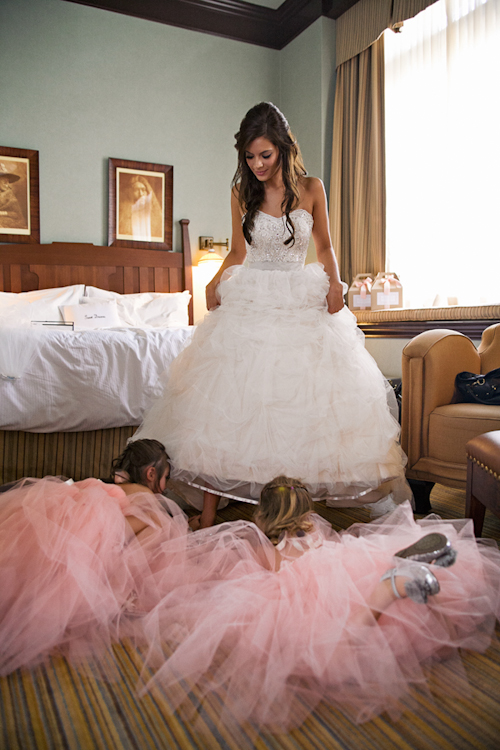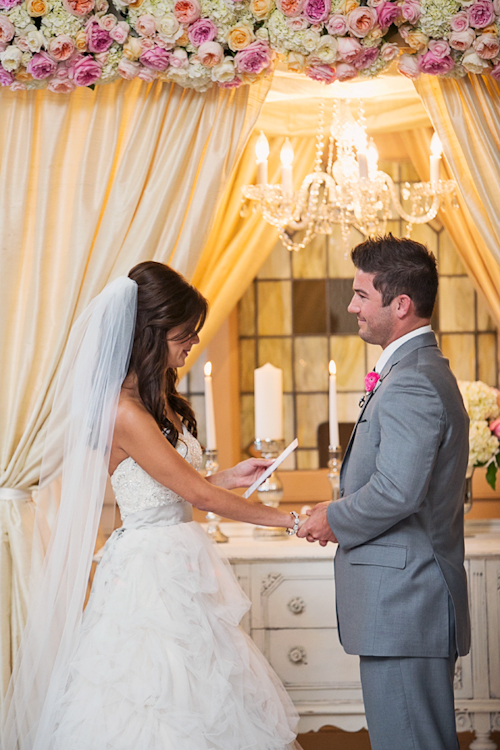 The Moments: There are so many moments from that day that I will never forget; from the quiet moments I spent with my dad right before walking down the aisle, to running through the tunnel of sparklers to our get-away car. But, exchanging vows will always be the first thing that comes to mind when I think of our wedding day. Bub and I decided to write our own vows, which made the entire ceremony very special for us. I will never forget the look on his face as he spoke his vows. It will always be one of the most sacred moments of my life.
We also loved the private time we had viewing the ceremony and reception space before the wedding. Seeing all of the details and our hard work finally come to life was a very fulfilling moment.
Our biggest wedding planning success outside of hiring our planner, Merry Beth Turpin, had to be the photo booth we custom built for the wedding. Our guests had a blast! We ended up with over 900 photos from our booth.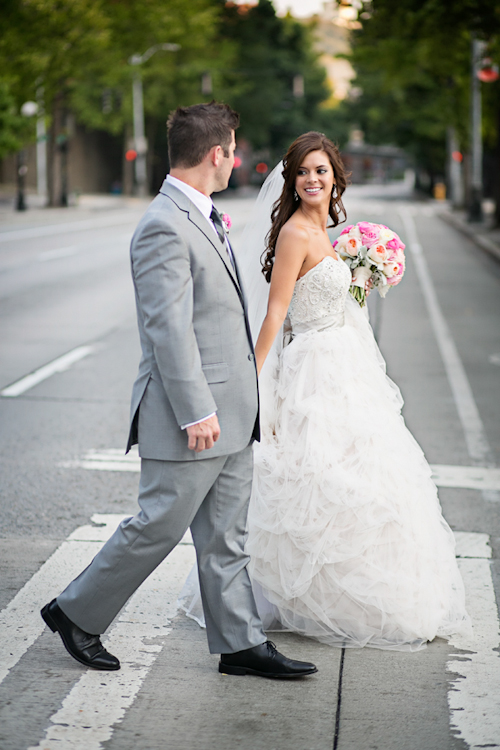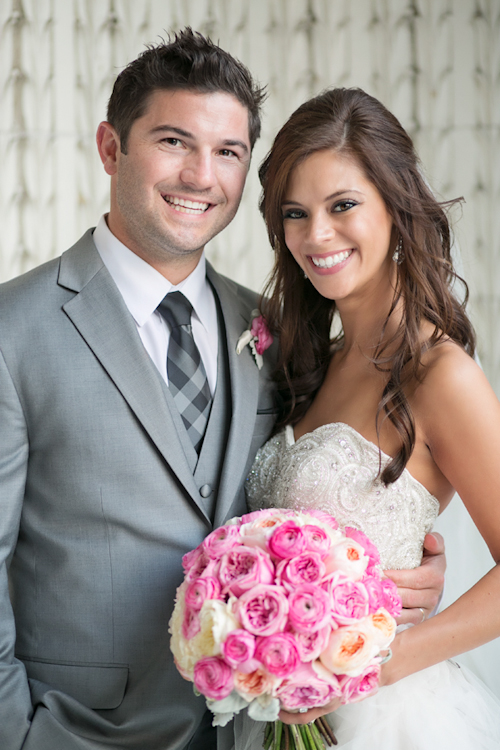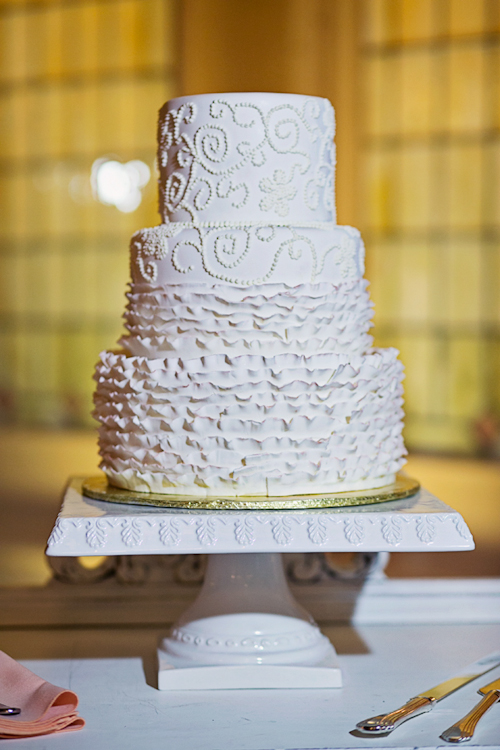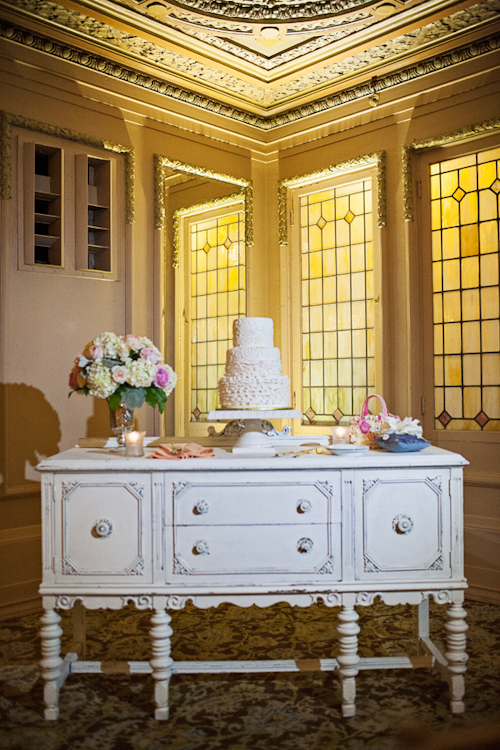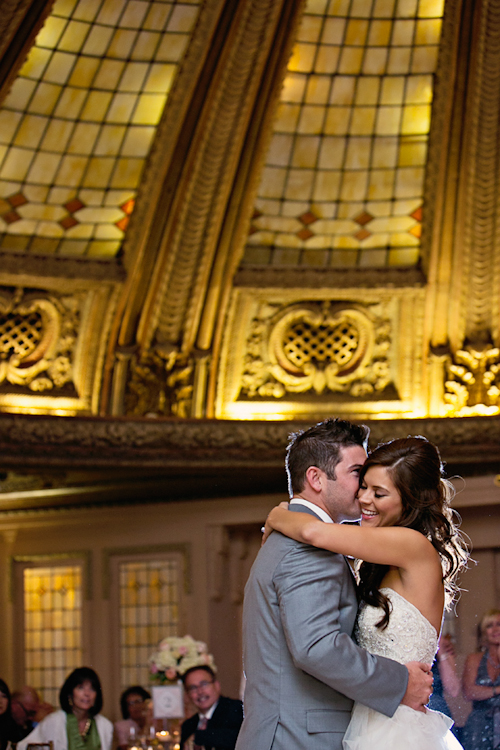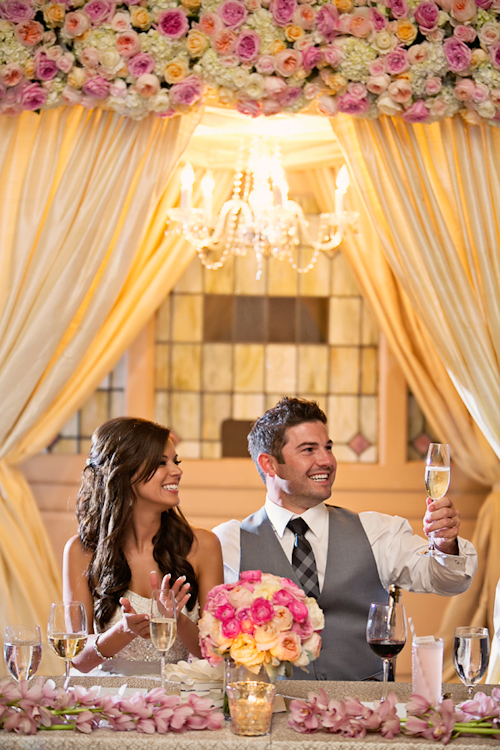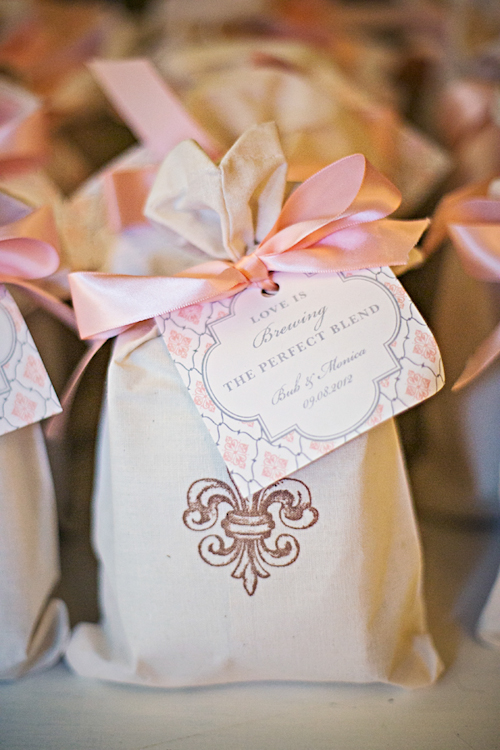 The Pros: For more details on Monica and Bub's wedding team, please visit their page in our Real Wedding Library!
Thank you for sharing your elegant, gorgeous wedding day with us Monica and Bub!