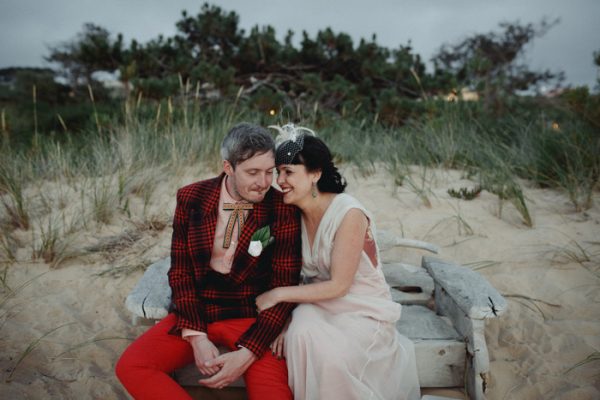 Aurora and Tony's Areias do Seixo wedding balanced fabulously quirky details with the timeless beauty of the Portugal coast! This couple donned bespoke attire inspired by their favorite retro looks, including the bride's custom blush and burgundy gown by Lorna Gillieron Costume. From a comic book save the date to their cartoon character table numbers, we love how Aurora and Tony reflected their favorite pop culture moments in their totally unique wedding details! The photography team of LOOK Imaginary captured every moment this couple's wedding, including their incredibly stylish portraits among Areias do Seixo's otherworldly backdrops.
The Couple:
Aurora and Tony
The Wedding:
Areias do Seixo, Lisboa, Portugal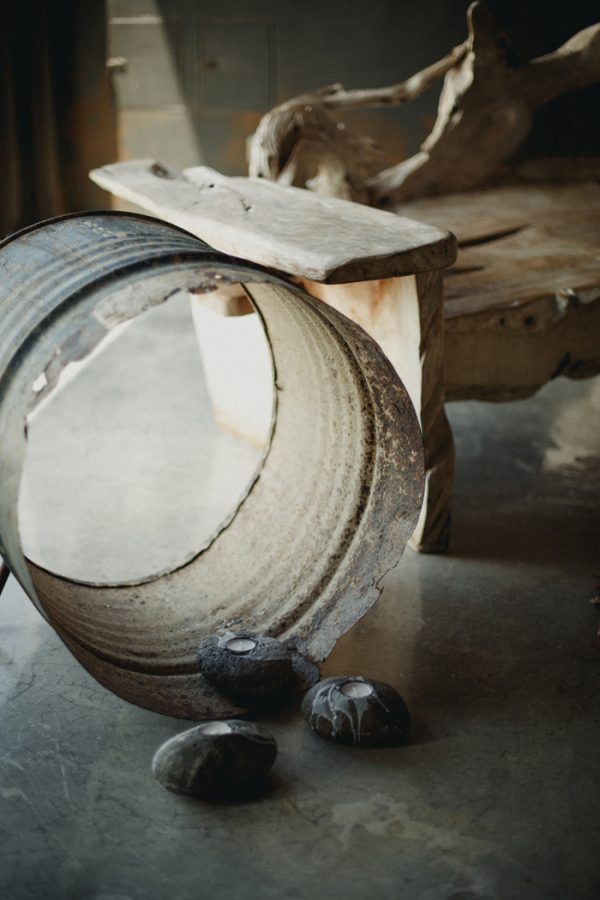 The most important part of planning was detail! From the origami paper crane 'save the dates' to the venue, cuisine and couture. We painstakingly went through, researched and chose everything. Absolutely everything. We wanted it to represent our personalities, travels, tastes and loved ones.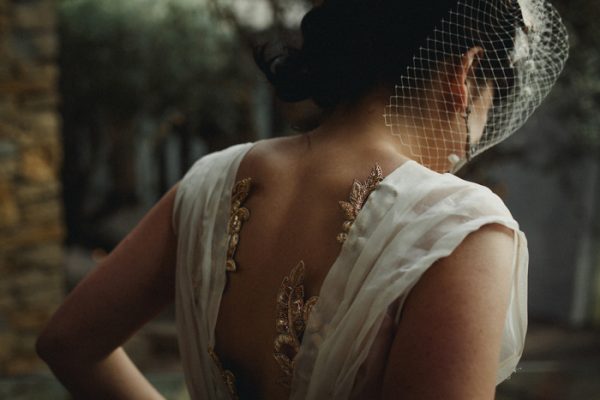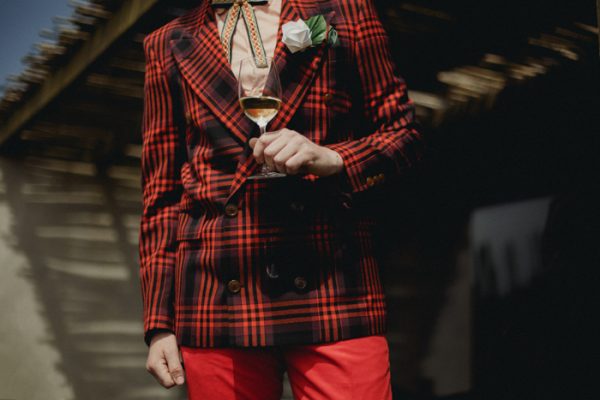 The groom's planning advice: Don't say 'yes' to everything early in the process because, even if it's the easy option then, it will haunt you when the going gets tough! Seriously, though, it was a wonderful journey that challenged our inner resolve and creativity. My pièce de résistance was the wedding invite (image on Look Imaginary website!), which I designed as a Marvel comic with us both riding a paper crane through the night sky above the wedding venue – Aurora's ruby engagement ring is beaming a ray of light into the cosmos! I did the graphic design for the inside but our amazingly talented friend, Jonny Chaos Illustration, brought our crazy idea to life and absolutely aced it.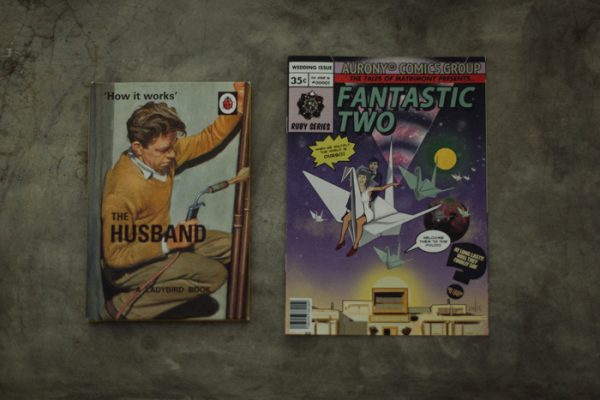 The bride's planning advice: Don't believe Tony when he agrees with you and says he will do it! As an event manager by trade it was very hard to switch off that side of me throughout the whole planning. I wanted to personally make and create every detail. I even found myself meticulously checking table decorations with the staff on the day of the wedding. In the end I had to just let go and leave them to it (this was quite hard for me!). Alas, this was nothing a soak in the huge concrete jacuzzi (we had in our room) with a glass of champagne couldn't fix.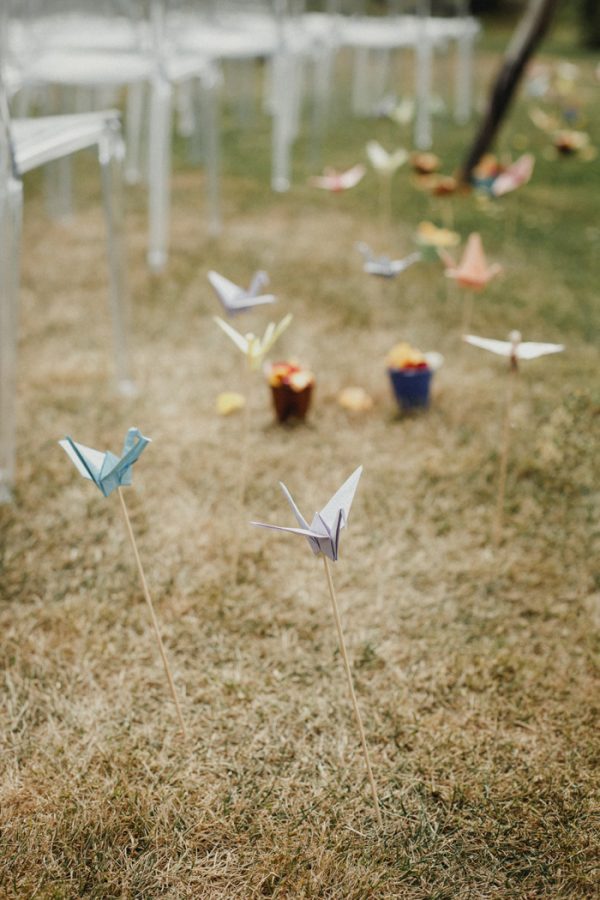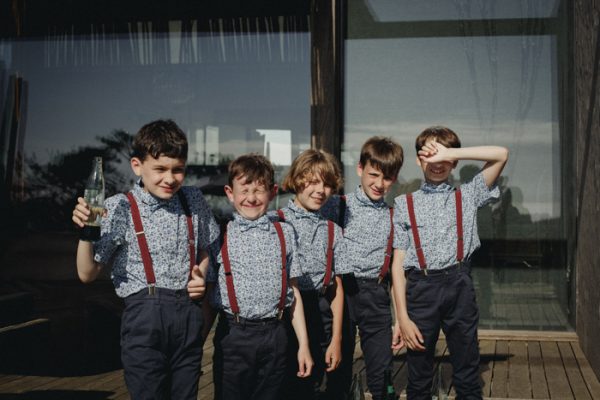 To see and be among all of our loved ones was a feeling of pure love that will remain with us for the rest of our lives. Everyone looked amazing. Of course, where we were wedded was incredible, but the day would not have been the same without those that travelled from far and wide – from the U.S, Dubai, Australia, Portugal and the UK – just to name a few!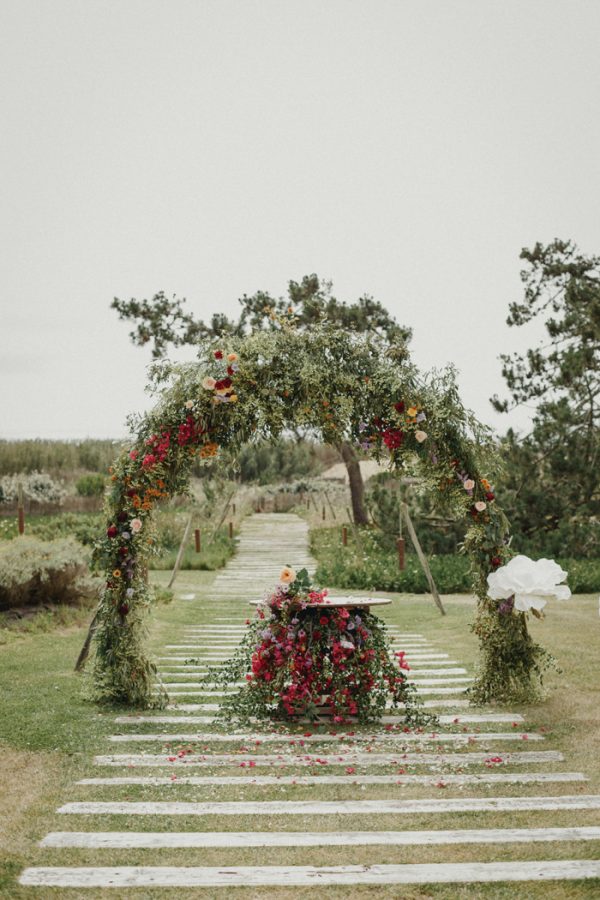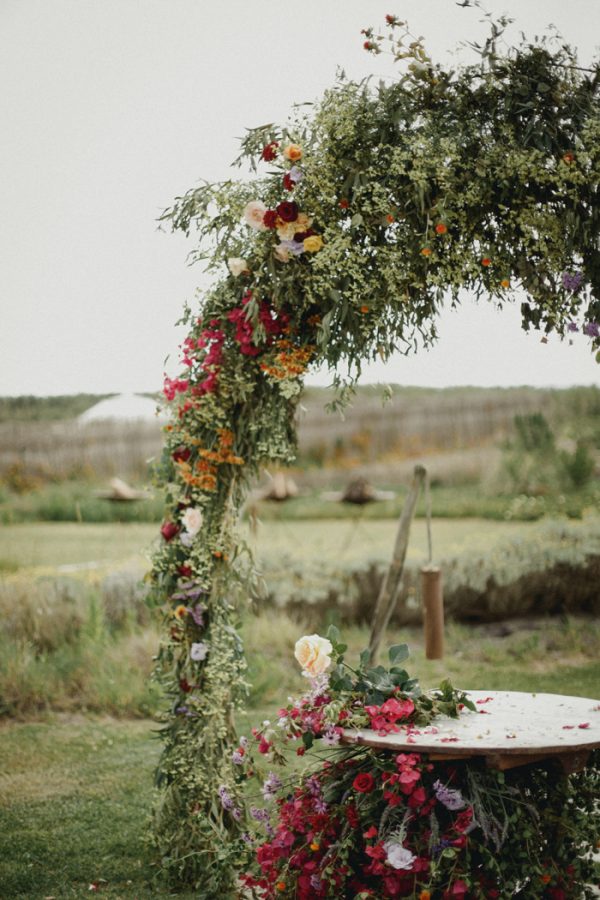 We had two of our best friends play our favourite Bruce Springsteen song, Racing in the Street, when Aurora walked down the 'aisle' (which was actually a wooden pathway that led to the beach). Our friend Tom (a long-time friend of Aurora's) and Niklas (one of Tony's best friends with whom he lived with in Dubai) devised a version of the song to suit the ceremony, which, when we get the wedding video, I am going to send to Springsteen to show him how much his music touches people's lives!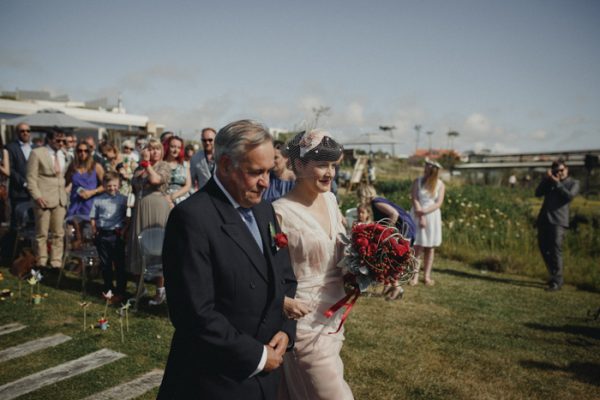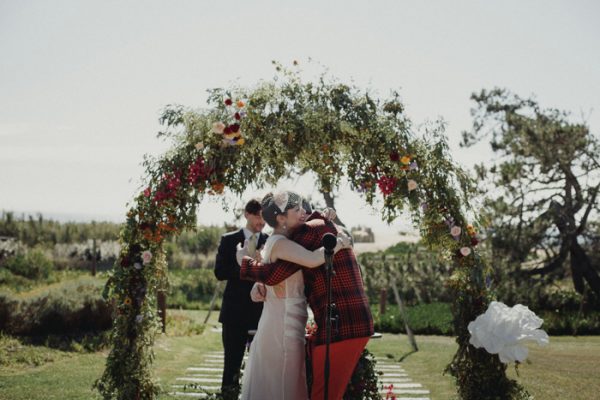 Our recessional song was Prince's I Would Die for You. We wanted one of his songs because he was sadly taken away from the world in 2016. We thought that the lyrics were perfect for the occasion. And of course, we are both massive fans of his.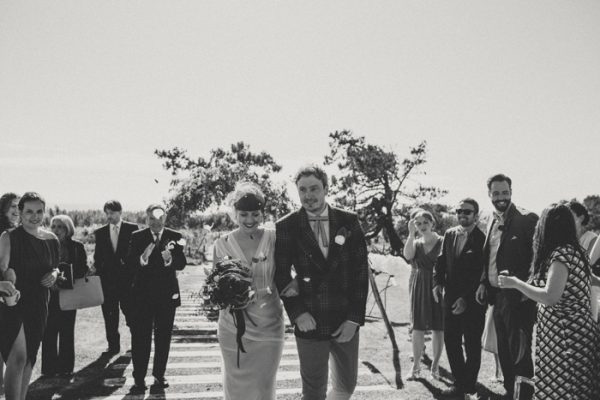 We searched high and low for venues. Aurora is Portuguese so we knew we wanted to get married there. Aurora found the venue, which we went to visit – the first and last venue we visited. We made our minds up immediately. Anyone that has ever been there would say it's one of the most amazing places, ever (ever). The pictures are a testament to this! We have been lucky enough to visit and stay in some of the most incredible places in this world but this place is truly unique and special. Like the first time we met, it was love at first sight! We will go every year on our anniversary!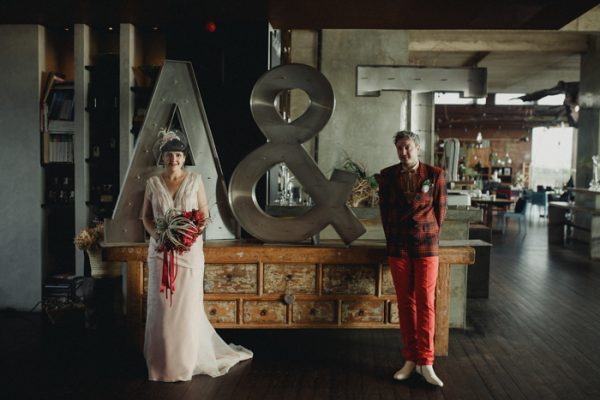 I designed my own dress along with my best friend and maid of honour, the very talented Costume Designer Lorna Gillieron. I wanted to have something quite ethereal with an iridescent look, which is why I picked a silk organza top layer. The venue really inspired me on the colour choice as I didn't want the traditional ivory; I therefore chose a coppery satin silk as the under dress with a structured bodice and irregular beaded appliques to add contrast and detail. My hat was a bespoke design using the same copper silk and organza as well as copper leaves, beading and a birdcage veil made especially for me by the very talented Katherine Elizabeth Millinery.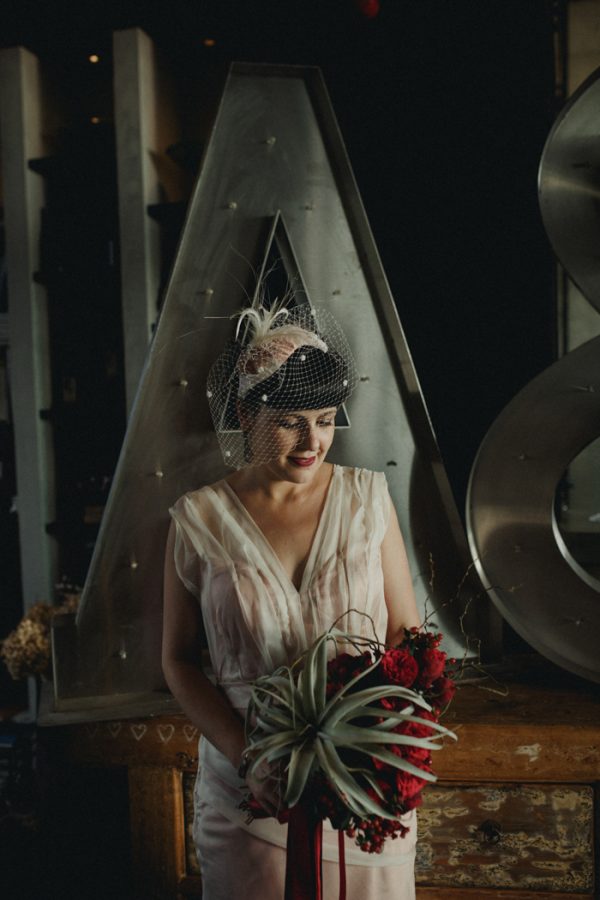 From the groom: As a lover of colour and out-of-this-worldliness, I chose an ensemble of different items as opposed to the traditional 'one piece' approach. The red tartan jacket was from Vivienne Westwood while the shirt, trousers and white cuban heels were a mixture of Gucci and Paul Smith. The western bow tie was from store that specialises in selling vintage american neckwear. Not to forget the origami white rose, which is a symbol of Yorkshire, the county of my birth.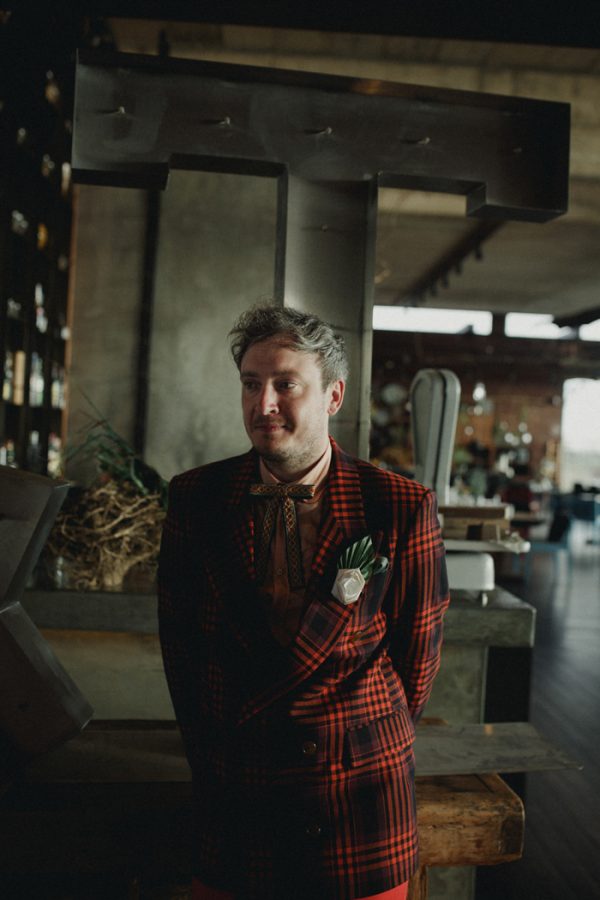 I went off course with the shoes opting for some glittery and snakeskin 70s block heel Marni sandals simply because I just loved them when I saw them and have continued to wear them post wedding. Jewellery was quite minimal – just some long elegant diamond earrings belonging to my Great Grandmother who I'm actually named after. No other piece of jewellery was worthy of going with these earrings as they are so incredible. For my make up a 1950s Audrey Hepburn was my inspiration, as a lover of red lipstick I actually opted against my traditional red for a new darker plum shade for the occasion a shade specifically picked to match the rubies in my engagement ring.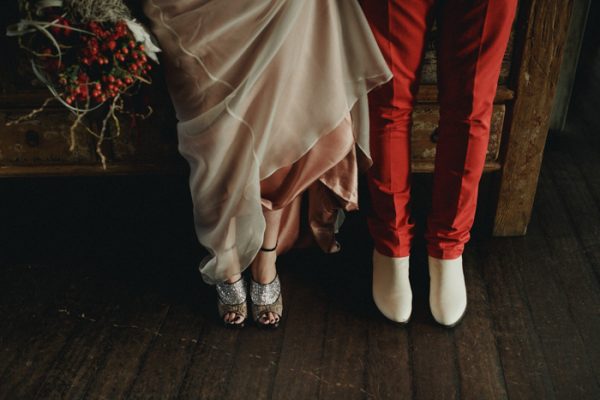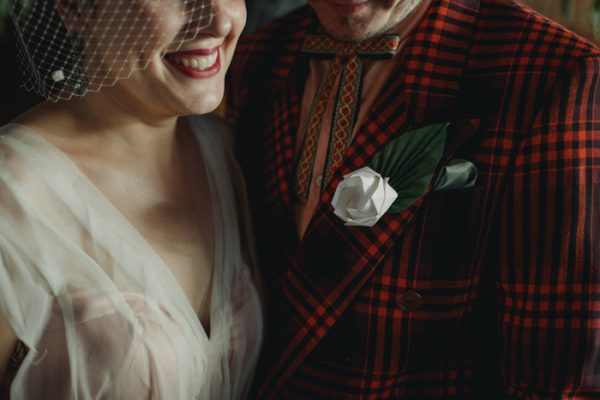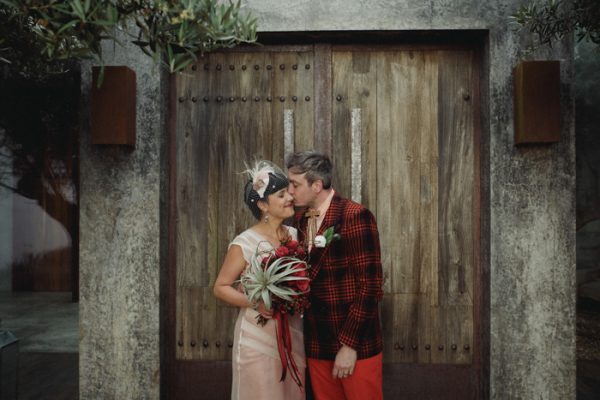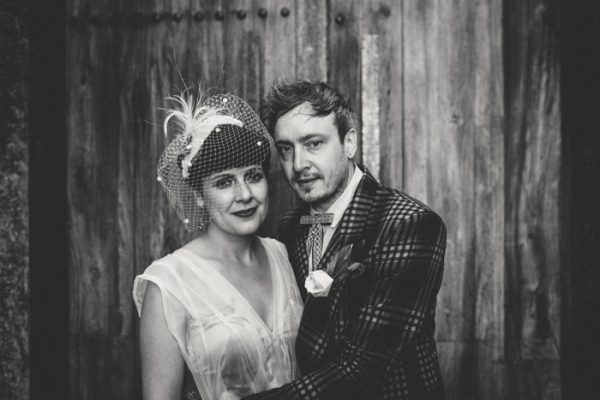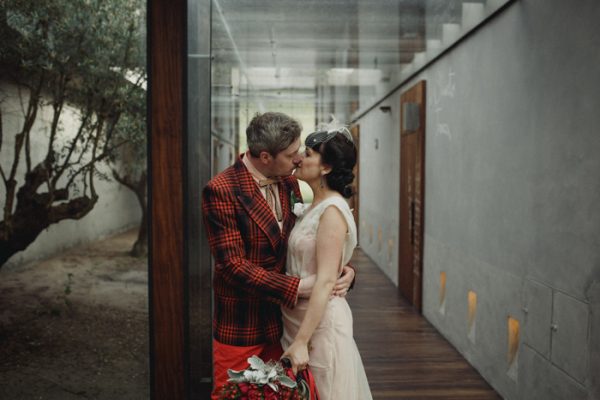 Working with our photographers was absolutely fantastic. We are extremely camera-shy so was actually dreading it! But Orsi and Zé of Look Imaginary were perfection. They seemed to become invisible and didn't encroach in any way at all. They are a really friendly and a superlatively creative couple. When the photographs were ready they totally blew our minds. Everyone has commented on how incredible the photographs were. We have since shed several tears of happiness looking at these images. 'Breathtaking' doesn't do them justice. The whole composition, mood and warmth of their style is second to none. We made one of our best choices (ever) in choosing these guys. Thanks!!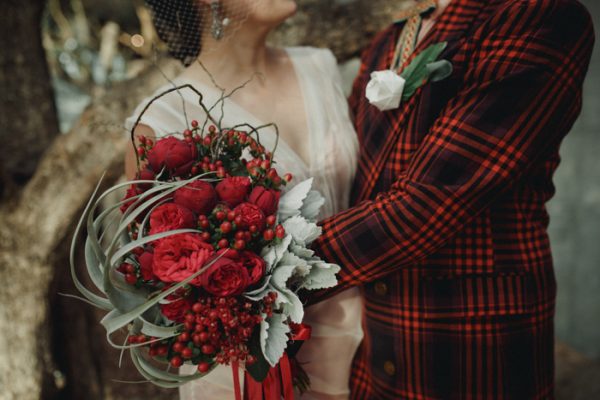 Our first dance song was Help Stamp out Loneliness by S.W.I.M. This was a song written especially for Tony when he left the UK to go and live in Dubai. Another of his best friends, Bentley (Ben), was the lead songwriter and member of the band. When Aurora came to visit Dubai (when the romance first blossomed), it quickly became 'our song', which we used to play over and again when we spoke to each other every night on Skype.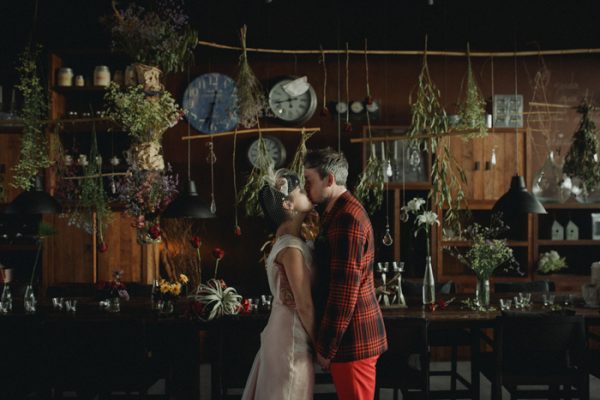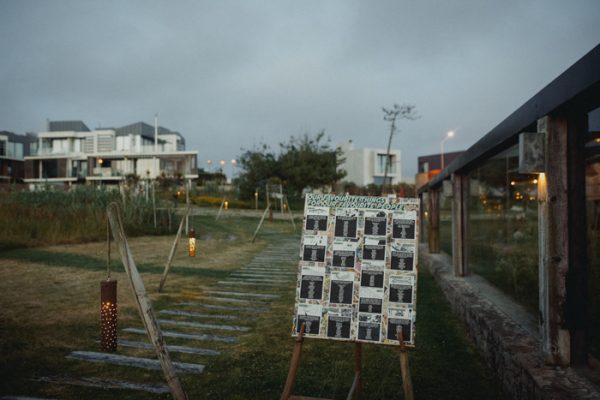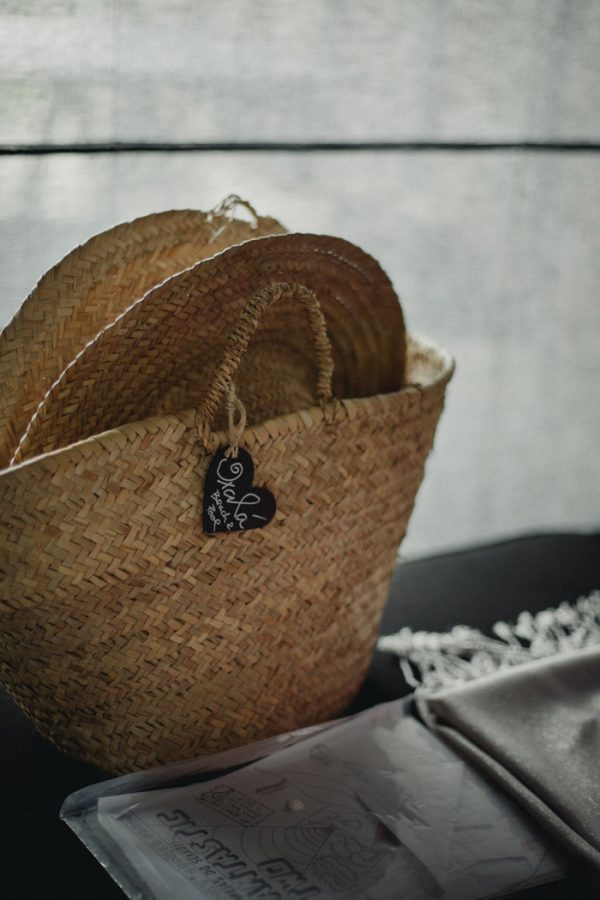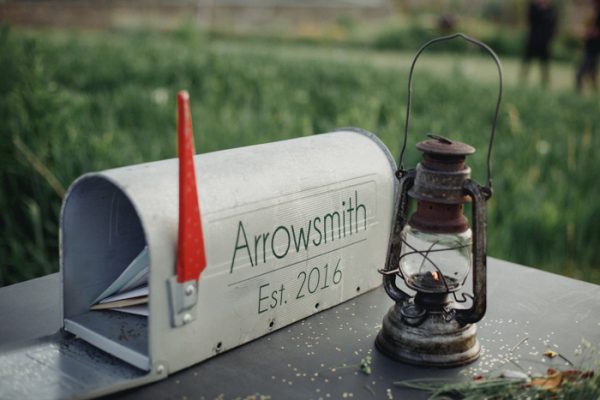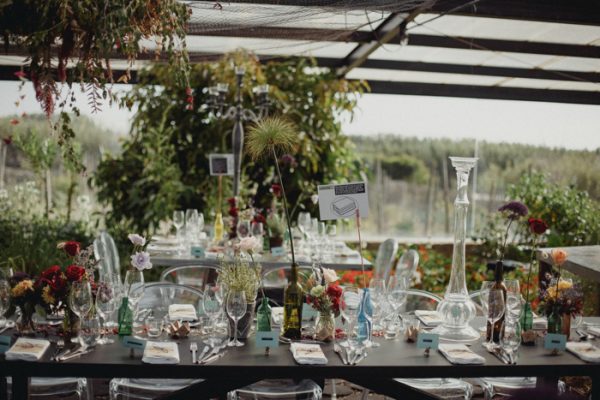 Our wedding vibe was a tapestry of our unique quirks, tastes and loves. It was a cocktail of influences and memories that we collected throughout our pre-married life. These included origami (Tony hand-folded hundreds and hundreds of paper cranes); unique table names and specially-written cards that related to our favourite things (ranging from David Bowie and lasagne to Coca Cola and the film Pan's Labyrinth); and the page boys, who were all dressed up as 'mini-Tonys' with flowery shirts and matching bow ties. Our felt-covered alter egos also featured throughout our wedding (Kermit and Miss Piggy who were both on the event app, thank you cards, and of course, on top of the wedding cake!).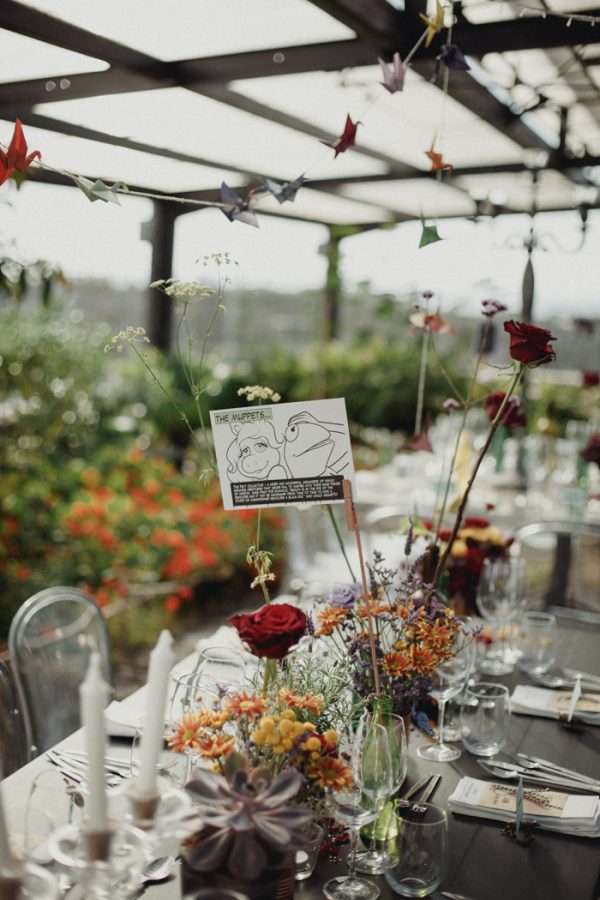 The venue only uses locally sourced produce – most of which is grown on site; the rest being procured from the local farmers and fisherman. Portugal has some of the best produce in the world so we were in an extremely privileged position. And we ate in a converted greenhouse, which the hotel uses to grow vegetables and herbs (and which we ate in some of our courses).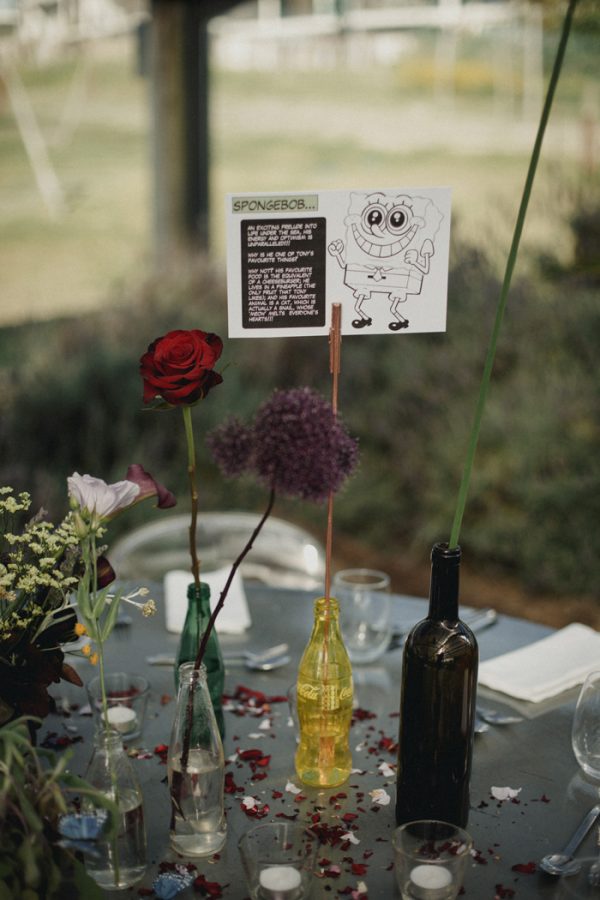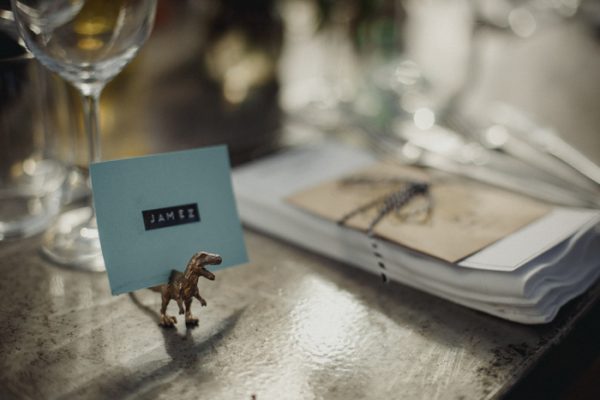 We also painstakingly spray-painted 150 plastic animals to make the name card holders, each of which we individually picked to suit the personalities of our guests. We of course had a gold Kermit and Miss Piggy at our table.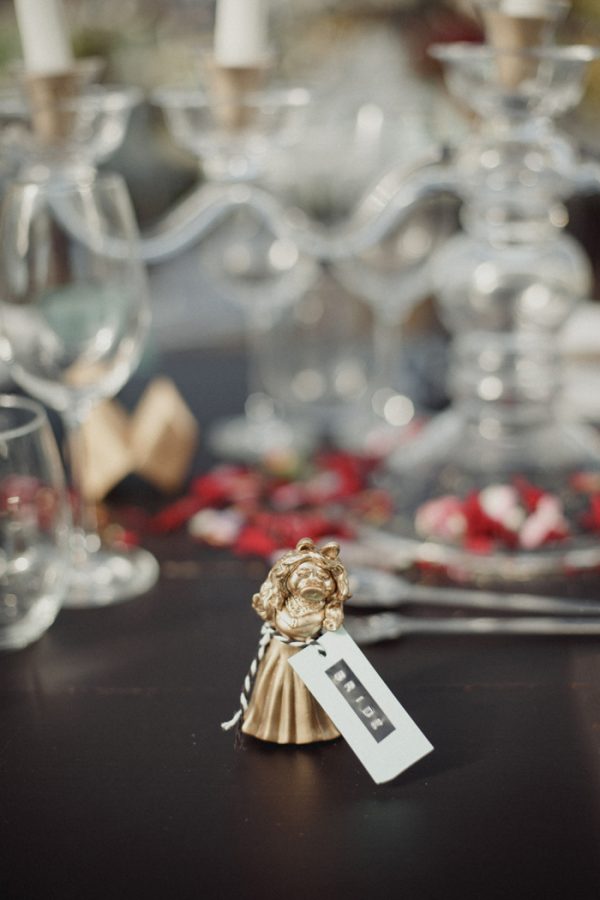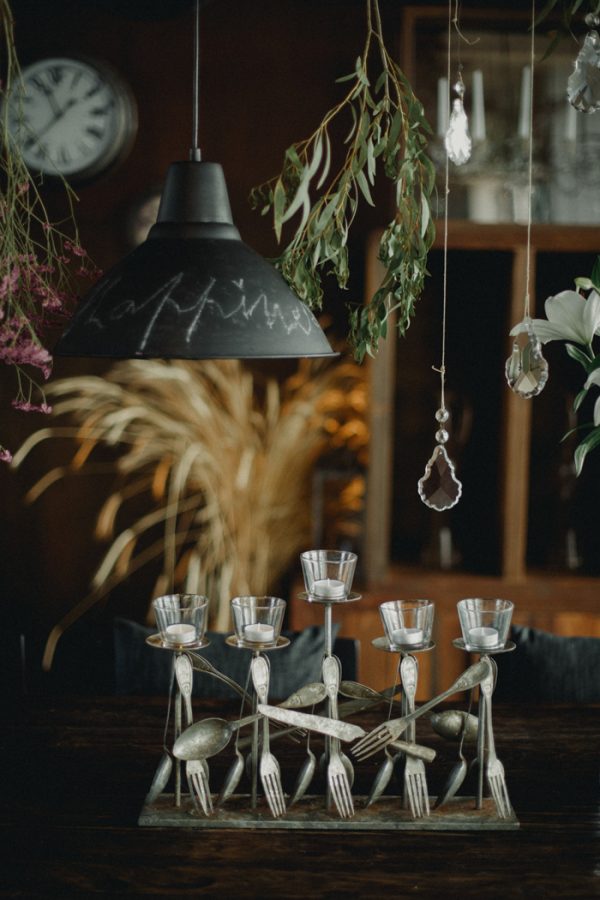 We had a few nice surprises for our guests. For example, we made up gift bags that we placed in each bedroom of the hotel, which out bridal party received when they arrived. These comprised brown-paper Americana 'lunch bags' that included a welcome drink (a spirit and our beloved Coca Cola); a taste of Yorkshire (the county where Tony was born) with a bottle of Henderson's Relish; a taste of Portugal (Aurora's family origin) with a gourmet tin of sardines; thank-you cards; and bridesmaid/groomsman gifts. We also provided a 'hangover kit', which comprised aspirin, vitamins and a voucher for a free Bloody Mary in the hotel bar the morning after the wedding. The wedding favours on the tables were personalised seed packets, which seemed fitting as we were dining in a greenhouse. We had 'some like it hot' chilli seeds and 'you are my sunshine' sunflower seeds.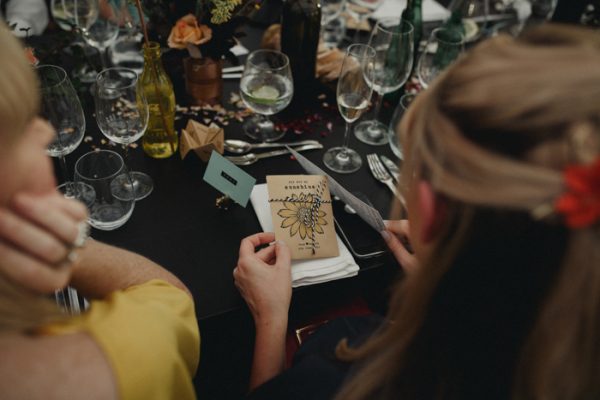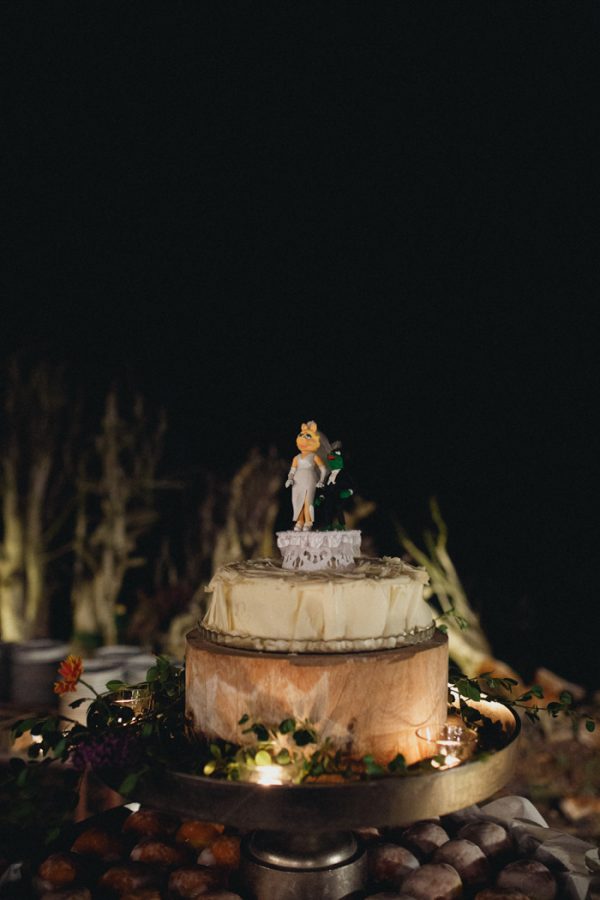 Our cake-cutting moment was at an amazing fire-pit, around which everyone gathered with sparklers (quite hard to procure in Portugal!). We also had an incredible Portuguese band called Stout, who absolutely blew the roof off. Everybody loved them. They tailored the set to 80s and 90s music, which was truly incredible.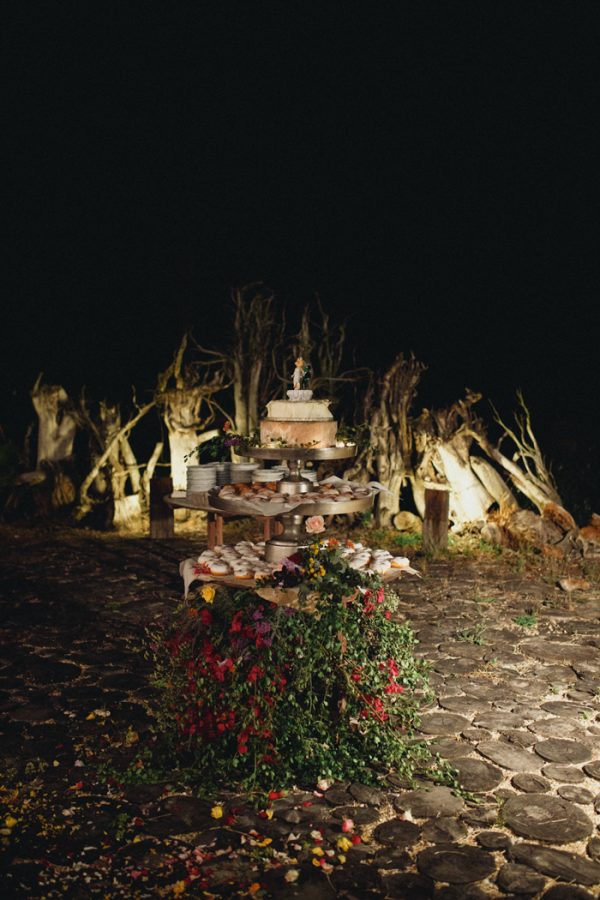 Congratulations to Aurora and Tony, and a huge thanks to Junebug member LOOK Imaginary for sharing their wedding with us. Love this wedding's quirky vibes? Then you've got to see this epic and eclectic DIY backyard wedding in Texas!