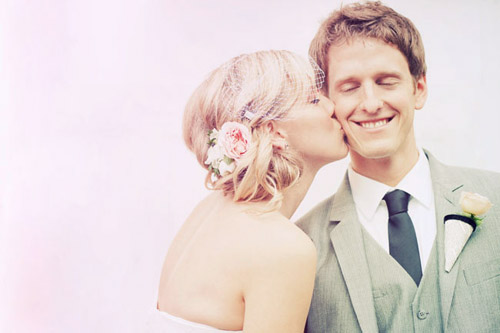 The Couple: Sally and Chris
The Wedding: 5.15.10 – The Arctic Club, Seattle, Washington
What three adjectives that best describe your wedding? Vintage, Personal, Sweet, God-Centered
What inspired your personal wedding style, and how did you incorporate your style and personalities into your big day? My husband and I are both designers with an appreciation for thoughtful detail and design. We tried to incorporate that same love for detail into our wedding day while still reflecting our personalities. We did not want to do anything because thats what you do. We wanted a day that uniquely reflected us. For instance, we are not cake eaters, so we ditched the cake in favor of doughnuts which we do eat; (every Saturday morning we go on a date to the local doughnut shop!) so we served those instead. We also wanted to incorporate our faith into our wedding so we had a dear friend lead all of our guests in a hymn during our ceremony (my favorite part of the day!). We handled all of the details ourselves, we hand letter pressed (on a vintage, 100 year old press) our invitations, with a silhouette design that I created. I just loved that our wedding day reflected us, and traditions that were meaningful. I am really glad we did it our way. I was also insistent that everything had the same vintage, sweet, beautiful feel, from the photography to the details, I wanted everything to reflect our wedding theme of our Sweet Day in May!

Looking back, what are the moments, decisions or memories that you love the most about your wedding? My favorite moment of the day was turning around to look at the faces of all of my guests and singing our favorite hymn. It was so meaningful and I will never forget seeing the faces of all of our dear friends and family. I also love that we didnt do a head table or a specific wedding party table. Chris and I really wanted to mix it up. Afterward, we heard of new friendships (love that!) and we even sat with friends from our church. I just loved the feeling that everyone was part of our family that day! I think one of the smartest things I did was put two of my most trusted and creative friends in charge of all wedding day details. We didnt hire a wedding planner, so instead I hired two friends to be day of planners. I went through ALL of the plans (in painstaking detail) with them days before and then the day of, I left any decisions to them. The key was that I completely trusted their taste and judgement so I never worried for a second about anything. It made my wedding day completely stress free and lovely!
Wedding color palette: Gold, black, light pink, cream, coral, and antiqued silver.

Wedding Team:
Photographer: Yvonne Wong
Ceremony and Reception Venue: The Arctic Club
Officiant: Rev. Sonny Westbrook
Invitation, Paper Goods and Calligraphy Designer: la Happy
Catering: The Arctic Club
Florist: Wilson Gardens
Cake: Doughnuts provided by Countryside Donut House
Wedding dress: la Sposa
Bridesmaids apparel and accessories: Anthropologie jewelry; Davids Bridal
Groom and groomsmen apparel and accessories: Express
Hair and make-up: Hair by Jenny Ishmael, Makeup by Glynne Davies
Live music: Brian Eichelberger & friends stringed quartet, Ashlea Tegman soloist
Designer: Foxs Gem Shop
Vintage Resources: Etsy
Thank you Sally and Chris! What a wonderful vintage wedding day!
To find inspiration for your own personal wedding style, don't miss our Wedding Style Gallery!