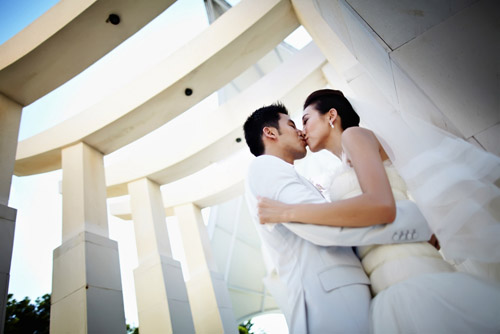 Bali destination weddings always make me want to pack my bags and head for the airport to join in the fun and sun! What a spectacular location for a destination wedding, and what a wonderful celebration we have to share with you today, courtesy of Tinydot Photography. Pink and gray wedding decor and the beauty of the Chinese and Balinese cultures, what a combination!

The Goals: Eva and Thomas were excited to host a destination wedding in Bali that was smaller and more intimate than the traditional 500 guest Hong Kong weddings they were used to. They wanted all of their guests to really get into traveling to such a beautiful location, so they incorporated lots of personal details, thoughtful surprises and bits of Balinese culture in their wedding details, even including a traditional balinese dance performance during the wedding reception.

The Design: The wedding day began with a beautiful traditional Chinese tea ceremony where Eva and Thomas served tea to their families and received blessings in return. After that they moved on to a Catholic wedding ceremony at the Ritual Chapel and then a beach-front reception at the Ayana Resort & Spa. The wedding was decorated with light pink and gray decor in a rustic chic theme, that transitioned into darker fuchsia and silver wedding colors as the evening progressed.
Eva and Thomas' custom wedding invitations by Whizzz Studio were meant to entice each guest to make the trip to Bali, so a lot of thought and care was put into their design. The letterpress invitations were decorated with the couple's silhouettes, and included a booklet listing all travel information, an itinerary for the 4-day trip, and recommendations for leisure and entertainment while in Bali.
Wedding favors of monogrammed white beach towels were given to each guest, and came in handy much earlier than expected with it rained at the very end of the night and guests used their plush new towels to dry themselves off!
The Look: Eva wore a modern ball gown wedding dress designed by Karl Lagerfeld along with 2 pairs of shoes, by Badgley Mischka and Manolo Blahnik, with jewelry by Universal Jewellery. Eva loved her "simple styled hair, clean neckline, and my beautiful vintage cut earrings."
The bridesmaids wore wonderful light pink dresses in a short but similar shape to Eva's wedding dress, and the groom and groomsmen wore pale gray suits and shirts with vests that were light enough to keep them cool in the tropical heat. Pink parasols completed the look, and added such a fun touch to the wedding photos!

The Moments: One of Eva's most memorable moments was during their wedding ceremony. "I loved when we said our vows at the beautiful chapel, in the bright sun, with the sea as backdrop." She also loved the speeches given by each her father and Thomas, their fun first dance and husband and wife to More Than A Woman by the Bee Gees (which they practiced for over 4 months!), and the amazing fireworks that went off immediately following it! So sweet!
The Pros: To learn about the whole team of wedding professionals that contributed to this wedding, please see Eva and Thomas' page in our real wedding library.

Thank you for sharing your wedding with us Eva and Thomas! It was stunning!
See more pink wedding color ideas in our photo gallery!
To plan your own Southern California or Seattle area wedding, browse our Plan Your Wedding Hotlists! And to find a dream wedding photographer for your wedding anywhere in the world, be sure to check out Junebug's World's Best Wedding Photographers Hotlist!