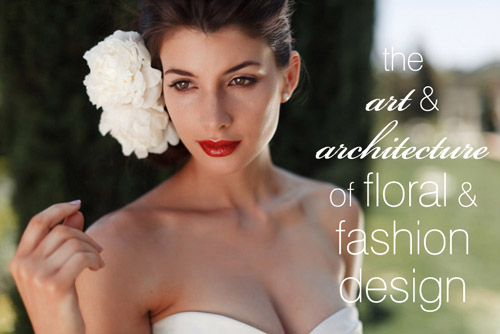 I'm sure you've noticed that here at Junebug we LOVE great fashion, and anytime we get to interact with it, write about it, photograph it or encourage others to have fun with it we're happy as clams. That means that today is a happy day as we are unveiling our brand new Fashion Report! Photographed last month at The Grand Del Mar in San Diego by Ray Soemarsono and Erwin Darmali of Apertura, our focus was exploring the art and architecture of floral and fashion design. With incredibly intricate floral-inspired wedding gowns from Monique Lhuillier, Vera Wang and Alina Pizzano Couture Bridal, the drop-dead gorgeous and endlessly creative floral designs of Eddie Zaratsian of tic tock Couture Florals and the hair and makeup magic of Erin Skipley, the results were stunning and we're so excited to get to finally share them with all of you!
Here are just a few of the images from the shoot – aren't those floral accessories amazing? We hope they'll inspire you to work with your floral designer to incorporate flowers into your wedding and wedding fashion in new and creative ways!
Be sure to jump over to our Fashion Report section to see the full feature (plus may others from the past 5 years), and stay tuned tomorrow for more about Eddie and tic tock Couture Florals' breathtaking work. Enjoy!