File this one under…couples to take a lesson from! Tannen and Peter planned for their wedding to be intimate, cozy, and meaningful for all of the people most important to them. But they also asked something of their guests in return – a commitment to witnessing their marriage, blessing their union, and playing a role in their lives moving forward. Combined with the crazy-sweet vows the couple wrote and the ceremony performed by Tannen's best friend, their wedding brought new meaning to significant moments!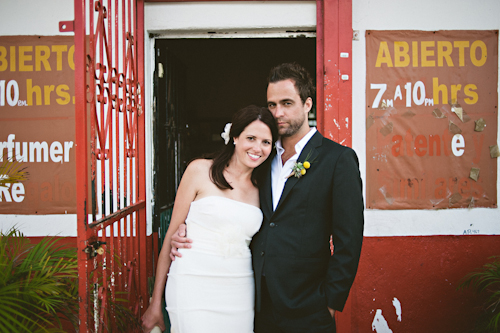 The Couple: Tannen and Peter
The Wedding: 1.14.12 – Casa Todo Bien – Punta Mita; Nayarit, Mexico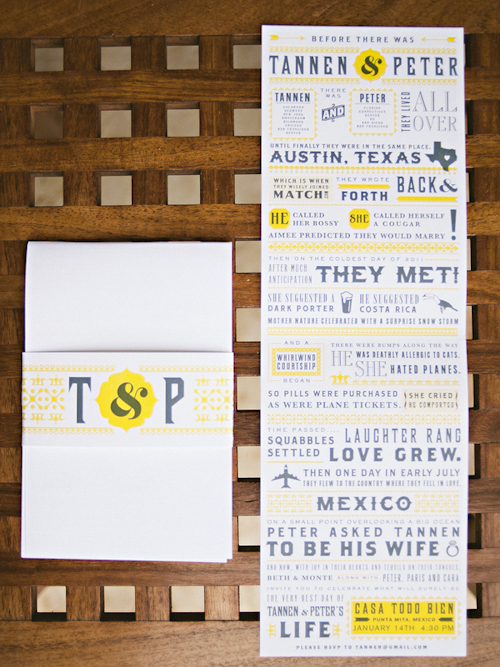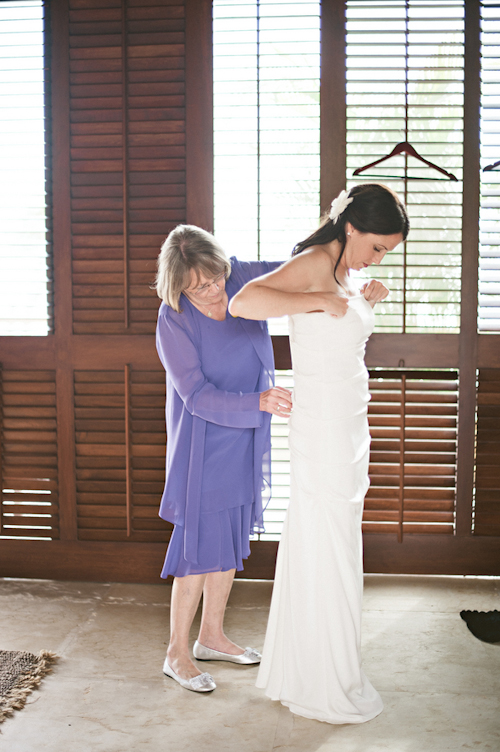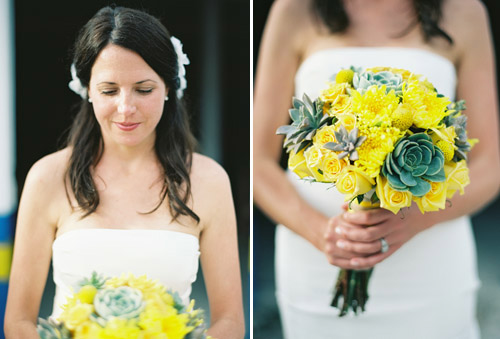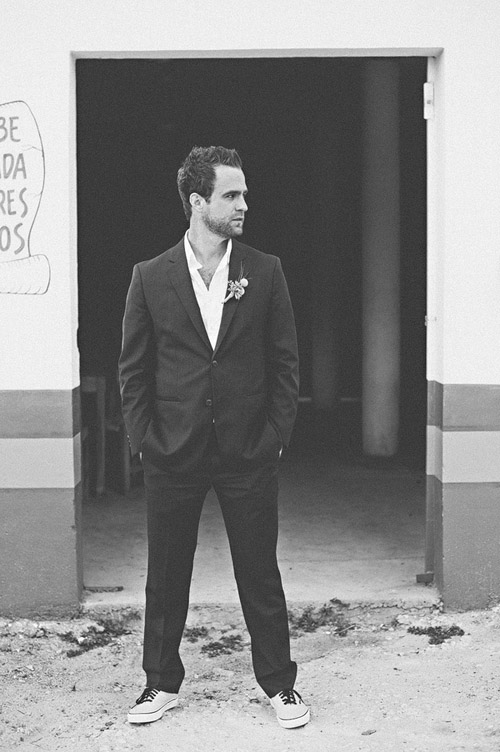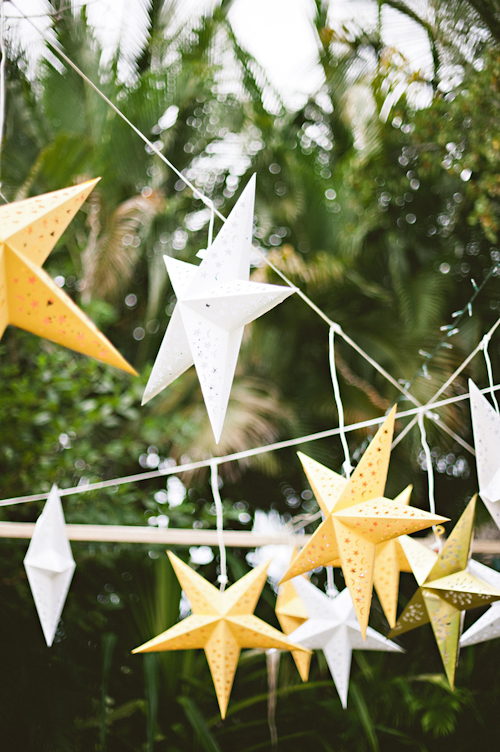 What three adjectives best describe your wedding? Intimate, laid-back, inclusive
What was your wedding color palette? Ethereal white and bright yellow with sage green accents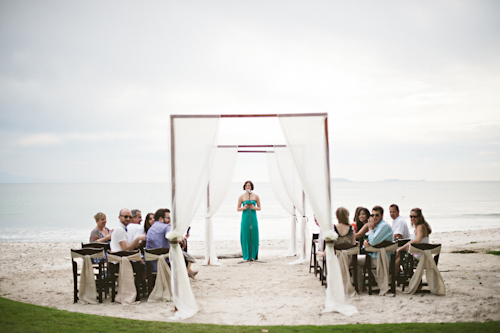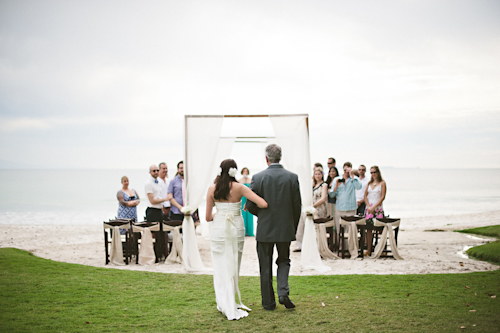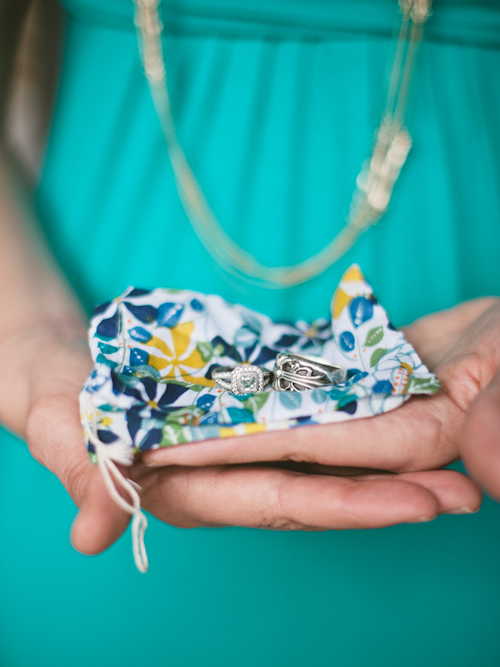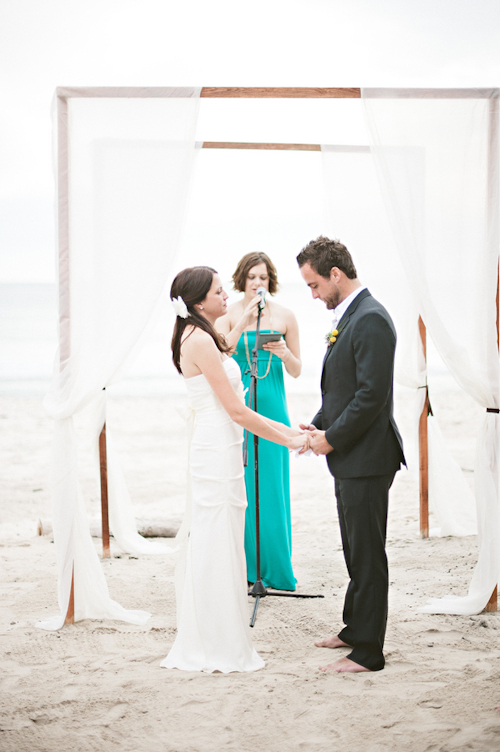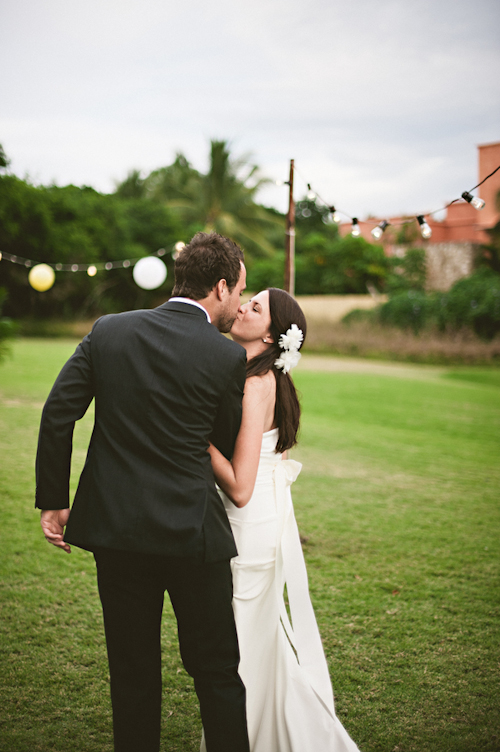 What inspired your personal wedding style, and how did you incorporate your style and personalities into your big day? Peter and I have different, but very compatible styles. I'm classic/modern (with a love of quirky details), hes sophisticated with a dose of rock and roll. But I think its our shared romantic nature that really came out in our wedding style. We wanted it to be bright and ethereal, almost dreamlike. Cheesy or not, it's how our relationship feels! Were also very spontaneous people. We wanted our wedding to feel impromptu, surprising and alive, the way you feel when you're on a stolen vacation.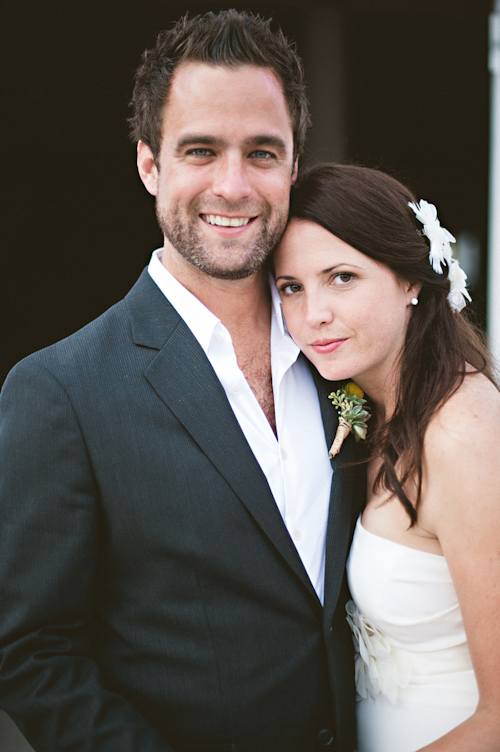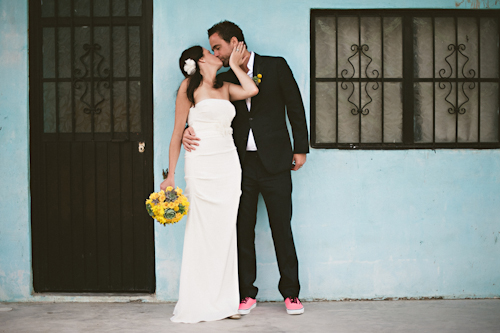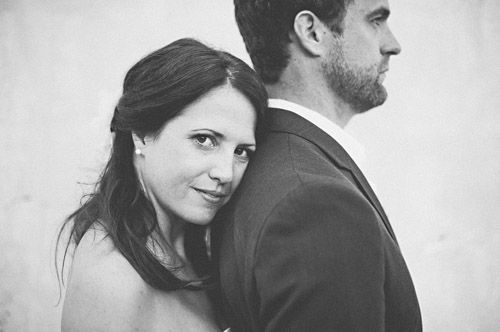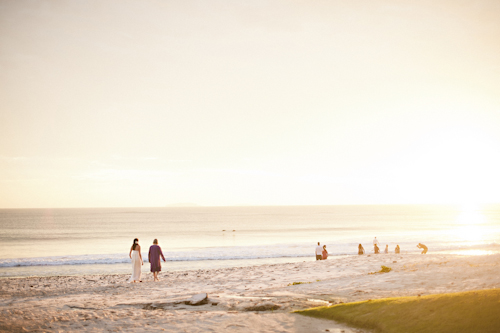 Looking back, what are the moments, decisions or memories that you love the most about your wedding? Like all the best things in life, its difficult to describe. But I think the best decision we made was to keep the wedding very small and inclusive. We believe it takes a village to make a marriage work, and we wanted our little village to celebrate (and commit) right along with us. We included them in our vows (we do!), we had them hold and bless our rings before we placed them on each others fingers, we invited them to light and release lanterns, and we got to spend quality time with each person over the long weekend we spent in Punta Mita.
Its cliche, but I can say with certainty that the greatest moment of my life was walking down that aisle on my dads arm, looking at all my most beloved friends and family beaming back at me, my best friend nervously waiting to officiate, and the love of my life squaring his shoulders as tears ran down his face. The love was truly palpable, like electricity in the air. I knew in that moment that all the waiting, all the heartbreak, all the tough stuff life can deliver was worth it.
Then there were the lanterns. Oh…the lanterns. One of the advantages of getting married in Mexico is that you don't get in trouble for lighting things on fire and sending them into the night sky. Each person had their own lantern or two to light. We gathered down at the beach and sent them flying out over the ocean. The effect was incredible, like our own little floating constellation.
When I first started planning the wedding I asked my married friends for advice, and they all said, get the right photographer, no matter what it costs. And boy, were they right. I could not have known that Jillian would become a dear friend (talk about icing on the proverbial wedding cake), but her photos captured that day, all the participants and all the emotions, perfectly. That electric love we felt, I can actually see in her photos. Ill never be able to thank her enough.
I also loved the unconventional nature of our wedding. The wedding was truly ours. My best friend, Aimee, was ordained (on a website where she also became a baroness), and she wrote an incredible, unique ceremony. Peter and I wrote our own vows (Me: Thank you for beating cancer. Thank you for bringing me water every night before bed even though I hate water. Him: Without you, I am nothing. With you, I am everything.). There was no first dance. In fact, the first person I danced with was my friend, Dan, who was fresh out of the ocean from an impromptu swim. At one point, I looked around the dinner table, teeming with conversation and laughter, and everyone looked truly happy, lost in the moment. I just remember thinking, this is what happiness is.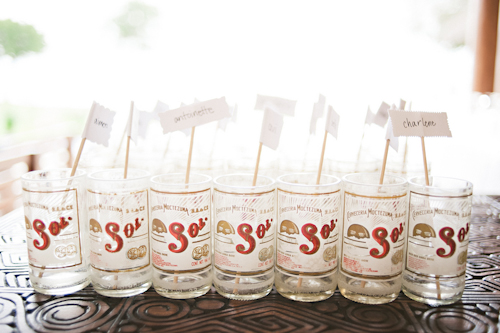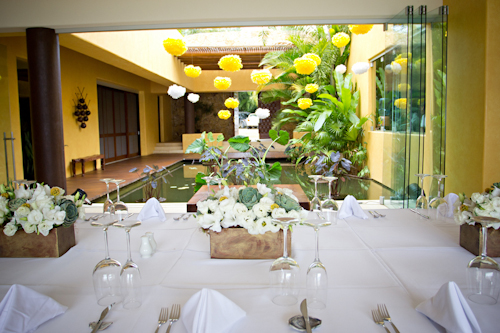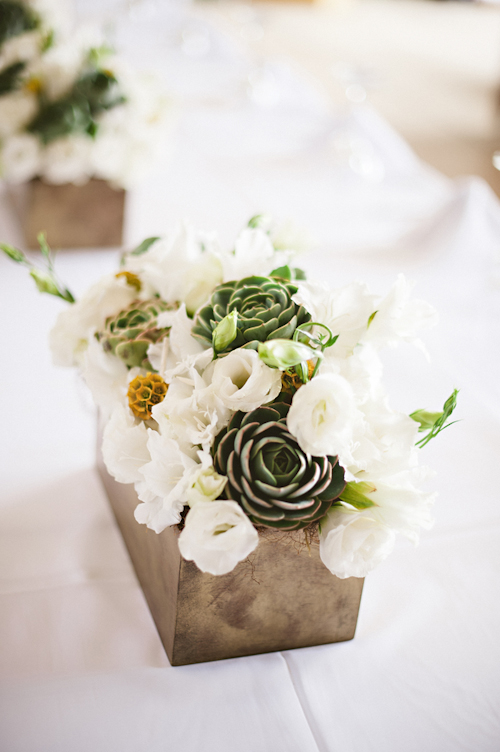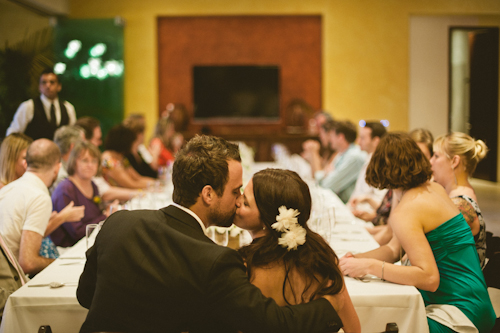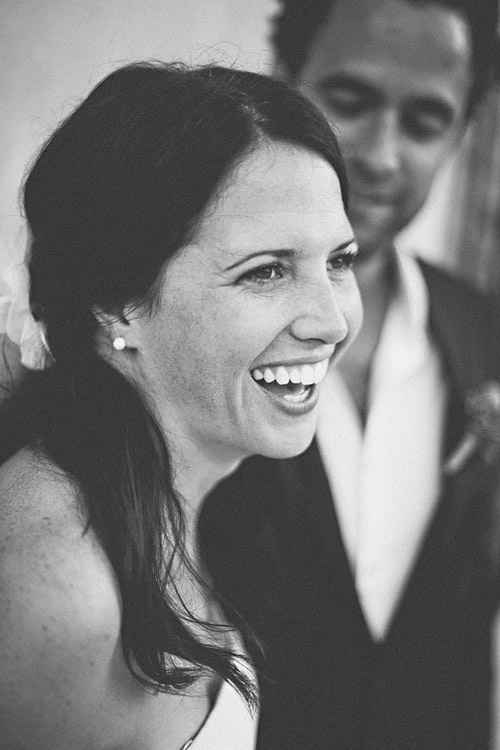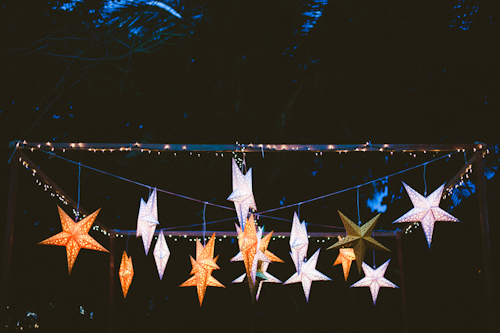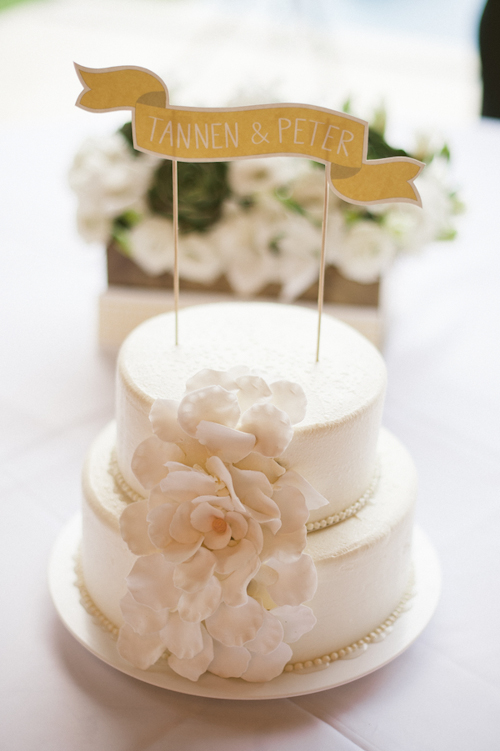 What piece of advice would you give to a bride planning her wedding today? Choose three things you really care about (mine were: the dress, the lighting and the music for the walk down the aisle) and delegate (read: try not to worry about) the rest.
My mother is a horticulturist, so she worked with our wedding planner on the flowers. Our good friend Jory has an incredible aesthetic, and helped pull together the look and feel the day of the wedding. We left the cake tasting to the wedding planner. And of course renting a mansion on the beach didn't hurt anything either – who can worry about silly details when the backdrop is so stunning? I always said (and truly meant) that as long as I had my dress, my guy, my friends and family, the day would be a success. I think our laid-back attitude in planning the wedding, led to the laid-back vibe AT the wedding.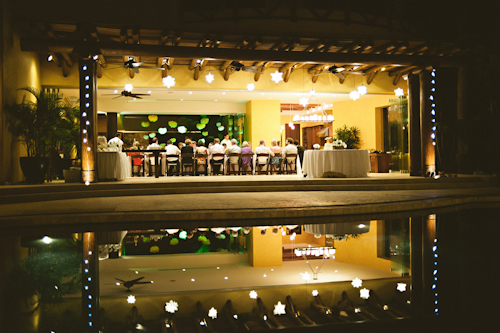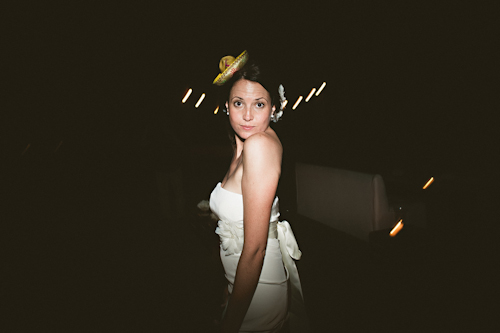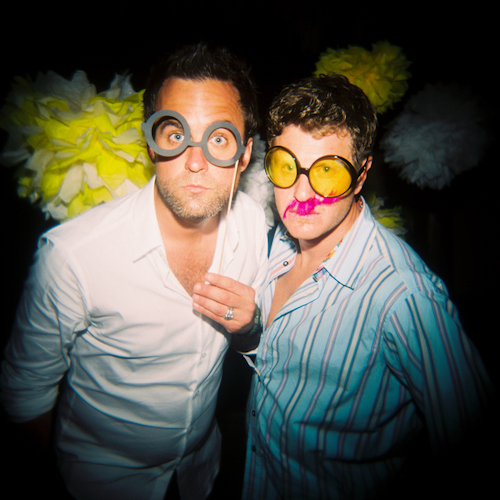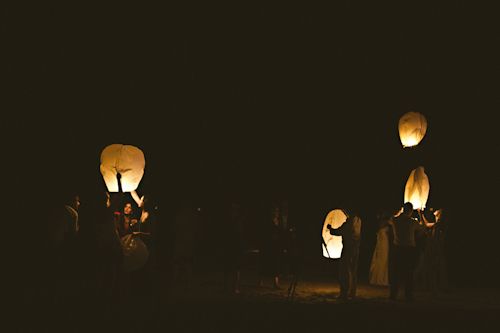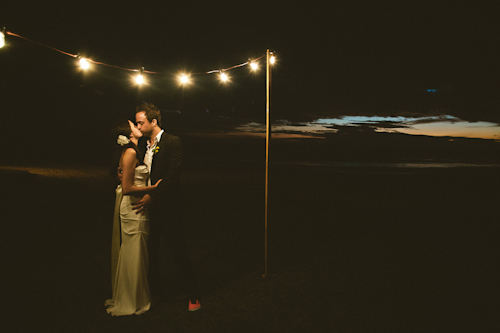 The Wedding Team:
Photographer: Jillian Mitchell Photography
Event Planner: Luz Ochoa at Sayulita Weddings & Events
Ceremony and Reception Venue: Casa Todo Bien
Officiant: Aimee Roberge
Invitation Designer: Aimee Roberge
Wedding dress: Nicole Miller
Bridal accessories: Kata Banko Couture
Live music: La Boquita World Music
Transportation: Diva Tours
Favors: Distressed Sol shot glasses from JM DryGoods
Rings: From Tannen – Mine was created by my friend, and fellow Austinite, Dean Frederick. The center stone was acquired by Peters brother, Avi, in Israel. Peters is from Chrome Hearts in Las Vegas.We had a blessing of the rings during the ceremony when we passed the rings from person to person and they held the rings and infused them with positive energy and good luck.
Thank you Tannen and Peter for sharing your beautiful, relaxed wedding day with us!