One of the most fun and creative things we get to do over here at Junebug is organizing and shooting our Fashion Reports. We get to work with amazingly talented people, and gorgeous, gorgeous, gorgeous dresses, accessories and models. Heaven! At the moment, our very own ultra-talented photographer and Image Editor, Kim Bamberg, is over in France taking our April '08 Fashion Report to the next level! With the help of makeup artist and hairstylist Erin Skipley of Bellatrix Studio, and her husband and photography partner Adam, she's photographing the dresses of Seattle based designer Madina Vadache on the streets of Paris and at Chateau St. Julien l'Ars outside Poitiers, France. She's been working hard and having a blast, and I just couldn't resist showing you all some of the photo's she's sent back to us.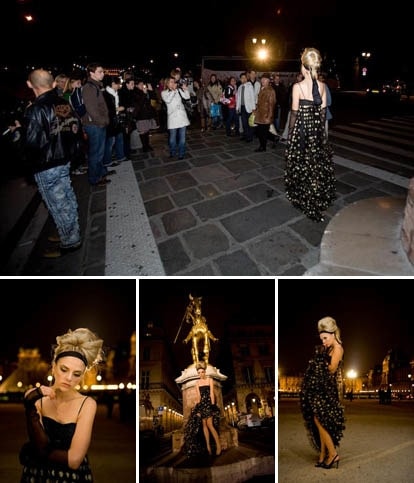 In the group of images above, you can see the two sides of what happened at a nighttime shoot they did outside in Paris. The top image is of the people walking by who crowded around to watch what was going on, and started taking pictures of their own like a group of paparazzi. I love that I can't even find the real photographer in the crowd! The bottom three images are, of course, what Kim was shooting in the midst of all those people.
In the group of images below, the whole gang moved on to the breathtaking Chateau St. Julien l'Ars. (Available for destination weddings! Check it out!) They've been shooting for days inside and out, all around the beautiful property. Amazing! It just doesn't get much prettier than that. I can't wait to see the final results!!!