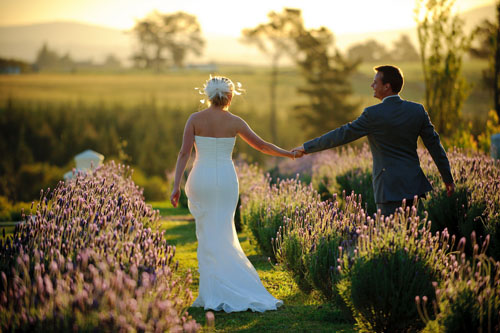 We are completely enchanted by this week's Real Wedding, photographed by Jean-Pierre Uys. The colors are fresh and bright, and the feeling is romantic and stylish, making for one amazing piece of wedding eye-candy. Read on for all of the gorgeous details from Rachel and Jeremy's big day!

The Goals: Rachel and Jeremy wanted to have an elegant, boutique-style wedding where each guest would have a unique experience. With the help of Wedding Concepts, a team of talented special event coordinators in South Africa, Rachel and Jeremy selected the Hawksmoor House for their wedding venue, a restored Dutch country retreat exquisitely decorated with carefully selected antiques.
Their intimate wedding ceremony, which incorporated both traditional elements and African customs, was held outside on the lush grounds, and included a performance by the Ubuntu Children's Choir – a unique addition we love! Their reception was held inside the lofty Hawksmoor House and had a beautiful rustic-chic style.

The Design: Rachel and Jeremy chose a wedding color palette of spring green and silver, to complement the fresh new growth of the season. Floral arrangements of white lilies and orchids were mixed with green accents and King Protea for a clean and elegant look.
During the reception, guests were seated at one long banquet table under a collection of white lantern-like lamps, and tall tapered white candles were placed around the venue for additional soft lighting. What a fabulous combination of simple, modern decor with this rustic-feeling venue – so stylish!

The Look: Rachel wore a lovely strapless gown with a sweetheart neckline from Welsh designer Benjamin Roberts, and accessorized her super fashionable look with a marabou shrug and feather hair fascinator. The bridesmaids wore matching gowns in green by Louise Roswald, and the groom was handsomely attired in a gray suit with an ivory and green tie by Gieves and Hawkes, all coordinating beautifully with the color palette of the wedding.

The Moments: Rachel fondly remembers how Jeremy held her hand throughout the entire ceremony, even lovingly brushing away a few tears from her cheeks. After the ceremony, the couple was able to catch a few private moments together strolling in the lavender gardens, before heading off to their reception where they shared their first dance to "Guantanamera", a song that always brings back fond memories of their first date. So sweet!

The Pros: To learn about all of the incredible wedding professionals who helped to make this wedding a reality, please visit our Real Weddings section.
Thank you so much for sharing your fabulously chic affair with us Rachel and Jeremy!
If you're planning a wedding in Southern California or Seattle, don't miss our trusted Plan Your Wedding Hotlist, and if you're looking for a spectacular wedding photographer, check out our World's Best Wedding Photographer's Hotlist!