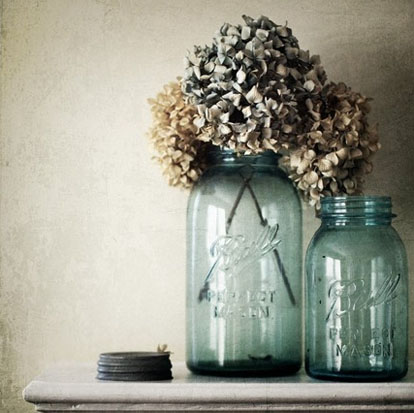 The minute I read the e-mail from Junebug reader Sara asking for advice about her rustic and elegant fall foodie wedding, I fell head over heels for the style she described! Sara and her fiance are getting married late this coming September in a garden ceremony, with a reception following in a converted Equestrian Barn. They both adore cooking and spend hours together at the Farmer's Market so they want to incorporate both the fall and food themes without creating a traditional "harvest" wedding. In Sara's words, she wants it to be "more classy than country." Her thought was to use navy blue and cream as a base to their color palette and to bring in the colors of fall in other ways, and I totally agree. Navy and cream will add instant glamour and sophistication to their rustic surroundings, and with the natural colors of the outdoors already around them, they can really focus on the local and seasonal foods they love so much to be the focus of their decor. Yum! Here are a few of my ideas for this fantastic wedding…

Top row: Sara's elegant strapless ivory satin and french lace overlay dress by Monique Lhuillier, Navy blue and white wedding cake by The Cake Girls, Cheese plate image by Matt Armendariz.
Second row: Vintage crystal chandeliers abundantly hanging over a long wooden dinner table make for a stunning centerpiece at the reception. It's rustic and elegant at the same time, making the all important 3 course dinner the focus of the celebration. Image by Thayer Allyson Gowdy via Oh How Charming, from the wedding of the lovely Elizabeth Messina.
Third row: Navy blue bridesmaid's dresses and navy blue flower headband from JCrew.com, Vintage locket necklace from Vintage Rehab on Etsy.com, and fabulous orange Enzo Angiolini peep toe pumps for a splash of fall color.
Fourth row: Fall fruits are gorgeous as decor and combine beautifully with flowers, as in this flower, feather and fruit bridal bouquet by Hollyflora, and this centerpiece by Garden Party Flowers, photographed by Stephanie Cristalli.
Fifth and Sixth rows: Local, organic and seasonal foods and wines are as beautiful to look at as they are to eat, so they can act as the main course as well as decoration. Sara and her fiance have recently started making jam, so they will give away mini jars of their home made goodness as wedding favors. All images by the genius Matt Armendariz of MattBites.com.
Bottom row: Sara has begun collecting vintage blue ball jars to use as votive candle holders and to match her blue color palette and food theme. You can find these lovely blue jars all over the internet as well as at thrift stores and estate sales. Here, here, here and here are a few resources I found, as well as this cool DIY project from the Bridal Buzz Blog to easily make your own! So cool! Photos by Ali Harper on Etsy.com and MarthaStewart.com.