Oh the colors in this backyard wedding simply make my day! That bright pink gets me every time. Rachel and Scott created their dream wedding in Scott's parent's Phoenix backyard and it's such a treat to get to see every last detail in these photos from Mike Olbinski Photography.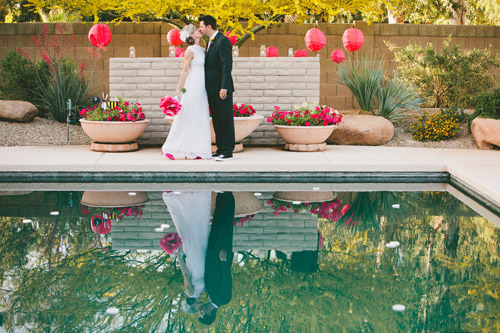 The Couple: Rachel and Scott
The Wedding: 4.28.12 – Phoenix, AZ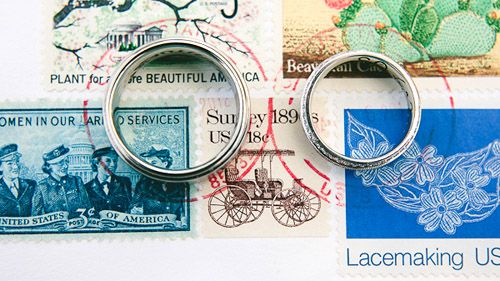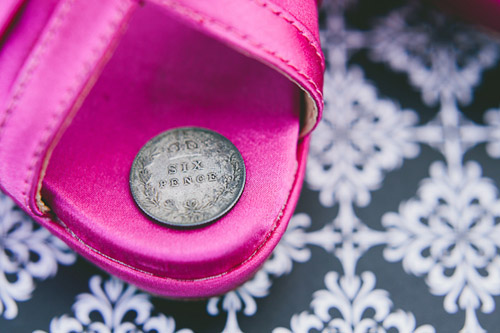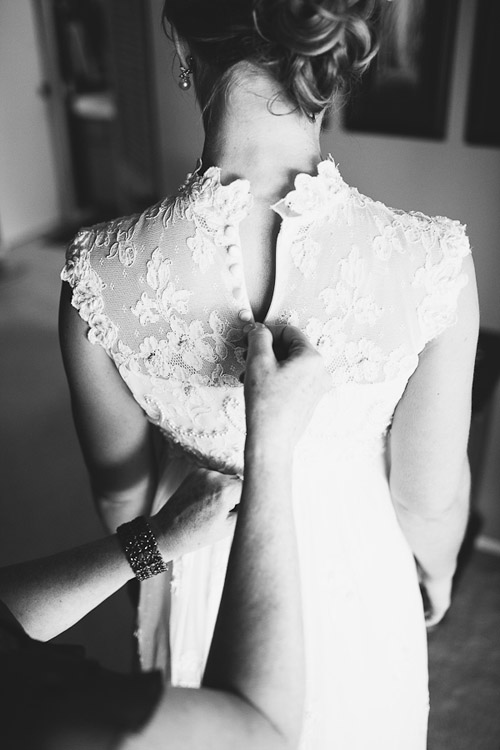 What three adjectives best describe your wedding day? Romantic, Vintage, Chic
Was there a decor theme that ran through your wedding? What was the inspiration for that particular idea and how did it reflect you as a couple? I guess you would call it rustic, french chic? I really wanted a vintage, antique feel. Growing up, I always dreamed of getting married in my parents backyard in rural southern Indiana, with acres of fields, barns, and trees. My family is big into antiques and I have always wanted to incorporate that feel into my wedding. From my vintage dress, to the vintage handmade doilies, to the mismatched glassware and vintage silverware, to the rustic wood finish of our tables and chairs… We even had the photos of our parents and grandparents on display. We are both very detailed people and it reflected down to the last detail of our wedding. We really wanted our wedding to be so personal and nontraditional, and something that people would remember for a long time.
On our guestbook and card table we incorporated our hobbies into the day as well, but in a vintage way. Scott is an airline pilot so we added a vintage style airplane, and Im into photography so we also were able to find some vintage cameras! We topped it off with a vintage suitcase I found on craigslist and a super awesome fully functioning vintage LC Smith typewriter that we used as our guestbook. Guests were able to write encouraging words of advice and well wishes… It was really fun to read all the comments later!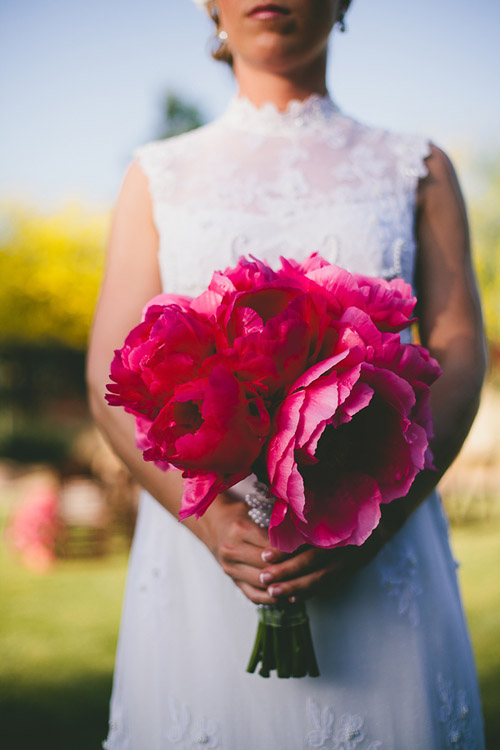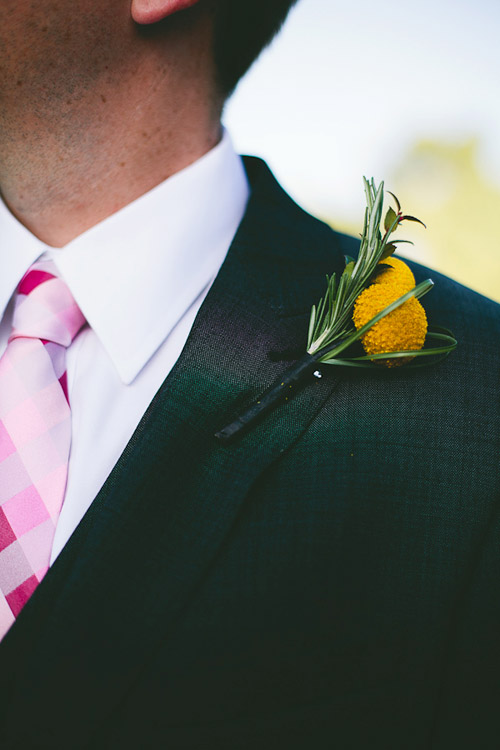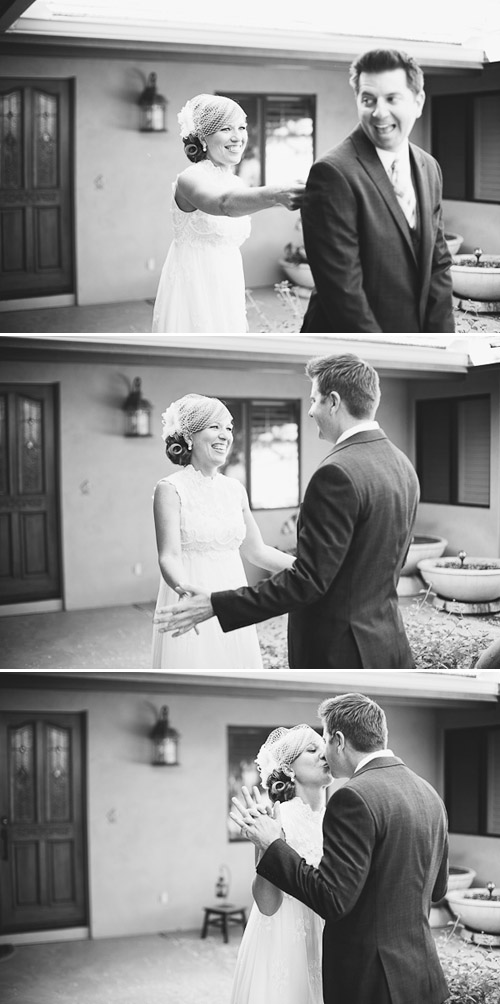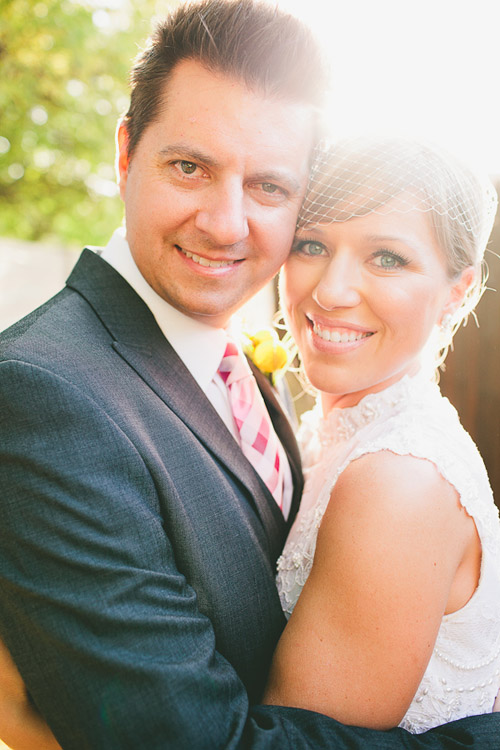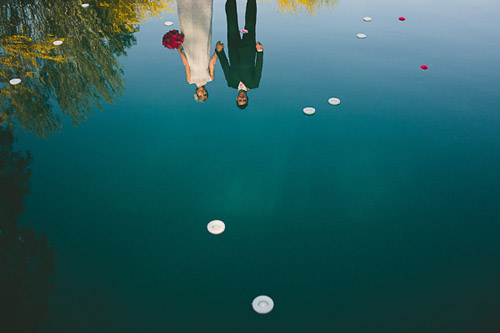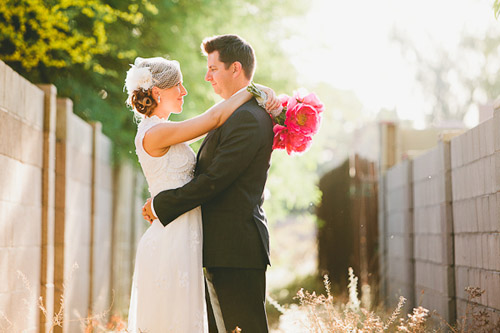 What were some of the different ways you used decor elements to create the beautiful, cohesive event you were envisioning? I knew I didnt want a typical wedding with rented table linens and glassware, etc. We spent almost a year scouring secondhand stores, antique stores, and collecting items from family and friends to create our eclectic look. I really wanted a vintage lace dress that was anything but strapless, but was having trouble finding one, until one day I saw a post on a wedding blog for a vintage dress store. The dress I bought was one they featured, and I knew every girl in the country had seen that dress that day. It was exactly what I was looking for. The measurements were just right and I made the online order. So, I never went to one bridal store and tried on dresses. This was the only dress I tried on and I knew it was mine right away!
I also wanted our family and attendants to have a similar look but not exactly matching. Everyone was instructed to wear suits and dresses in a dark gray color. I even had the guys mismatch their ties, but kept the fuschia color and a vintage feel with plaid and other patterns.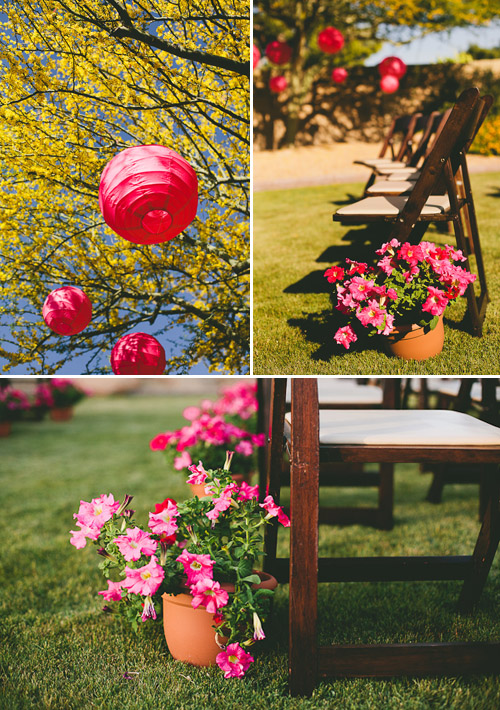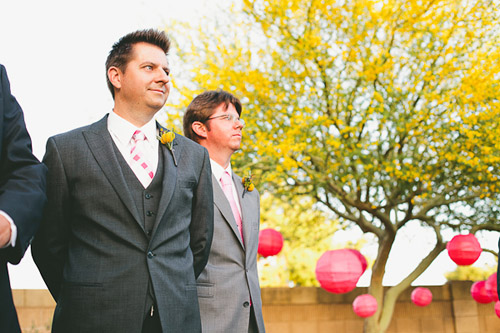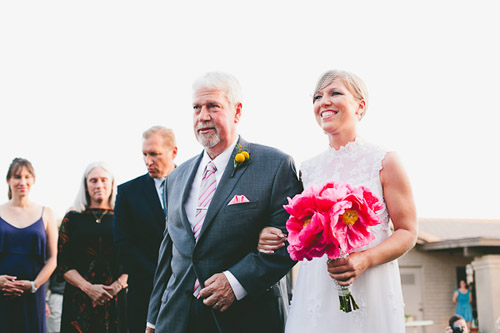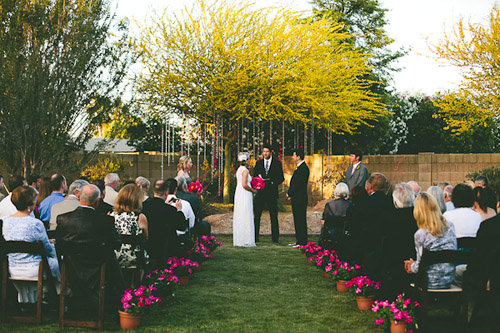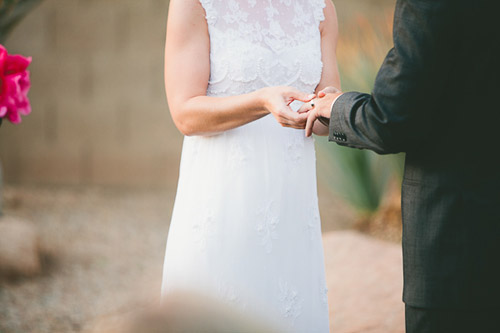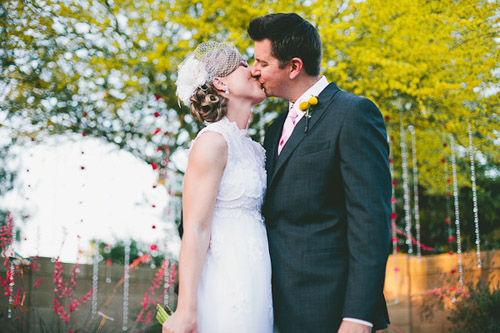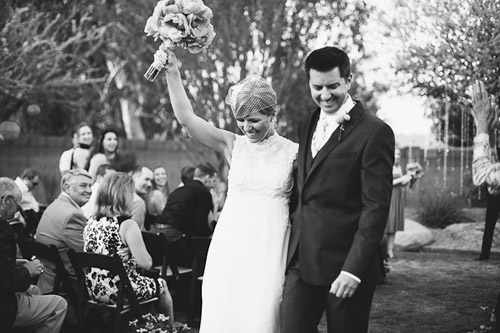 Our big splurges were our vintage mismatched silverware and our rustic wooden tables. I knew I wanted that vintage feel and this was the only way I knew to achieve it. I didnt want plain banquet tables with the same old tablecloths. I allowed the finish of the chunky wood tables to shine through and only used runners made of all sizes of doilies. We finished the decor with mismatched vintage style bottles used for flower vases, and mismatched mercury glass candle holders. To add to our backyard rustic feel, we strung cafe lights over the dining area and lit paper lanterns throughout the backyard. We also had floating candles in the pool. After the sun went down, this lighting really added to the intimate backyard feel we were going for!
We also wanted something non-traditional for our cake. Id searched high and low for actual pies that tasted and looked homemade, without putting my family through the trouble of actually baking pies for our wedding day. We instead opted for our caterers signature french cuisine and went with a variety of tartes on vintage style glass cake stands of varying heights. It worked perfectly!
To top off our vintage feel, we even designed and made our own save the dates. We used doilies that we cut up and sewed on to stained hang tags, and tied on little antique brass planes with jute string, since Scott is an airline pilot.
To add to our vintage paper products, we used the amazingly talented Gina at Little Owl Letterpress to custom design our invitation suites to match our wedding decor, highlighting our crystal bead garlands theme. It was so perfect and we got so many comments on the quality of our invitations. It really set the stage for what our guests were going to expect at our wedding! We finished them off with vintage stamps, a lot from relative who is a stamp collector, and then we complimented those with pertinent stamps like cactus, cowboys, desert flowers, lace, and even an old carriage stamp with the name Surrey on it, the street address of our wedding!
Also, being from Indiana, our state flower is the Peony and growing up we had bushes of peonies growing in my familys yard. They are so beautiful, elegant, vintage looking, and fragrant. I knew I wanted to incorporate peonies into my wedding. Just another way to bring a little piece of home into our wedding.
Oh – and we wanted something for guests to snack on during the cocktail reception without going overboard on passed appetizers. We shipped in some famous Tell City Pretzels from my hometown, in a variety of flavors, and even displayed them in the vintage tins they came in. Delish!! It really added to our hometown feel and I got to bring a little bit of my home to our wedding.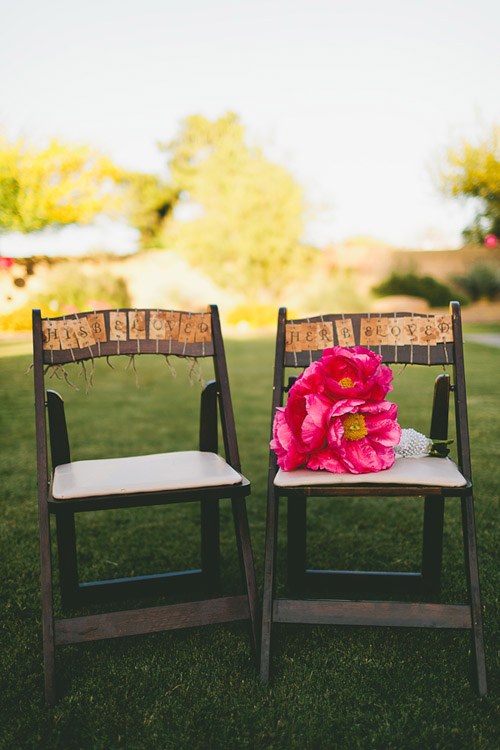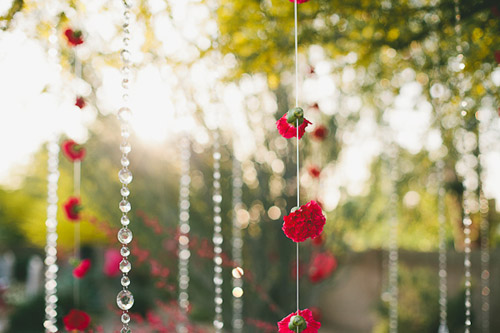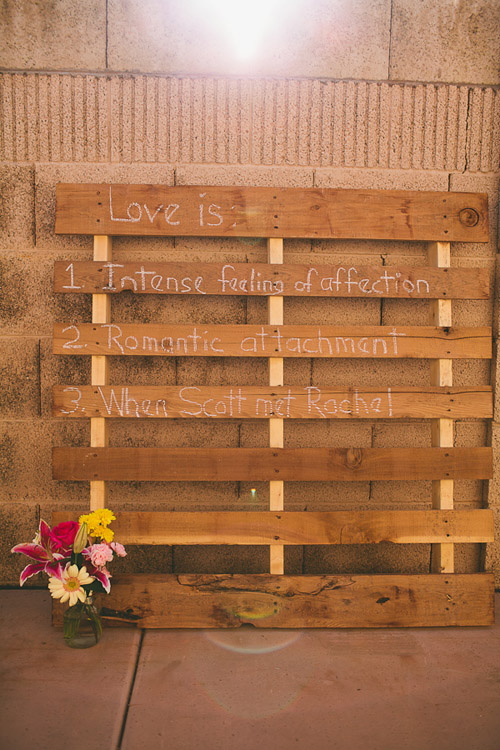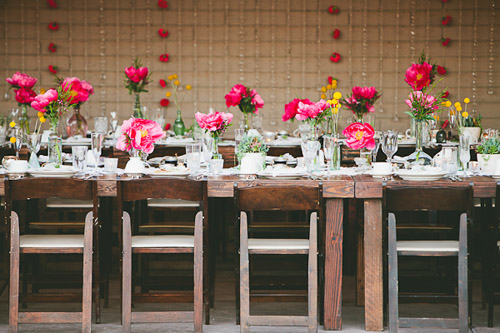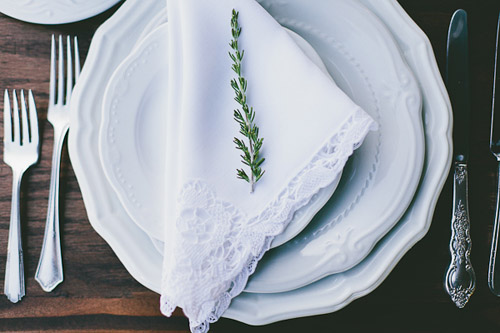 Where did you choose to hold your wedding, and how did the location influence your decor decisions? Well it wasnt feasible for my childhood dream of a backyard wedding on our farm since most of our guests were in Phoenix, so we did the next best thing and used my husbands parent's spacious backyard. Large backyards are hard to come by in Phoenix, and we really wanted the privacy their backyard afforded. The other benefit was being able to use our own vendors and mix and serve our own drinks, which were our signature red and white sangrias! We still hear from guests who say this was the most lovely, intimate, and personal wedding they have ever attended. From the decor, food, location, and everything else, it left the memorable impression we were going for. It was so fun!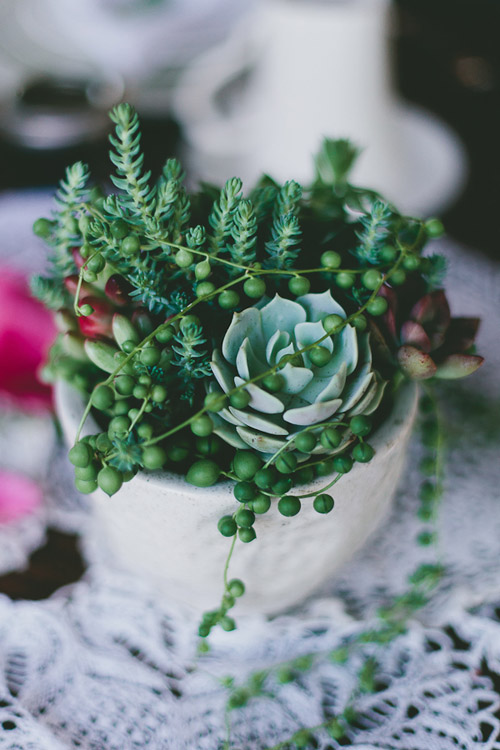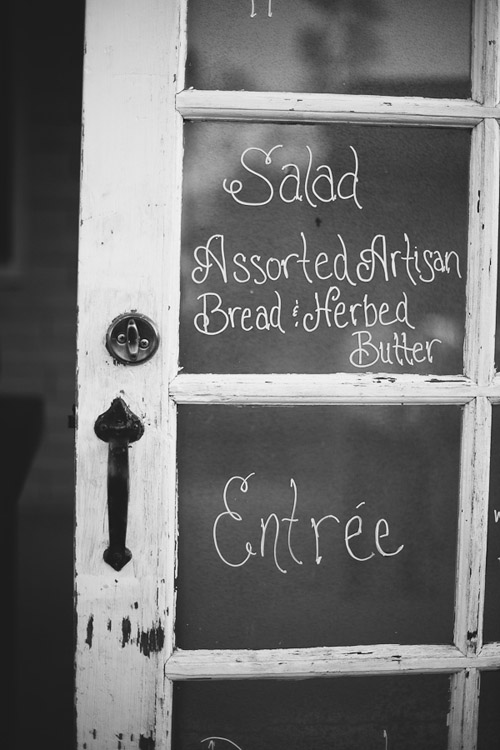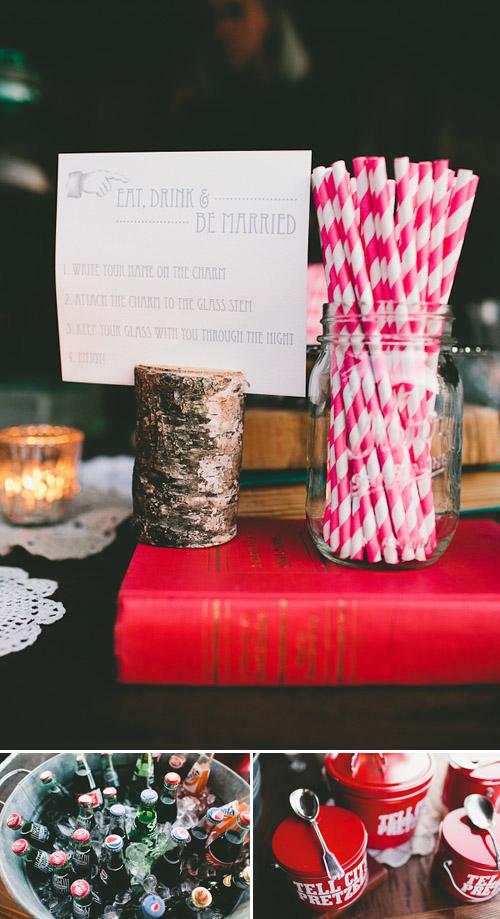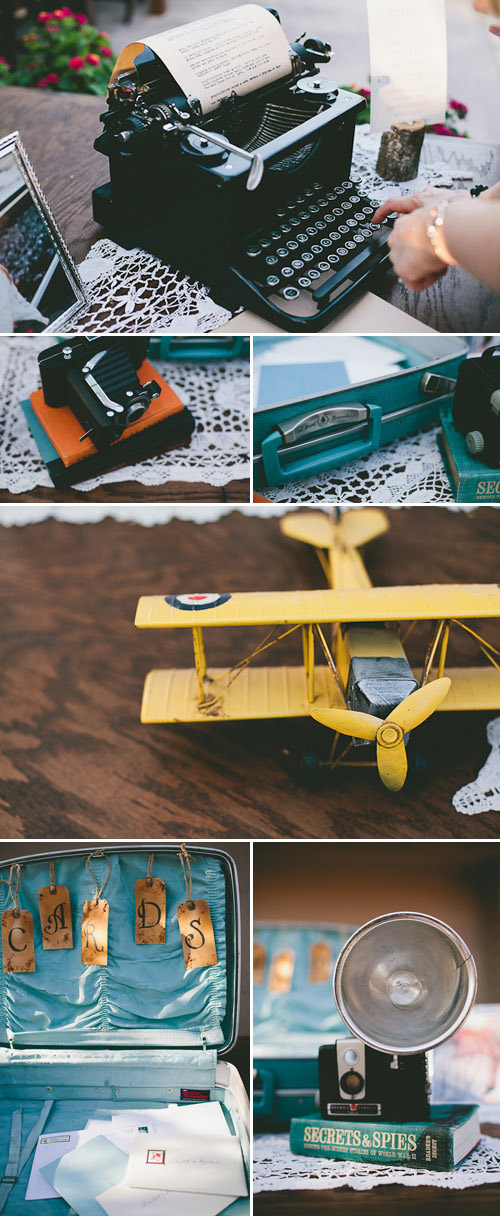 Looking back, do you have a favorite project or successful decor idea from your wedding? Tell us what you loved about it! There really isnt one thing. But I had an idea, or several ideas, and to see it all come to fruition on our wedding day, was jaw dropping, literally. To have our friends and family help decorate everything the day before the wedding was priceless. We could never have done it all ourselves. One thing Im most proud of, one would have to be the crystal bead garlands and carnation garlands hanging from the tree behind our ceremony space and behind our dining area. My mom and maid of honor rocked them out and our florist finished them off with the carnations. It was just so magical to see it in real life after I had envisioned it in my head for so long. The other thing I am proud of was our tablescapes. I knew what look I wanted to achieve with the vintage glass, silver, doilies, lace napkins and mismatched plates and bottles for vases. It was just breathtaking to see it all completed and finally come together.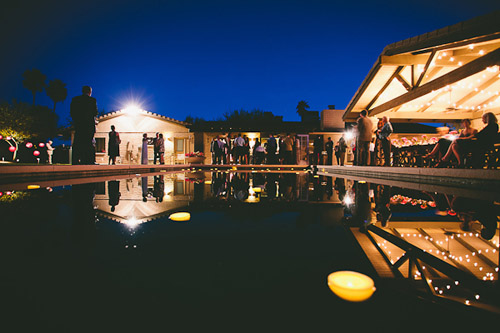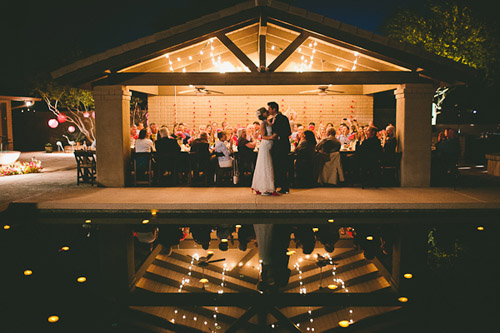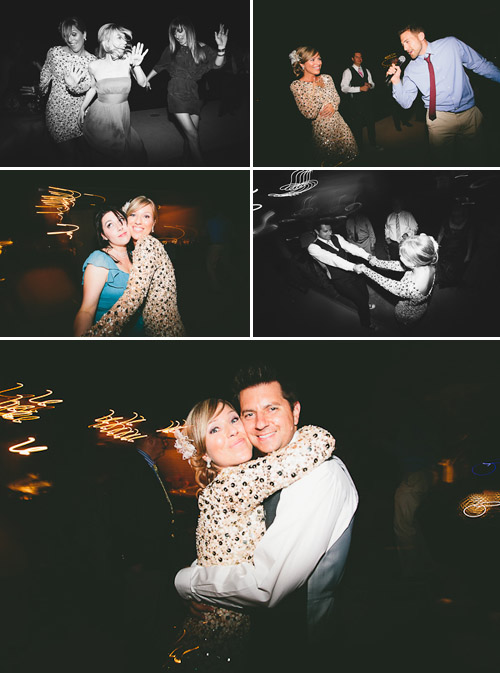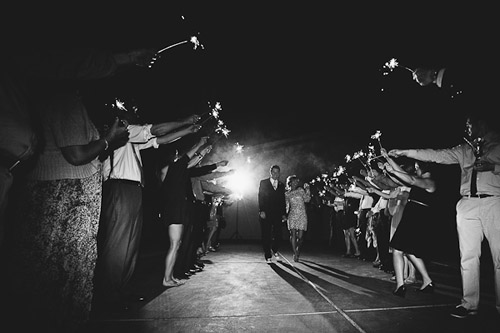 The Wedding Team:
Photographer: Mike Olbinski Photography
Ceremony & Reception Venue: Grooms parents backyard
Officiant: Paster Jason Fritz from Highlands Church
Invitation Designer: LittleOwl Letterpress
Vintage Stamps: Verde Studio
Catering: Rendezvous Catering
Florist: Liz Mareno
Cake: Variety of tartes by Rendezvous Catering
Wedding Dress: Mill Crest Vintage
Wedding Dress Redesign & Alterations – Janet Kirkman
Reception Dress – Aidan Mattox
Bridal Accessories: Shoes – Hey Lady Shoes, Veil – Unveiled Bridal Designs, Garter – JLWeddings, Earrings – Majorica
Bridesmaids apparel and accessories: Dress – Jcrew, Robes to get ready – Plum Pretty Sugar
Hair and make-up: Ohana Spa & Salon
DJ: Teffanie Brasch
Favors: Homemade grape jelly by the brides parents, donations to Food for the Hungry for construction on a maternity ward in Uganda
Rentals: Classic Party Rentals
Rings: Bride – Schmitt Jewelers (custom), Groom – Stuller
Vintage Soda Bottles: Francess Meeks
Pretzels: Tell City Pretzels
Thank you so much Rachel and Scott for sharing your adorable backyard vintage wedding!