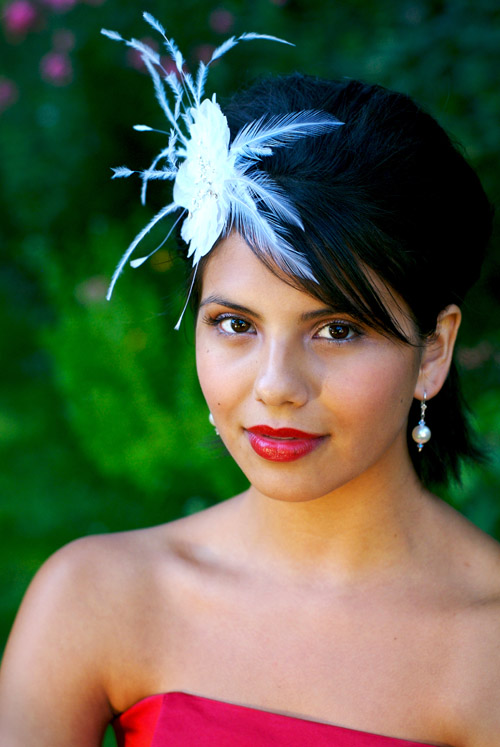 Every woman wants to look her best on her wedding day, and choosing great makeup can be a hugely helpful part of that. One of our amazingly talented Junebug members, Margaret Dybash of Poppy Artistry, is a pro at making brides look bright, beautiful, glowing and like the very best versions of themselves. Having worked with Margaret on many photo shoots in the past (like the Candy Coated Color Fashion Report shown above) we have witnessed her stunning looks and wealth of beauty knowledge firsthand, and today we asked her for a little expert insider information on the best beauty products out there. Check out her favorite makeup picks for your big day below!

From makeup pro Margaret Dybash:
For the Face: I love Stila's One Step Foundation. It primes, color-neutralizes, and sets itself – no need for powder! It wears for about eight hours, so it will take you from pre-ceremony photographs to the dance floor without needing a touch up. All this, while still feeling as light as air. It is truly a miracle product!
For Cheeks: For a powder blush, I would choose Nars' Orgasm. There is a reason it's famous! For a cream blush option, I love Stila's Convertible Color. Covertible Color is also a great honeymoon product because it travels well. I take it with me wherever I go.
For the Eyes: Smashbox Bionic Mascara is amazing. The brush separates and coats the lashes with the perfect amount of mascara. Not too much, not too little. It is also water resistant for teary moments, but not dry and flakey like some waterproof mascara can be. For eyeshadows that stay put, I love Stila. There are tons of colors to choose from and they can be applied wet or dry. A wet application makes the colors more intense, prevents messy sprinkling, and allows the shadow to stay on all day and all night, without the use of a lid primer. If you want to add a little extra "oomph" to your eyes, individual flash eyelashes are fantastic. Using individual lashes allows you to add a little at a time until you are satisfied with the effect.
For the Lips: I love a bold color on the lips, but many brides prefer a more natural look. Either way, try Nars' Velvet Matte Lip Pencil or Stila's Long Wear Lip Color. Both these options last through many kisses, smiles and sips of champagne. Both options also offer an array of colors from the nudest nude to a deep berry. For added shine, layer with Stila Lip Glaze or Smashbox Lip Enhancing Gloss in a coordinating color.
For Nails: You can't get more classic than OPI Red, and it's really pretty on a short nail. If color isn't your style, choose a soft pink or nude and save the pop of color for your toes. Try Otherwise Engaged, Samoan Sand or Bubble Bath by OPI.
Other Must-Haves: Brides with normal to oily skin should have blotting papers on hand to help with mid-day shine. Also, if you are wearing flash eyelashes, especially if you a choose a full fan, have a tube of lash glue and tweezers handy. Last but certainly not least, a definite must-have is friends who will tell you the truth! Lipstick on your teeth or a floppy false eyelash is no laughing matter when you're standing in front of 150 people.
Product Information from the image above:
Top Row: Stila One Step Makeup Foundation, Nars Orgasm Illuminator, Smashbox Bionic Mascara from Beauty.com
Second Row: Stila Convertible Color Cream Blush from Beauty.com
Third Row: Nars Orgasm Powder Blush from Beauty.com, Nars Super Orgasm Powder Blush from Sephora.com
Fourth Row: Stila Eye Shadow Trio from Stila.com
Fifth Row: False Eyelashes from Shu Uemura from Beauty.com, Stila Eye Shadow Trio from Stila.com
Sixth Row: Smashbox Lip Enhancing Gloss, Nars Matte Velvet Lip Pencil from Beauty.com
Last Row: OPI Nail Polish in Samoan Sand from Opi.com, Boscia Rose Blotting Linens from Beauty.com, OPI Nail Polish in Bubblebath from Opi.com