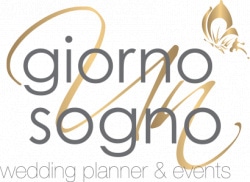 Best Wedding Planners in Northern Italy
Un Giorno Un Sogno Weddings & Events by Daniela Ferrara
6 REVIEWS
About
MEMBER SINCE 2021
The "Un Giorno Un Sogno" agency was founded in 2009 by Daniela Ferrara. Born in Turin and a great connoisseur of her land, in love with travel, beautiful and good things, she began her career in the mid-nineties dealing with corporate events. She later specialized in the organization of weddings and attended various courses, such as those of the Association of Bridal Consultants (ABC), one of the most important wedding planner associations in the American continent. She then obtained the certification of Professional Wedding Planner.
Today "Un Giorno Un Sogno" is made up of a staff of professionals from different areas of the wedding sector who collaborate in synergy for the organization of weddings and personalized events, in Italy and abroad. The agency specializes in outdoor and American weddings.
Enjoy your wedding: we'll take care of the rest!
Experience and sensitivity, precision and romance, reliability and imagination. "Un Giorno Un Sogno" creates the perfect ceremony with you because we listen to your needs, follow your style and enhance your personality. The result is a flawless and original wedding that will be remembered for a long time by your guests.
Fundamental to the success of each project is the respect of the available budget and the organization of the times.
All you have to do is enjoy your special day!
Why couples love Un Giorno Un Sogno Weddings & Events by Daniela Ferrara
Madison M.
Tuscany
Reviewed on Jul 15, 2022
Thank you again for such an amazing wedding. We really couldn't have done it without you. You and your team made this so simple for us, you kept us on track, and helped us so much with planning and execution. I cannot express my gratitude for your ab...&nbsp &nbsp Read More
Cristina B.
Torino, Piedmont, Italy
Reviewed on Nov 08, 2021
The experience was also made unique by the uniqueness of our wedding planner, who was able to intercept nervousness, provide assistance, recommend services and elements that made our event unforgettable. If you want a person who really accompanies yo...&nbsp &nbsp Read More
Lauryn I.
Torre Valgorrera, piedmont, Italy
Reviewed on Oct 27, 2021
Our wedding was celebrated in July 2017 and for us relying on "Un Giorno Un Sogno" with Daniela and Chantal was absolutely a winning choice, because we had very few and confused ideas and also for me to manage everything from abroad was absolutel...&nbsp &nbsp Read More
Eleonora
Monte Oliveto di Casà
Reviewed on Oct 26, 2021
Thank you wonderful woman! Unforgettable wedding! Thanks all go to Daniela and her staff with their calm, with their good taste they have been able to create a perfect wedding and have left everyone speechless, thank you!
Elena
VILLA BRIA
Reviewed on Oct 26, 2021
I can say that everything went as we dreamed of thanks to Daniela's, extreme professionalism, her attention to detail and her humanity. She arrives where we betrothed cannot and ... beyond!
&nbsp + See More Reviews
Request Information
Thank you for your submission. We will be in touch soon!
X

Email Sent.