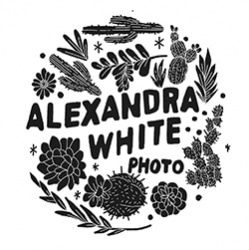 Best Wedding Photographers in Austin, Texas
Alexandra White Photo
9 REVIEWS
About
MEMBER SINCE 2021
First, I firmly believe that Black Lives Matter and that love is for everyone. It's not politics; it's human rights.
Hi! I'm Alexandra (my friends call me Xan), and sometimes my hair changes colors. (Right now, it's as white-blonde as hair can be.) Although I live in Austin, Texas, my heart will always be in my hometown of Houston. I have a BFA in photography and MA in mass communications/digital media from Texas State University and decided to stick around in Austin.
When I'm not shooting weddings, I spend most of my time hanging out with my pit mix Velvet, going running or walking when it's not 10 million degrees outside, doing tiny DIY projects around my house, and riding my bike around Austin. I love talking about all things wedding.
I have been photographing weddings professionally since 2015. I am happily serving Austin, Texas, and always available for travel. No really, I love to travel. If it's in the states, I'll make an entire road trip out of photographing your wedding. Let's get to know each other!
Why couples love Alexandra White Photo
Laura H.
Round Rock
Reviewed on Aug 04, 2022
Alexandra was absolutely phenomenal! My husband and I are quite awkward in front of a camera and somehow she was able to capture some stunning images of us while also helping us to feel comfortable while shooting. She captured our wedding day and our...&nbsp &nbsp Read More
Andie H.
Hummingbird House
Reviewed on May 22, 2022
Alexandra was phenomenal. She was very detail oriented and indulged all our weird whims. At one point on the day of, I made eye contact with her and put my husband's hand in my mouth, and she immediately understood and took a hilarious picture. She r...&nbsp &nbsp Read More
Taylor E.
Springdale Station
Reviewed on Apr 25, 2022
Our wedding landed on February 4th, 2022 which unfortunately, Austin got hit really hard with some crazy winter weather / freezing conditions the week leading up to the big day. Alexandra was very responsive that entire week, and came through on the ...&nbsp &nbsp Read More
Emily F.
Austin, Texas
Reviewed on Apr 08, 2022
Alexandra was simply the best! She was great to work with and understood exactly what vibe we were going for with our wedding photos. On the day of our wedding she went above and beyond and was even able to tame our big, goofy pup into taking some gr...&nbsp &nbsp Read More
Adriana L.
Lubbock, TX
Reviewed on Mar 15, 2022
Alexandra did our grad school and engagement pictures. She made us feel comfortable the entire way through. It was like having a family member there with us to document those precious milestones. When she delivered our galleries, we were stunned with...&nbsp &nbsp Read More
&nbsp + See More Reviews
Request Information
Thank you for your submission. We will be in touch soon!
X

Email Sent.