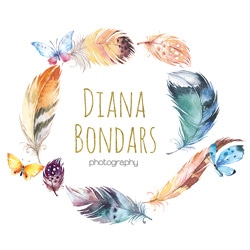 Best Wedding Photographers in Northern Italy and France
Diana Bondars Photography
5 REVIEWS
About
MEMBER SINCE 2020
Hi! I'm Diana and I'm YOUR photographer. I adore what I do, the fire burns in me and I try to "infect" my newlyweds with this fire! I consider the expression "what you give to this world is what you get," that's why I'm convinced that my people come to me!
In 100% of cases, our views with the guys on wedding photography are the same, fate sends me only cool, cheerful, easy-going people, with whom you can laugh and cry and make serious "frame" photos for grandparents!
I understand the full value of wedding photography and I try to make sure that after a while reviewing your wedding photos you "hear" the voices of your parents, friends and relatives.
I enjoy travelling and I'm AVAILABLE WORLDWIDE. My work has allowed me to shoot happy couples in Lithuania, Latvia, Estonia, Poland, the Czech Republic, Italy, France, Belgium, Spain, Montenegro and I am always glad to go to the place where you imagine your perfect wedding day!
I constantly try to improve and develop, so I constantly go to different workshops and I'm award winning photographer FEARLESS PHOTOGRAPHERS, RBWPA'17 and RBWPA'18.
If you're looking for the most inexpensive photographer or lots of stiff posing, we may not be the best fit. If you're willing to try something new, laugh with your partner, create genuine art, and are looking for someone to invest their heart in soul into capturing your love then I promise we will create real magic!
Why couples love Diana Bondars Photography
Melanie P.
Lake Como, Italy
Reviewed on Oct 18, 2021
My husband and I hired Diana to photograph our elopement in Italy. Since we wouldn't have guests, it was so important that the photographs we would share with family and friends captured the emotion and beauty of the day. I knew I wanted a photogra...&nbsp &nbsp Read More
Nikki M.
Tuscany, Italy
Reviewed on Sep 26, 2020
Diana is an exceptional photographer with the perfect combination of talent, creativity and genuine kindness. Not only did she capture all the best moments of our wedding beautifully, she's also become great friends with us and our friends along th...&nbsp &nbsp Read More
Anna Paola A.
Catanzaro
Reviewed on Sep 22, 2020
When i thought about my wedding photoshoot I imagined something original and realistic at the same time. Me and my husband, in general, aren't keen in shoot or poses so we were worried about it. Diana was our solution!! She is very professional, se...&nbsp &nbsp Read More
Galina
Villa Catignano
Reviewed on Sep 07, 2020
We couldn't be more happy what we have the best photographer in our wedding. It's was best decision we made! She so talented! Every picture is so special and emotional. Every picture keeps all our and our guests emotions. It's so important...&nbsp &nbsp Read More
Anna F.
Cannes, France
Reviewed on Sep 07, 2020
I am so glad that I chose Diana to be a photographer at our wedding. She is so talented and so passionate about her job! The quality of the photos is at the highest level. My goal was to have nontrivial wedding pictures that differ from all other wed...&nbsp &nbsp Read More
Request Information
Thank you for your submission. We will be in touch soon!
X

Email Sent.