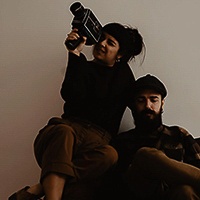 Best Wedding Photographers in Central Italy
In Bianco e Nero - Unconventional Wedding Photographers
41 REVIEWS
About
MEMBER SINCE 2019
Hey there! We are Federica and Emanuele, unconventional destination wedding and elopement photographers.
"Rather than two photographers, you will find two people who love traveling and meeting couples around the globe to tell their stories"
We are couple, both in work and in life, based on the gentle hills of Tuscany, not far from Rome, our home. We met each other halfway around the world and when we came back to Italy we have been lucky enough to capture the most beautiful moments of couples in places of enchanting beauty from Tuscany to Puglia and Sicily and beyond.
Despite never having studied Photography, we've always had a strong fascination with people, the true connection between them and the unique spirit of their love stories.
Hence, our Wedding Photography is all about true emotions and beauty between two lives on their journey in becoming one. Complicity and empathy have always been fundamental aspects of the success of our relationship as well as our work. We believe the skill of a great wedding photographer comes of course from camera craft, but especially from the ability to read people's emotions and really feel the moments that are occurring. It's this philosophy that inspires our unconventional story-telling approach.
Our Approach to Wedding Photography
We started photographing alternative elopements and non traditional small weddings in Italy and around Europe, driven by passion and a pinch of madness, using an old camera from 1965 bought at vintage market for a few euros. Since then, we have never stopped researching, trying constantly to push us beyond, going aside market trend and from the usual rules of the traditional wedding photographers. We really love working as alternative wedding photographers, and we thought we'd take some time to talk about what being an unconventional wedding photographer means to us. Working as an alternative wedding photographers doesn't mean necessarily capturing alternative weddings or alternative couples, but rather it has to do with a unique approach and feeling.
We work using a modern and open minded photographic language that embraces all cultures, races, traditions and styles, as well as all sexualities. We address to those who are looking for something spiritually and physically different, who want to go back to the essentials, focusing on their love for each other, beyond any expectations and traditions. Always modest, yet passionately focused, our ultimate goal is to create a safe space for the newlyweds to be authentically themselves, recording the raw moments in a natural, artistic and respectful way.
We are deeply passionate about destination wedding photography preferring quirky alternative weddings and creative elopements.
Our Style
The style that best describes our wedding photography is modern editorial with a vintage twist and a light cinematic touch. In our long experience as professional wedding photographers, we have built our own personal style, which has been influenced by starting shooting with Super 8 film. We still feel irresistible power of the sixties! We want that couples can browse their wedding album feeling like browsing granny's one, but with a modern cinematic twist. Our vintage wedding photos are much more than a sepia filter! Mostly they're about capturing the whole, complete and meaningful wedding experience, giving it back into stand-out artistic wedding photos, full of spontaneous moments and gestures.
Why couples love In Bianco e Nero - Unconventional Wedding Photographers
Luka
Rome
Reviewed on May 02, 2023
We had a Couple-Shooting with Bianco e Nero during our Rome visit and it has been a remarkable experience with amazing pictures as a result. We enjoyed the entire photoshoot, Emanuele made it very comfortable, easy and relaxed for us - we almost for...&nbsp &nbsp Read More
Emily C.
Rome, Italy
Reviewed on Apr 28, 2023
Emanuele and his team were incredible! We had never met prior to our wedding date and he made us both feel so relaxed and excited. Our pictures turned out to be something we could never of dreamed, so artistic and candid - exactly what we wanted! His...&nbsp &nbsp Read More
Christian & Amy G.
Villa Amorosa di Fumone
Reviewed on Jan 06, 2023
We can't recommend Biano e Nero enough! We are so happy with their unique style and how they captured the spirit of our wedding in Lazio, Italy. Emanuele and Federica were truly a pleasure to work with before, during, and after our wedding, and ju...&nbsp &nbsp Read More
Ruveyda O.
Rotterdam
Reviewed on Jan 03, 2023
We are so happy with our photos from our loveshoot in Rome! We love the creative style, the photos are also romantic en spontaneous. During the shoot it was just relax, we enjoyed. Thank you guys for this amazing work!
Regina R.
Bucine
Reviewed on Dec 19, 2022
We celebrated our wedding in Tuscany in September 2022. While searching, we found Emanuele e Federica via Instagram and fell in love with their photography and their style from the first moment. The photos are amazing - modern, artistic and especiall...&nbsp &nbsp Read More
&nbsp + See More Reviews
Request Information
Thank you for your submission. We will be in touch soon!
X

Email Sent.