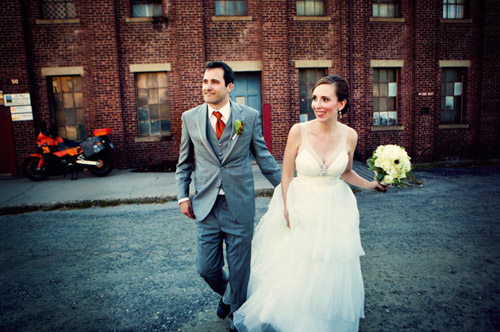 The couple: Courtney and Jamie
The Wedding: 9.25.10 – Avon Old Farms Hotel, Avon, CT
What three adjectives that best describe your wedding? Lighthearted, vibrant, personal
What inspired your personal wedding style, and how did you incorporate your style and personalities into your big day? Jamie is a graphic designer, so from the start we knew we wanted to have him design our save-the-dates, invitations, place cards, table numbers, and favor packaging. Jamie even designed custom wine labels for bottles given out to our guests at check-in (we honeymooned in Napa, CA). Immediately that made things more personal for us. We had such a great time collaborating on every detail and I couldnt imagine being a bride who didnt have my fiance so heavily involved. It was such a help and made the day more fun because we had worked on everything together.
Our families are from different states (Jamies from upstate New York and mine from the Boston area), so we decided to have our wedding in Connecticut (a midpoint of sorts) at the Catholic church where mys paternal great-grandparents were married in 1900. Legend has it that my great-grandfather rode his bike to the service!
The theme then became life is a journey; and love is what makes that journey worthwhile, both because of our 6 year journey to the alter and because our guests would be travelling to be with us. Our save-the-dates were vintage postcards and our invites had the themes quote along with illustrations by Jamie of all different modes of transportation for two (convertibles, bicycles, jetskis, etc.). Each table then had a number and a one of the transportation illustrations.
In terms of personalities, we are always laughing together and truly consider the other our best friend. We wanted that warmth and friendly feeling to be relayed to our guests. Our bridal party really helped us set that tone with great entrances, constant smiles, and beautiful toasts. Were so thrilled we had a live band because it encouraged dancing and having a great time.

Looking back, what are the moments, decisions or memories that you love the most about your wedding? Looking back, we are thrilled that Jamies design played such a large part of the visual message for the wedding.
My grandmother (who was ill on the wedding day) lent me a pair of vintage clip-on earrings to add to my shoes and I cherish having been able to include her in that way.
I also love remembering that the morning of the wedding, when I had a quiet moment with my Dad, a huge baseball fan. When I asked him how he felt he said, It was hard to sleep last night – I felt like it was the night before I was pitching the World Series.
At the rehearsal, the priest sprung on us that we had to memorize our vows. While we stumbled over the words a bit at the ceremony, it made the vows ours! The priest also introduced us for the first time using my last name, which immediately made the church erupt in laughter and our walk out of the church much more fun. We also loved our introduction and first dance. Jamie really enjoyed dancing will all of our guests!
Probably our two best decisions were hiring a live band and Megan Lange as our photographer. We received so many compliments and our engaged friends immediately asked for both of their contact information!
Wedding color palette: Orange, fuchsia and gray

The Wedding Team:
Photographer: Lime Green Photography
Ceremony Venue: St. Patrick's Church, Collinsville, CT
Reception Venue: Avon Old Farms Hotel
Officiant: Fr. John McHugh
Invitation Designer: Jamie Teska (Groom)
Catering: Avon Old Farms Hotel
Florist: A Victorian Garden
Cake: Creative Cakes by Donna
Wedding dress: Kleinfeld
Bridal accessories: Shoes – Kenneth Cole with vintage rhinestone clips from the brides Grandmother
Bridesmaids apparel and accessories: Dresses – J. Crew, Earrings by one of the bridesmaids (Lauren)
Groom and groomsmen apparel and accessories: Calvin Klein
Hair and make-up: Hair: Samantha Boone – Regis Signature Salon, Makeup – MAC
Live music: Bock and Blu Music
Favors: Set of 4 cookies made by mother and grandmother of both the bride and groom
Rings: M. Lemp Jewelers
Thank you Courtney and Jamie!
To find inspiration for your our personal wedding style, don't miss our wedding image gallery!
All images above by Lime Green Photography