Honeymoons in Mexico 3 Heavenly Locations for Lovers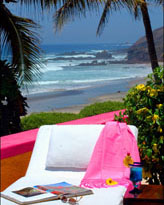 Determined to find you the most romantic honeymoon spots on the West Coast of Mexico, we turned to destination wedding and event planning expert Alison Hotchkiss of Alison Events in San Francisco and boy, did she deliver. Check out these three sexy, secluded, and oh so spectacular spots to put down your bags and put up your feet in Mexico.
Las Alamandas Resort
: Welcome to the ultimate in privacy and luxury! Located along the famed Costalegre Coast between Puerto Vallarta and Manzanillo, this posh private estate features 6 gorgeous villas nestled in lush tropical gardens on 1,500 acres of pristine tropical paradise. With stunning ocean views from every room, a first-class restaurant, and a guest to butler ratio that will make you feel like a movie star, Las Alamandas offers everything your heart desires and then some. Each of the fourteen gorgeous rooms is decorated by owner and philanthropist Isabel Goldsmith, with bright vibrant colors, ultra-tasteful Mexican folk art, and lovely artifacts from the surrounding region.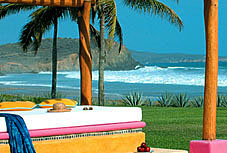 Once you arrive, youll be content to stay where you are, but we suggest you do venture out occasionally to discover the private beaches, hidden lagoons, and mesmerizing marine life that make this property one of the most sought-after in all of Mexico.
To completely indulge your senses, book their
Perfect Honeymoon Package
which includes 4 nights of sunsets and pampering in an oceanfront suite, candlelight dinner on the beach, massage, champagne, fresh flowers, and airport-to-resort transportation. Enjoy access to the air conditioned beachfront gym, lighted tennis courts, horseback riding, and an unparalleled array of other activities and amenities.
Looking to fly in and out for the weekend? No problem, Las Alamandas has its own airstrip for private planes.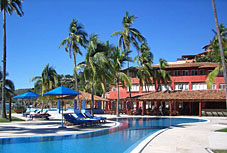 El Careyes Beach Resort
: Chic Mediterranean style lodgings and impeccably manicured gardens of lush flowers and native cactus form the background of this magical oasis in Jalisco, just a gorgeous hour and a half north of Manzanillo. From the moment you enter the property gates youll be surprised and delighted by its beauty and privacy. Check into one of the romantic suites or small houses called casitas over-looking the resorts turquoise pool, then take in the unobstructed view of the Pacific Ocean from your plunge pool or lanai. Grab your swim suit and stroll the short path to the private lagoon where youll find the water pristine and teaming with marine life or take the path in the opposite direction to the on-site restaurant La Lantana, and enjoy tropical drinks, delicious, regional and international fare, and stunning views of the sun sparkling on the water.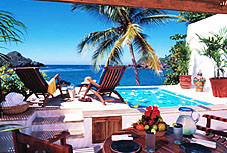 The resort offers a myriad of activities from kayaking to polo for the days that youre feeling adventurous, and an array of indulgences from en-suite massages to full spa services for the days when you feel like leaving the world behind.
El Careyes is named for carey (kah-rey) the hawksbill sea turtles that used to come and lay their eggs on the little beach of Careyitos in front of the resort. To protect the turtles, their hatching grounds have been moved to a near-by guarded beach where environmentally conscious visitors can catch a glimpse of them in their natural habitat.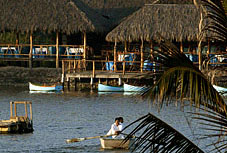 Hotelito
: Turn off your cell phone, leave your lap-top behind, and get ready to say goodbye to unwanted distractions at this eco-luxury slice of heaven. Hotelito, designed by Italian fashion designer, Marcello Murzilli, was built with romance in mind and a true love for the environment at heart. The resort features 24 palafitos, lodging built on stilts over a crystal clear lagoon at the edge of the Pacific Ocean. Pampered guests need only hoist their rooms red flag to summon service or jump into their row boat and go ashore for delicious organic fare grown right on-site. Some couples fall immediately in love with the lack of TVs and electricity, others simply need to stroll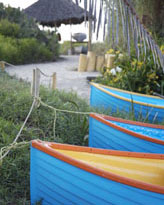 through the torch-lit resort at night under the cover of billions of stars to become forever enamored with this escape. Pack your bathing suit, your favorite book, your book light, and your best binoculars to view the abundant marine life and exotic birds that call this place their home. Come as an intrepid traveler or with a little hesitation, either way youll leave rejuvenated and utterly entranced.
To book your fabulous destination wedding in Mexico call Alison and her team at 415-567-7605 or visit
www.alisonevents.com
.