Esel and Gelo had imagined the perfect wedding day long before they were engaged. They dreamed of a handcrafted, intimate event filled with personal touches and decor details, and it was every bit as wonderful as they'd hoped when that dream did come true! The couple exchanged vows in a traditional Catholic ceremony at a beautiful chapel, surrounded by their wedding party in flowing goddess gowns for the ladies and traditional Filipino attire for the men. The reception that followed was filled with rustic decor details including succulents, burlap, and natural wood; and included family performances and a deeply meaningful lantern ceremony. Enjoy Esel's account of their wedding day, with lovely images to illustrate provided by Jeff and Lisa Photography!
The Goals: Even before getting engaged, we both knew we wanted to have our wedding at an intimate location. Hacienda Isabella, an old estate with an open garden, was perfect for the elegant yet relaxed mood we wanted to set for our wedding day. Hacienda was the perfect place for us because we both: 1. love adventure and nature, 2. appreciate old and unique things, 3. love Filipiniana stuff (hence, the barong). It was just fitting to bring our guests to this faraway, romantic place to a road less traveled. We wanted everyone to focus on each other, on building new relationships and deepening friendships on our weekend affair.
Although we are both blessed with big families and great friends, we knew it was impossible to have quality conversations with everyone if we decided to invite them all. We agreed to cap our guests to a maximum of 200 people to make sure that our day would remain intimate and memorable for both of us. This was one of our best decisions because we could take our time talking to our guests and simply enjoy the day.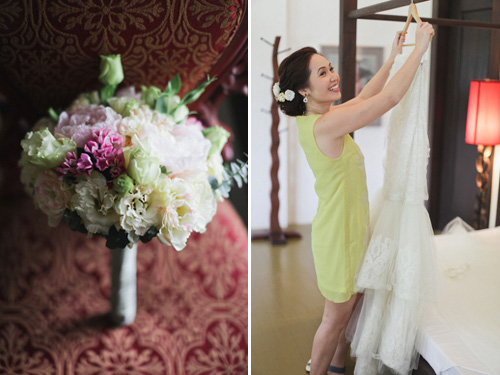 The Design: We had a Catholic wedding ceremony at a small rustic chapel, San Antonio de Padua, and our reception was held in the outdoor garden at Hacienda Isabella. We didn't choose a definitive color palette; we just used anything that fit the look we wanted – rustic. A lot of our decor was either DIY or curated antiques from Hacienda Isabella. We preferred subdued tints as an accent to the overall earthy, wooden look of the venue.
We saw our marriage as the beginning of a big adventure together, so for our invitations we used the image of a couple, in a vintage air balloon taking flight. Our invitations were very simple and we only printed invites for those guests who don't check the web or their emails regularly, to be earth friendly.
The Look: I love wearing lace and think that nothing speaks more of romance than it does. It was really hard to find the right gown among the many out there, but the modern details on this romantic dress spoke to me. The strapless neckline and the tiered detail on the bottom of the gown added unexpected edginess to the feminine lace. My younger sister and maid of honor Risa de Sagun made all the hair accessories I wore that day. I wore a messy low bun with a sprinkling of these handmade hair pieces in gold and white. I also loved the heirloom jewelry my godmother Roselyn lent me. It was a beautiful topaz drop earring set with pave diamond details.
The Moments: Our wedding had a lot of funny moments that were so memorable! My dad, in his nervous state, mistakenly lifted my veil to the likes of "you may now kiss the bride" which brought laughter throughout the chapel. My wedding march was marked with smiles, giggles and even boisterous laughter, and I wouldn't have wanted any other way. W also loved that both our families were feeling gutsy that night, and serenaded us with original compositions (by Gelo's dad and mom) and artsy dance videos (by my entire clan). It was a nice feeling of family and togetherness.
One of the most romantic moments during the wedding was when my husband gave his speech at the end of the night – he told everyone about the first time we met, how our relationship progressed, and how we saw our relationship moving forward. I just felt his sincerity and happiness, and I couldn't have been happier to have married him that day. Also, we lit sky lanterns at the end of the reception, which was amazing. It was a community event with Gelo and myself in the middle of the circle. We were all asked to make a wedding wish before releasing the lanterns. With all the lanterns up in the sky, everyone was just looking at the stars in silence and enjoying each other's company. It was really a beautiful moment.
Congratulations Esel and Gelo! Thank you so much for sharing your elegant and creative wedding day with us!
Readers, be sure to visit our Real Wedding Library for more inspirational real weddings!