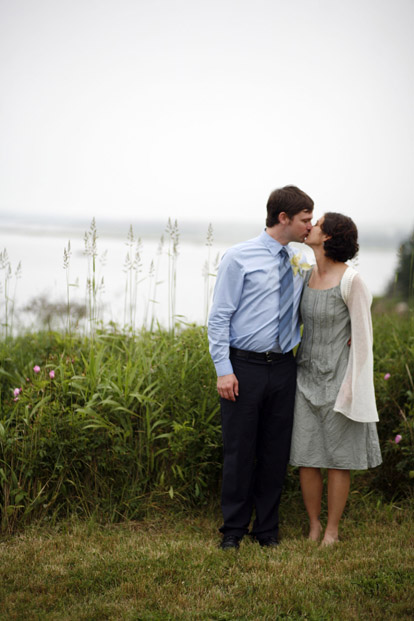 Tanya and Mark were married overlooking the beaches of Martinique outside of Halifax, Nova Scotia at a small, intimate wedding surrounded by their closest family and friends. Mark's mother Ruth and aunt Nora took on all the planning so that the couple could relax and enjoy the day, and Belathee Photography was there to capture it all in style. They chose a simple ceremony on the grass, next to a single large tree, overlooking the ocean. Marks' uncle made a custom wedding ring for Tanya, and she was excited to see it for the first time during the ceremony.

The day's weather started off looking a little gray, but soon it all turned around. "We were worried at first because it was very foggy and slightly chilly out. But as soon as the ceremony was about to begin, the clouds separated and the sun beamed down on us like what you see on old record album covers. It was perfect." For dinner everyone feasted on lobster, and guests took home mini maple-leaf shaped bottles of pure Canadian maple syrup. It was a day of happiness and relaxation!

Thanks so much for sharing your day with us Tanya and Mark! For more information on this and over 60 other Real Weddings, please visit our Real Weddings section!