The month of October may conjure images of pumpkins, ghosts, and witches, but it is also Breast Cancer Awareness month. Getting married without one's mother, sister, aunt, or grandmother present can be extremely devastating. To celebrate the life and spirit of their loved one, some couples choose to incorporate a tribute into their weddings. Today we're sharing some pink wedding palette inspiration in honor of those who have been so strong in their battle against breast cancer.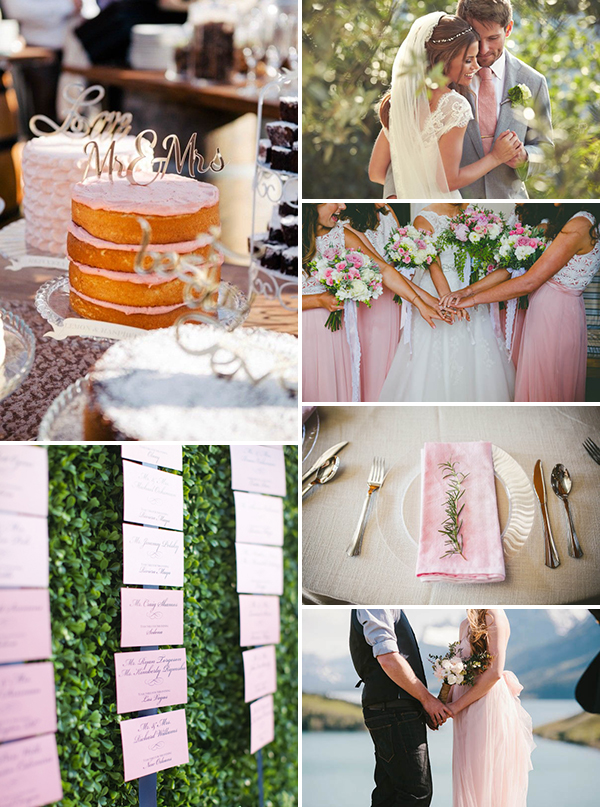 photos by Vanilla Photography, Jules Photography, Maison Pestea Photography, Rob + Kristen Photography, David Guenther Photography, and Melissa Jill Photography
We love the idea of a special pink flower in a bridal bouquet as a special tribute. A trendy way to incorporate the color is to use an ombre effect, as you see on the name cards above, or by lightly dying fabric for the reception like the delicate napkin at the table setting. Whether pink pops up in your wedding cake, the groom's accessories, the bridesmaid's dresses, or even the bridal gown, the sweet color can bring a sense of softness to your day as it also honors someone close to you.
If you or someone you know is affected by breast cancer, or you just want to support the cause, please consider donating to The Breast Cancer Research Foundation. For more pink wedding inspiration, check out Matney and Ben's relaxed Southern wedding in North Carolina.