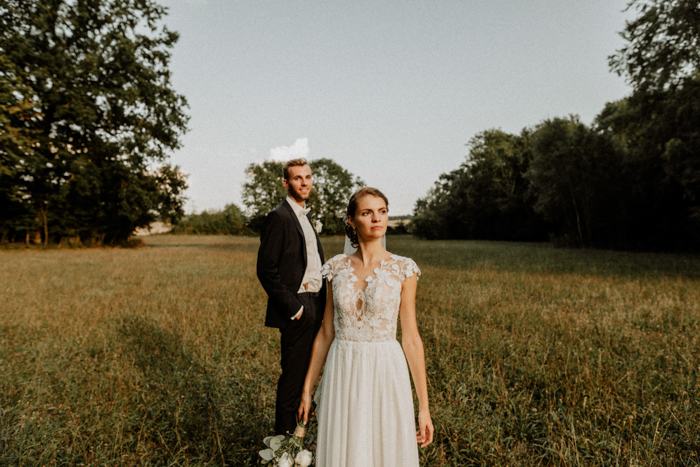 We're melting over Bertille and David's picturesque French countryside wedding at Château Saulxures-les-Nancy. From quiet morning moments to a traditional ceremony, The French Wedding Photographer beautifully captured the elegance of this day. Bertille looked stunning in a Annais Bridal gown, which was complimented by David's classic Club of Gents suit. If you love simple greenery and white flowers, you're going to love how this couple chose to decorate their reception space. And make sure you scroll to the end to see their unique take on a wedding cake!
The Couple:
Bertille & David
The Wedding:
Château Saulxures-les-Nancy, Saulxures les Nancy, France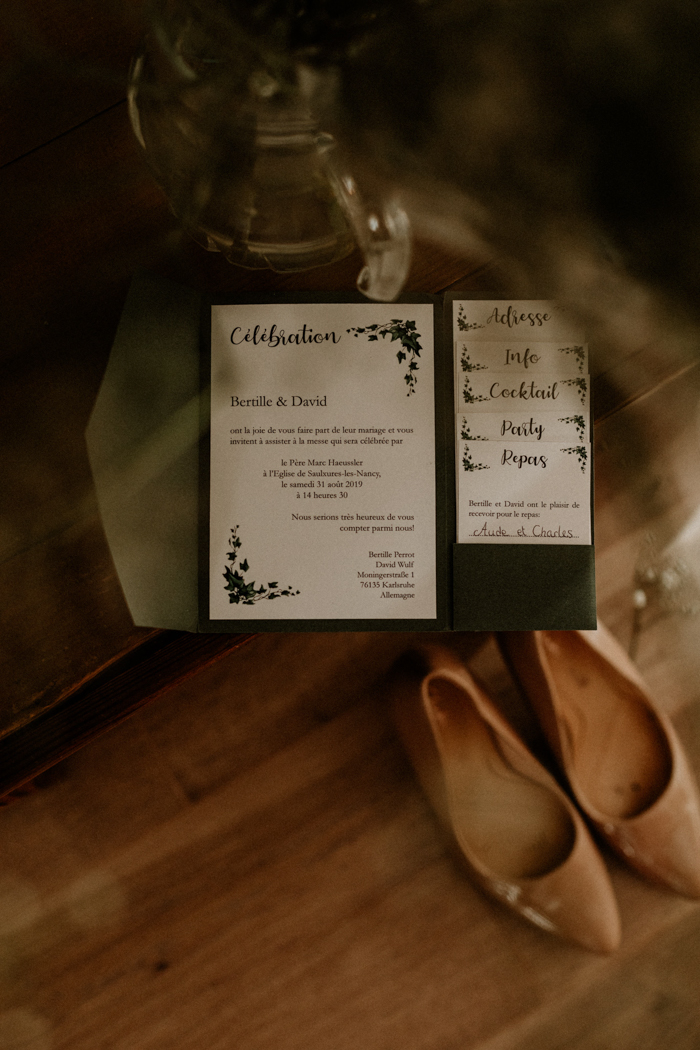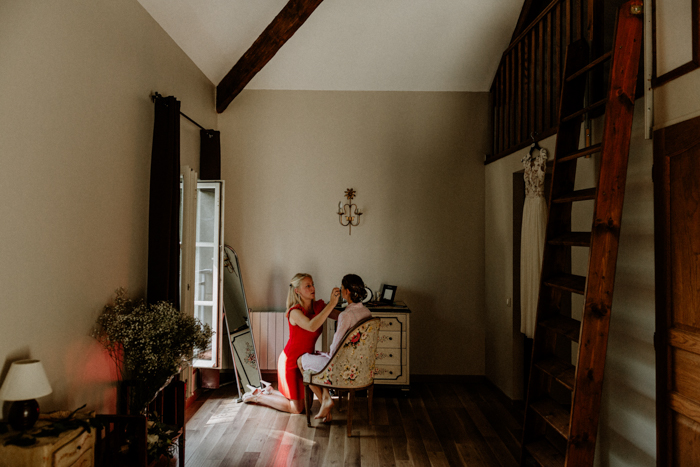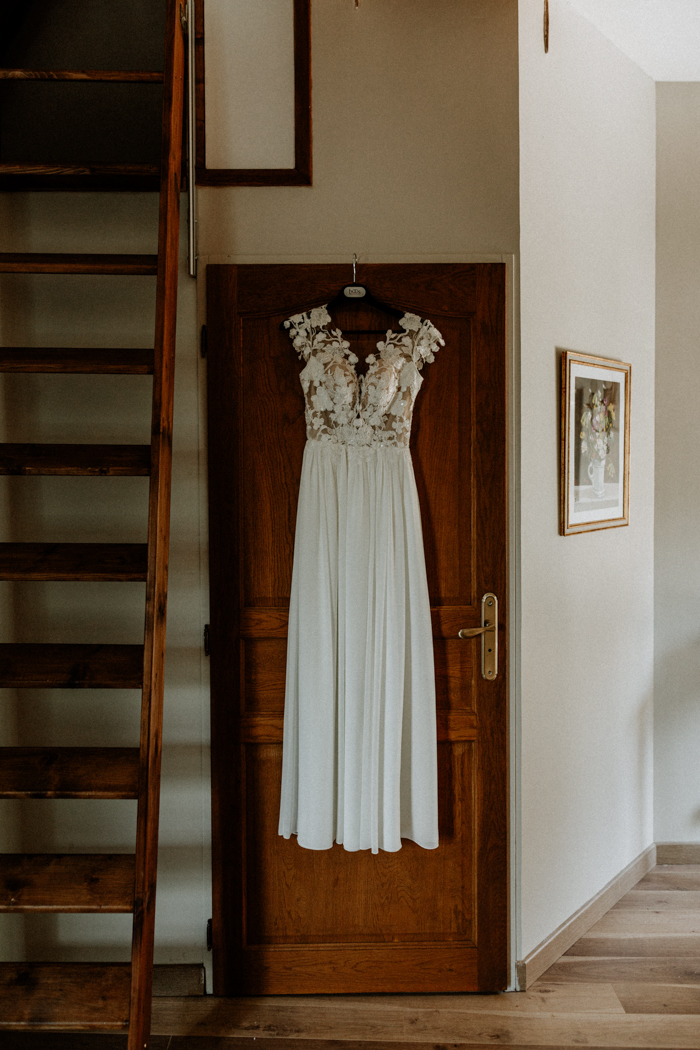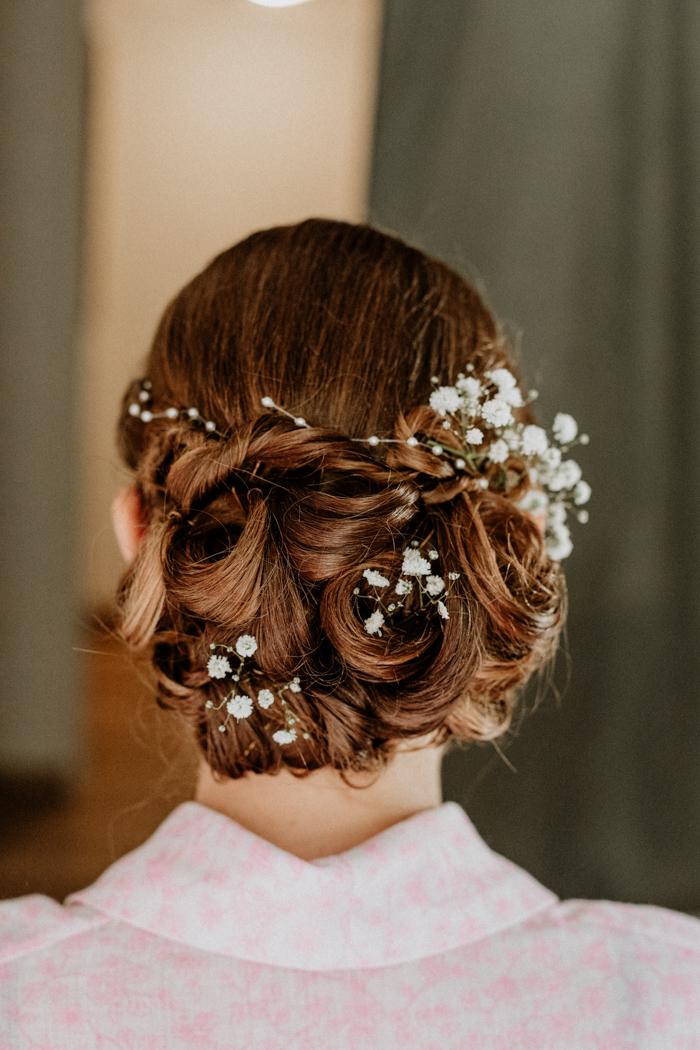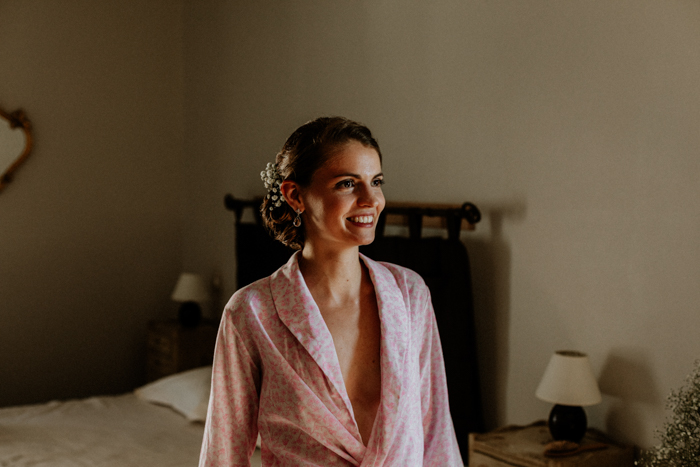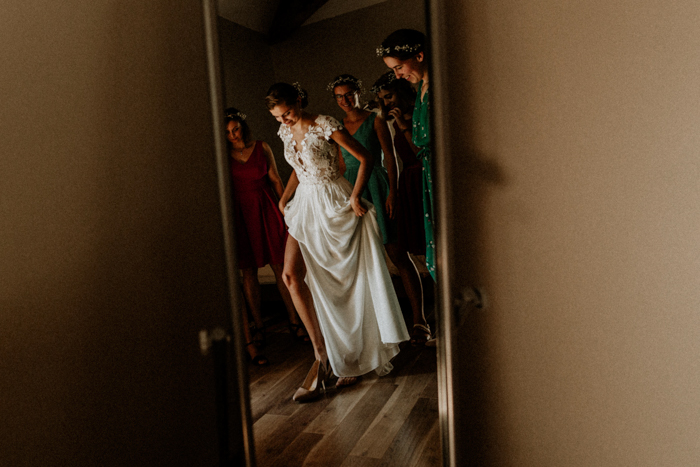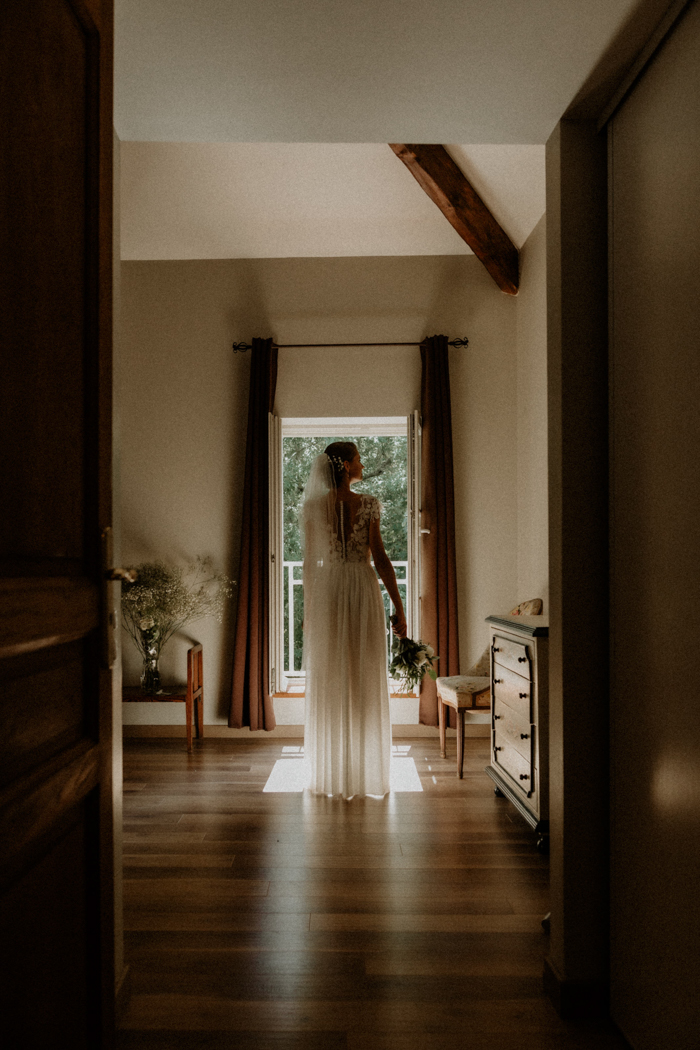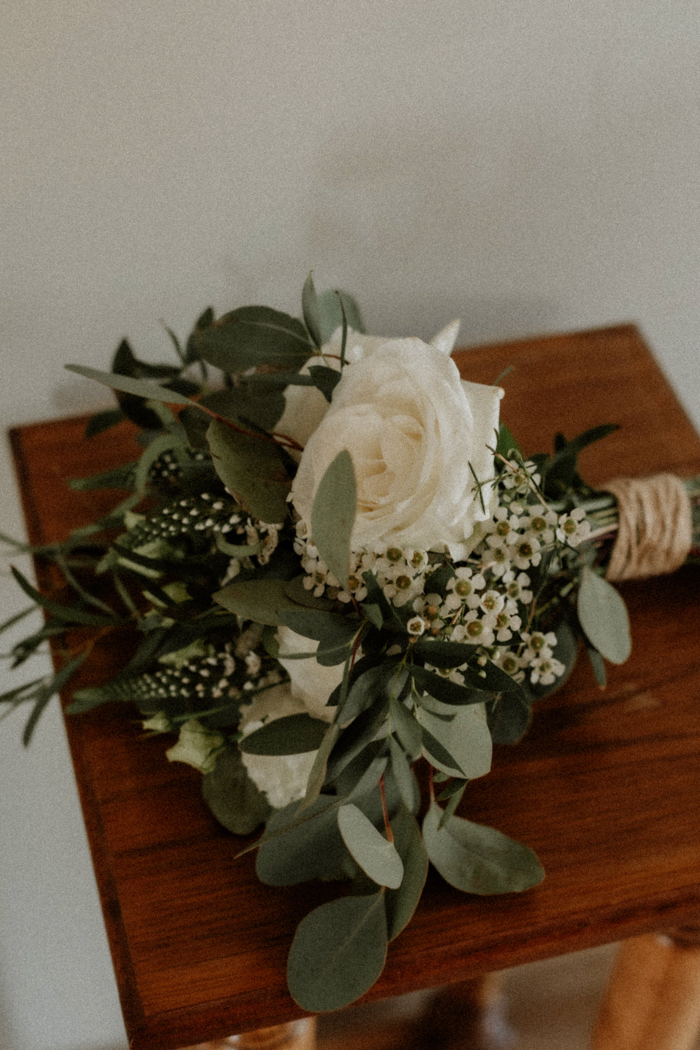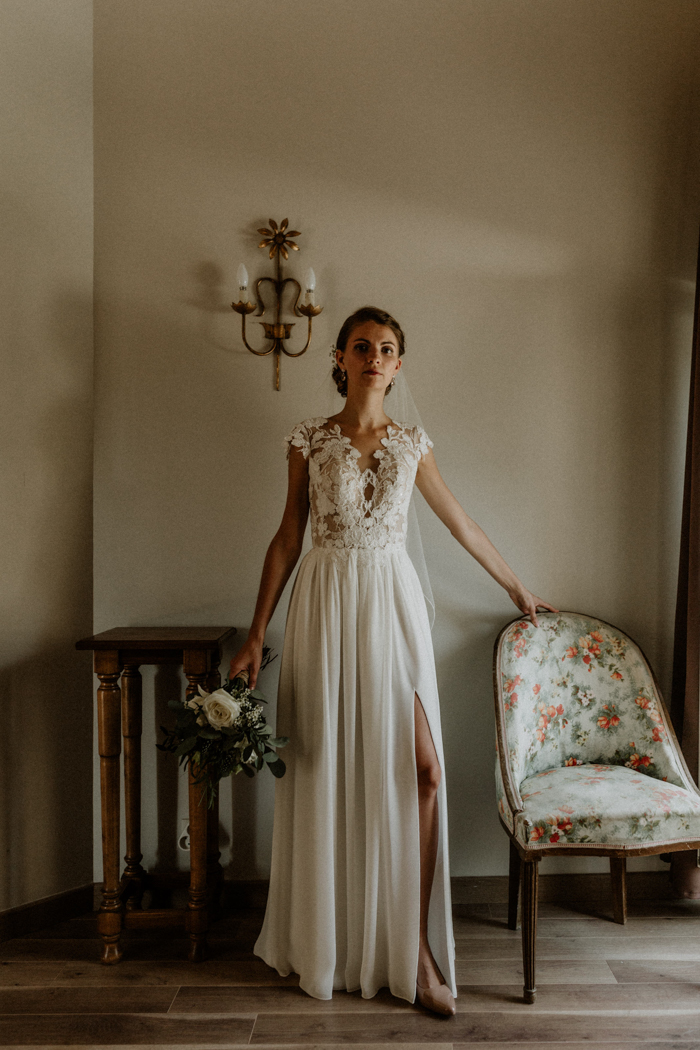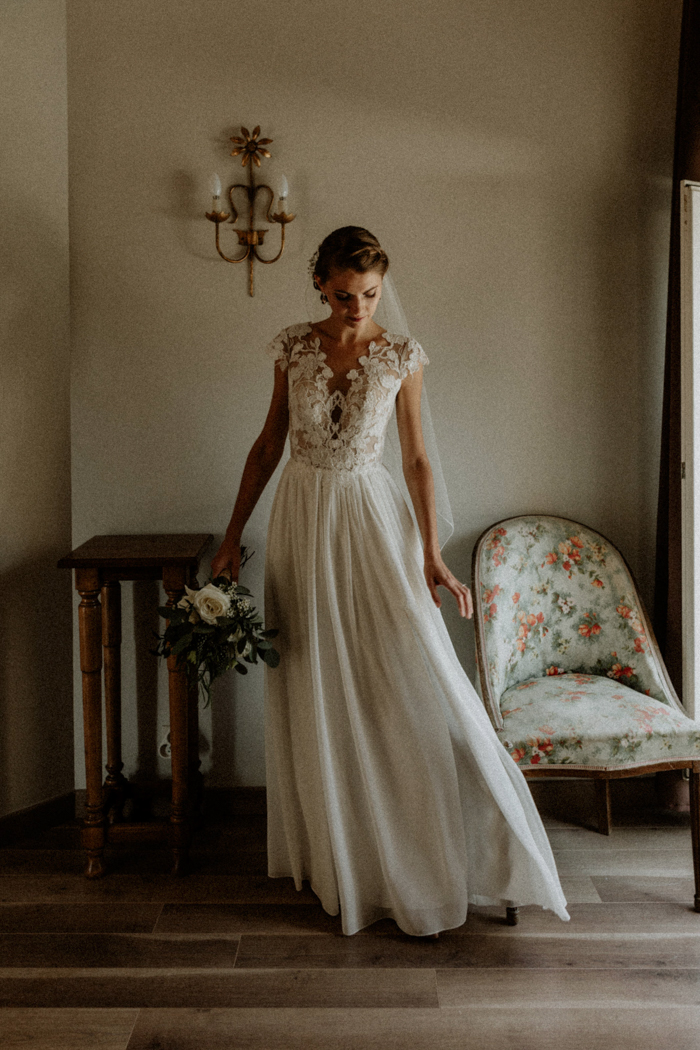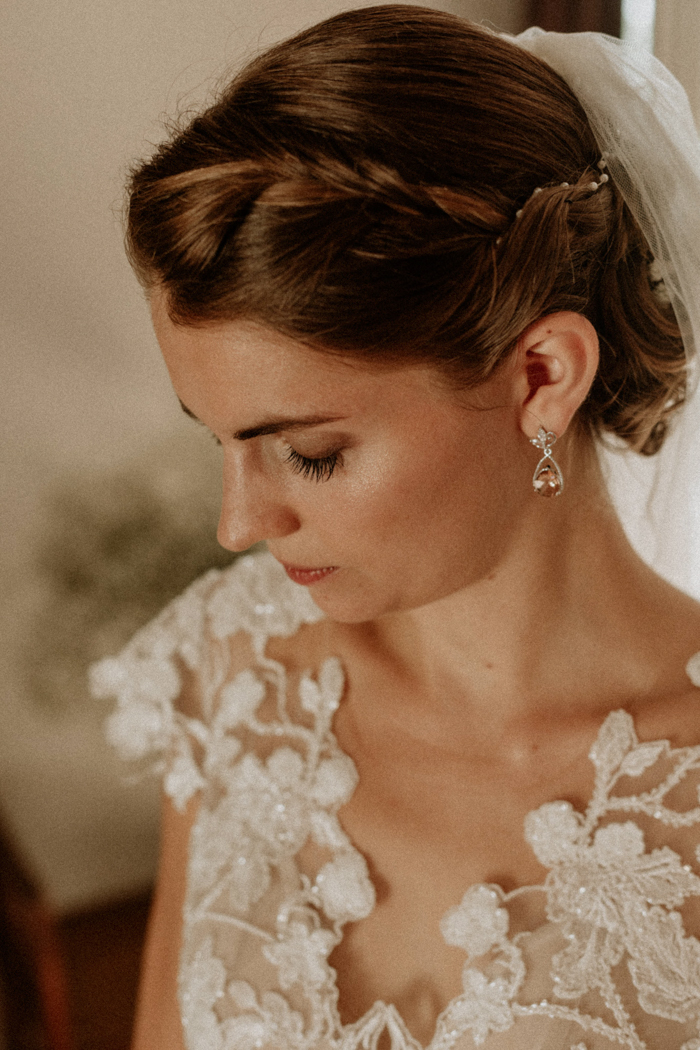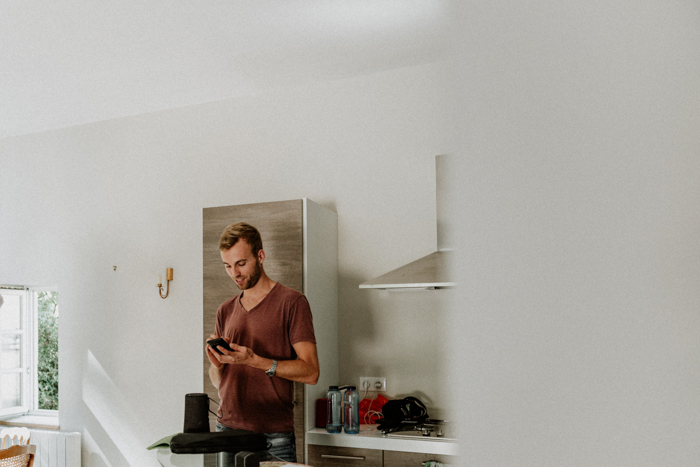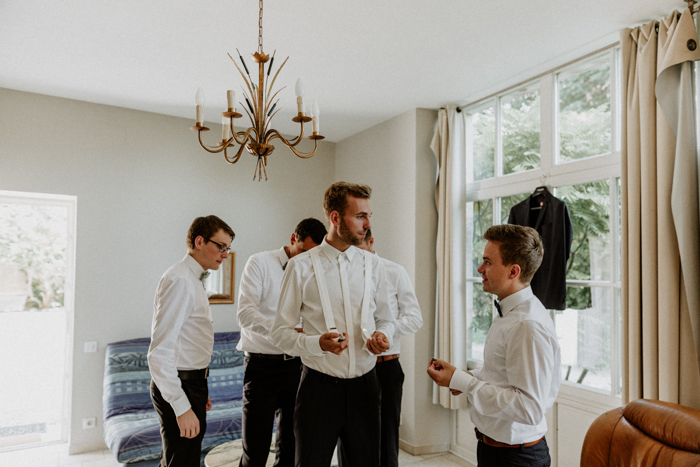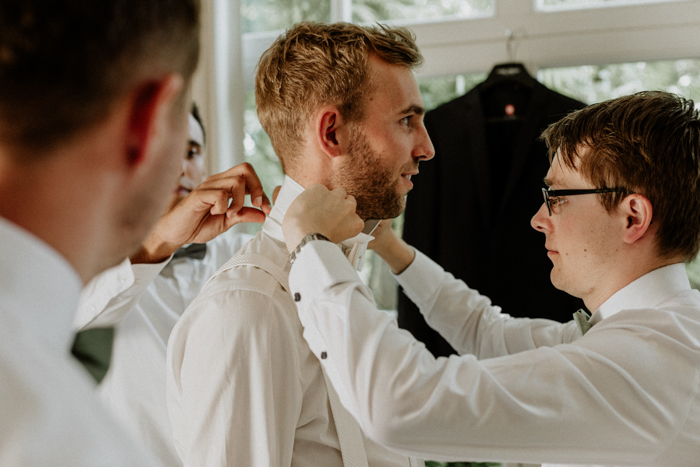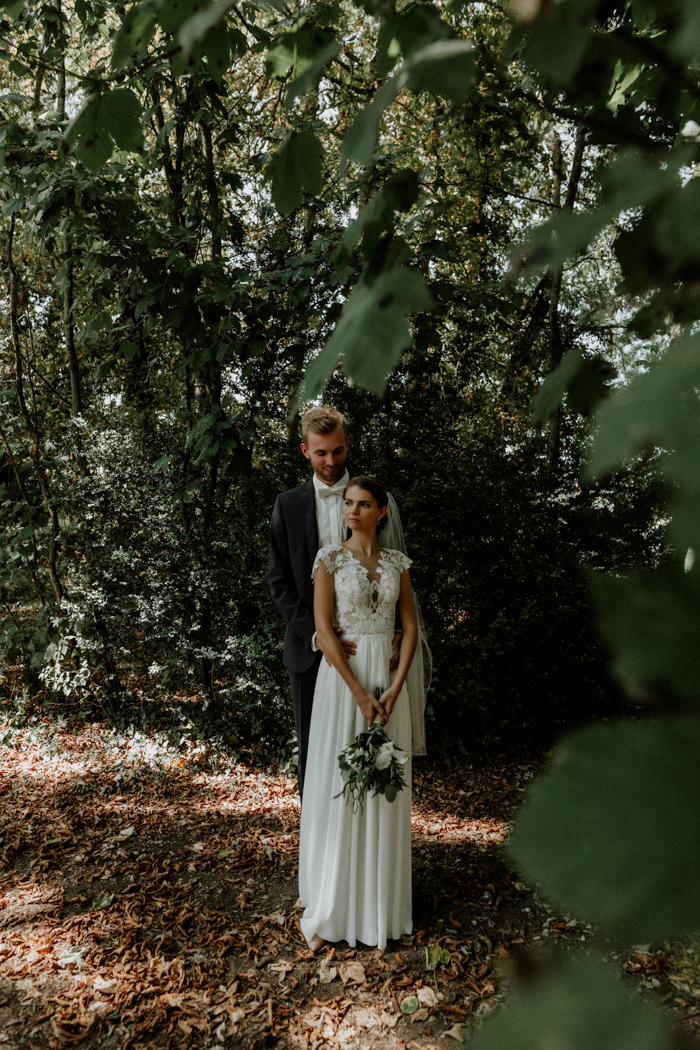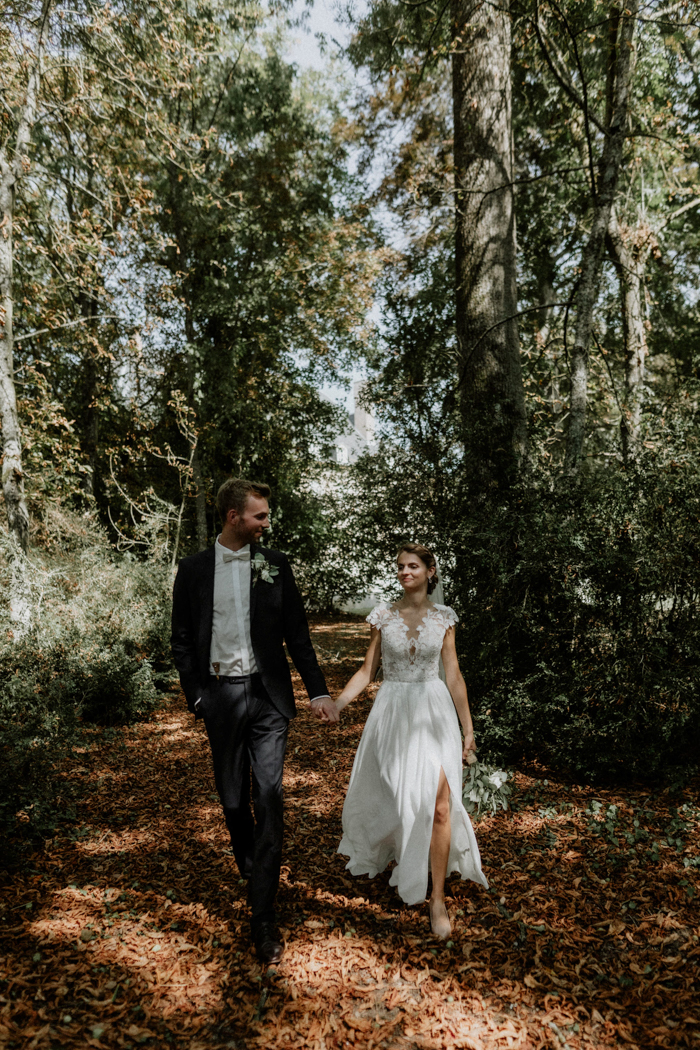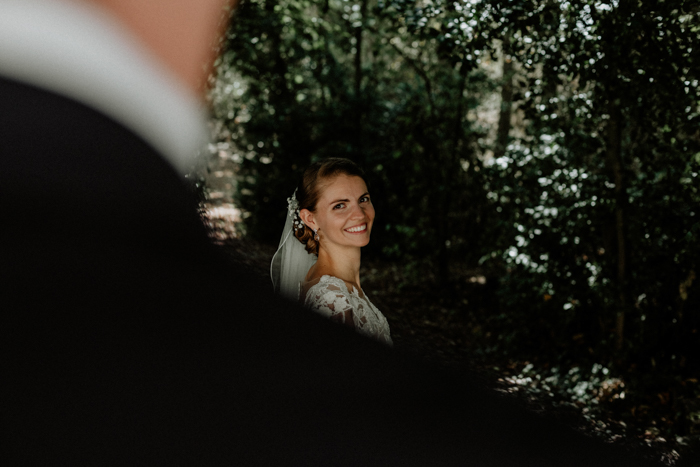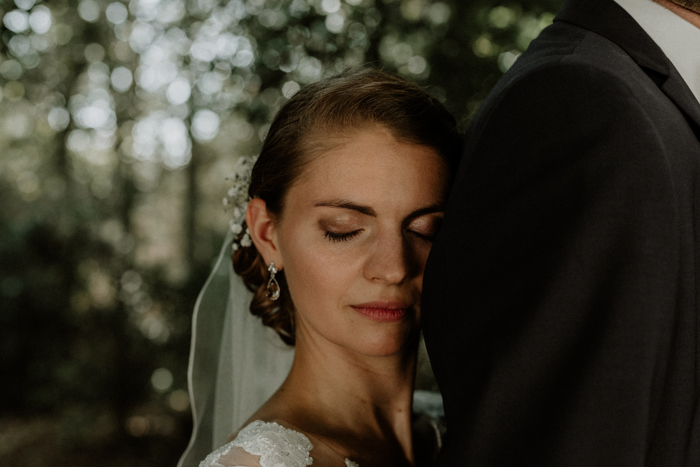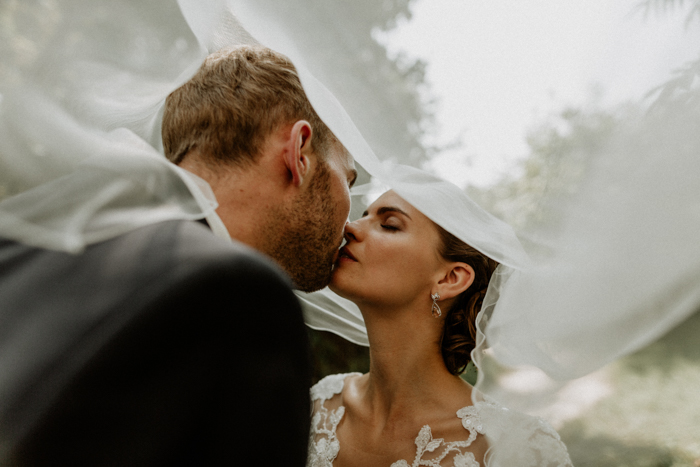 We celebrated a French-German wedding and so included different elements from the wedding traditions from both of our countries. It was important for us to show the intercultural connection between us as a couple and we wanted to introduce our origins to the family and friends of "the other side" respectively. On top of that, we tried to motivate our international guests to overcome language barriers and to get to know each other (more info on how we did that below). By creating an open-minded atmosphere where everybody feels comfortable and positive, yet excited to discover and enjoy the day with us.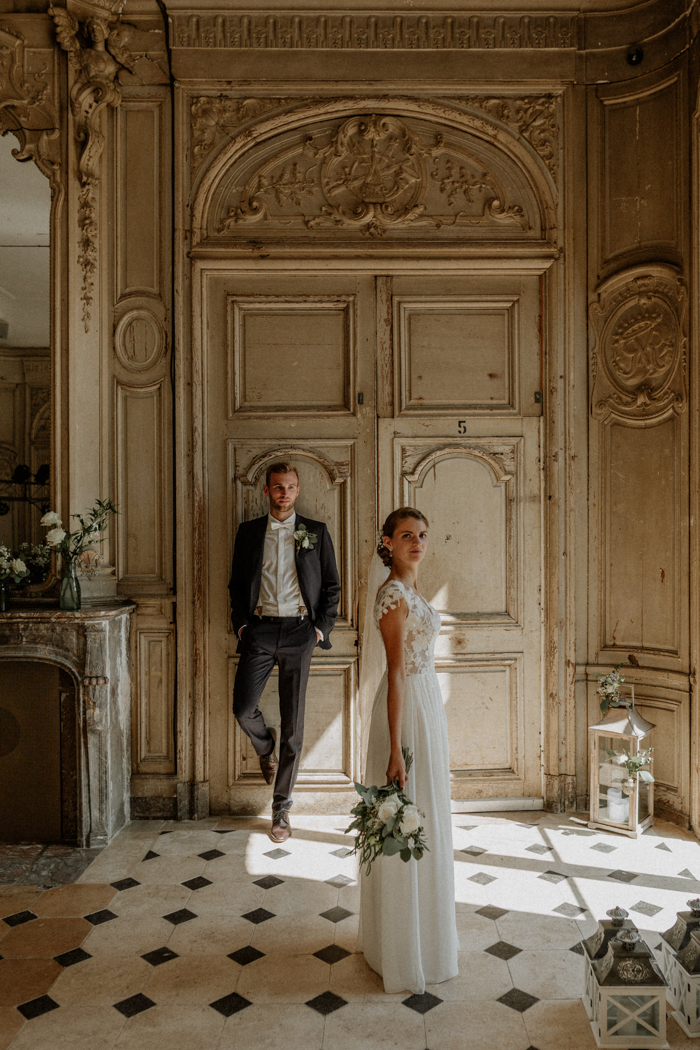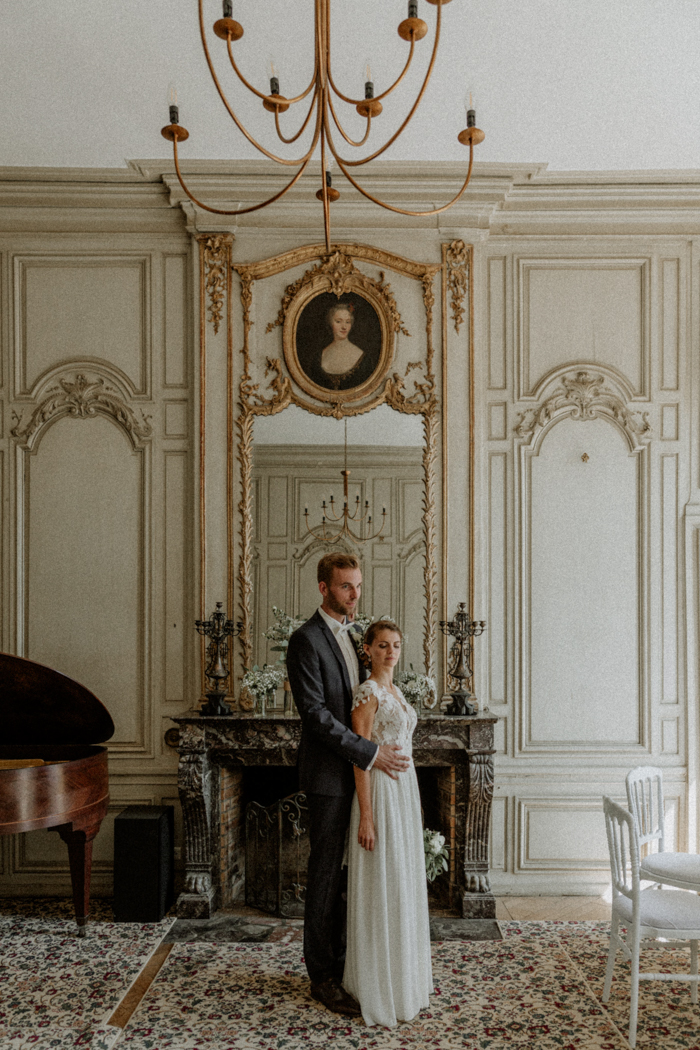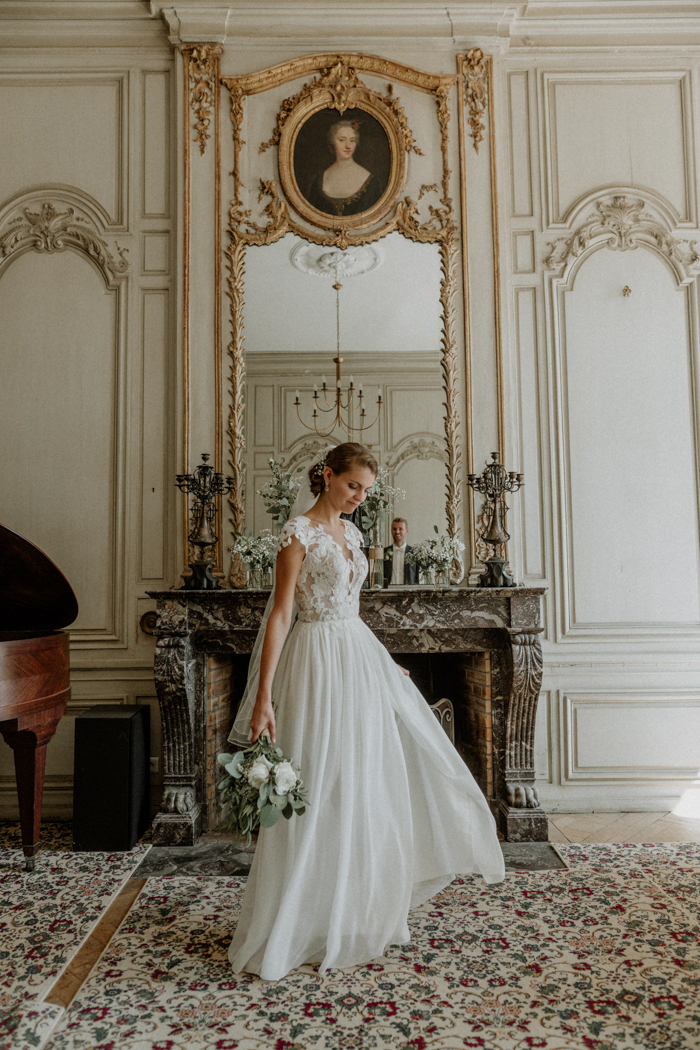 The most memorable parts of the couples' day: It was the special atmosphere that our guests created. Even though they came from different countries (mostly French, Belgian and German), we saw so many of them connecting to each other. It was a pleasure to see that our plans and preparations worked out well. Secondly, it was the personalized elements that we had organized. The music our family members played during the religious ceremony, the surprises (see below) and our opening dance choreography that we had practiced for weeks and that turned out well.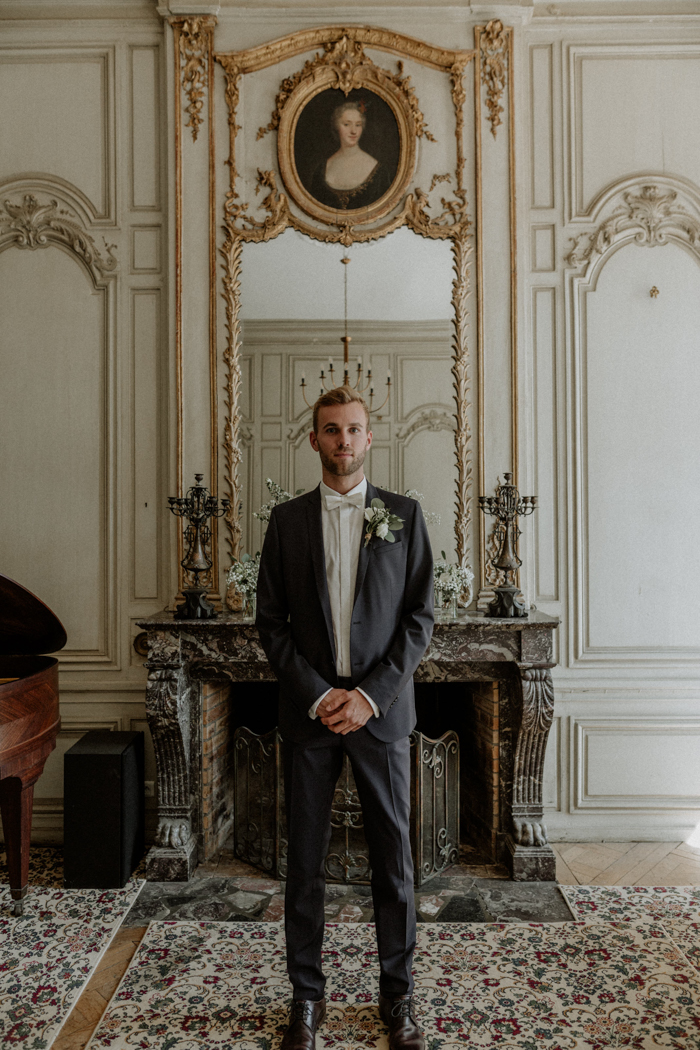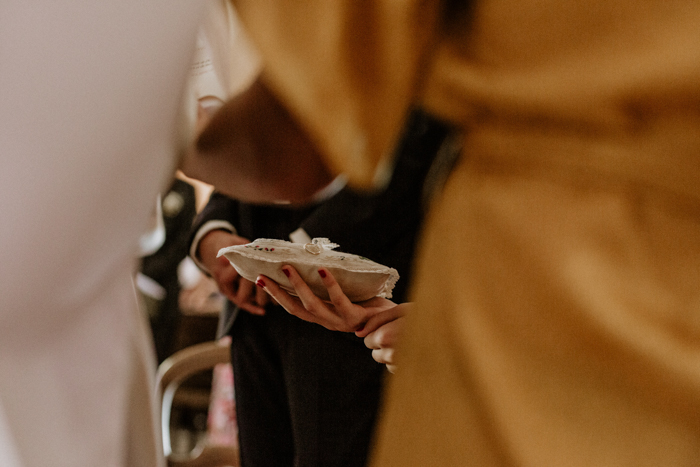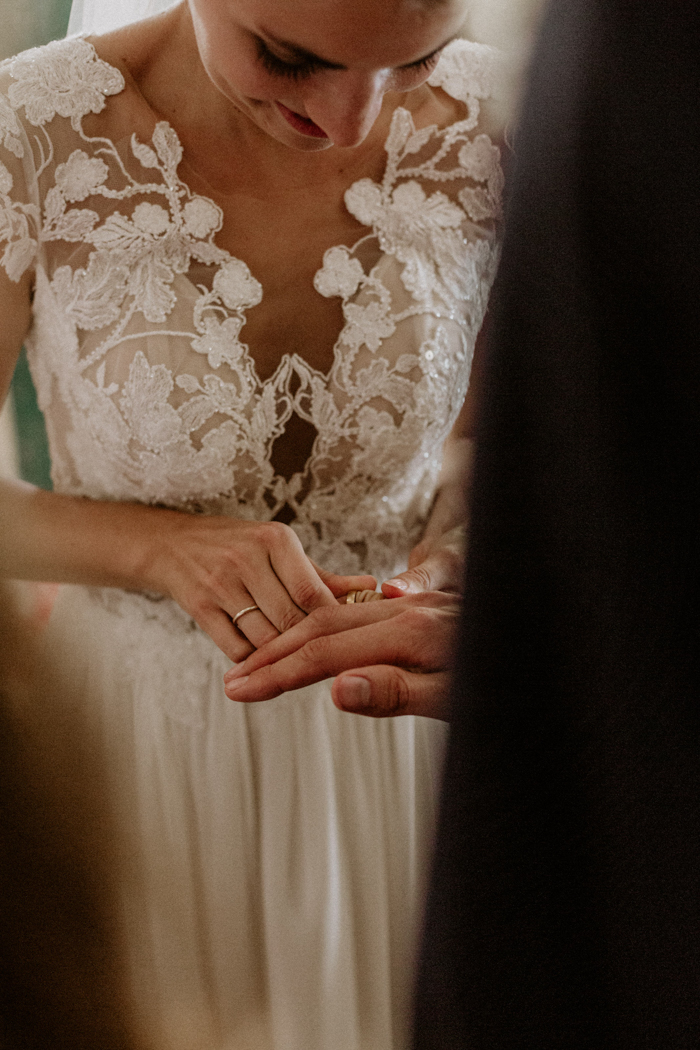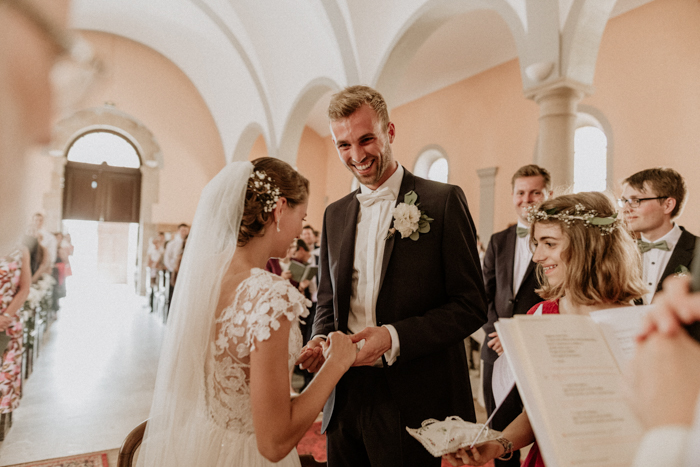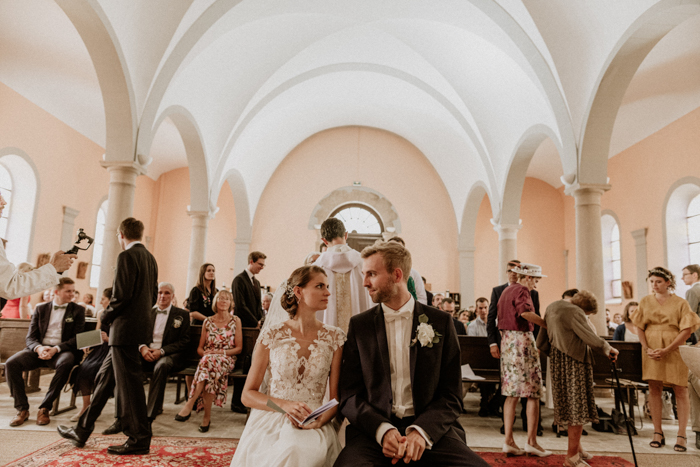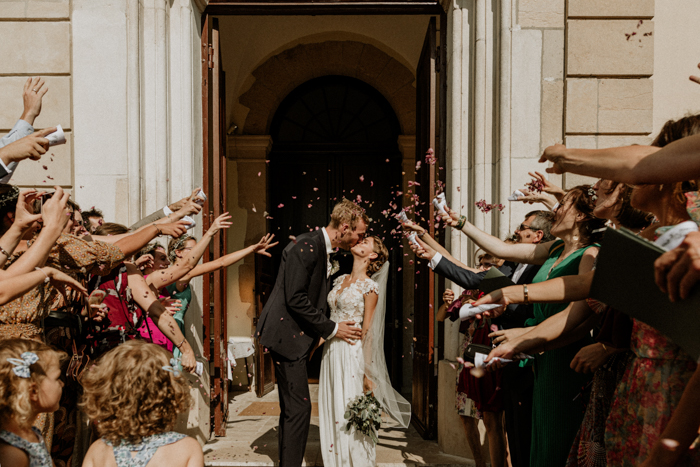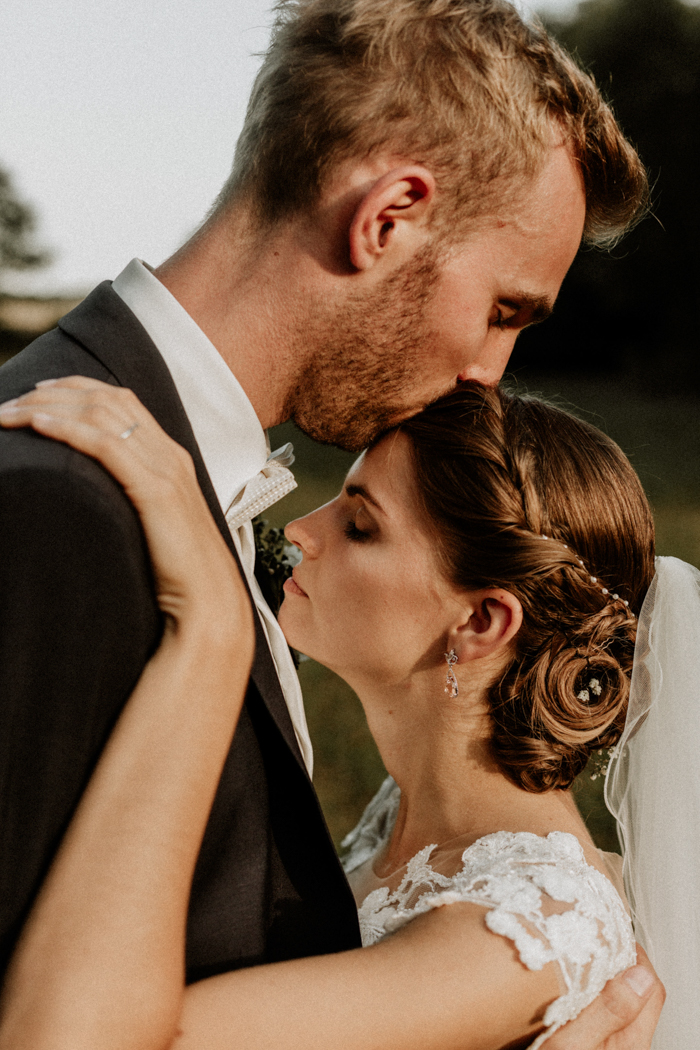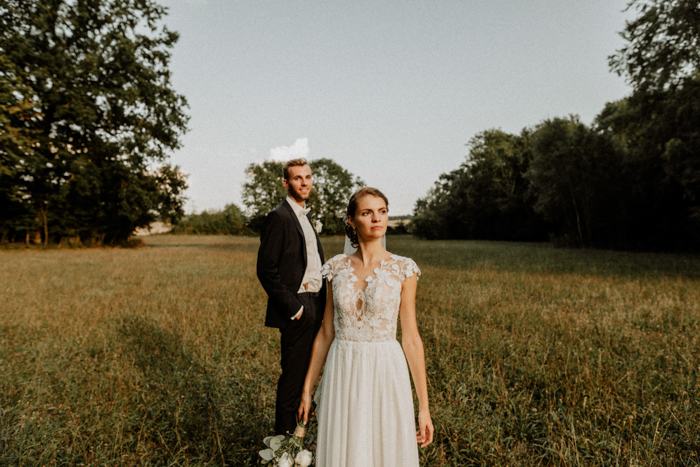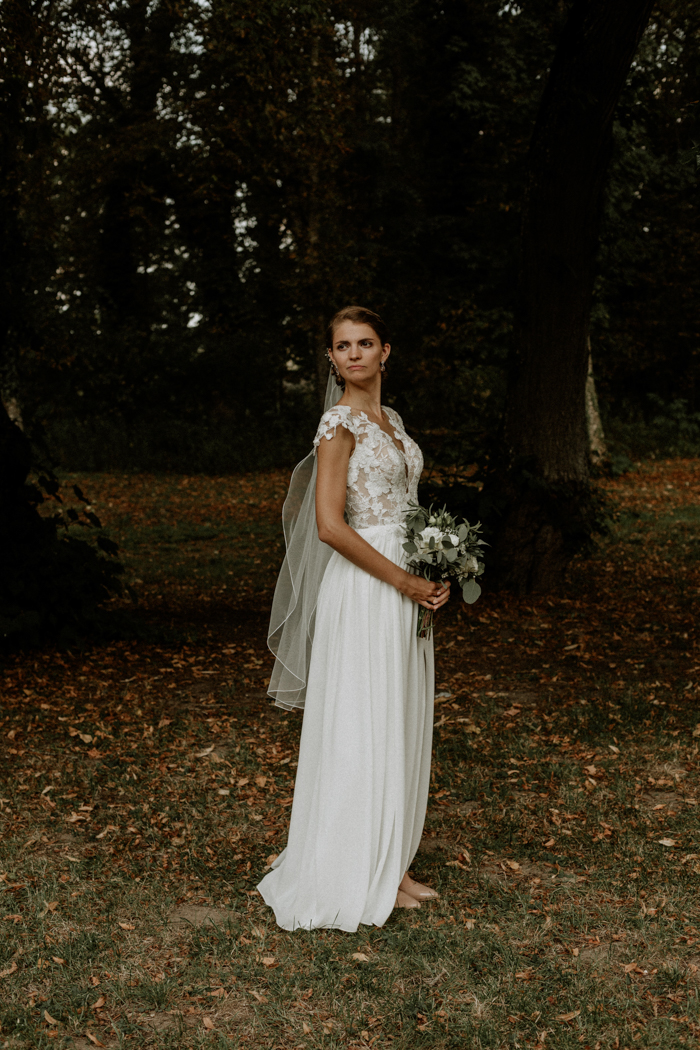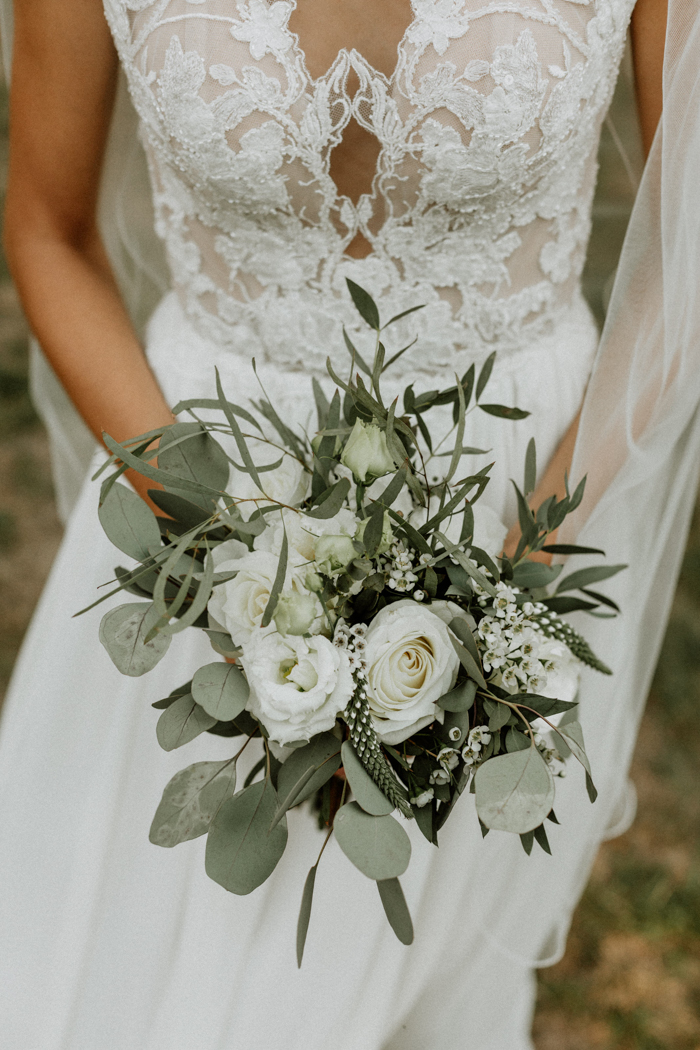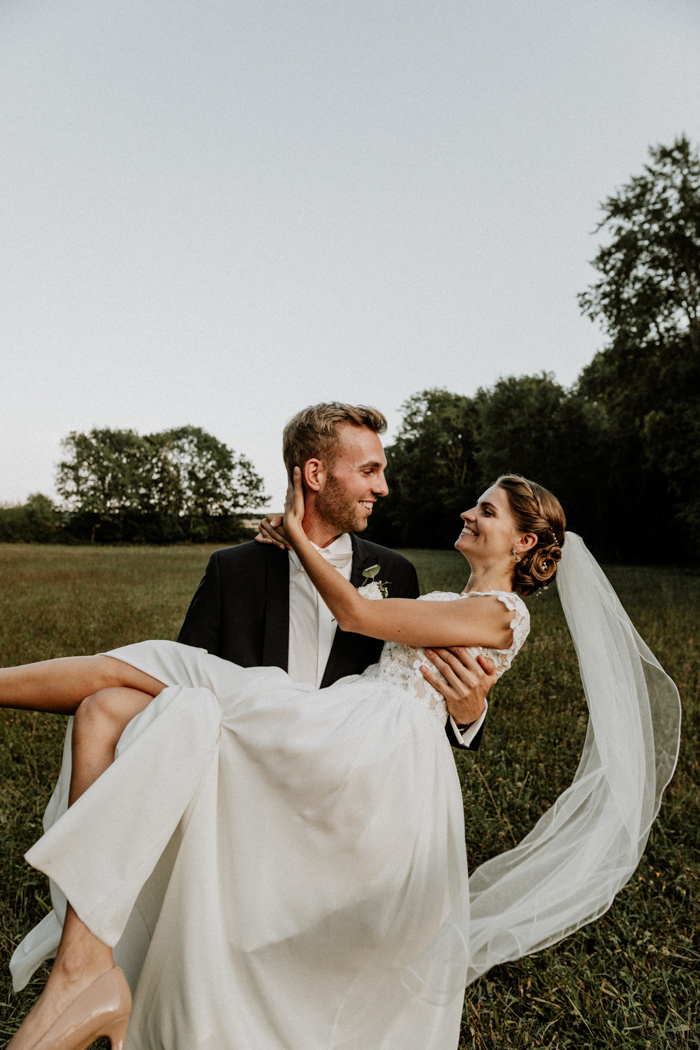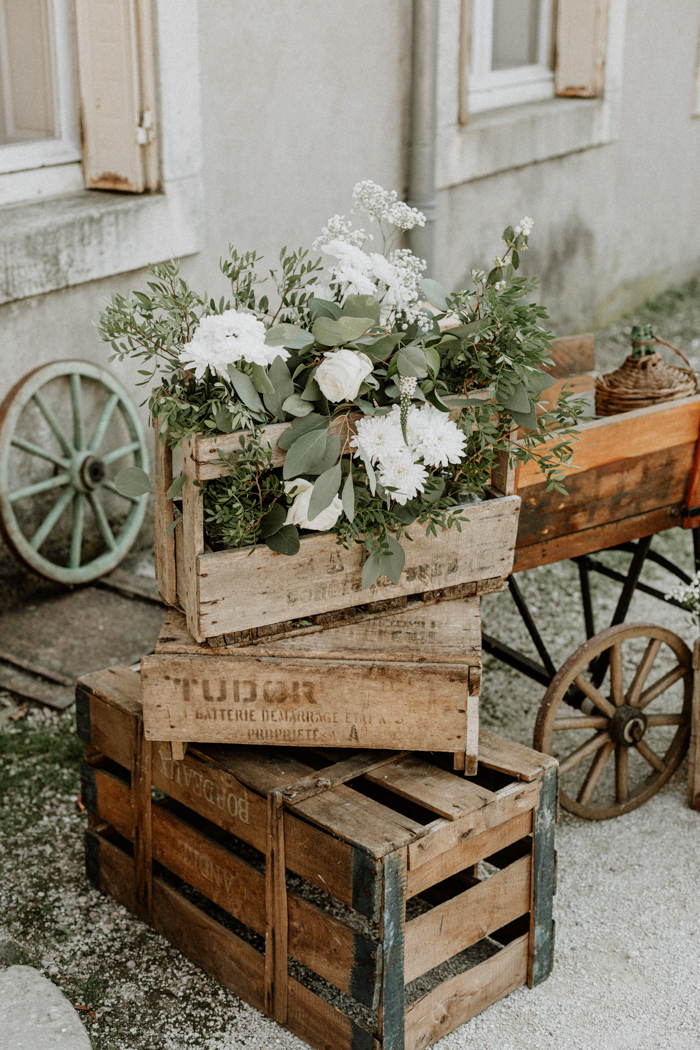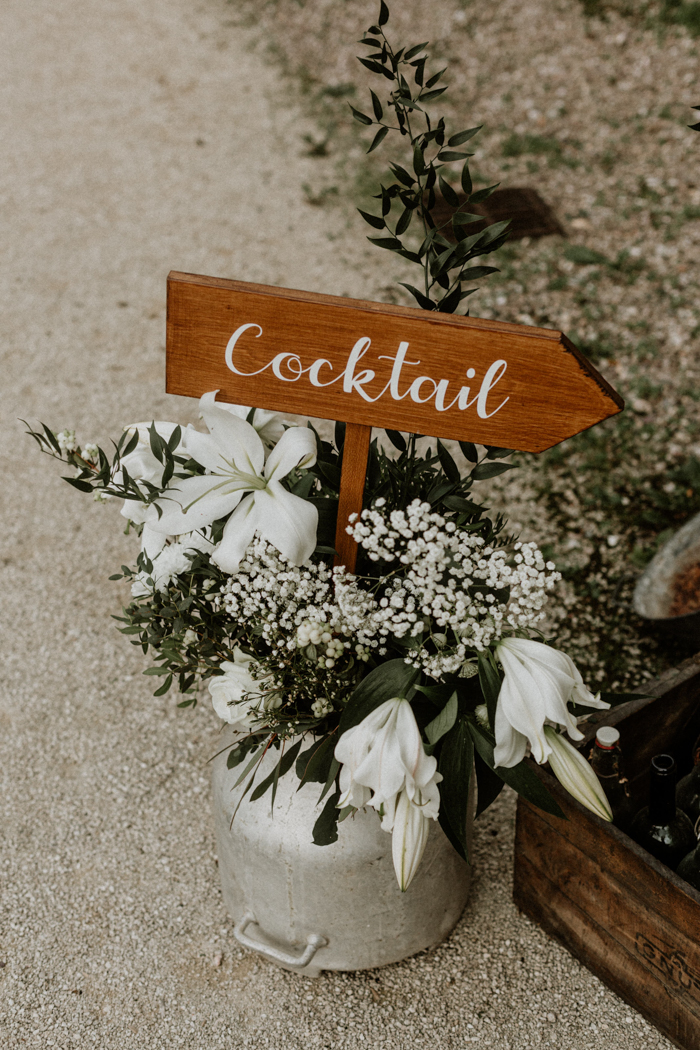 Bertille designed our bilingual invitations, church booklets, menues. We also made our own signs indicating where the reception/dinner/dance floor etc. were located. We also created a personalized game for each our guests: They had to take a photo with someone that shares a hobby/profession/other funny things with them. It was well received and thus, our guests got to know each other very well, and we had a great party.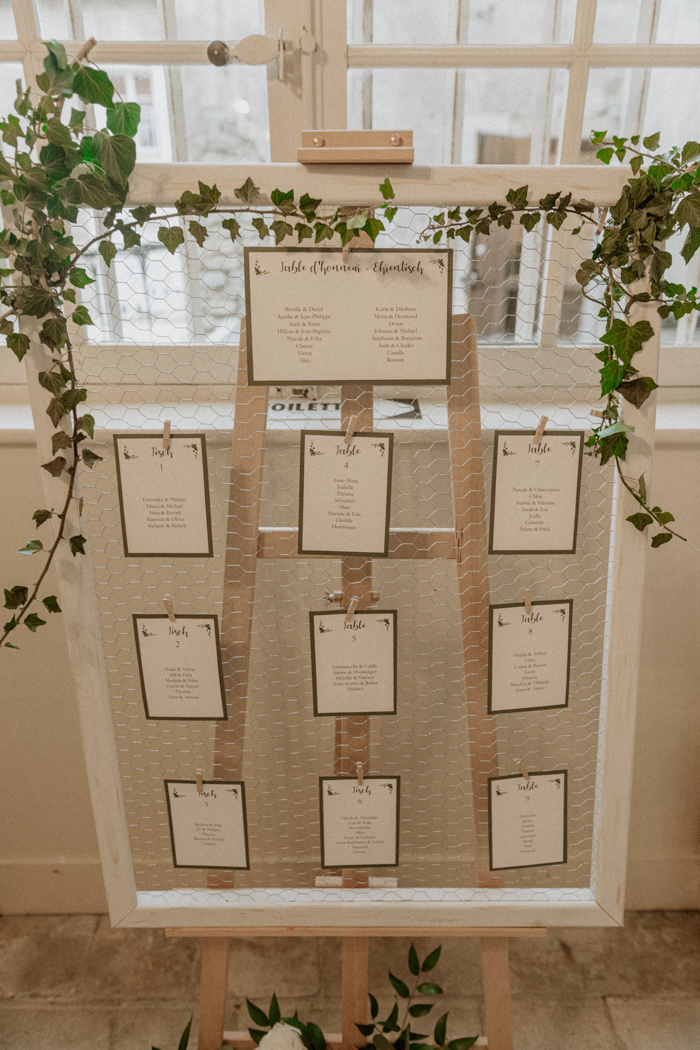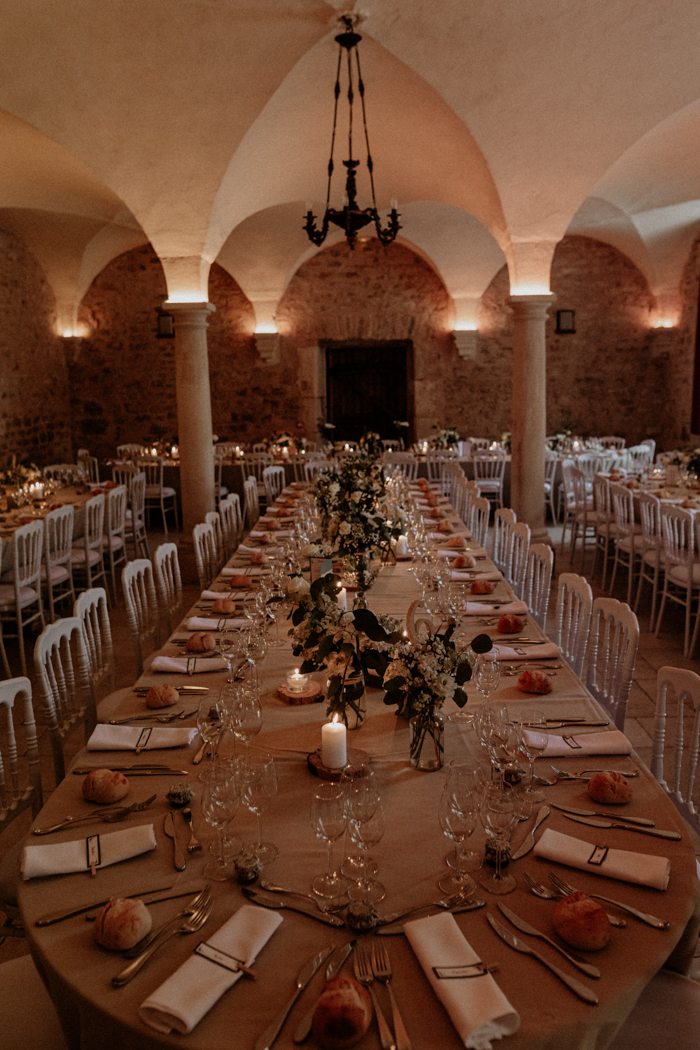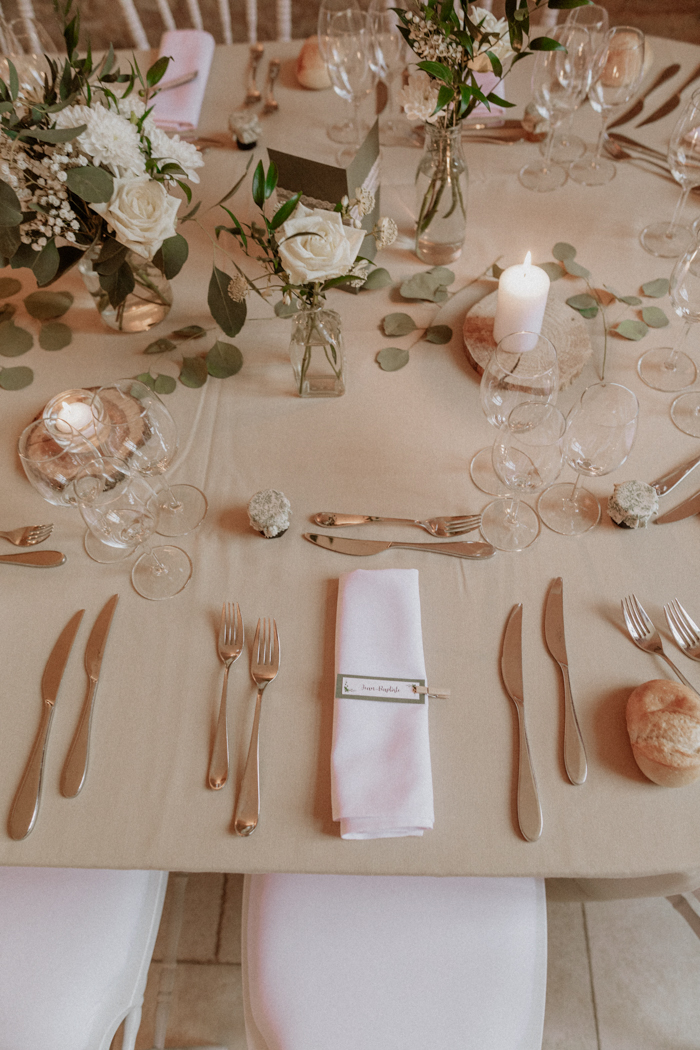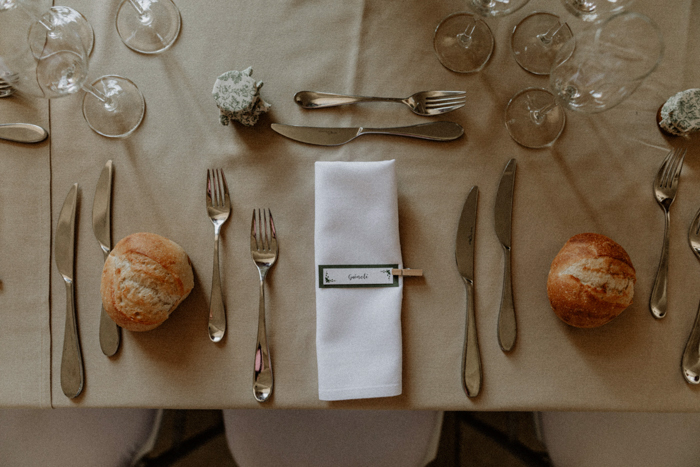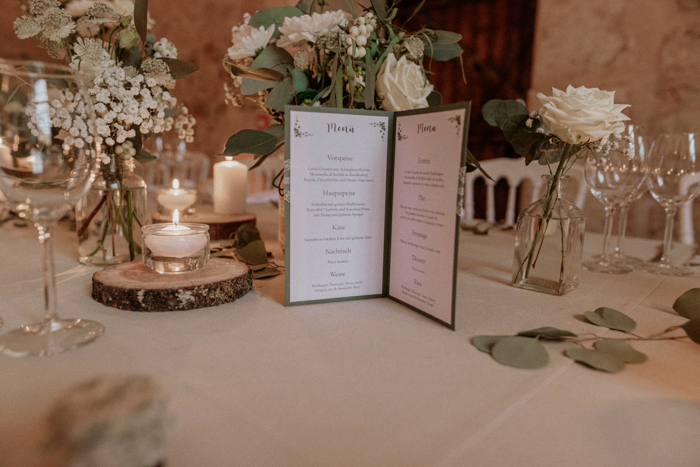 Nature is very important to us and we both like to spend time outside hiking, biking, camping etc. We decided for a chic-rural style with dominating green and white colours as a reference for nature and purity.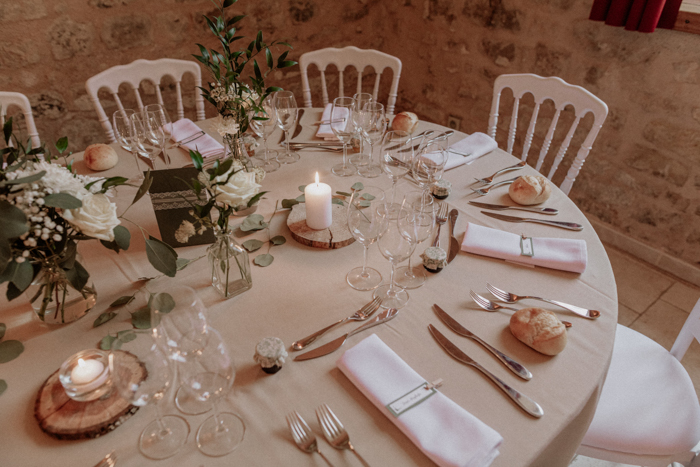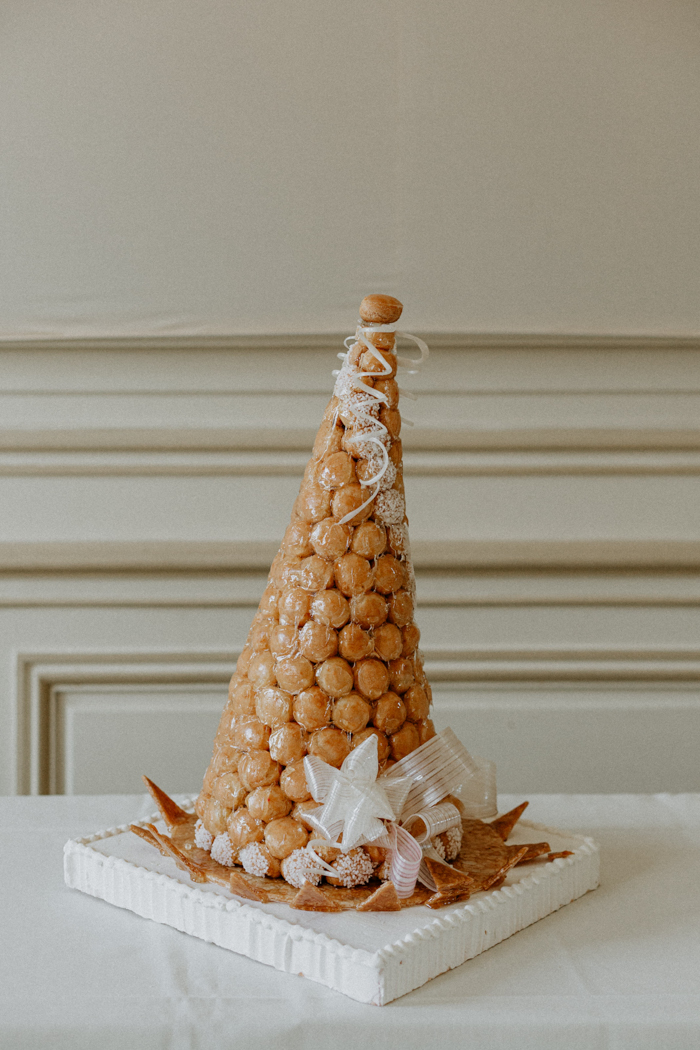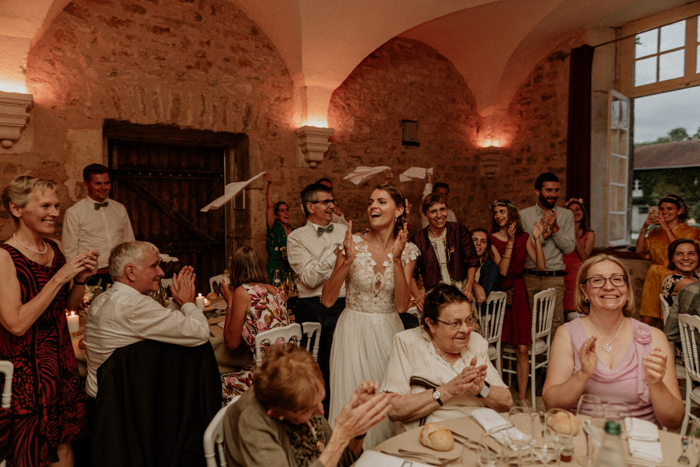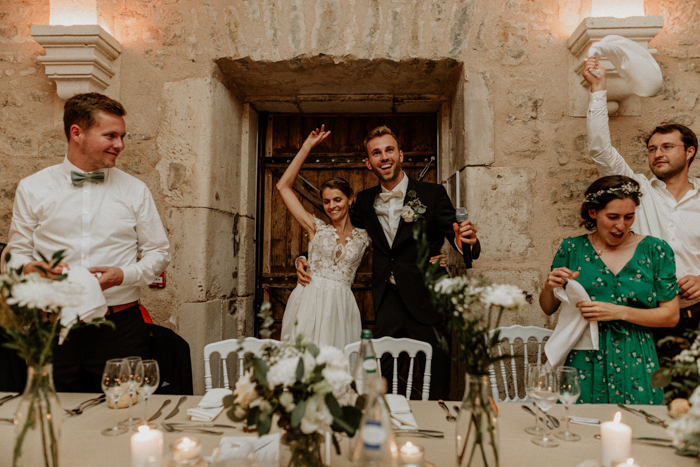 Congratulations, Bertille and David, and many thanks to The French Wedding Photographer for sharing their day at Château Saulxures-les-Nancy with Junebug!
RECOMMENDED READING: Pastel French Countryside Destination Wedding at Chateau Le Mont Epinguet