Jessica and Nick were married at Swiftwater Cellars in a celebration that paired fun and elegance perfectly! Besides Jessica's gorgeous cobalt blue Badgley Mischka heels, the thing that really pops in this peach and gray winery wedding is that everyone was just so very happy! La Vie Photography captured all the details and emotion of the day with energy and glamour.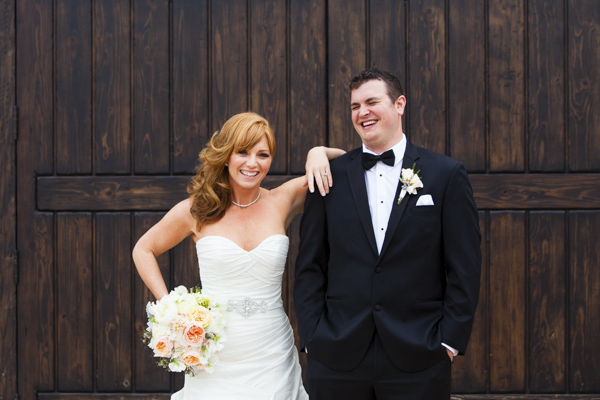 The Couple: Jessica and Nick
The Wedding: 5.18.13 – Swiftwater Cellars, Cle Elum, Washington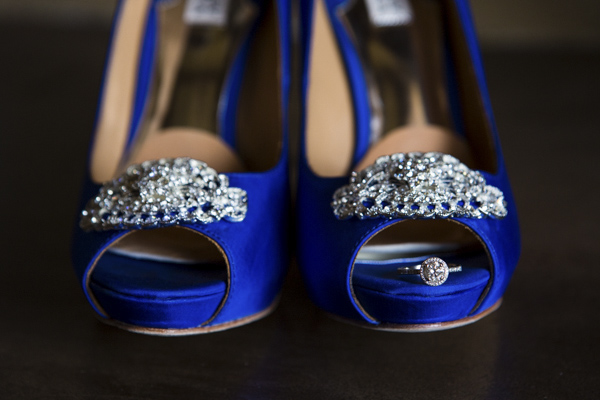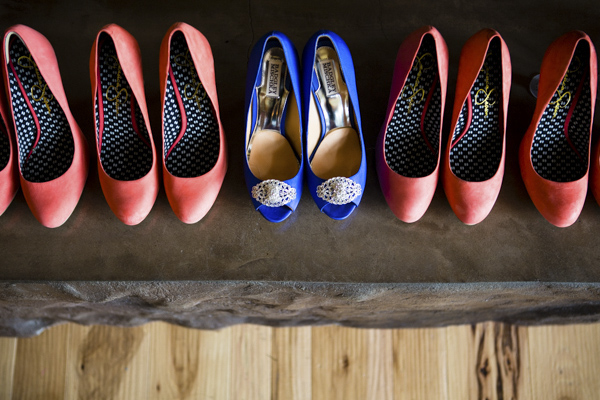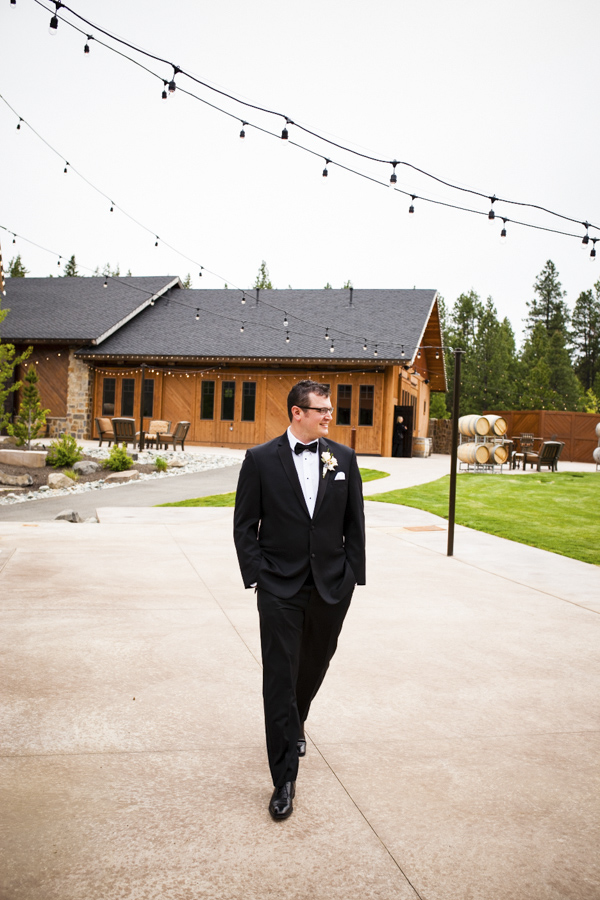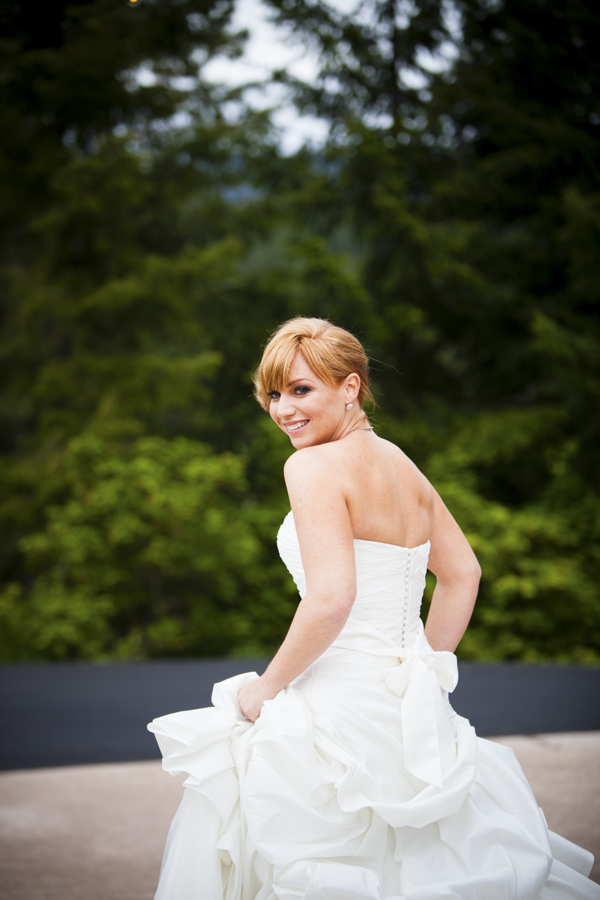 The Goals: We planned our wedding as a weekend extravaganza in one of the most beautiful areas of the country. We encouraged our guests to come early and take in everything that the Cascade Mountain's had to offer WITH us. The men watched Elk graze on the fairways as they played 18 holes of golf and the woman relaxed in the mountain air as they enjoyed the hot springs pools. It was important to us to have a fun and memorable celebration for our guests to enjoy with us. With our family and friends coming from all over the world, we ended up having a destination wedding. It was very important to us that our wedding be about the whole weekend experience, not just the about the 4-6 hours of the ceremony and reception. Combined, we had many friends and family coming from all over the world and we saw this as our opportunity to bring all of the pieces of our lives together and share them with everyone. It was incredible for us to witness, our friends from Canada and Illinois shaking hands and sharing stories like they had known each other for years. I think we accomplished what we set out to do, by bringing every chapter of our lives together in one room to watch us on our big day.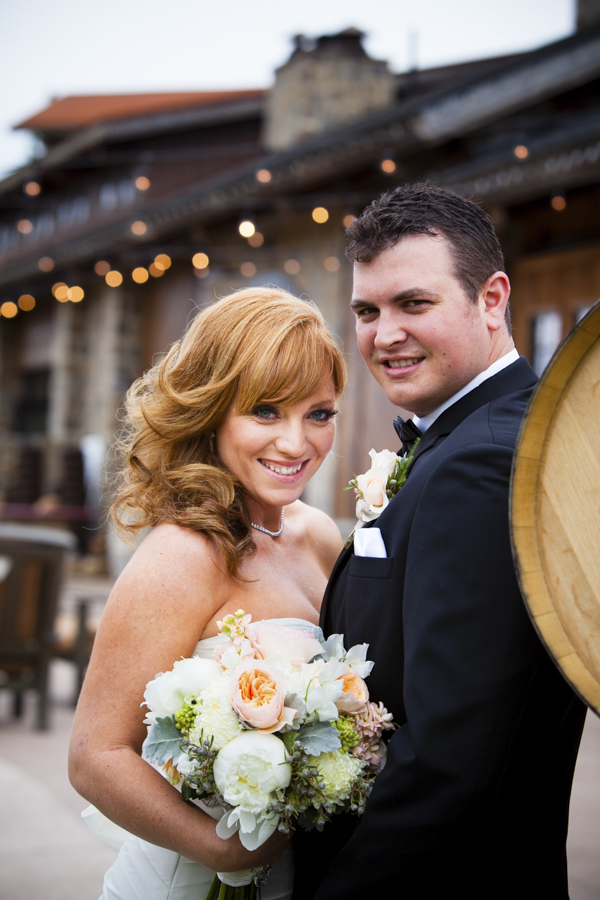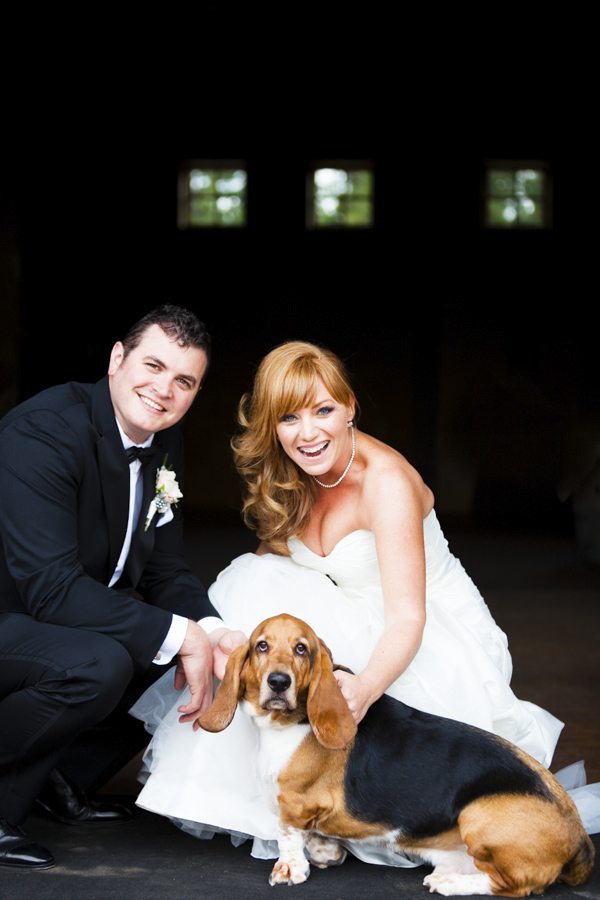 The Look: Classic elegance was what I was going for in way of my wedding fashion and beauty look. My beauty inspiration was my mother's look in the 50's and late 60's. She always looked chic and glamorous, yet demure. Like she never tried. My celebrity inspiration was Jackie O mixed with Brigitte Bardot. I really wanted to stay true to my own style and have my dress to reflect who I was. I wanted to be elegant and classy and to be able to look at pictures years from now and recognize myself. I choose something pretty simple, but that had a few unique characteristics. I loved the way my dress looked one way when it was bustled and another when it was un-bustled. The bottom of the dress reminded me of cupcake layers and I LOVED the way the tulle showed through in the front. The dress itself had no beading or crystals on it, so I decided to get a rhinestone crystal belt to add a little extra "bling". It made it more fun and completed the look of the dress. The item that took the longest to choose were my shoes. Everyone who knows me, knows that I am a HUGE shoe girl and I could not disappoint. I ended up choosing Badgley Mischka's bright royal blue satin 4" peep toe with a rhinestone buckle on the front. I adored them and everyone commented on how "Jessica" they were. For my bridesmaids I wanted them to have that classic chic look as well. So we went with a light grey, dupioni satin, short 50's/Audrey Hepburn inspired dresses. Even though they were all in the same color, I wanted each of their individual personalities to show through, so they picked their own style of dress and accessories. And we decided to add a pop of color for their shoes, of course! Our groomsmen looked very sleek in grey Black by Vera Wang tuxedos. To add some flare, we bought each of them bright coral socks, vintage tie clips & cufflinks with their initials. The pictures of them with their pant legs pulled up are some of my favorites! :)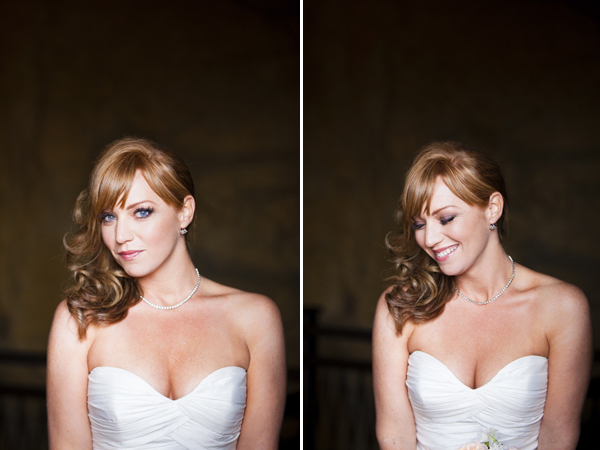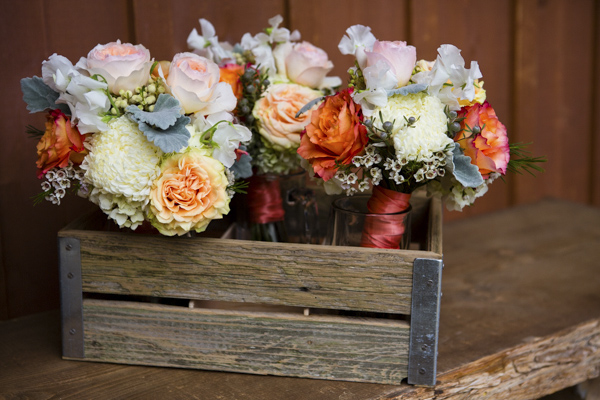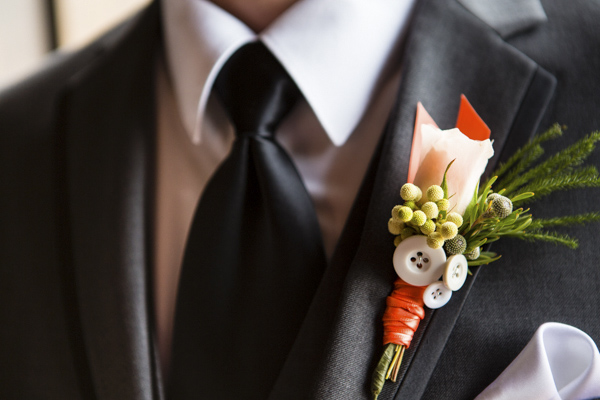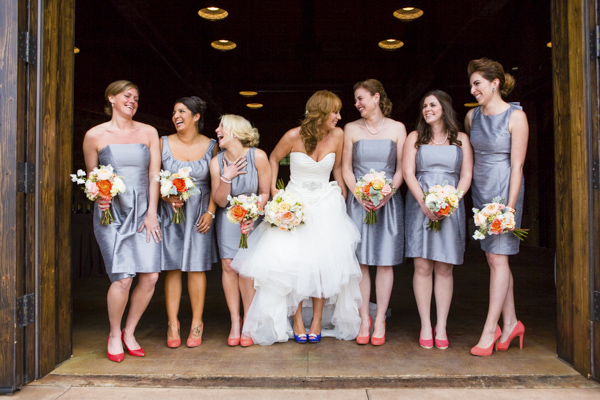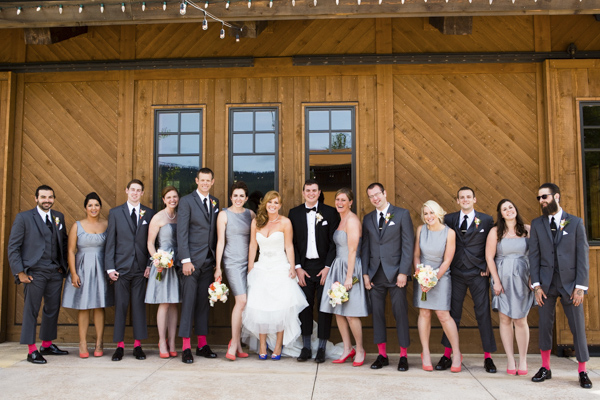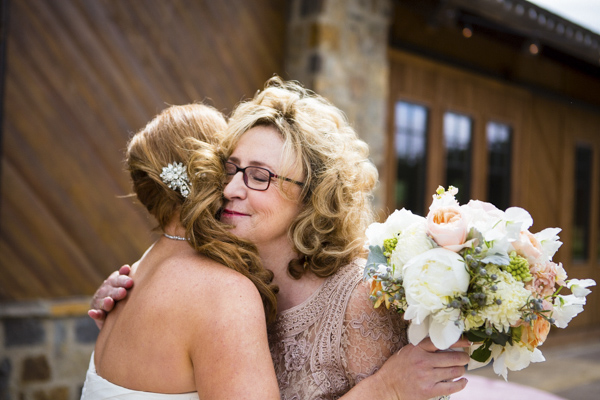 The Moments: There were so many memorable and special moments throughout the day, that it's hard to choose just one. Having one of my friends Skyping the whole ceremony to my family in Minnesota who weren't able to be there. Seeing all of our guests release balloons outside with us, signifying their well wishes into the heavens, was beautiful. Seeing my father's face as he saw me not only as a bride, but as a grown woman for the first time in years. The day we got married was also Nick's grandmothers birthday. So, we ended up decorating her chair and having all 195 guests sing happy birthday to her and delivered a special cake made just for her. It was a really touching and special moment for not only Nick and I, but the whole family. But my favorite part of the day had to be walking down the aisle to my future husband. I was so nervous, but he was so calm and his smile that day was unforgettable. When I walked toward him and my future, I knew it was forever and that feeling is priceless!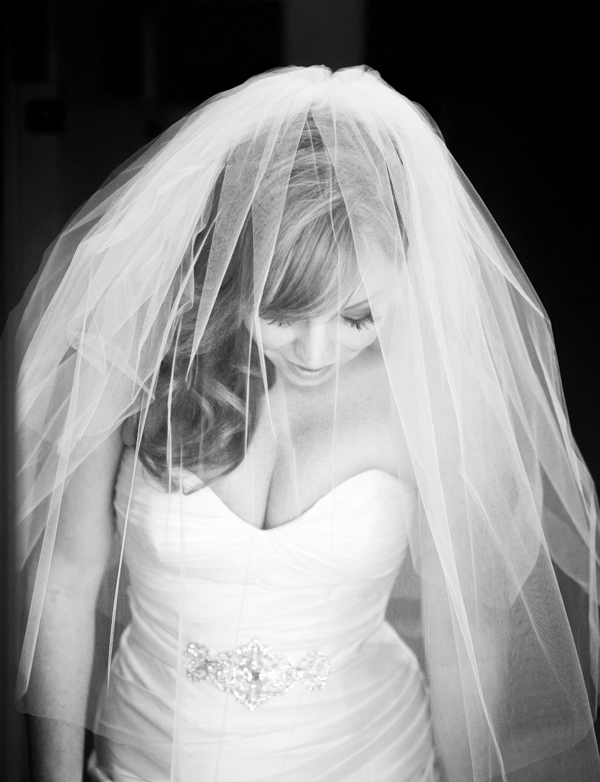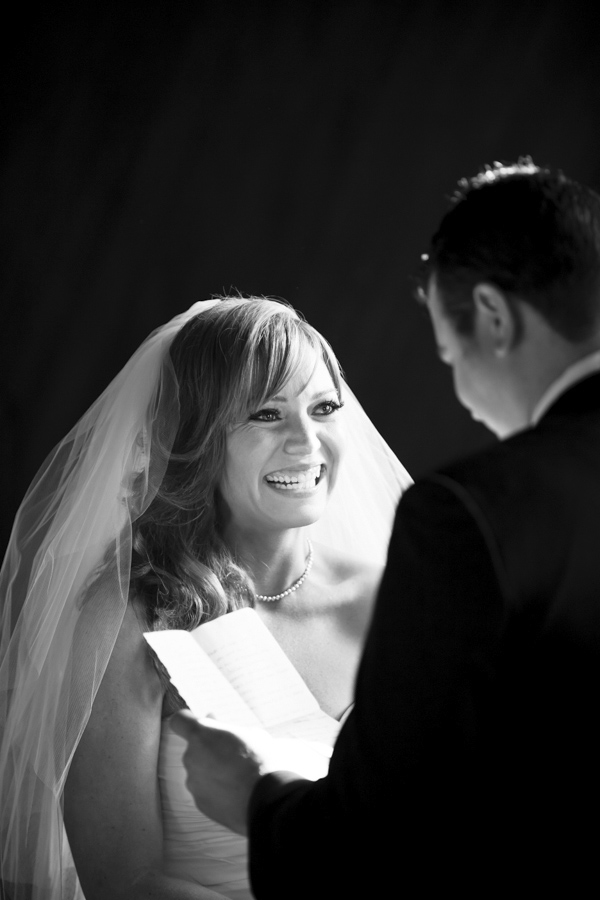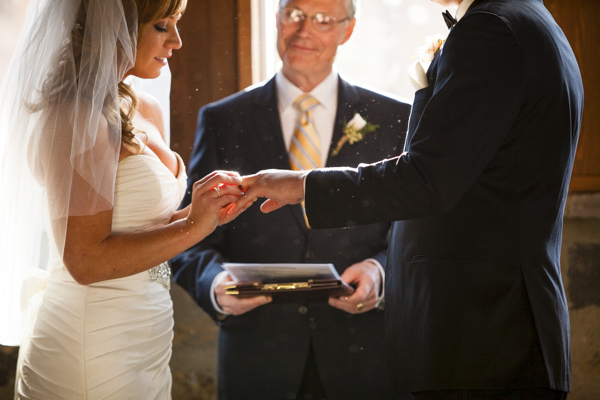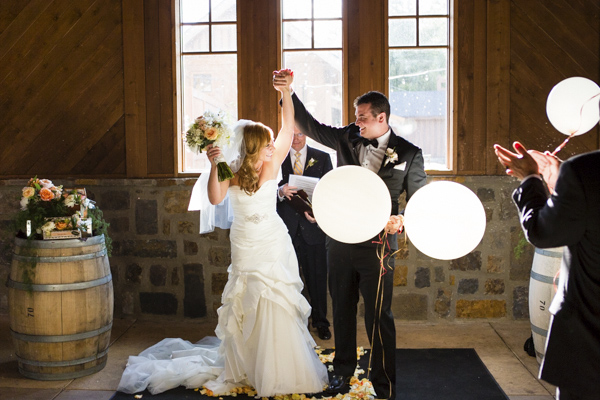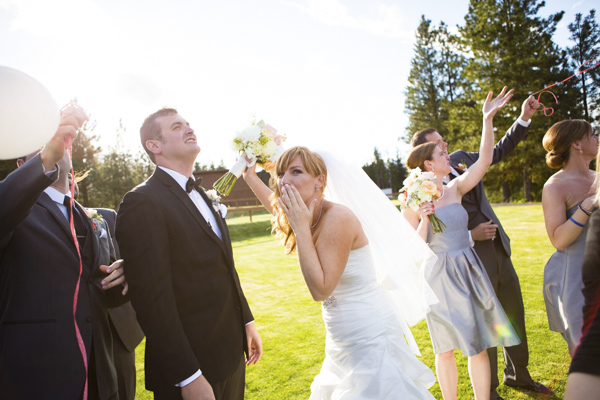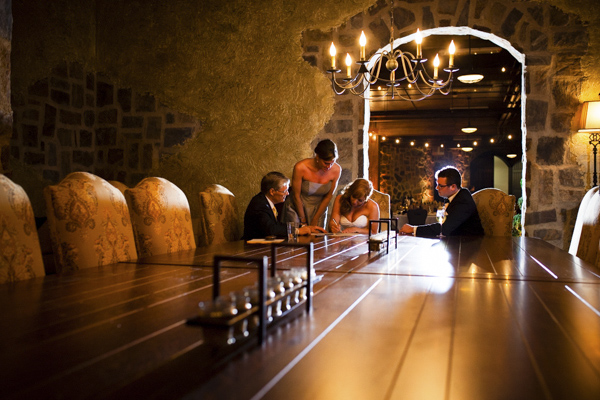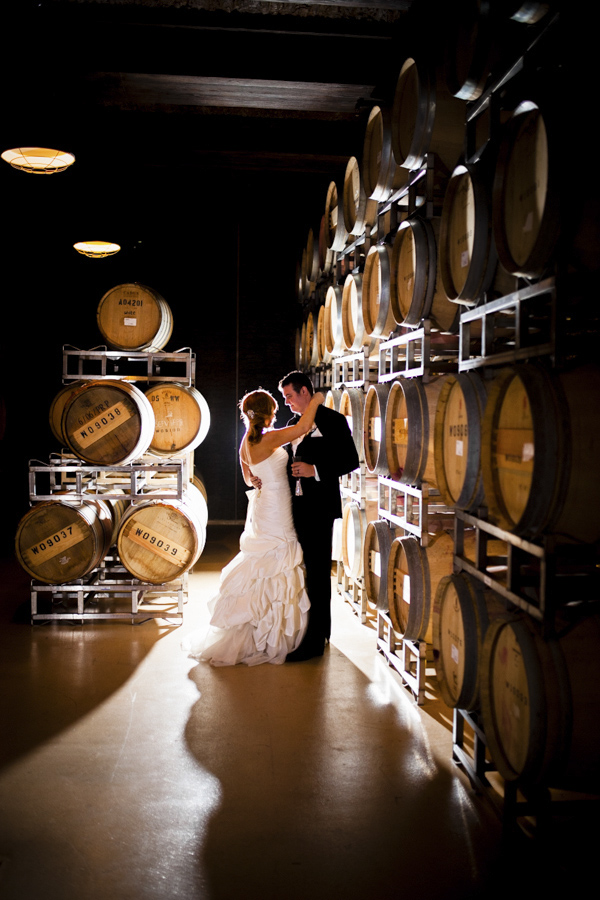 The Design: We wanted the atmosphere of our wedding to reflect our fun, outgoing, stylish and romantic personalities. We wanted our guests to be comfortable and our decor to be simple, yet still have the look of classic understated elegance. The ceremony and reception all took place on the grounds of the winery, and didn't require much extra decor to enhance it at all. It was gorgeous on its own! From the breathtaking views of the Cascade Mountains in the distance, to the reception taking place amidst the huge stainless steel wine tanks and rustic wine barrels; we just needed a few simple touches to make it our own. Having our wedding take place at a winery was perfect for us since we both not only love wine, but make our own wine as well! For our guest gifts we made homemade wine, customized labels and spent several hours hand painting over 200 burlap sacks for the bottles to be presented in. As for the flowers, we opted for a traditional spring bouquet that was simple, but beautiful; with peonies, garden roses, sweet pea blossoms (Jessica's grandma's favorite flower). For a menu, we made a chalkboard menu with frame, wine corks (that Nick cut individually, that held our name cards. The lighting, was done by strands of Italian bulbs and candles. We had just a few flower arrangements on the tables, set on various old silver tea platters that we had found at rummage sales. The officiating was done by one of our close family friends, which was very special to Nick and I. We are both avid hockey fans so we had hockey sticks decorated with flowers and a few for our guests to sign well wishes on. In lieu of a cake, we had a Smore's bar where guests could roast their own marshmallows, which was a hit! Everything we envisioned was personalized in some way, and came to life that day. With our family and friends sharing it with us, it was our perfect day!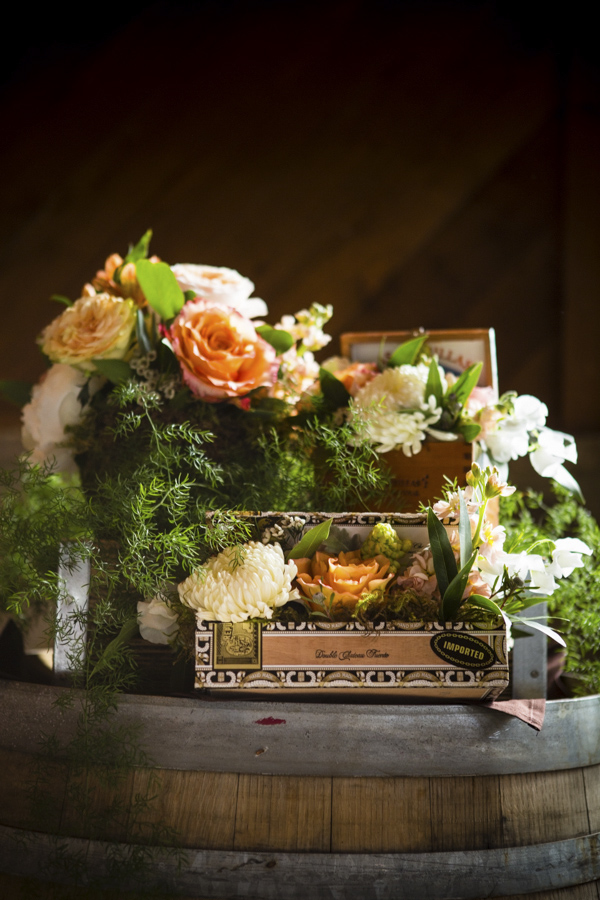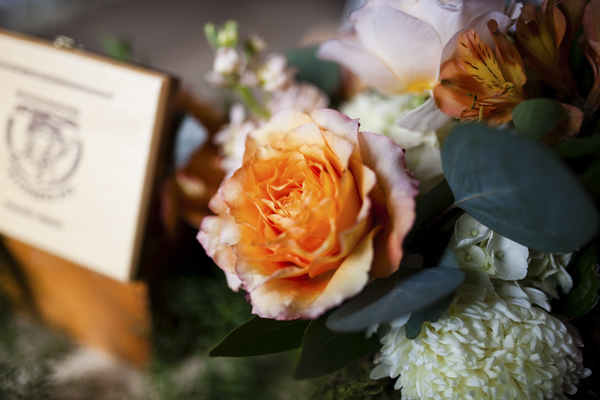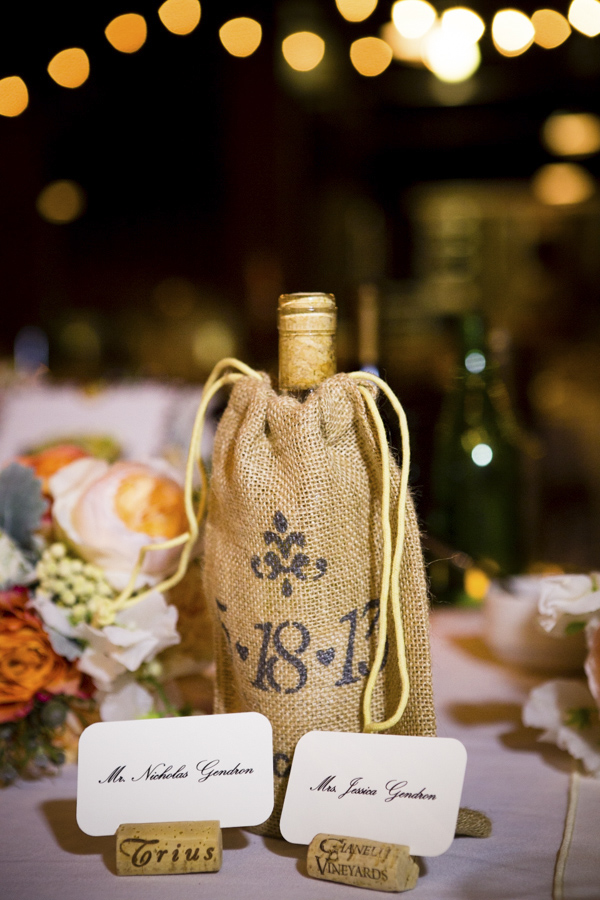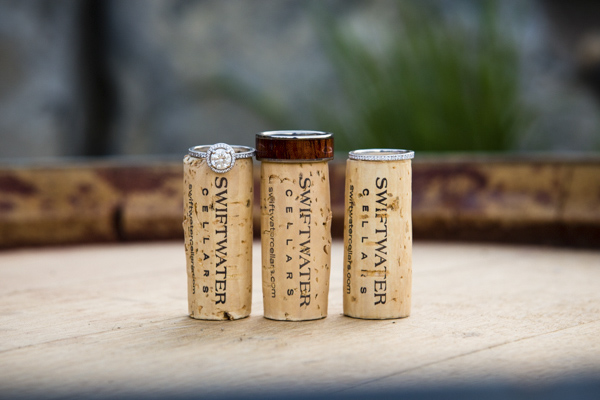 The Advice: Plan ahead and don't let your budget determine the wedding you will have! Yes, you have to work within the limitations of the budget you set for yourselves, but you don't have to settle… get creative with how to use the money you do have. We spent hours making our own wine, cutting corks, painting plywood, chalkboard, hand painting burlap sacks to hold our party favors, and rummage sale shopping to find silver platters for the centerpieces. You may end up putting in a lot of time, but you will end up saving money. And in the end those are the things that everyone appreciates! And in the end we had a lot of people who helped us with making it work! Because of planning ahead we had very little work to do in the days leading up to the wedding. It was great to go into the wedding weekend with little stress and be able to relaxed and enjoy each other – that's really what it's all about anyway!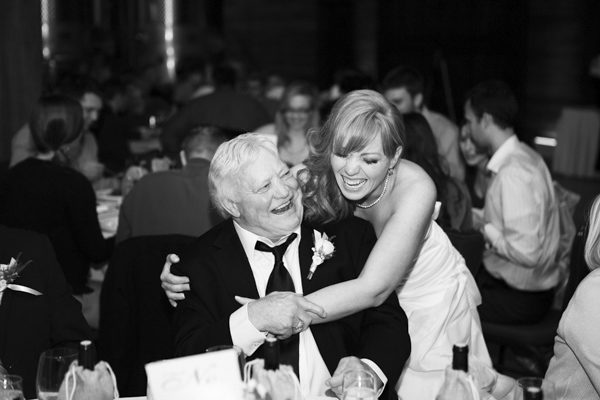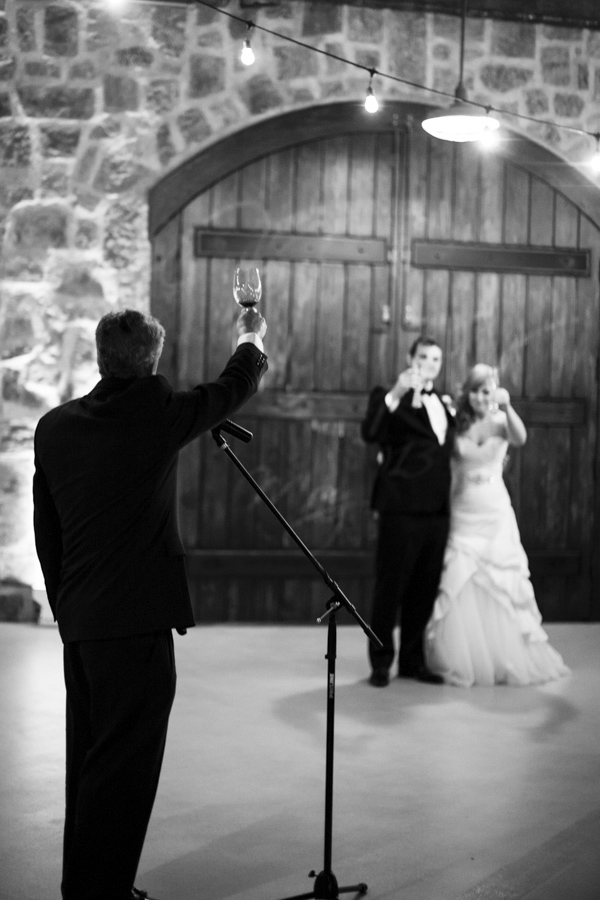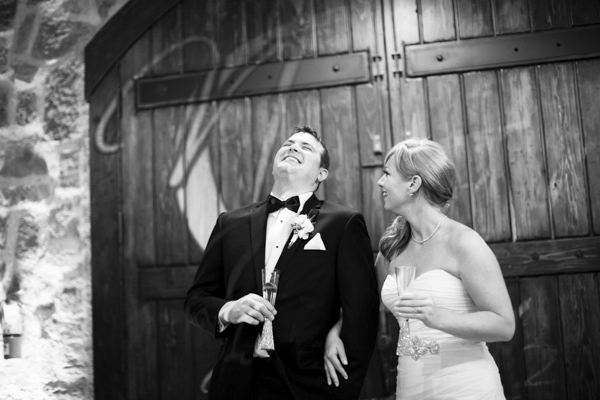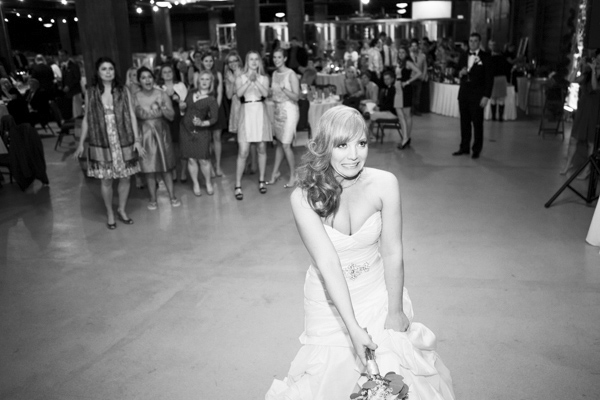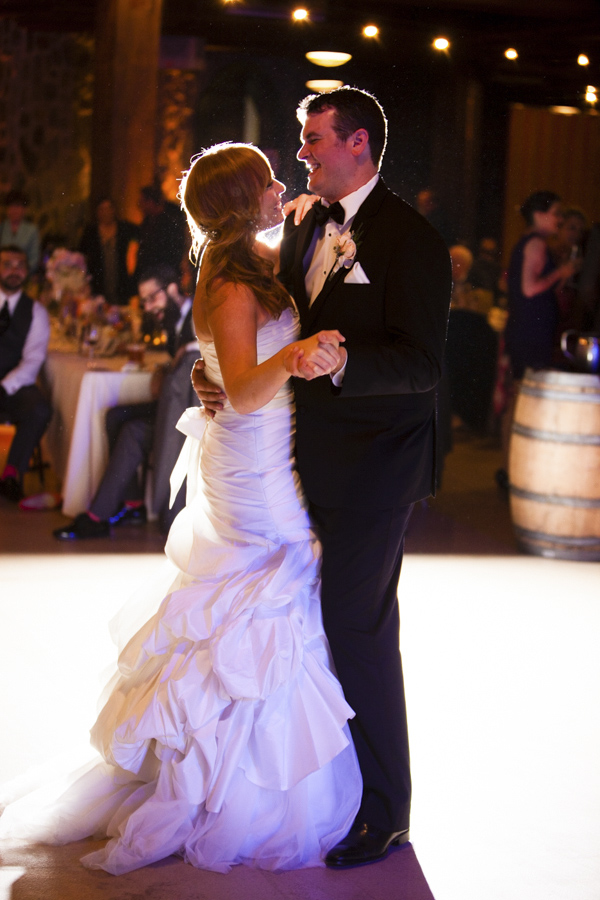 video by Cabfare Productions
The Wedding Team:
Photographer: La Vie Photography
Event Planner: Vows Wedding and Event Planning
Ceremony & Reception Venue: Swiftwater Cellars
Videographer/Film Maker: Mitch Mattraw of Cabfare Productions – See his incredible wedding video above!
Officiant: Family Friend, Mr. Mike McKasy
Invitation Designer: Vintage Bells And Co
Catering: Swiftwater Cellars
Florist: Julia's Florals
Smores Bar/Dessert Bar : Swiftwater Cellars
Wedding Dress: La Sposa
Bridal Accessories: Vintage Rhinestone Haircomb: Black Cat Vintage in San Jose, CA.; Diamond Earrings & Necklace set: Gift from Father
Shoes: Badgley Mischka
Bridesmaids' Apparel & Accessories: Dresses – Alfred Sung, Shoes – Jessica Simpson
Groom and Groomsmen Apparel & Accessories: Black by Vera Wang
Hair & Makeup: Nidia Alire
DJ & Lighting: Tim Humphrey of Ideal Entertainment
Favors: Homemade Wine (Chardonnay, Cabernet, Cabernet Sauvignon, and a red blend)
Rings: Robbins Brothers
Special Thanks: Our parents, who without their love support and help our wedding would not have been as spectacular as it was!
Thanks Jessica and Nick for sharing your beautiful winery wedding at Swiftwater Cellars with us!